NBA Player Props Betting Forecast: Kyrie Irving's Return Has Ben Simmons, Royce O'Neale Trending Up
Credit:
Nathaniel S. Butler/NBAE via Getty Images. Pictured: Kyrie Irving #11 and Ben Simmons #10 of the Brooklyn Nets.
We are just over a month into the NBA season and there are some notable trends that we can take advantage of already.
Additionally, there are numerous injuries to key players, including Ja Morant, Tyrese Maxey, and Cade Cunningham. We discussed Cade in last week's Forecast, but it is certainly notable that he may need surgery.
Let's dive into the ever changing NBA landscape.
Teams and Players to Watch
Joel Embiid's Time to Shine
Schedule: Tues. vs. Nets | Wed. at Hornets | Fri. at Magic | Sun. at Magic
Editor's Note:Joel Embiid is expected to miss at least the next two games for the Philadelphia 76ers, according to multiple reports.
The 76ers received more bad news that rising star Tyrese Maxey is expected to miss the next three-to-four weeks due to a small fracture in his left foot. With James Harden also on the mend for the next couple weeks, the 76ers are in need of some playmaking ability.
While De'Anthony Melton and Shake Milton should see some run — we will discuss them later — it is time for Philadelphia's MVP, Joel Embiid, to step up to the plate and lead this team.
The 76ers won't have Maxey (32.8%) and Harden's (27.4%) Usage Rates, the second- and third-highest on the team and while Embiid already has a meteoric Usage Rate (37.5%), I expect it to increase in their absence.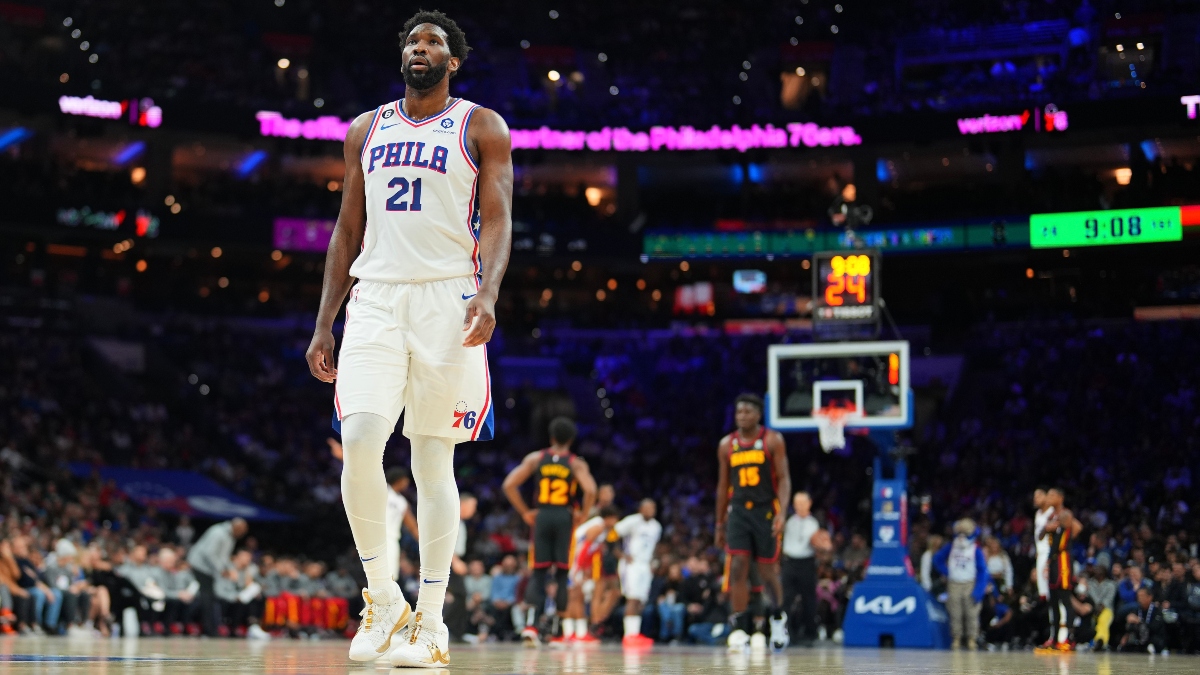 He is already averaging 32.3 points, 10.1 rebounds, and 4.6 assists per game, but dating back to last season the spot he should continue to excel in is passing the ball. He has averaged 6.4 assists in eight games over the past two seasons without both Maxey and Harden with six or more assists in six of those eight games.
Embiid's prop lines against Minnesota were set at 33.5 points, 11.5 rebounds, and 5.5 assists. These lines are high, and that was in a matchup against Rudy Gobert and Karl-Anthony Towns. If those lines stay static, there should be opportunity for overs given the 76ers' relatively soft schedule for frontcourts in the next week with games against the Brooklyn Nets, Charlotte Hornets, and Orlando Magic.
Embiid is currently as high as +1100 to win the MVP on BetMGM, and I think it is worth a play. This is his moment without Harden and Maxey and the buy window is closing.
Back to the 76ers backcourt though, the two players who are most interesting are De'Anthony Melton and Shake Milton. They are going going to be targets for props, but also in your fantasy leagues.
Melton and Milton had their prop lines set at 14.5 and 15.5 points, 6.5 and 4.5 rebounds, and 5.5 and 5.5 assists respectively. Both cleared their points lines with Melton picking up 19 points, five boards and six dimes to Milton's 27 points, six boards and two assists.
Both will have plenty of scoring opportunities and it is notable that Melton shot 5-of-9 on 3-pointers against the Minnesota Timberwolves Saturday. Melton takes 49% of his shots from beyond the arc and should get plenty of above the break looks against the Nets on Tuesday.
If his prop line is at 2.5 3s again, it's a must bet.
---

The Grizzlies Are Hibernating
Schedule: Tues. vs. Kings | Fri. vs. Pelicans | Sun. at Knicks
The Memphis Grizzlies will now be without both Desmond Bane (toe) and Ja Morant (ankle) for the next few weeks.
This will dramatically impact them overall: They are two of their highest Usage players and two of their best as Bane has a +14.8 point differential and morant has a +13.6 point differential this season. The compound effect of them being out is significant as it will force the Grizzlies to use their relatively inexperienced depth, especially in the backcourt.
The team is just +2.2 overall on the season, but if you remove either Bane or Morant, the team dips to -5.1 and with both off the team simply cannot score with a -8.8 point differential while scoring just 101.3 points per 100 possessions, per Cleaning the Glass.
Jaren Jackson Jr. being in the lineup helps, but he is not dribbling the ball up the floor. This creates a vacuum where Tyus Jones, Dillon Brooks, John Konchar, Jake LaRavia and David Roddy are being asked to play more minutes. While Brooks is always up for the task, the others are generally suited for smaller bench roles at the moment.
Konchar has the most to gain in this scenario, he has seen his minutes jump without Bane and has played over 30 minutes per game across the Grizzlies last four games. His prop lines were set at 10.5 points, 6.5 rebounds, 1.5 assists and 1.5 3-pointers. He just recorded 16/9/7 and shot 2-of-7 from deep against the Nets. He should be targeted in an expanded role.
As for the Grizzlies overall? I'm actively looking to bet against them, and I'm very curious to see where they open up the line against the Kings on Tuesday.
---

Kyrie Irving Is Back … How Do We Bet the Nets?
Schedule: Tues. at 76ers | Wed. at Raptors | Fri. at Pacers | Sun. vs. Trail Blazers
Kyrie Irving has returned from suspension and the Nets' rotations are once again in flux. One fascinating wrinkle is that Kevin Durant actually scores 3.0 more points per game with Irving than without him this season and averages 31.8 in those games; however, he sees a dip in his rebounds and assists.
The big winner from a props perspective, though, is Royce O'Neale. We should expect to see his volume increase, especially from long range. Part of this is because Irving operates in the pick-and-roll further out on the perimeter and O'Neale is often on the weakside during that action.
As a result, Irving likes to make the cross court pass to the weakside, and O'Neale is generally that target. Aside from Durant, O'Neale is the next most frequent recipient of Irving's passes — he receives 20.8% of Irving's passes and he shoots 47.1% off of those passes.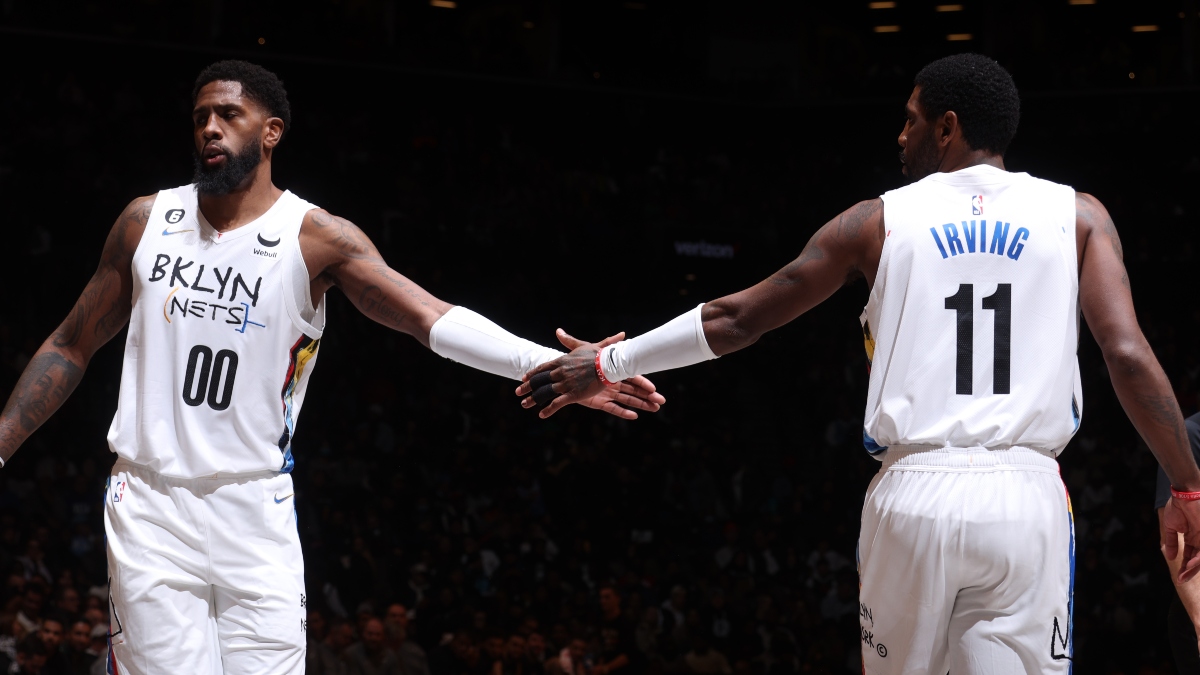 His 3s prop has continued to be set at 1.5, but with Irving he has averaged 2.7 3s on 6.1 attempts with at least two 3-pointers in eight of those nine games. Play this even with juice moving forward, but if this line moves to 2.5 be wary that he's made three or more 3s in just four of those nine games with Irving.
The one other Nets player who has rounded into form lately is Ben Simmons. Over the past week he has averaged 16 points, 8.7 rebounds, and 5.0 assists compared to season averages of 7.9 points, 6.8 rebounds, and 5.7 assists.
With his points line at just 8.5 and his PRA at 23.5 last game, this could be a buy window for Simmons, especially in a revenge spot in Philadelphia on Tuesday.
How would you rate this article?
This site contains commercial content. We may be compensated for the links provided on this page. The content on this page is for informational purposes only. Action Network makes no representation or warranty as to the accuracy of the information given or the outcome of any game or event.