NBA Player Props Betting Forecast: How to Bet Karl-Anthony Towns, Shai Gilgeous-Alexander This Week
Credit:
Stephen Maturen/Getty Images. Pictured: Karl-Anthony Towns #32 of the Minnesota Timberwolves.
We are over 20% into the NBA season and there are some notable takeaways we can make at this point. While we cannot be 100% sure if some teams are a bit fraudulent or not, there are certain trends we can take advantage of moving forward.
Last week we focused on teams that were expected to have a bit of a different look based on injuries. This week, we'll look at one team that has been surprisingly bad and one that looks surprisingly good thanks to its budding star player.
Let's dive into this week's props forecast.

What Is Going on in Minnesota?
Schedule: Mon. at Wizards | Wed. vs. Grizzlies | Sat. vs. Thunder
The Timberwolves acquired Rudy Gobert in a blockbuster trade with the Utah Jazz in the offseason with the idea that he would not only sure up their defense but also complement Karl-Anthony Towns so the Wolves could successfully play a two-big lineup.
What has actually happened? The Wolves are 10-10 with the 20th ranked Adjusted Net Rating (-1.3), the 24th Ranked Adjusted Offensive Rating (110.) but the 11th Ranked Adjusted Defensive Rating (111.2). And while the defense has continued to improve, they allowed opponents to score just 106.8 points per 100 possessions over the last two weeks, the offense has struggled.
The main Wolves starters from last season — Karl-Anthony Towns, D'Angelo Russell, and Anthony Edwards — are adjusting to new roles and Rudy Gobert as he gels with his new squad.
Towns
2021-22 – 24.6 ppg / 9.8 rpg / 3.6 apg
2022-23 – 21.4 pg / 8.5 rpg / 5.4 apg
Russell
2021-22 – 18.1 ppg / 3.3 rpg / 7.1 apg
2022-23 – 14.3 ppg / 3.3 rpg / 6.7 apg
Edwards
2021-22 – 21.3 ppg / 4.8 rpg / 3.8 apg
2022-23 – 22.3 ppg / 5.8 rpg / 3.9 apg
Gobert
2021-22 – 15.6 ppg / 14.7 rpg / 1.1 apg
2022-23 – 13.5 ppg / 12.7 rpg / 0.9 apg
So should we be concerned with this overall drop in production? I'd say no. Everyone knew this would take a while for the team to gel and since the defense is turning a corner this is an opportunity to see some growth.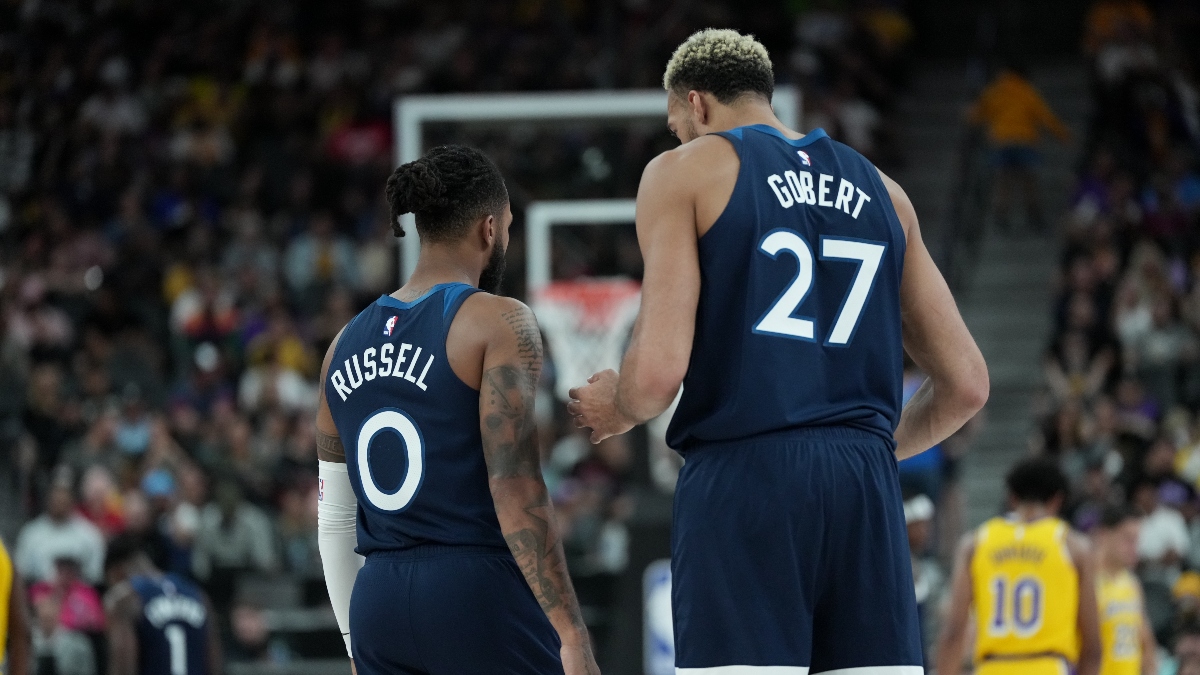 One stat that stood out though was Karl-Anthony Towns' assists. His prop line for Monday night is currently set at 4.5 assists and this is a number he has exceeded in 13 of his 20 games this season (65%). He has the second-most potential assists on the team with 8.2 per game and what is interesting is that the teammate with whom KAT secures the most assists per game is Gobert, who converts 1.4 assist opportunities per game.
KAT should have great assist opportunities over the coming week with matchups vs the Wizards, Grizzlies and Thunder, then the Pacers and Jazz next week. I'll be taking the over on 4.5 on Monday night.
---

Shai-Gilgeous Alexander Is Unstoppable in Oklahoma City 
Schedule: Mon. at Pelicans | Wed. vs. Spurs | Sat. at Timberwolves
Shai-Gilgeous Alexander has thrust himself into the conversation for not only Most Improved Player, but for MVP as well with his incredible play to start the season. He is averaging 31.1 points, 4.8 rebounds, 6.2 assists, and 1.7 steals per game.
The books have slowly adjusted to his increased offensive output and his props for Monday night against the Pelicans are set at 30.5 points, 4.5 rebounds, and 5.5 assists — lines he has exceeded in at least 11 games across all three categories.
One thing that is tough when betting on SGA, though, is the performance of his teammates leaves much to be desired. While he averages 12.2 potential assists per game, his teammates can only convert on 6.2 of them — we can never expect an 80% conversion rate, but he is doing a good job setting up his teammates. The problem is that it's more difficult to back a team with a below-average offense to convert when he is the best finisher on the team.
That being said, I think 5.5 assists is a low bar for SGA to exceed; however, if we look at Monday night against the Pelicans, that's not a great spot due to the Pelicans' excellent defense. The spot to bet on SGA's assists would be on Wednesday against the San Antonio Spurs — a team he has logged 8, 7, 9, and 8 assists against over his last four games against them.
While SGA has been amazing, the team overall is miserable. They are just 8-12 on the season and it is improbable that they would even consider making a push for the postseason. But until the tank rolls into Oklahoma City, we should continue to enjoy SGA's performance on a nightly basis.
---
How do we use Pace for Betting?
One metric that I always like to look at when betting on player props is Pace. It's a statistic that measures how many possessions a team has in a game (48 minutes). This is specifically important because we can categorize certain teams as Pace Up spots or others as Pace Down spots.
While Offensive or Defensive Ratings give us an idea about a team's efficiency, opportunity is what we're really looking for with props. More possessions means more opportunities for shots, rebounds, assists, etc.
Pace is available at NBA Advanced Stats, but I prefer to use Dunks And Threes. Pace is generally important to estimate possessions; however, Possession Length can help to explain just where the Pace is coming from. The Lakers, for example, are a fast Paced team (103.0), but they are ninth in Offensive Possession Length and third in Defensive Possession Length (both 14.0 seconds).
One team that has a stark contrast in its numbers is the Sacramento Kings. The Kings are the eighth in Pace (101.6), have the shortest Offensive Possession Length (13.5 seconds), but the fourth-longest Defensive Possession Length (14.8 seconds). They are actually a team that can be sped up on the defensive side of the ball depending on their matchup, but they also can bog other team's offenses down as well.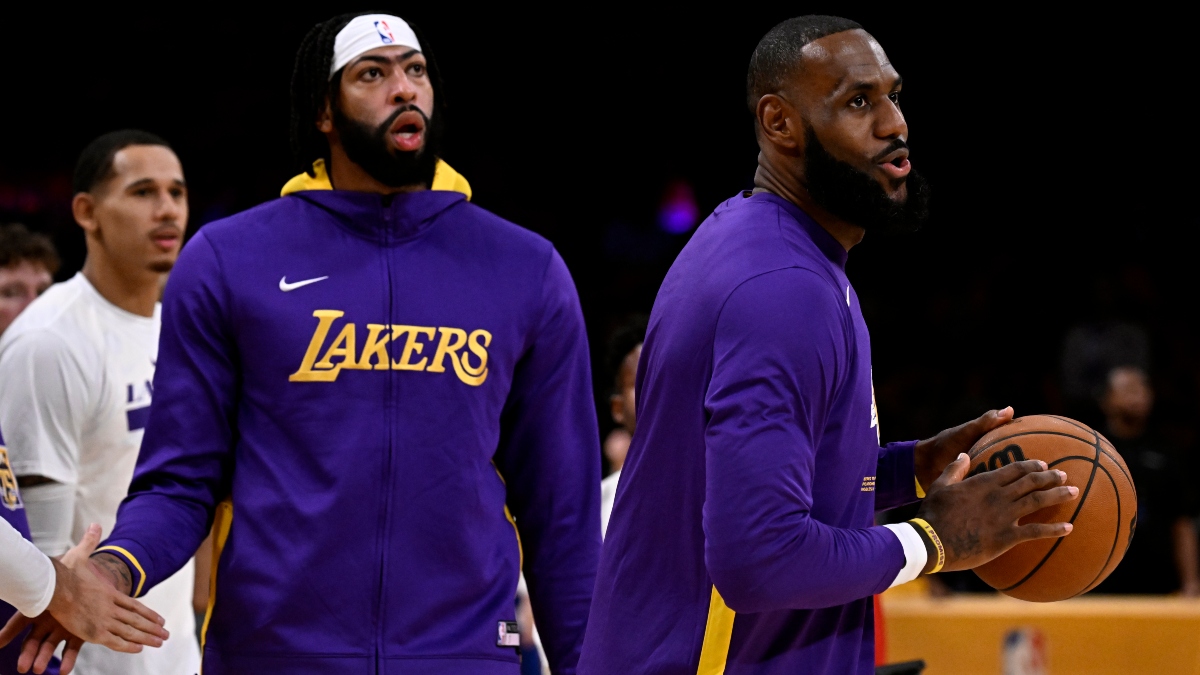 The teams that I consider clear Pace Up Teams are the Lakers, Warriors, Timberwolves, and Pacers as they are all top 10 in Pace and both Offensive and Defensive Possession.
On the opposite end of the spectrum, I would consider the Mavericks, Blazers, Heat, and Suns as Pace Down teams, they all are bottom 10 in Pace and both Offensive and Defensive Possession. It's also notable that all of of these teams have better than league-average defenses as well.
Pace is a clear indicator of possessions and chances for players to accumulate stats. And it is a great tool to use when handicapping player props coupled with the rest of your analysis. While we cannot always anticipate performance, we can predict opportunity.
How would you rate this article?
This site contains commercial content. We may be compensated for the links provided on this page. The content on this page is for informational purposes only. Action Network makes no representation or warranty as to the accuracy of the information given or the outcome of any game or event.