Raptors vs. Warriors NBA Finals Odds & Cheat Sheet: Expert Picks, KD's Return, More
Credit:
Photo credit: Kyle Terada-USA TODAY Sports. Pictured: Kevin Durant and Danny Green
NBA Finals Game 5 Odds: Raptors vs. Warriors
---
The two-time defending champion Warriors are down 3-1 on the road in Toronto for Game 5. Not all is lost, though, as Kevin Durant will make his return tonight, and the betting markets are moving as a result.
What all's in store for Game 5? We've compiled everything you need to know for Monday's matchup below.
---
In Game 4 in Oracle Arena, the Warriors barely covered the first-half spread after losing Game 3. Can they repeat that performance in Game 5, on the road? Under Steve Kerr, the Warriors are 10-1-1 (90.9%) against the first-half spread and 11-1 straight up on the first-half moneyline in the playoffs after losing their previous game.
The Warriors have played 26 total games under coach Steve Kerr in the NBA Finals over five seasons. Golden State is 8-9 straight up and ATS in the Finals when Kevin Durant doesn't play and 8-1 SU and 6-3 ATS when he does. — Evan Abrams
The Warriors will likely start the Hamptons 5, and I want to get exposure to that lineup within the betting market. I don't know how much Durant will play altogether, which is why it's risky to bet the full-game spread, but I know he'll play with the starters and help them.
That gives us a couple shots, notably the first and third quarters. I'd rather take a shot on the third, as Durant hasn't played in a month. It might take a couple minutes for the Warriors to play cohesively again, and those minutes might be enough for the Raps to get out to a lead and cover the 1Q spread.
But in the third, they'll have a half under their belt, and I think the Warriors' Third Quarter of Death could make another appearance after getting dominated in Game 4. — Bryan Mears
Read more from our betting experts on what you can expect in Game 5
Following the Durant news, the line continued to move in favor of the Warriors, meaning bettors were finding value even on the adjusted line. And according to Sports Insights Bet Signals, those bettors were of the sharp variety.
A signal was triggered on the Warriors at 3:26 p.m. ET — the only one to come since Durant's status was clear. Sportsbooks are now listing the line on both sides of the fence, with some favoring the Raptors by a point, and some, like the Westgate Superbook, have shifted to Golden State -1.
Currently, bets are split right down the middle, with the Warriors collecting 51% of tickets. The Raptors have drawn more money (66%), though it's important to note that both figures are taking into account all bets that have been made since the line opened — meaning before KD was announced as active. — Danny Donahue
Read more on the Warriors-Raptors Game 5 betting market here
---
Wob: Warriors -7.5, +253 (Alternate Line)
For me, it's not a matter of if Kevin Durant is 100% or not. Only one person knows how heathy he is, and that's him. Let's say for hypothetical sake that he's 75%. Whatever. I don't care if he's wearing pajamas and hobbling around on crutches; his mere presence on the court demands a defender's respect.
We have just watched the Raptors treat Jordan Bell and Jonas Jerebko like Sidney Deane did to Billy Hoyle in the first 15 minutes of "White Men Can't Jump." For an entire series.
That is now gone, and the immediate repercussions are going to be what the Warriors so desperately need against a Harrasic Park defense that feels like it has eight guys on the court at all times with fishing nets for arms and hands: Space. With Durant on the floor, the Raptors can't cheat — Steph can run around without the entire country of Canada inside his shirt like he's been doing for years. That facet alone is why KD is so important.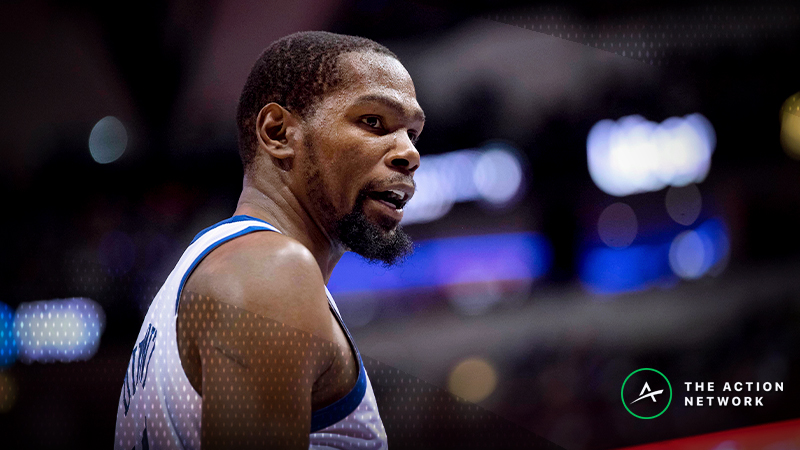 Furthermore, Durant returning means DeMarcus Cousins gets bumped out of either the main rotation and/or starting five. Any variation of less Boogie is a positive for the Warriors, as he is borderline unplayable right now; when he's been on the court with Durant these playoffs, the team's Net Rating is negative double digits.
And then there's the angle there are no statistics for, just physical evidence: The weight of the entire continent is on the Raptors' shoulders to close this out before it gets back to Oracle. Playing at home in this situation almost adds more pressure than on the road.
I don't have any experience playing in the NBA to prove this hypothesis — it's just an opinion after speaking with so many plugged-in people who DO have it. I can't help but remember what happened in Oklahoma City in 2016. Game 6, down 3-2, facing a double-digit deficit late, the Warriors harvested the souls of the entire city and audience rooting against them.
They have been in this foxhole before, and if anyone knows the secret of using nervous energy against their opponents, it's these basketball zombies.
Expect to witness the firepower of this fully armed and operational battle station.
Read all five of our staff's favorite bets for Game 5 and beyond here
More Warriors-Raptors Game 5 Analysis
---
Kevin Durant (calf) is a game-time decision for Game 5. In theory, KD's presence should make life easier for Stephen Curry and Klay Thompson, but there's only so many shots to go around; Steph and Klay have both seen a decrease in their per-minute fantasy production with KD on the floor.
Still, even if KD is active, it's hard to know how healthy he will be and how long he will play. As I write this, we have him projected for 27.6 minutes — enough to put Curry firmly behind Kawhi Leonard for the No. 1 spot in the value rankings in our NBA Player Models. If KD gets ruled out, Steph's ceiling would increase, but I would still consider Kawhi the higher-floor play. If KD does play, he may attempt to conserve effort defensively and on the glass, making him a high-risk, high-reward tournament play.
Read more about the potential DFS standouts for Game 5 here.
More NBA Finals DFS Content
The Warriors have played 15 games on the road after a playoff loss and they are 9-6 straight up and against the spread, winning by 6.6 points per game.
The good news for Golden State is it has played six road games off of a double-digit loss under Kerr and it is 4-2 SU and ATS.
Overall, the Warriors have played 25 playoff games after losing their previous game — also a playoff game. Golden State is 17-8 SU and 14-11 ATS after a playoff loss, beating its opponents by 9 points per game (ppg).
What really shows up for Golden State after a loss is its stellar defense. The Warriors are allowing only 100.1 ppg in the 25 games after a loss in the playoffs.
In the other 78 playoff games under Steve Kerr, the Warriors are allowing 104 ppg.
Check out more 2019 NBA Finals betting trends here
More NBA Finals Betting Trends
---
No one knows how the NBA Finals will or won't affect Kevin Durant's free agency decision. League executives commonly remarked when queried on how they think it impacts things that it's a stupid question to begin with because it reflects the very thing Kevin Durant has railed on so many times: no one is inside his head.
However, Durant's decision is so spectacularly impactful on the league, it could shape so many things, that it's only natural given everything that has gone on with him and the Warriors to wonder how the Finals will shape it.
Durant has been the best player in the playoffs at one point and then saw his team win six straight without him. He has fought with Draymond Green, made up, railed at the media, responded more on social media, opened his own media offices in New York and been linked to a half dozen teams. But how do the Finals factor in?
Let's look at the possibilities and then try and figure out, at least from the outside, what the decision looks like, with the understanding that Durant's going to do what Durant's going to do. — Matt Moore
Read more about Durant's impending free agency decision here
More Warriors-Raptors Coverage
How would you rate this article?