2021 Midseason MAC Betting Manifesto: Stuckey's Key Updates Ahead of Midweek MACtion
Credit:
James Black/Icon Sportswire via Getty Images. Pictured: The MAC and Ball State logos pictured on a pylon.
We are oh so close to the return of weekday MACtion — an early Christmas present each year to college football bettors.
And what better way to kick off the week than with a midseason MAC college football report to follow up on my original conference preview from before the season began?
Let's dive into some MACtion!
---
College Football Midseason MAC Report
How crazy has the MAC football season been so far? Well, Northern Illinois is undefeated in league play at 4-0 and sits atop the West Division by a full two games.
Why is that so crazy? Well, from a power ratings perspective, the Huskies still remain the worst team of the six in the MAC West.
While Northern Illinois currently sits in the driver's seat for the division, expect the unexpected in the MAC. Don't pencil it into the conference title game in Detroit just yet.
NIU's final four games include dates with Western Michigan and Ball State at home in addition to two road trips against Buffalo and Kent State. I expect the close game luck to run out and the Huskies to finish 4-4, which means tiebreakers may come into play.
With weekday MACtion just a day away from returning, here's a quick update on how I group the conference into five tiers.
I've also included my current national power rating ranking for reference.
---
Top Tier: Top Pair
We usually have one above-average MAC team from a national perspective, but that may not be the case this year.
Toledo and Western Michigan are the two best teams in my eyes, but both have a severe weakness on one side of the ball. If only we could pair the Toledo defense with the Western Michigan offense.
The Rockets have gotten off to a disappointing 4-4 start thanks to a pair of homes losses as two-touchdown favorites (Colorado State, NIU) and two coin-flip losses on the road (Notre Dame, CMU) by a field goal.
Meanwhile, their four wins have all come with relative ease.
Toledo boasts the best defense in the MAC by a country mile. The Rockets basically brought back their entire two-deep from last year and added Penn State transfer Judge Culpepper, who has added some much-needed beef to the interior of the defensive line.
With star safety Tycen Anderson now fully recovered from injury, this defense really has no holes, as evidenced by a top-10 national ranking in Pass Efficiency and top-20 ranking in Line Yards.
The problems for Toledo have all come on the offensive end. The offensive line has performed extremely poorly, which has been a major disappointment for a unit that returned everybody from last season.
Carter Bradley also wasn't getting it done at quarterback — in large part due to the lackluster offensive line play — so Toledo made a recent switch by naming dual-threat Dequan Finn the starter.
Finn's struggled a bit in the passing department, but his mobility is invaluable given the struggles in pass protection.
The Rockets have a very easy remaining schedule:
vs. EMU
at Bowling Green
at Ohio
vs. Akron
If they can win out, they'll give themselves a shot at a West title. However, they will need help and it could ultimately come down to tiebreakers.
---
WMU boasts a 5-3 record that includes an impressive road win at Pittsburgh that looks better with each passing week. However, the Broncos are only 2-2 in the MAC, so they will likely need to win out and hope for some help to capture the West.
Fortunately, their schedule isn't too daunting in November.
Western Michigan is the polar opposite of Toledo. The Broncos feature the best offense in the league, led by star quarterback Kaleb Eleby and a bevy of skill position talent. This offense can explode for 50 on any given Saturday.
In contrast, the defense can't stop a nose bleed. Defensive end Ali Fayad does lead a decent front, but the secondary gets torched on a weekly basis. Just like last year, WMU basically has to win via shootouts against the mid-to-upper tier of the MAC.
It also doesn't help that WMU arguably has the worst special teams unit in the entire country.
---
Tier Two: A Step Below
Kent State finished September with a 1-3 record, as expected after a grueling non-conference schedule that included three road games against Maryland, Iowa and Texas A&M with a nice break in Week 2 against VMI.
The Golden Flashes have since gone 3-1 in league play to get back to .500, but the product hasn't been as pretty as head coach Sean Lewis had hoped.
They escaped with wins against Buffalo, Ohio and Kent State — all by 10 points or less — and got absolutely clobbered on the road against WMU by a final score of 64-31.
Quarterback Dustin Crum headlines the MAC's most dynamic rushing attack. Kent State has a three-headed monster in the backfield with Crum and backs Marquez Cooper and Xavier Williams.
There's also plenty of talent on the outside at receiver for the pro prospect Crum to work with downfield. Kent State has a fast-paced offense that I have rated only behind Western Michigan in the conference.
Similar to Western Michigan, Kent State's problems all come in the other two phases.
Its defense is absolutely horrendous, especially along the undersized defensive line. I actually really like the experienced secondary, which has excelled in coverage. However, it doesn't matter how well you can cover if opponents can run for 5.5 yards per carry.
The special teams are also horrid.
My only preseason future to win the MAC was on Kent State at 12-1 and 14-1. The Golden Flashes haven't played as well as I had expected coming into the year, but they're in prime position to still win the very weak East Division, which looks like it will come down to the season finale between Kent and Miami (OH). The good news for the Golden Flashes is they will host that game.
The dream scenario is to win the division and have NIU steal the West.
---
Miami (OH) comes into the month of November with a 4-4 record.
The RedHawks don't have any bad losses, falling to Cincinnati, Minnesota (by 5) and Army on the road in three of their first four games. They also lost by one to EMU in a game they should've won.
AJ Mayer has had to start a number of games at quarterback due to an injury to Brett Gabbert. And while Mayer had previous starting experience and is a very adequate backup, Gabbert is the much better option under center.
Gabbert returned last week and led Miami (OH) to a road upset of Ball State in a game he finished 20-of-24 for 207 yards with two touchdowns and zero interceptions.
The inexperienced offensive line has issues, but Gabbert at least has two very reliable weapons on the outside to feed in Jack Sorenson and Penn State transfer Mac Hippenhammer.
The defense has talent along the defensive line, and Ivan Pace Jr. is an excellent linebacker, but there are exploitable areas on the outside for opponents to attack.
That said, if Gabbert can stay healthy, Miami (OH) will likely have a shot to win the East when it travels to Kent State to wrap up the regular season.
---
Compared to its lofty expectations coming into the season, the reigning MAC champs have really struggled out of the gates at 4-4.
Despite having the same primary weapons as last year, quarterback Drew Plitt has regressed a bit for a reason I can't put my finger on. And if he isn't on his game, the offense completely falls apart since Ball State can't run the ball.
Plitt has shown flashes, though. Look no further than Ball State's 45-20 victory on the road against Western Michigan in which he threw for 310 yards.
If he can find his game and stay consistent the rest of the way, Ball State could easily win out against a very manageable remaining schedule that includes two road games against Akron and NIU, followed by a pair of home dates with CMU and Buffalo.
The Cardinals will need some help, but finishing 6-2 in the league will at least give them a shot at a return trip to the MAC Championship.
---
CMU comes into the month of November with a 4-4 record.
The Chips got off to a 1-2 start with two expected road losses against SEC foes and a win over Robert Morris. They've gone 3-2 since but that record could honestly span anywhere from 1-5 to 4-1.
They've played in nothing but thrillers outside of a 28-17 loss at Miami (OH).
They scored 21 straight in the fourth quarter to beat FIU by four.
They came back in the fourth quarter to beat Ohio by three.
They beat Toledo in overtime by three.
They blew an 18-point second-half lead and lost to NIU by one.
Central Michigan has a plethora of talent on the offensive side of the ball for quarterback Daniel Richardson, who regained his starting gig from Washington transfer Jacob Sirmon.
First off, Richardson is set up for success with a pair of sturdy bookend tackles in Luke Goedeke and Bernhard Raimann.
The skill positions are also loaded with running back Lew Nichols III and a trio of extremely talented receivers in Kalil Pimpleton, JaCorey Sullivan and Dallas Dixon. This offense can score in bunches when it's clicking.
Troy Hairston and Amir Siddiq provide CMU with a very formidable edge rush. The defensive line also ranks in the top-25 nationally in Stuff Rate and Line Yards. The front seven has certainly done its job so far this season, including star linebacker Troy Brown.
However, the secondary has been absolutely lost. Despite having some talented pieces, the Chips rank 119th in Pass Efficiency Defense.
If the secondary can improve just a bit down the stretch, this becomes a very dangerous team since the offense is capable of keeping up with anybody in the league.
---
Tier Three: Outside the Top 100
There's really not much separating these four teams from the four above in a year of extreme parity in the MAC.
The Eagles have jumped out to a 5-3 start with their only losses coming against Wisconsin, Northern Illinois (in a game they severely outplayed the Huskies) and a shootout at home to Ball State.
Now, their wins against an FCS team and three bottom-10 FBS teams (UMass, Texas State, Bowling Green) haven't been anything to write home about.
Their other victory came by a single point against a Miami (OH) team playing its backup quarterback in a game the RedHawks were the better team statistically.
With the schedule getting much tougher in November, it might be tough for Chris Creighton's bunch to pick up that sixth win.
After just two games, former Cincinnati transfer Ben Bryant took over as the new starting quarterback for incumbent starter Preston Hutchinson. He's played very well so far in Ypsilanti, averaging 8.5 yards per attempt while completing 69% of his passes.
He has a pair of very talented receivers to rely on in Dylan Drummond and Hassan Beydoun.
Similar to the offense, the strength of the defense is in the passing game. The secondary has been thriving in 2021, ranking in the top-25 nationally in Pass Efficiency Defense.
However, the defensive line is one of the worst in the conference and teams can run at will against the Eagles, who don't have much of a rushing attack to speak of themselves.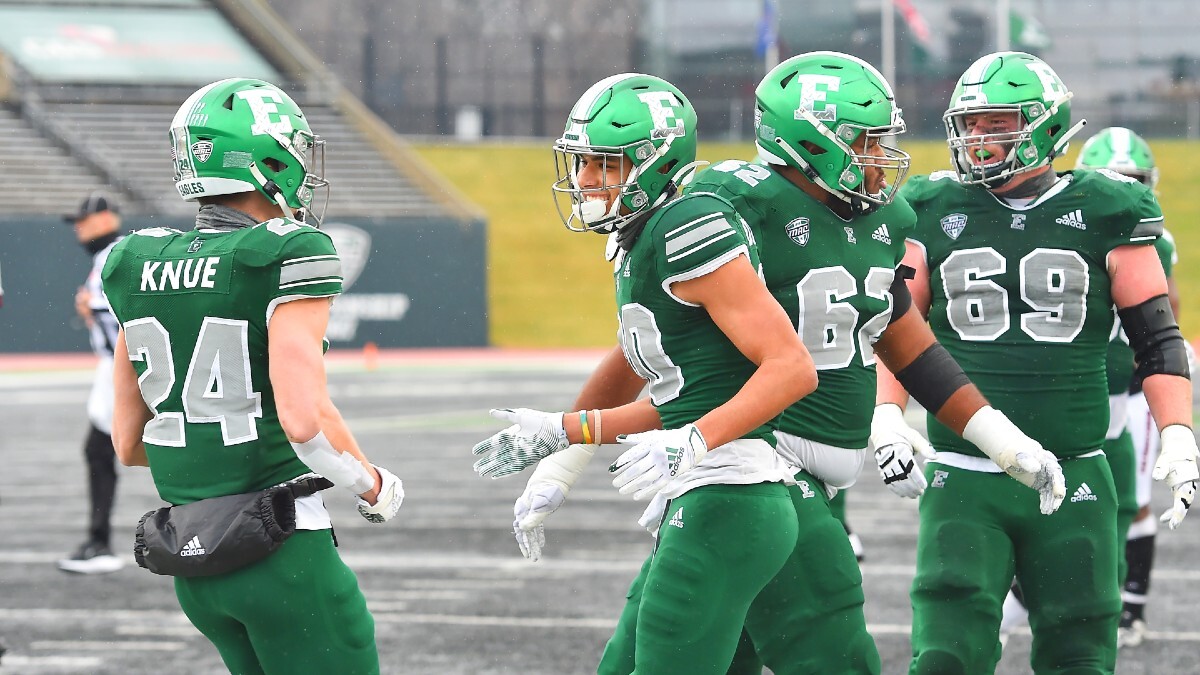 ---
NIU has been the surprise of the MAC to date with a perfect 4-0 conference record.
However, the Huskies have been quite fortunate in a number of games. In fact, they have gone 5-0 in one-possession games, including each of their last four in league play.
The special teams, coaching and offense have been better than expected.
The ground game has paved the way for some of these unlikely victories.
Freshman Harrison Waylee was averaging over 100 yards rushing per game over the first five games before going down with an injury. Fellow freshman Jay Ducker then picked right where Waylee left off. He's carried the ball 64 times for 393 yards (6.1 yards per carry) over the past two contests.
Rocky Lombardi has struggled, ranking 97th in QB Rating and 123rd in adjusted completion percentage out of 133 quarterbacks with at least 100 dropbacks. But his receivers have made key catches in critical moments.
On the other side of the ball, the defense has no redeeming qualities. It's just putrid.
NIU likely has some major regression coming its way, but Thomas Hammock has this young team fighting each week. The program is headed in the right direction.
---
The Bulls sit at 4-5 on the season, and their resume is even more underwhelming when you consider they have two one-point victories over Old Dominion and Ohio to go along with a pair of wins over Akron and FCS Wagner.
In fairness, they've at least been competitive in three losses, including a three-point home loss to Coastal Carolina.
However, while a blowout loss to Nebraska is understandable, they just dropped a game at home this past weekend as two-touchdown favorites to Bowling Green, which put up 56 points. Not a great sign for how things are trending.
The offensive and defensive lines remain stout with each ranking in the top five nationally in Adjusted Sack Rate. However, the Bulls have dealt with plenty of expected growing pains elsewhere on the roster after the sudden departure of head coach Lance Leipold and a number of key assistants and players in the offseason.
Senior Kyle Vantrease has been serviceable at quarterback, but this is an offense that wants to rely on its rushing attack. It's also worth noting that Vantrease went down with an injury last weekend, so that's worth monitoring moving forward.
The Bulls aren't as prolific as last year after losing star back Jaret Patterson to the NFL, but this is still a run-first offense that ranks in the top-25 nationally in attempts per game.
Defensively, there's still a lot of talent in the front seven that can really get after opposing quarterbacks, but the secondary has really struggled. Buffalo has allowed 8.6 yards per pass attempt, which ranks in the bottom 15 in FBS.
---
Ohio only has one win on the season (at Akron), but has shown signs of improvement in recent weeks. It was a rough start for a team that unexpectedly lost long-time head coach Frank Solich during the summer.
The Bobcats are 0-4 in one-possession games, including each of their last three, which have been decided by a total of 11 points.
The defense and special teams are very poor, but the offense hasn't been too bad, primarily on the ground. The Bobcats average 5.4 yards per carry, which ranks 16th in the country.
Ohio continues to use multiple quarterbacks with the more mobile Armani Rogers and the more traditional pocket passer Kurtis Rourke.
---
Tier Four: Bottom 15 Teams
That leaves two remaining clubs that sit in the basement, as expected.
Bowling Green pulled off one of the biggest upsets of the season with a shocking road win at Minnesota. It stumbled for a few weeks thereafter but then pulled out another win as two-touchdown underdogs at Buffalo this past weekend.
The special teams and defense have been a pleasant surprise for a very young team. And the offense, which has been dormant for most of the season, finally stepped up in a major way in a 56-point effort against the Bulls.
While still a bottom-15 team, the Falcons appear to be trending up.
---
Since the start of November 2018, Akron has gone 3-28 with the only victories coming against Bowling Green (2x) and Bryant.
On the bright side, two of those victories have come this season.
The Zips have used three different quarterbacks depending on who's healthy and have rotated at times when they need a spark.
Whether it's DJ Irons or Zach Gibson under center, neither is going to get any protection from the offensive line. Last week, it gave up 11 sacks to Buffalo.
The Zips have some decent linebackers who will pile up tackling statistics, but this is the worst defense in the league. Their undersized defensive line ranks dead last nationally in almost every category, and the secondary ranks dead last in pass efficiency defense.
That's not an ideal combination.
How would you rate this article?
This site contains commercial content. We may be compensated for the links provided on this page. The content on this page is for informational purposes only. Action Network makes no representation or warranty as to the accuracy of the information given or the outcome of any game or event.