2023 MAC Win Totals, Futures, Betting Preview: Stuckey's Preseason MACtion Manifesto
Credit:
Ryan Collinsworth/Action Network.
It's time for the fourth annual edition of my preseason MAC Manifesto. That can only mean one thing: the start of the 2023 college football season must be right around the corner.
And before you know it, you'll be rooting for a backdoor cover on a blustery November weekday night in Mount Pleasant, Michigan.
When evaluating the MAC — more than any other conference in college football — expect the unexpected. In the past five seasons alone, Central Michigan went from 1-11 (0-8 in the MAC) to a conference title appearance in 2019.
Then, in 2021, Northern Illinois made that accomplishment look like child's play after the Huskies became the first college football team to ever win a conference championship following a winless season.
Over that span, eight different teams have played in the four conference championship games. The talent disparity from top to bottom just isn't as significant as other conferences.
So, yes, I bet on a MAC long shot once again this season. Hopefully we can duplicate the success of 2020 when Ball State cashed at 9-1.
I haven't been quite as fortunate since, but both Kent State 14-1 and Ohio 25-1 reached the title games in each of the past two seasons. I'm still fully convinced the Bobcats would've won their first MAC title since 1968 if quarterback Kurtis Rourke didn't suffer a late-season injury.
(Before you ask, yes, I'm still bitter.)
So, who will win the MAC this year? Your guess is as good as mine in a league where no team has repeated as champion in over a decade. Can Toledo buck that trend? That seems like a good place to start.
Also, as always, make sure you shop around for the best number before placing any wagers. That should always be the case, but especially when it comes to futures markets, which can have much greater price discrepancies from book to book.
---
Click any logo to navigate directly to that team's section.
---
MAC West
No team has won back-to-back West Division titles since 2015 when NIU won its sixth straight. Since then, five of the six teams in the division have won at least one, with NIU and Toledo grabbing a pair each.
EMU is the only team that failed to reach Detroit, which remains an elusive feat for the program. Over that span, the West has won six of seven MAC Championships. Can the division continue that dominance? Let's take a look.
---
Reloaded Rocket Ship
This might sound familiar: Toledo has the most talented team in the conference — starting with dual-threat quarterback Dequan Finn and a bevy of returning skill-position talent.
Finn still has room to grow in the accuracy department, but the biggest question on offense resides up front with the offensive line. Last year, the Rockets lost two projected starters in fall camp, which caused them to piece together a starting five, which even included a converted defensive tackle moving to center.
As a result, the group performed inconsistently throughout the season but did show signs of improvement down the stretch. The hope is that more continuity and experience (second-most returning OL starts in the MAC) will translate to increased consistency.
Additionally, Toledo hopes to have Tyler Long back healthy by the opener. After projecting to start at center last season, he may actually fill in at guard in 2023. The Rockets also brought in a few Power 5 transfers, including one from Rutgers who could start at right tackle.
Regardless of how the puzzle pieces fit together, the offensive line is in much better shape than it was at this time last year. We will certainly learn a lot about this group's progress in its opener against Illinois' nasty defensive front.
Elsewhere, Toledo should once again field the MAC's best defense. While the defensive front will likely take a step back after losing a number of key pieces, the back end remains rock solid. The secondary features an abundance of experience, led by STAR Nate Bauer and outside cornerback Quinyon Mitchell, who tallied four interceptions in a single game last season — two of which he took to the house.
Toledo's special teams units had major issues last season and now will have to break in a new kicker. As a result, this is certainly a potential area of weakness that could swing one or two close games the wrong way.
Toledo Schedule Analysis & Pick
The Rockets have a fairly easy overall schedule with nonconference games against Texas Southern and San Jose State in Toledo, plus road bouts with Illinois and UMass. That looks like 3-1 realistically.
In league play, the Rockets drew Buffalo at home out of the East in addition to road battles against Miami (Ohio) and Bowling Green. That isn't the most ideal draw, but they get to host Eastern Michigan and Northern Illinois in the Glass City from within the division.
They also have a late bye before traveling to Central Michigan in the regular-season finale. Those are favorable schedule nuances against the top three other contenders in the West.
As mentioned, Toledo has the most talented roster in the MAC. The defense should be dominant in league play once again, especially if it can find a pass rush.
Meanwhile, the offense could look much more fluid if Finn improves his footwork and the offensive line meshes from the jump. Throw in even a slight improvement on special teams, and Toledo should cruise to a West title.
The key word in that last sentence is should.
This is still the MAC and still a Toledo team led by head coach Jason Candle, who I still don't fully trust on a week-to-week basis.
While I'm not taking the under on Toledo's win total — which I project right around 9.0 — I'm indirectly fading the Rockets by taking a flier on another team in the West to win the MAC. More on that later.
Stuckey's Pick: Pass
---
Chris Creighton Can Coach
After nine wins, optimism around EMU football is sky-high in Ypsilanti — home of the first Domino's Pizza.
The Eagles were one bad bounce away from a division title and their first-ever appearance in the MAC Championship. But alas, they still remain the only team in the league to never reach Detroit.
This season, Austin Smith returns at quarterback after sharing time last season with Taylor Powell, who has since moved on to the CFL where he starts as a rookie.
I actually preferred Powell, so this is a downgrade to me — albeit a minor one. Smith (3-1 as a starter) will have the benefit of leaning on the ground game led by one of the league's best running back duos of Samson Evans and Jaylon Jackson, who also contributes in the return game.
However, new faces must emerge at wide receiver and tight end around senior wideout Tanner Knue.
The offensive line also returns only two starters and the Eagles will have to replace the massive shoes of Sidy Sow, who the Patriots selected in the fourth round of the NFL Draft.
There are certainly question marks up front with the exception of right tackle Brian Dooley. Overall, I believe the offense will take a step back with a slight downgrade at quarterback, the loss of two important receivers and three starting offensive linemen, including the best in program history.
The Eagles have a bit more experience returning on defense, but they lost star edge rusher Jose Ramirez to the NFL. The reigning MAC Defensive Player of the Year will be sorely missed, as he drew double (and sometimes triple) teams, which freed up space for other defenders.
EMU has only one returning starter on paper up front, but two previous starters will return from injury after missing last season. Still, the loss of Ramirez is significant. He's irreplaceable.
While the defensive front will miss Ramirez, the back seven brings back a great deal of production. I'm very high on the linebacker corps, and the secondary oozes with potential if the new co-defensive coordinators can find another adequate outside cornerback opposite Kempton Shine.
Both safeties return after promising freshman campaigns, so it's natural to expect an even greater jump in production.
Lastly, unlike most MAC teams, you can usually count on a strong Eastern Michigan special teams unit.
Eastern Michigan Schedule Analysis & Pick
From the East, the Eagles get a road trip to Buffalo plus home games against Akron and Kent State. That's what I call winning the inter-division schedule lottery.
However, they must hit the road for Toledo, Central Michigan and Northern Illinois — the three other primary contenders in their division. While home-field advantage isn't massive in the MAC, that certainly pollutes the path to a division title.
I saw potential betting value last preseason on EMU to win the MAC, but the market has bumped up the Eagles drastically even though this team might take a step back.
They appear worse off in the trenches after losing a star on both sides to the NFL and could miss now-retired defensive coordinator Neal Neathery more than most realize.
In regard to the win total, the floor appears fairly high with six easy home games against Howard, UMass, Ball State, Kent State, Western Michigan and Akron. If they sweep those six, they would need to win at least two road games to eclipse their win total. Those road foes include Minnesota, Jacksonville State, Central Michigan, Northern Illinois, Toledo and Buffalo.
Right before the start of conference play, a tricky early-season situational spot against a Jacksonville State team coming off of a bye might swing it one way or the other.
I actually show a tad bit of value on the under numerically but not enough to go against head coach Chris Creighton, who I highly respect.
His teams are always so well-disciplined (penalties, etc.) and excel on special teams. They just don't beat themselves, which could swing a couple of close coin-flips their way, getting them to eight wins instead of six.
That's exactly what happened last season when they finished 5-1 in one-possession games en route to a 9-4 campaign.
Stuckey's Pick: Pass (Lean Under)
---
Click any logo to navigate directly to that team's section.
---
Back and Forth We Go
Two seasons ago, everything from close games to fourth-down variance went right for the Huskies en route to a shocking MAC title just one year removed from a winless campaign.
Well, all of that looming negative regression snowballed on NIU last season in the form of major injuries to multiple quarterbacks and skill positions and a 2-5 record in one-possession games.
Well, I believe the Huskies are primed for another positive turnaround with seventh-year quarterback Rocky Lombardi back under center after an injury cost him most of last season.
The former Michigan State product will work behind arguably the league's strongest offensive line, which should pave the way for another superb rushing attack. Leading rusher Harrison Waylee transferred to Wyoming, but the Huskies have plenty of capable horses in the backfield, including converted quarterback Justin Lynch, who could potentially duplicate a lot of the things that fullback Clint Ratkovich did for the offense.
Also, don't forget that speedster Trayvon Rudolph will return at wide receiver after missing all of last season with an injury. He and Kacper Rutkiewicz make up a formidable duo on the outside, and I'm also a high on redshirt freshman Keyshaun Pipkin.
Assuming Lombardi stays healthy, I'm very bullish on this offense — and it all starts with the uber-experienced offensive line.
On the flip side, the defense is certainly a concern. The Huskies have struggled immensely in the secondary over the past few seasons and will need a few transfers to step up right away.
Fortunately for them, stud safety CJ Brown returns, and things can't really get any worse. The linebacker room is also fairly inexperienced, and they will need to find a reliable edge rush to bookend an extremely solid interior.
Ultimately, the defense won't be an overwhelming strength — especially against the pass — but there's enough experience and new pieces to make a small jump in productivity.
Lastly, despite losing a very reliable kicker in John Richardson, I'm not really concerned with the special teams, especially with Rudolph back to bolster the return game.
Northern Illinois Schedule Analysis & Pick
NIU's nonconference slate includes a pair of road games against Boston College and Nebraska, which are likely losses. But pulling off one of those two upsets wouldn't completely shock me.
It also will host Southern Illinois and Tulsa. The most likely outcome is a 2-2 start leading into the conference schedule.
The Huskies begin MAC play with a tough road game at Toledo, which might spoil any hope of winning the division. However, the rest of the league schedule then becomes fairly manageable. They drew Kent State, Akron and Ohio from the East and get the Bobcats at home. They also have three very winnable home games against Ball State, Western Michigan and Eastern Michigan.
Ultimately, I trust Lombardi to lead this pretty experienced roster to a bowl appearance. I much prefer paying the juice to go over 5.5 wins rather than taking the plus-money available on over 6.5 wins, both from a mathematical standpoint and bowl motivation angle.
Even if NIU starts out a disappointing 3-6, it will have plenty of incentive to win out against a cakewalk final three-game stretch of Ball State, Western Michigan and Kent State with the former two coming at home in the barbed city.
Stuckey's Pick: Over 5.5 Wins (-150)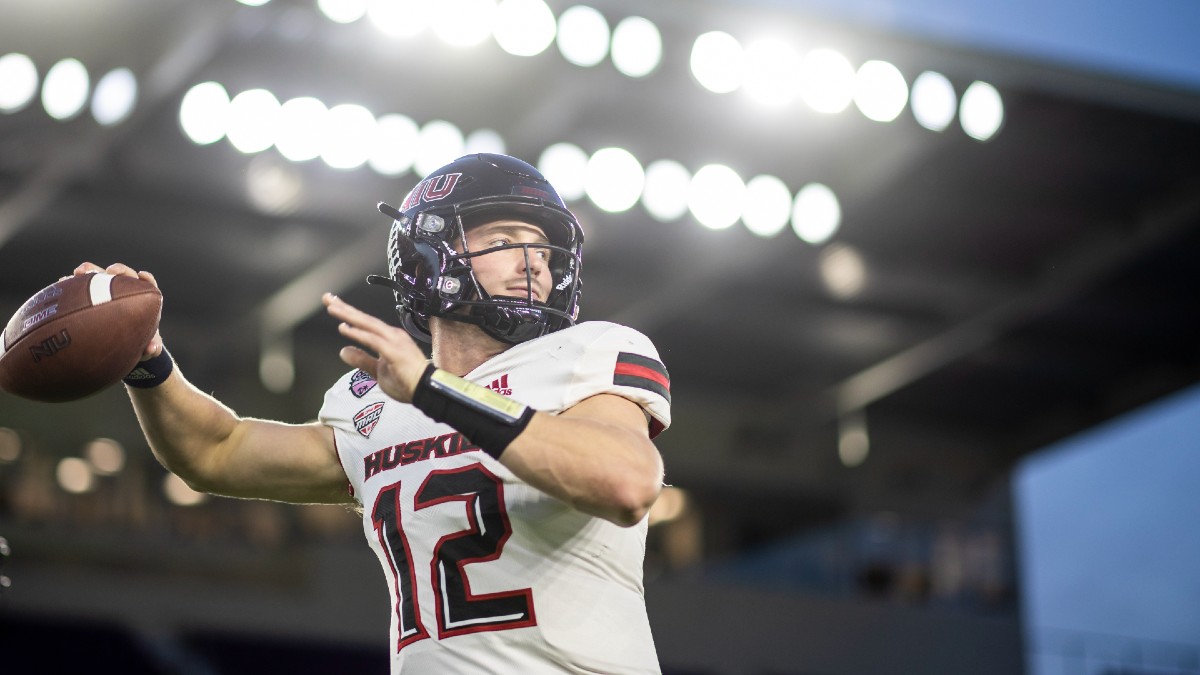 ---
Who Can Complete a Forward Pass?
Last year, the CMU offense was an absolute mess.
It's not often a team from the MAC has to deal with losing both starting tackles to the NFL, but that's what the Chips had to deal with heading into last season along with a new offensive line coach and coordinator. The results were bleak.
Head coach Jim McElwain hopes the experience both young tackles gained translates into more push up front. The interior also has some lingering question marks outside of stud left guard Deiyantei Powell-Woods, but this group has more promise than last year — assuming no injuries since the depth is murky.
CMU must also replace its starting quarterback, leading rusher and top two receivers. However, it dealt with a plethora of injuries across the board in 2022. Consequently, Jase Bauer and Bert Emanuel both saw time under center as freshmen.
It remains to be seen who wins the job, but Emanuel has the higher upside with his elite rushing ability, which he put on full display when he ran for 293 yards against Buffalo. Yes, 293!
Can he throw the ball? He certainly needs to improve drastically in that department, but he has the potential to fit perfectly in Paul Petrino's scheme.
While there's a lot of turnover in the backfield and on the outside, I like some of the pieces.
It basically comes down to improvement along the offensive line and if one of the two quarterbacks can take a substantial mechanical leap when dropping back to pass.
Similar to the offensive side of the ball, the Chips also had to cope with significant turnover on defense, specifically at linebacker. The hope is the three underclassmen who got thrown into the fire last year will perform at a higher level in 2023.
CMU also returns three of four starters along the defensive line, although it must fill the void left by defensive end Thomas Incoom, who had 11.5 sacks in 2022. Meanwhile, three starters also return in the defensive backfield after a season full of injury turmoil — a consistent theme throughout the roster.
I expect the back-end efficiency to jump a bit.
Central Michigan Schedule Analysis & Pick
The schedule isn't easy with seven road games, including three likely nonconference losses against Michigan State, Notre Dame and South Alabama.
The Chips should take care of business at home against New Hampshire, putting them at 1-3 headed into MAC play.
From the East, they draw a home game against Akron but must travel to Ohio and Buffalo. Additionally, two of their other easiest division opponents on paper — Ball State and Western Michigan — come on the road.
And to throw salt in the wound, each of their final four opponents will come off of a bye.
Speaking of bye weeks, CMU doesn't have one until late in the season. That could prove disastrous if injuries strike after a tough opening month for a team that really lacks depth, especially in the trenches.
With all of that said, I'm actually buying low after last season when everything went wrong by taking a flier on the upside of Emanuel.
Plus, I do truly trust McElwain, who already orchestrated a remarkable seven-game season-over-season turnaround here back in 2019.
The Chips are due to catch a few breaks after a year in which the injuries just kept piling up. Plus, they recorded only four interceptions and four fumble recoveries, finishing with an abysmal -18 turnover margin. A few bounces going their way certainly wouldn't hurt.
On the field, the offensive line should improve with more experience in Year 2 of Petrino's system, and the defense has plenty of returning production. If one of the two quarterbacks can emerge as a more consistent passing threat, this offense will look leaps and bounds better than last year despite all of the attrition.
From a roster talent perspective, the Chippewas on par or superior to every other team in the division outside of Toledo. However, the Rockets must travel to Michigan's oil capital in Mount Pleasant to close out the season, and we have certainly seen Toledo play down to its competition countless times under Jason Candle.
I'm just hoping CMU has a shot at the division in that game to give this dart throw a little life.
For what it's worth, I have no interest in the win total. Things could go very sideways in a hurry if the Chips don't get competent QB play and/or suffer key injuries early.
Stuckey's Pick: Central Michigan to Win MAC (Play to +1800)
---
A new quarterback with a name that may sound familiar arrives in "Little Chicago" with Layne Hatcher making his fourth collegiate stop. He will take over for the underwhelming John Paddock, who transferred to Illinois in the offseason.
We've seen Hatcher a few times at this level, but he will certainly open up the passing attack, especially with more deep shots.
Head coach Mike Neu also hinted we could see the more mobile Kiael Kelly in certain packages designed to take advantage of his legs.
It remains to be seen who will step up on the outside as recipients of those downfield throws after the Cardinals lost three five-year senior wide receivers. In total, the wide receivers on the roster have six catches at the FBS level.
They do at least return a pair of excellent tight ends who thrived in their freshmen campaigns. Expect a high frequency of two-tight end sets for Tanner Koziol and Brady Hunt, both of whom could be in the discussion for All-MAC honors.
Despite the loss of bruising running back Carson Steele (transferred to UCLA), the backfield is in good hands with Kent State transfer Marquez Cooper, who received first-team All-MAC recognition at Kent State in 2022.
They also have adequate depth behind Cooper, who will run behind an offensive line that returns four starters, led by stud center Ethan Crowe.
If a new right guard can fill in, this group could once again have a productive season after paving the way for Steele and finishing with the league's lowest Sack Rates — although part of that stat can be attributed to Paddock's quick one-read throws.
On the other side of the ball, Ball State fielded one of the most underrated defenses at the Group of Five level last season.
The good news is the entire front seven basically returns intact, led by a trio of senior linebackers in Sidney Houston, Cole Pearce and tackling machine Clayton Coll. Those three make up the heartbeat of the defense.
The bad news is the secondary loses four starters — three of whom currently reside in NFL camps. Replacing that level of talent in one position group is tough for any squad, but especially in the MAC.
The Cardinals will need some inexperienced players to step up and a few incoming transfers to contribute right off the bat. This unit could take a drastic step back in 2023 if STAR Jordan Riley doesn't get any help.
Lastly, I'm a bit worried about the special teams after mass turnover at key positions for a second straight season. Ball State has actually excelled in the third phase in each of the past two years, but I wouldn't be surprised to see this unit fall off a cliff.
Ball State Schedule Analysis & Pick
The Cardinals start off the season with a gauntlet of a two-game road trip against Kentucky and Georgia. I'd imagine Neu would love to just come out of those two games with some rep experience and full health.
They will then return to Muncie for two winnable games against Indiana State and Georgia Southern. A 2-2 start is certainly in the cards before the start of MAC play, but 1-3 is astronomically more likely than 3-1.
In regard to league play, they do get most of their toughest opponents at home.
For this scheduling exercise, let's call Toledo a loss and Kent State a win. That leaves six other MAC games (four on the road) that I have all projected as essentially coin-flips with spreads of close to a field goal or less. If the Cardinals split those six games, they wouldn't even need to win the home game against Georgia Southern to get to five wins, assuming they take care of business as substantial favorites over Kent State and Indiana State.
Ball State has too many questions on the outside on both sides of the ball for me to consider running it back with another future (unless Drew Plitt has a year of eligibility I'm not aware of).
Despite the uncertainty at wide receiver and defensive back, this team has inexplicably started to grow on me in recent weeks, but I'll simply look to back them at certain spots throughout the year.
Stuckey's Pick: Pass
---
Click any logo to navigate directly to that team's section.
---
Tear it Down
This is a complete rebuild in Kalamazoo under new head coach Lance Taylor, who recently served as Louisville's offensive coordinator. He will have to deal with massive turnover at many position groups, while the new offensive staff implements a scheme change.
Let's start with the offense. The entire quarterback room does return, but neither Jack Salopek nor Treyson Bourguet should inspire much confidence after what we saw last year. The passing offense was downright dreadful.
The more intriguing option might be transfer Hayden Wolff, who started 22 games across three seasons at Old Dominion. I'm not a huge fan, but he'd certainly serve as an upgrade over the two incumbents.
He simply has a better arm fit for what will likely be a heavier passing attack under new offensive coordinator Billy Cosh, who ran a four-wide, fast-paced spread attack at Richmond.
The questions certainly don't end at who will line up under center. The Broncos also lost a pair of stud running backs in La'Darius Jefferson and Sean Tyler. The latter transferred to Minnesota along with leading receiver Corey Crooms. That's not ideal, even if four of the other top five wideouts do return.
The offensive line boasts the most experience of any position group, but they simply couldn't pass block last year. Plus, they must replace top dog Dylan Deatherage, who signed as an undrafted free agent with the Texans before recently getting waived.
While I don't have much hope for the offense in Year 1 of a new scheme, I have even more doubts about a defense that suffered mass attrition across the board after a fairly successful season, especially when you consider how anemic the offense performed.
The Broncos do at least have coordinator and scheme continuity with long-time defensive coordinator Lou Esposito still around.
However, they lost three starting defensive linemen, including stud defensive tackle Braden Fiske and ferocious edge rusher Andre Carter, who transferred to Florida State and Indiana, respectively.
To make matters worse, WMU also must replace three starting senior linebackers who served as the defensive backbone in 2022. Corvin Moment graduated, Zaire Barnes went in the sixth round of the NFL Draft and Ryan Selig became a third starter to transfer out west to Minnesota.
WMU did counter those losses by bringing in a pair of Big Ten transfers, but neither has much experience — a common theme throughout the front seven that will certainly drop significantly in production.
Consequently, the secondary will have a bigger burden on its shoulders, which isn't ideal for a group that loses three productive starters who started every game in 2022. Once again, the Broncos will need a combination of inexperienced backups and transfers to fill in immediately and do so with a likely much less potent pass rush.
To top things off, the special teams will probably once again be a sore spot, and depth is a major concern across the board. So, things could go from bad to worse in a hurry.
Western Michigan Schedule Analysis & Pick
Despite a pitiful passing attack, the Broncos did manage to win five games last season. However, one of those came against FCS New Hampshire, while two others came against backup quarterbacks by a combined eight points, including a victory over a Toledo team playing for nothing in the regular-season finale. They also beat Miami (Ohio) by six in Brett Gabbert's first game back from injury.
They were more like a three-win team that caught a couple of breaks.
Now, with a roster gutted in the offseason with a new head coach and offensive scheme, they must deal with the hardest overall schedule in the MAC.
Their best shot at a win will come in the opener at home against Saint Francis, but the Red Flash are no FCS walkover after making the playoffs last season. They actually took Akron to overtime in a game they should've won in the opening week last year.
From there, things only get more treacherous. The Broncos will head out on the highway for three straight road games against Syracuse, Iowa and Toledo. They then return home for Ball State before heading back out on the road to take on Mississippi State.
That's just a brutal stretch to start the season, and the lack of depth could really become problematic if the injury bug hits in these games where they will be severely outmanned.
Did I mention Western Michigan also doesn't have a bye week? It also won't get to face either Kent State or Akron from the East. Instead, it draws Ohio, Miami (Ohio) and Bowling Green. Yikes.
It's hard to envision the Broncos winning any of the seven road games on their schedule, especially since the two easiest games come late in the season when that lack of depth could prove fatal.
at Iowa
at Syracuse
at Toledo
at Mississippi State
at Ohio
at Eastern Michigan
at Northern Illinois
If they do go winless on the road, they would need to go 4-1 at home against St. Francis, Ball State, Bowling Green, Miami (Ohio) and Central Michigan to clear their win total. That's doable but not likely. Even 3-2 wouldn't be easy if they manage to steal an away game.
It's likely going to be a long year for WMU fans. But hey, at least the fine folks of Kalamazoo still have a very fine beer scene to enjoy on Saturdays.
With that said, remember that weird things happen in the MAC, which is why I hate going under these low win totals in the MAC unless I have a very significant edge. I don't have one in this case, but it's certainly under or nothing to me.
Stuckey's Pick: Pass (Lean Under)
---
MAC East
A year after making the conference title game as a big long shot, Ohio enters this season as the clear favorite in the East. Can the Bobs live up to the high expectations or will another surprise team emerge from the division? Let's take a closer look.
---
Maple Missle on a Mission
I loved this Ohio team going into last season. Everything went wrong in 2021, which created value on a team that had an abundance of upside on offense with quarterback Kurtis Rourke and some intriguing pieces on defense for a new coordinator hire I really fancied.
It all seemed to come together perfectly until Rourke suffered a late season-ending knee injury. Ohio would go on to lose the MAC Championship with its backup quarterback, but it did bounce back with a bowl victory to finish with 10 wins.
Now, expectations are through the roof in Athens, which throws a mean Halloween party if you've never visited in late October.
It all starts with the return of Rourke — the best quarterback in the conference. His health will certainly be worth monitoring early, and he'll obviously need to stay healthy if Ohio wants to win its first MAC title in over 50 years.
If Rourke is indeed 100% all season, the Ohio offense should cook. The entire running back room returns — led by MAC Freshman of the Year Sieh Bangura — and O'Shaan Allison also returns from injury.
The wide receiver room is also loaded, headlined by Sam Wiglusz along with Miles Cross and tight end Tyler Foster.
Even the offensive line has the potential to take a step forward after an injury-plagued season. The Bobcats only really need to replace right guard Hagan Meservy from a group filled with juniors who should improve with valuable experience under their belts.
I loved the hire of Spence Nowinsky prior to last season. He's a very underrated defensive coordinator, and you could see drastic improvement on that side of the ball toward the end of last season as the personnel gained more scheme familiarity.
That said, I do have some concerns for this defense.
The linebacker group is strong with two featured seniors, Bryce Houston and Keye Thompson. However, the Bobcats must find two replacements for a key pair of defensive linemen in Kai Caesar and Jack McCrory.
They also need two new safeties on a pass defense that really struggled in 2022. Having undersized cornerbacks certainly doesn't make things easier.
The special teams could also take a step back after losing a very reliable kicker in Nathanial Vakos to Wisconsin. That could make all of the difference in close games, where Ohio fared well in 2022.
Ohio Schedule Analysis & Pick
Ohio will start the year with a trio of tricky but winnable nonconference games with a free home win over Long Island sandwiched in between. Those three contests include road bouts at San Diego State and Florida Atlantic, plus a home game with an Iowa State team dealing with tons of uncertainty right now.
Starting off the season 2-2 is the most likely outcome, but I wouldn't be shocked at any record outside of 0-4.
The Bobs will then begin a very favorable MAC schedule that includes Western Michigan, Akron and Kent State — arguably the three worst teams in the league. They also avoid Toledo and Eastern Michigan from the West and get to host Miami (Ohio), which could ultimately decide the division.
I don't show any value in the win total, which will more than likely come down to one or two of those aforementioned swing nonconference games. I also have no interest in the current futures price tag after getting them anywhere from 25-1 to 15-1 last year.
Everything went right for Ohio in 2022 up until the late injury to Rourke, which might not be the case in 2023 if you do decide to buy high on a squad that finished 4-1 in one-possession games.
I personally think the Ohio love opens up an opportunity for another MAC future in the East, which I'll get to shortly.
Stuckey's Pick: Pass
---
Buffalo finished 7-6 last season after a two-point bowl victory over Georgia Southern, but it definitely had a few more bounces go its way than not. The Bulls were a play or two away from finishing 4-8 and missing a bowl, even with some fairly fortunate turnover luck.
Quarterback Cole Snyder returns under center. However, I'm not a believer in the former Rutgers transfer, and many underlying metrics back up my sentiment.
While everybody returns in a loaded backfield, the same can't be said on the outside with the departure of all three top wideouts, who I thought made up a very underrated group that bailed out Snyder countless times.
Buffalo also must replace both tight ends and a pair of starters along an offensive line that could never quite figure it out in 2022.
On defense, the Bulls must replace both ends and star linebacker James Patterson. They will look to a few incoming transfers from the FCS level to help fill in those gaps — a theme of the offseason considering the Bulls didn't bring in a single FBS starter from the portal.
Stud safety Marcus Fuqua does at least return as the leader of the secondary, but the pass defense should take a step back overall after losing a number of key contributors.
When it comes to special teams, Buffalo has had persistent issues in recent seasons. However, this looks like one of their better groups on paper.
Buffalo Schedule Analysis & Pick
The Bulls will start out the 2023 season with a likely loss at Wisconsin before coming home to the Queen City for a "gimme" against Fordham. Their final two nonconference games — vs. Liberty and at Louisiana — could go either way, so let's call it a probable 2-2 start even though 1-3 is more likely than 3-1.
Buffalo will then begin a fairly tough league slate. From the East, it got a brutal draw of Central Michigan, Eastern Michigan and Toledo off of a bye. It will host Ohio within the division but must travel to Miami (Ohio).
And while the Bulls do face both Akron and Kent State, both come on the road.
Ultimately, I'm just not a believer in Snyder at quarterback and don't like what Buffalo did in the offseason — from the coaching hires to the underwhelming portal additions. This team just doesn't have the typical talent level we normally see at Buffalo.
Six wins looks like the ceiling, so I'll happily pay a bit of a premium to go under 6.5.
Stuckey's Pick: Under 6.5 Wins (-140)
---
Click any logo to navigate directly to that team's section.
---
Put Brett in a Bubble
Another reason why I bought an Ohio future last year was that division favorite Miami (Ohio) had the potential to be especially vulnerable if quarterback Brett Gabbert suffered another injury — which he inevitably did.
Well, that same question lingers as Gabbert prepares to start under center for the fifth consecutive season. The difference is Miami now has much juicier odds, while Ohio now finds itself in the hunted role with a quarterback recovering from injury.
When Gabbert did stay healthy for most of a season, he tossed 26 touchdowns to just six interceptions during a dominant 2021 campaign. He's certainly capable of duplicating that production if he can stay on the field.
If he does, he will have a serviceable running back room and a deep wide receiver corps to work with, although someone must step up as the alpha to fill the void left by Mac Hippenhammer, who's now with the Bengals.
I also really like tight end Jack Coldiron and both wideouts additions from the portal.
The offensive line did lose two important starters on the interior to the portal with Caleb Shaffer going to Oklahoma and Rusty Feth heading to Iowa.
Despite those losses, I actually think the line could be in good shape with Sam Vaughan returning from injury and the addition of a Kentucky transfer to fill in those gaps. As usual, the RedHawks should have a massive offensive line that will excel in league play.
Defensively, Miami must replace two key pieces in mainstay linebacker Ryan McWood and cornerback John Saunders Jr., but every other starter returns.
This veteran group should be one of the top stop units in the MAC, especially if the defensive line — which returns everybody — generates a bit more pressure.
The RedHawks will also benefit from the return of a very good kicker and punter, giving them one of the better special teams units in the conference.
Miami (Ohio) Schedule Analysis & Pick
The RedHawks will likely start off with a loss down south against the other Miami, but they should then pick up a win at UMass before traveling to Cincinnati for a third straight road game. I'm very low on Cincy, but that's a tough spot.
Fortunately for them, they will then get a breather against Delaware State in Oxford — home of the first-ever collegiate football game played in Ohio way back in 1888 between Miami (Ohio) and Cincinnati.
For this scheduling exercise, let's call it a 2-2 start headed into conference play where Miami will have a very manageable road slate outside of a short trip to Athens to take on Ohio in a game that could decide the division.
The RedHawks do draw Toledo from the West but get to face the Rockets at home. They also benefit from seeing Akron, Kent State and Western Michigan in addition to two very winnable home games against Bowling Green and Buffalo.
Assuming full quarterback health for both clubs, I barely have any separation between Miami (Ohio) and Ohio from a power ratings perspective. Additionally, I'm also lower than the market on both Buffalo and Bowling Green and think Akron remains at least one year away from really having a say in the division race. And Kent State has no chance.
Therefore, it made total sense why I saw so much value in Miami at +800 to win the MAC. I think the division will come down to a coin-flip type of game at Ohio, so I'm more than happy with this price.
Stuckey's Pick: Miami (Ohio) to Win MAC (+800)
---
Smoke and Mirrors 
Yes, the Falcons went 5-3 in conference play to get to six wins — their most since 2015 — which got them into a bowl that they lost to lowly New Mexico State.
However, if you look under the hood, they beat a checked-out Toledo team late in the season playing for nothing with its backup quarterback. They also won three coin-flip games against Akron (by three), Miami (Ohio) (by four) and Western Michigan (by four) with the latter pair also fielding backup signal-callers.
Their five league wins came against four backup quarterbacks by an average margin of 6.8 points. Meanwhile, they suffered three MAC defeats by an average of 29.6 points.
Their only nonconference victory came in overtime against a Marshall club that forgot to get off the bus a week after upsetting Notre Dame.
From a roster perspective, with the departure of starting quarterback Matt McDonald, the new QB1 will either go to last year's backup Camden Orth or Indiana transfer Connor Bazelak.
There's definitely more upside with the well-traveled Bazelak, the 2020 SEC Freshman of the Year at Missouri. The hope would be he can shine against lesser competition at the Group of Five level.
Elsewhere on offense, BG will get a boost in the backfield with the return of running back Terion Stewart, who sat out last year.
However, the pass-catching group is fairly unproven outside of Odieu Hiliare after the departures of Tyrone Broden and stud tight end Christian Sims.
In regard to the offensive line, that group has been a persistent problem in recent seasons. Some potential exists with a few incoming transfers from bigger programs, but this unit will likely underwhelm again.
There are also major questions on the defensive side of the ball even if the Falcons got extremely good news when two foundational pieces in cornerback Davon Ferguson and linebacker Darren Anders decided to return after testing the portal waters.
Still, Bowling Green will have to replace a pair of starting linebackers and two very critical defensive linemen in nose tackle Walter Haire and elite defensive end Karl Brooks, who's now with the Green Bay Packers.
I also worry about both safety spots, especially if BG's aggressive scheme can't generate as much pressure after the loss of Brooks, who garnered extra blocking attention from every opponent.
Lastly, Bowling Green may take a step back on special teams.
Last season, it benefited from a number of key blocked kicks, which led to a few touchdowns. That's hard to duplicate. It will also have to make do with a new freshman kicker, which could prove problematic.
Bowling Green Schedule Analysis & Pick
The Falcons will likely start 1-2 with a win over Eastern Illinois and road losses against Michigan and Liberty.
In MAC play, they draw Toledo from the West, but at least this Battle of I-75 will take place at home. They also draw the two projected worst teams in that division: Western Michigan and Ball State. That's certainly beneficial to a league schedule that already includes Akron and Kent State. Those four games plus Eastern Illinois are the easiest path to five wins.
Although, getting a rebuilding Western Michigan team on the road in the regular-season finale is the worst possible time to catch the Broncos. BG also has three straight road games against Georgia Tech, Miami (Ohio) and Buffalo after hosting Ohio to kick off conference play.
It could be limping into the second half of the schedule after potentially only winning one (vs. EIU) of its first seven games — five of which come away from Bowling Green, home of the National Tractor Pulling Championships.
I'm lower than the market when it comes to the overall talent level of this team, which lights up as a potential negative regression candidate in many facets. I'm also not a fan of Bazelak or this staff, so I'm certainly not buying anything they're selling.
I think only three or four wins are on the horizon.
Stuckey's Pick: Under 5 Wins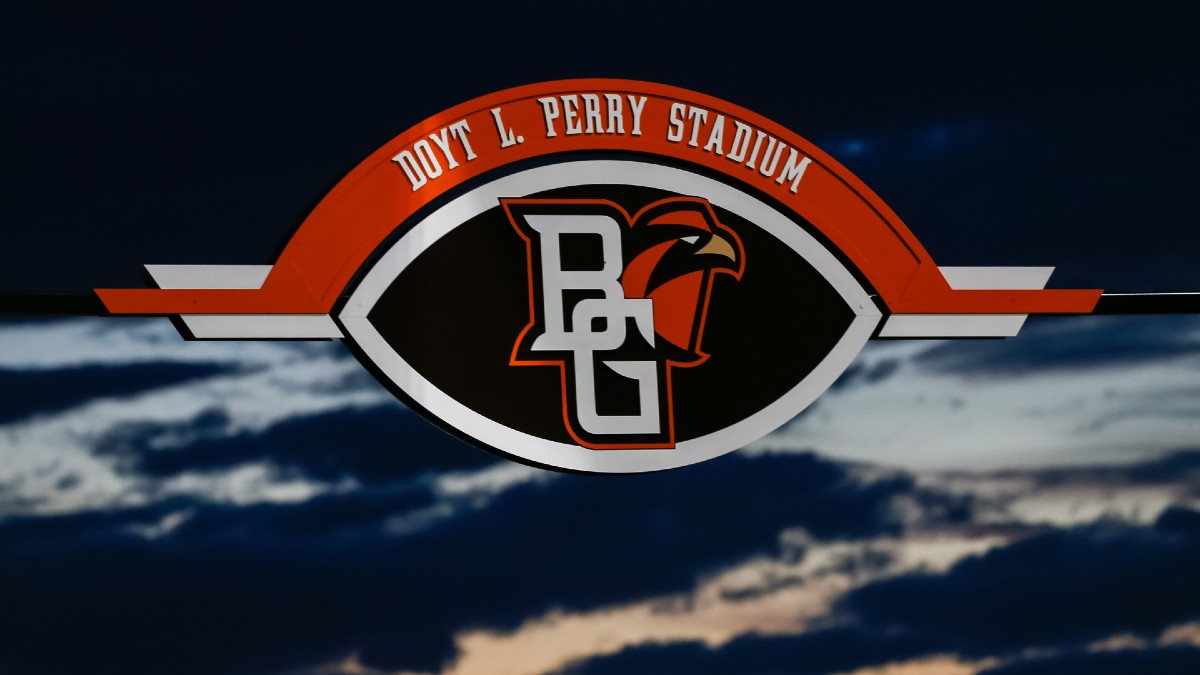 ---
Moorhead Still Needs More Time
I absolutely loved the hire of head coach Joe Moorhead, who should continue to turn this program around by installing a much more competent offense, and most importantly, infusing the roster with more talent via recruiting and the portal.
The Zips only matched their 2021 win total of two last season, but they also finished 1-6 in games decided by nine points or less. With a little more turnover luck (-13 last year) and experience, they could easily flip a handful of those close losses into wins.
Since bottoming out as a program at 0-12 in 2019, they clearly fielded a much more competitive roster in essentially Year 0 under Moorhead. That upward trajectory should continue in 2023, especially if quarterback DJ Irons takes another step in his development process as a passer.
Irons will have plenty of talent to work with in the backfield — Lorenzo Lingard transferred in from Florida — and especially at wide receiver with Alex Adams and Daniel George. The tight end position is even very strong with former West Virginia transfer TJ Banks returning for his senior season.
However, Irons can only do so much with all of the surrounding talent if the offensive line doesn't improve. He'll also struggle to stay healthy all season without better protection.
Offensive line play has been a consistent problem for Akron in recent seasons. Moorhead and his staff continuously tweaked the starting five to try to find the right mix, but the underlying metrics were once again pretty dire. There's definitely more bulk up front, but it will still be a very youthful group.
The hope is Moorhead can find the right combination quicker than last season and that more familiarity with his system leads to better run and pass blocking. It's definitely a work in progress, but I'd expect at least some positive gains.
I'm actually more worried about the defense, which fared much better than I had anticipated last year, especially late in the season.
The secondary looks like the strongest position group on this end, especially if the incoming transfers can contribute. That's promising for a unit that utilizes a high frequency of nickel and three-safety looks in a 4-2-5 formation.
However, I'm worried about the front seven after Akron lost its two main Havoc creators off the edge in addition to stud linebacker Bubba Arslanian, who announced in June he'd forego his extra year of eligibility to pursue a professional career.
Losing the tackling machine and team leader served as a major blow to the heart of the defense. The Zips will need some transfers to succeed in order to avoid a big drop-off in this front six.
Akron Schedule Analysis & Pick
I'd need much more than 35-1 to consider a dart throw on the Zips. They're still a year away from seriously contending for a division title in my humble opinion.
To go over this win total, you'll need Akron to win as many games this season as it has in the past four combined (5-37). Is it possible? Sure.
As a schedule exercise, let's call for home wins in the "Rubber City" against Kent State and Morgan State. Let's also mark the following five road games as losses:
Temple
Kentucky
Indiana
Eastern Michigan
Miami (Ohio)
So, can Akron go at least 3-2 in the following five games to clear its win total?
vs. Buffalo
vs. Northern Illinois
at Central Michigan
at Bowling Green
vs. Ohio
That doesn't seem unreasonable. Plus, the matchup with Ohio comes in the regular-season finale. The Bobcats could possibly sit their starters if they already have the division locked up.
My projection can't quite get me to an over now that it has taken money and jumped a bit from the open. Plus, I do still have real concerns about the trenches on both sides of the ball, which could once again be the Zips' ultimate downfall.
Akron is getting closer to reaching respectability and will be on my radar for a potential long-shot future next year.
Stuckey's Pick: Pass (Lean Over)
Click any logo to navigate directly to that team's section.
---
Starting From Scratch
This is a complete tear-down and rebuild.
When Deion Sanders plucked head coach Sean Lewis away to become Colorado's offensive coordinator, it started a ripple effect throughout the program with coaches and players dashing for the exits. That included starting quarterback Collin Schlee and a trio of first-team All MAC skill position players in running back Marquez Cooper, wide receiver Dante Cephas and wide receiver Devontez Walker — all of whom left via transfer.
Believe it or not, Kent State must replace all 11 starters on offense.
The starting quarterback job could go to one of four underclassmen from a group that includes two backups from last season and two P5 transfers. I'd imagine the hope is one of the transfers  — Michael Alaimo from Purdue or Jaren Lewis from Kansas State — seizes the opportunity and shines against inferior defenses in the MAC.
Whoever wins the gig will have to work with a brand new offense that will rely heavily on inexperienced backups from 2022 thrown into starting roles.
While not as drastic, the defense must also replace a significant amount of production within a new scheme.
CJ West returns on the interior to man the noseguard position, but the rest of the line is brand new.
The Golden Flashes also lost their two leading tacklers at linebacker and top cornerback in Montre Miller. Although, if one unit on this entire team could surprise, it would be the secondary, which has the potential to improve if the incoming transfers hit.
Plus, things can't get much worse than last year in that area.
The special teams unit could be decent if a replacement for return man Ja'Shaun Poke emerges. Andrew Glass is a fairly reliable field goal kicker, especially for MAC standards.
The Golden Flashes also added a new kicker with a stronger leg to likely handle kickoffs. Last season, they allowed way too many free yards of field position because of short kickoffs. However, neither will really matter if Kent State can't even get into field-goal range to potentially score.
I'm most intrigued by what type of offense the Golden Flashes will run in 2023. The new staff is comprised of many who have worked closely in the past with running backs and offensive linemen.
I expect Kent State to play much slower and lean on a power-rushing attack. That would require a complete 180 from the "Flash Fast" RPO-heavy offense that it utilized under Lewis, but it makes sense with the available personnel.
As a result, I'm targeting Kent State unders early in the season, starting with its opener against UCF. Not only should the defense be way ahead of the offense early in the season, but that unit will also really benefit from a more methodical offensive style.
Kent also will likely not give away as much free field position, as previously mentioned.
Kent State Schedule Analysis & Pick
I have two general rules of thumb I try to follow (there are exceptions) when betting MAC futures:
Don't bet the favorite to win the league. Weird things happen in the MAC.
Don't go under super low win totals. Weird things happen in the MAC.
I came very close to breaking the second rule this season with Kent State but ultimately passed.
Not only is this a full reconstruction from top to bottom, but the Flashes won't even benefit from an easy schedule relative to the rest of the league.
Where could three wins potentially come from? Well, the Golden Flashes do host Central Connecticut State in the "Tree City" after starting the season on the road against Arkansas and UCF. That's the easiest game on their schedule.
Then, they could realistically beat Buffalo or Bowling Green at home, especially if someone really steps up at quarterback. Road games at Akron and Ball State could be worse, even if they're likely losses. Then, they get NIU at home in the regular-season finale. Who knows if NIU will be playing for anything or what the injury situation looks like — although the Huskies are coming off a bye.
My point is there are a couple of potential victories even if they're hard to envision. Plus, remember that weird things happen in the MAC.
I'd bet the under if forced to, but I'm avoiding any preseason action on Kent State. I'm much more interested in its game-to-game unders early in the season.
Stuckey's Pick: Pass (Lean Under)
---
Central Michigan to Win MAC (+1800 · Smaller Bet)
Miami (Ohio) to Win MAC (+800)
Buffalo Under 6.5 Wins (-140)
Northern Illinois Over 5.5 Wins (-150)
Bowling Green Under 4.5 Wins (+105)
Good luck — and don't forget to keep your eyes peeled for my annual midseason MAC Manifesto prior to the start of weekday MACtion.
How would you rate this article?
This site contains commercial content. We may be compensated for the links provided on this page. The content on this page is for informational purposes only. Action Network makes no representation or warranty as to the accuracy of the information given or the outcome of any game or event.