CFP National Championship Betting: How Officiating Will Impact Alabama vs. Ohio State
Credit:
Todd Kirkland/Icon Sportswire via Getty Images. Pictured: Nick Saban.
Refs always have an impact on college football games in one way or another.
With a Big 12 officiating crew led by Brandon Cruse taking over the National Championship between Alabama and Ohio State, Collin Wilson breaks down how it could affect the final game of the season.
Check out Wilson's full referee breakdown below.
The Big 12 will provide the officiating crew for the 2021 College Football Playoff National Championship Game after experiencing plenty of turnover this past offseason.
With five years of Division I experience, Brandon Cruse migrated from the Mountain West to become a senior member of the Big 12. Four referees and a cumulative 42 years had to be replaced this offseason, leaving officials such as Cruse, Scott Campbell and David Alvarez to call New Year's Day bowls.
Cruse may be famously known for his offsides call during a 2018 Mountain West Conference game between Hawaii and Colorado State.
---
Those laughs turned to anger within the Big 12 after a game clock alteration caused an additional 46 seconds in the fourth quarter of the Red River Showdown.
Texas tied the game with 14 seconds to play to set up a historic overtime, but Cruse's mistake of moving the clock from 5:50 for 6:36 came at a time when the Sooners led 31-17.
---
---
Lincoln Riley expressed displeasure before congregating with the Big 12. The conference then released a statement saying there certainly was a mishandling of the clock, but it didn't reference disciplinary action against Cruse. Now, the referee will run the crew to call the biggest game of the college football season.
As for the officiating itself, Cruse is right in line with other head officials in college football.
The average penalties per game in FBS sits at 12.24, and Cruse called 12.38 per game in 2020. His 103 average yards per game falls just a few short of the national average of 107. Cruse's most frequent calls come are false starts on both sides, per Sports Source Analytics.
---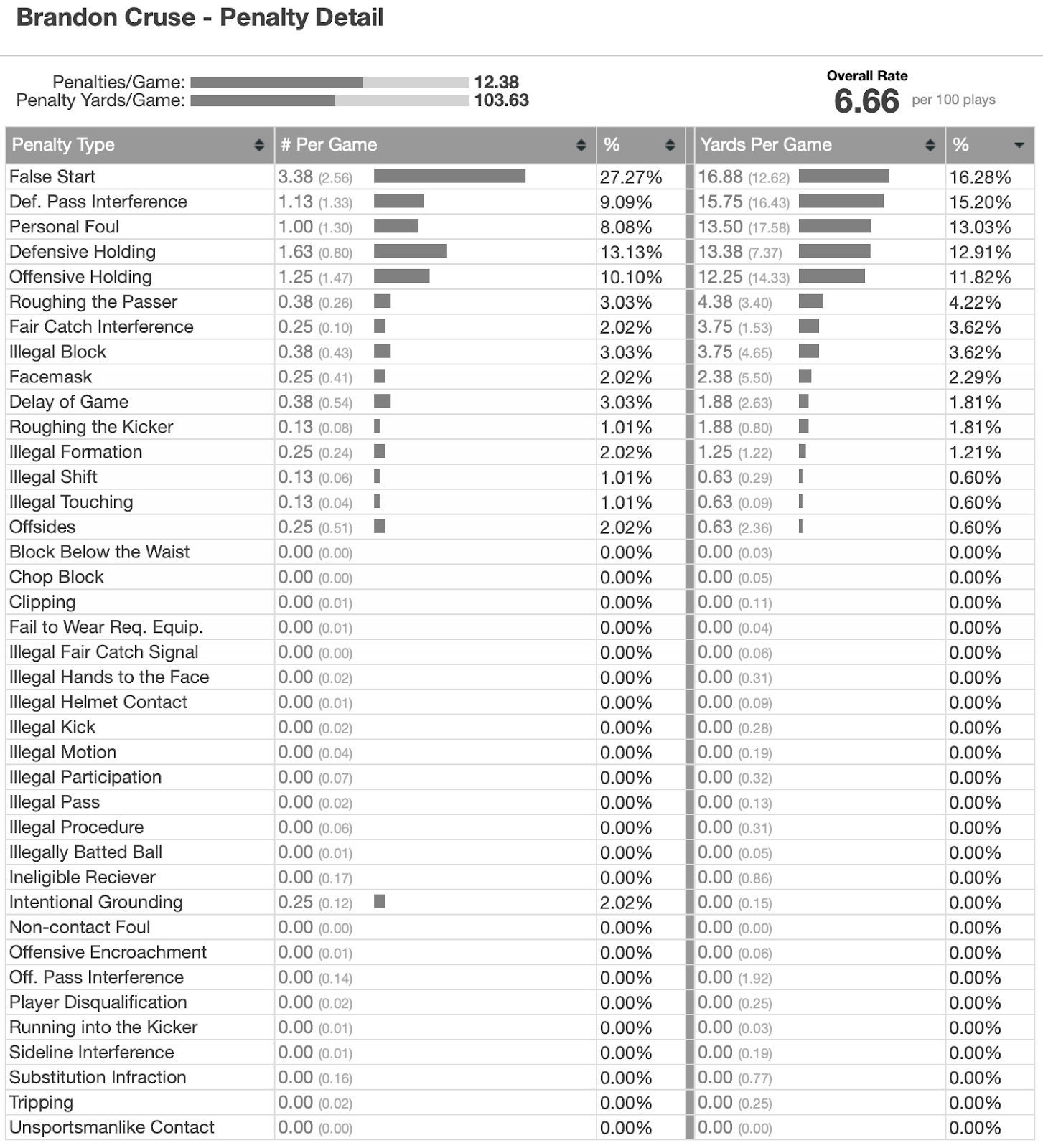 ---
The officiating crew under Cruse has called a lower-than-average rate of personal fouls when compared to FBS peers, but there's a spike in defensive holding calls.
Cruse ranks third in comparison to all head officials in defensive holds called per 100 plays.
No Ohio State defensive player has committed more than two penalties, but there may be an issue on the Alabama side. Crimson Tide cornerback Josh Jobe has been flagged 10 times this season, with five coming in the last two games against Florida and Notre Dame.
How would you rate this article?