College Football Odds & Picks: How To Bet MACtion's "Michigan Parlay" on Wednesday
Credit:
Matthew Pearce/Icon Sportswire via Getty Images. Pictured: DaShon Bussell (81).
MACtion gloriously returns for its second consecutive midweek slate on Wednesday, and our college football experts have you covered from a betting perspective.
Collin Wilson broke down Eastern Michigan vs. Ball State and Western Michigan vs. Toledo, while Mike Ianniello analyzed Central Michigan vs. Northern Illinois.
Check out all three breakdowns, with updated odds plus Wilson's and Ianniellos picks below.
What's better than football on a Tuesday night? Football on a Tuesday night and Wednesday night.
That's the beauty of MACtion. No matter what day of the week it is, we can rely on some form of football gracing our television screens and showing up on our betting cards.
With another three games from every bettor's favorite conference taking place on Wednesday, our college football staff decided once again to break down each contest and share betting picks based on their analysis. Because after all, what's a Wednesday without Western Michigan vs. Toledo?
7:00 p.m. ET | Eastern Michigan vs. Ball State
8:00 p.m. ET | Central Michigan vs. Northern Illinois
8:00 p.m. ET | Western Michigan vs. Toledo
---
Eastern Michigan vs. Ball State

Eastern Michigan Eagles
Head coach Chris Creighton continues to get more from a roster that annually finishes last in MAC recruiting.
Eastern Michigan had the lowest number of returning production and still found a way to cover against a Kent State team that returned a plethora of offensive starters. Eagles quarterback Preston Hutchinson put up a pair of touchdowns with seven throws for more than 15 yards in last week's game, leading an offense that climbed to 16th in finishing drives. He did throw two interceptions, but neither resulted in points for Kent State. And both of his touchdowns came in the second half.
The Eastern Michigan defense deserves credit for stalling an uptempo Kent State offense that won a bowl game in 2019, with the Eagles limiting the Golden Flashes to just one explosive drive in 11 possessions. The Eagles are now third in opponent pass explosiveness, and cornerback Alvinoski LaFleur took top honors as the highest-graded defensive player after an interception, three tackles and just seven yards after catch allowed against the Golden Flashes.
---
Ball State Cardinals
Ball State out-gained Miami (OH) and had a higher average yards per play, but still lost last week. The RedHawks fielded backup quarterback AJ Mayer in the absence of Brett Gabbert, and still put up 212 yards and three touchdowns against the Cardinals.
Despite the loss, the Cardinals rank 17th in tackling, per Pro Football Focus grading. A Havoc ranking of fourth and a rank of sixth in Line Yards show that Ball State is a force against the rush. That said, the way to beat Ball State is through the air, as PFF graded the Cardinals coverage 105th — on 32 passing attempts from Miami (OH) last week, Ball State recorded just two pass breakups.
The offense continues to play at an uptempo rate with a rank of 19th in seconds per play. It controlled the trenches, ranking fifth in Line Yards, but it importantly had 20% more than the national average in two-plus first down drives. The Cardinals gained 7.2 yards per play with a 65% Success Rate in standard downs, giving quarterback Drew Plitt excellent field position on third downs.
---
Betting Analysis & Pick
Although I'm projecting this line to be Ball State -10.5, there are plenty of reasons to pause on the Cardinals.
Hutchinson proved he can move the ball through the air, throwing a handful of passes for longer than 15 yards and generating two touchdowns in the second half of last week's game against Kent State. Eight different Eastern Michigan players were targeted in that game with wide receiver Hassan Beydoun getting the lion's share, resulting in 112 yards. And as previously mentioned, Ball State does have a weakness, and it comes in the form of a coverage rank of 105th from PFF.
And when Ball State is on offense, Plitt will deal with an Eastern Michigan back seven that put Kent State on pause.
Also worth consideration is the coaching matchup between Mike Neu and Creighton. The road team has won this matchup in four of the past five seasons, but its Creighton's work as an underdog that shines:
Per our Bet Labs database, Eastern Michigan is 21-10-1 against the number when listed as a road underdog under Creighton. That number improves to more than 70% when Eastern Michigan is given more than a touchdown in the spread.
The Eagles have the pass defense to hang with the Cardinals, while the Cardinals defense will continue to struggle against any air attack.

Pick: Eastern Michigan +8.5 or better
Central Michigan vs. Northern Illinois

The big news around the country last week was, of course, the return of MACtion — the greatest conference in football returned and did not disappoint.
The play was so electric that it caused a power outage at Central Michigan's stadium.
Central Michigan held on to beat Ohio, 30-27, while Northern Illinois was outmatched by Buffalo, 49-30. Now the Chippewas are 7.5-point favorites for Wednesday's matchup against the Huskies. Should you lay the points with the road team? Let's take a closer look.
---
Central Michigan Chippewas
What a season 2019 was for then-first-year head coach Jim McElwain — the former Alabama offensive coordinator and Florida head coach took over a horrible 1-11 Central Michigan team and turned the Chippewas into MAC West champions in one season, earning him MAC Coach of the Year honors.
The biggest key to their quick turnaround was the complete revamping of the offense. McElwain brought in former MAC legend Charlie Frye as offensive coordinator, and the new pro-style offense doubled the team's scoring average, as it went from 15.0 points per game in 2018 (worst in the MAC) to 30.4 in 2019 (fifth).
Central Michigan returns 70% of its offensive production from last season, including 1,000-yard rusher Kobe Lewis, who will take over as the primary returning back.
Also back for the Chips are last season's top three receiving leaders: First-time All-MAC receivers JaCorey Sullivan and Kalil Pimpleton return, as does the speedy Tyrone Scott, who averaged 17.5 yards per reception in 2019.
Redshirt freshman quarterback Daniel Richardson made his first career start last week and quickly showed off his arm strength, throwing the ball around for 243 yards and accounting for two touchdowns. The confident freshman led his team on a 16-play, 75-yard touchdown drive on the first series of the season.
Richardson has a cannon for an arm and spent the offseason working out with former Central Michigan star receiver Antonio Brown.
The Chippewas boasted the second-best defense in the MAC last season and returned 77% of production to a unit that ranked 40th in the country in Success Rate and 24th against the run.
The strength of the Central Michigan defense is its front seven. Ranked No. 1 in all of college football in Stuff Rate last season, the team returns the majority of its group of defensive linemen and linebackers that led the country in tackles for loss percentage on run plays — that includes All-MAC linebacker Troy Brown, who led the conference with 16.5 tackles for loss last season.
Defensive end Troy Hairston was named MAC Defensive Player of the Week after he totaled seven tackles and three of the team's five sacks last week.
The Chippewas are definitely vulnerable in the secondary, allowing 231 yards and two touchdowns through the air against Ohio last week, but the defensive line will help its back end by forcing the ball out quickly.
---
Northern Illinois Huskies
Northern Illinois has been the most dominant team in the MAC and one of the best Group of Five programs over the last 15 years. Since 2005, the Huskies have played in the MAC championship eight times, winning the conference title in four of those games.
However, the Huskies are currently in a clear rebuild mode and field one of the youngest teams in all of college football.
Northern Illinois finished 5-7 last season and now returns just 59% of its total production, which ranks 114th in the FBS. Only 14 starters will be back, and its entire roster features just 55 returnees compared to 57 newcomers, including 47 true freshmen.
In last week's season opener against Buffalo, the Huskies started seven freshmen — overall, 17 true freshmen and 10 redshirt freshmen saw action against the Bulls.
Senior quarterback Ross Bowers is back at the helm for NIU, but Bowers struggles with consistency, completing just 57.8% of his passes in 2019 while throwing seven touchdowns and eight interceptions.
The Huskies offense finished 109th in the country in Offensive Success Rate last season. Their 22.8 points per game was third-lowest in the MAC.
Betting Analysis & Pick
This young Huskies pack will need to protect the ball much better in order to have any chance this season. They lost four fumbles and an interception last week, allowing Buffalo to score three defensive touchdowns.
Central Michigan should find success on the ground with Lewis, who went for 112 yards and two touchdowns in the opener against a solid Ohio defense. Now, he gets to face n NIU defense that allowed 182 rushing yards and three touchdowns against Buffalo in its opener.
The Huskies offensive line ranked 119th in Line Yards and 91st in Sack Rate last season and is made up of mostly underclassmen. They will have their work cut out trying to stop this Chippewa defensive front that excels in stuffing the run and currently leads the country in Sack Rate after generating five last week.
In last season's meeting, the Chippewas rolled the Huskies, 48-10. Central Michigan also out-gained NIU, 615-251. Lewis rushed for 143 yards and a score on 17 carries, and the Chippewas intercepted Bowers three times.
While another game that lopsided seems unlikely, I trust the Chippewas to cover the number against this inexperienced Huskies team and would back them up to -9.5
Pick: Central Michigan -7.5
Western Michigan vs. Toledo

MACtion rolls on Wednesday night with a matchup between two of the league's better teams when Western Michigan hosts Toledo.
Both the coaches and media picked these two teams as the MAC West favorites before the abbreviated season began, and both take care of business in a big way in their openers last week.
---
Toledo Rockets
The Rockets opened 2020 undressing Bowling Green by 35 and easily covering the spread. Thanks to three turnovers from the Falcons, Toledo had average starting field position at the 39-yard line and achieved a strong 56% of available yards.
Of Toledo's 52 rushing attempts, 11 went for more than 12 yards. Veteran quarterback Eli Peters added four touchdowns against a helpless Bowling Green secondary.
The Rockets defense also deserves plenty of credit for keeping Bowling Green below a single point per trip inside the 40-yard line.
Regardless of how bad Bowling Green may be, Toledo did not miss any chances with a grade of 15th in tackling and coverage from Pro Football Focus.
---
Western Michigan Broncos
The Broncos lit up Akron in Week 10, but the Zips did all they could to forfeit the game on their own. The Zips started the game with a failed onside kick and ended with a 19% Success Rate on passing downs.
Western Michigan didn't allow a single pass over 15 yards, as the Zips consistently struggled with an average third-down distance of 7.1 yards. If there was a noticeable stat missing from the opening game, it's that Western Michigan had just four players create a quarterback hurry.
Percentage of available yards is a stat that measures just how much an offense is taking advantage of its opponent. The national average for available yards in FBS play is 41% for an entire game.
To put in perspective, the powerhouse offense at Alabama averages 60% of available yards on a weekly basis. Western Michigan achieved 82% of available yards against Akron in Week 10.
There aren't too many negative takeaways for the Western Michigan offense after Game 1. Akron did have a sack, but first, consider that the Broncos are a run-first team.
Even in the first half, Western Michigan began almost every first down with a rush attempt that contributed to a final rush rate of a 67%. Kaleb Eleby played fantastic at quarterback, too.
---
Betting Analysis & Pick
When the opposing resume of two teams features only Akron and Bowling Green, it can be a bit tough to get a read on exactly how good or bad that team might be.
What we do know about Toledo and Western Michigan is that both teams like to run the ball and run at a tempo much slower than the rest of FBS.
---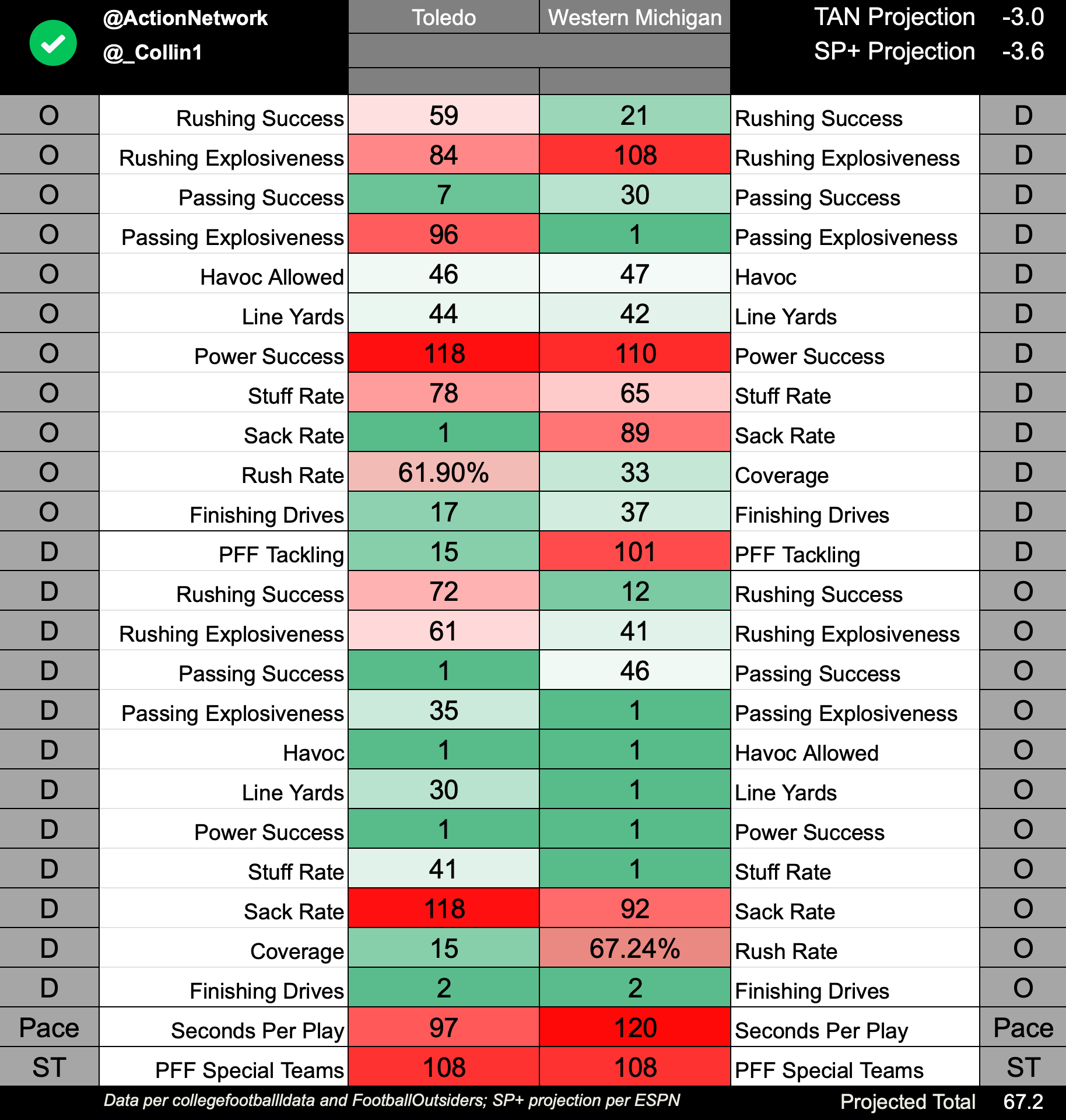 ---
If there is a discrepancy in each team's defensive performance, it comes in the area of tackling and coverage. Toledo grades out at 15th in tackling and 15th in coverage, per PFF. Those numbers trump Western Michigan at 101st and 33rd, respectively.
The Broncos had nine defenders record a missed tackle while finishing 47th in rush defense. In contrast, Toledo graded No. 6 in rush defense and had just four defenders miss a tackle.
Toledo has won this game each of the past three years and has dropped only two games in this series in the past decade.
Pay the juice on the hook or play it live with Toledo, which will bring the better defense on Wednesday night.
Pick: Toledo +3 (-120) or better
How would you rate this article?