College Football Odds, Picks for Week 5: Collin Wilson's Saturday Betting Card, Including Arkansas vs. Alabama & Clemson vs. NC State
Credit:
Marianna Massey/Getty Images. Pictured: The Clemson Tigers.
Week 5 is here, and Collin Wilson is ready to bet.
Wilson is betting all of Saturday's big games, including Iowa vs. Michigan, Arkansas vs. Alabama, TCU vs. Oklahoma and Clemson vs. NC State.
Check out all four of Wilson's bets for Week 5's biggest games below.
Week 5 of the college football season brings with it a mountain of intriguing games for fans and investors.
We'll take any football we can get, but it's a nice change of pace after a few weeks that featured lackluster matchups as the headline-grabbing games.
It all starts with a rematch of last season's Big Ten Championship, as Iowa looks to secure an upset over another top-five team in Michigan at Kinnick Stadium.
Also in the noon matchup is Oklahoma vs. TCU. The Sooners hope to get back on track after suffering a loss to Kansas State in Norman last week, while the Horned Frogs attempt to start Big 12 play undefeated.
In the 3:30 p.m. ET window comes a matchup that likely would have been a top-10 battle if Arkansas could've survived a neutral-site contest against Texas A&M last week. Things won't get any easier this week against Nick Saban's Alabama team.
NC State vs. Clemson wraps up my big-game card and represents one of the most important games on the slate from a futures perspective.
Read on for my picks and analysis for all four games below, and be sure to check out the rest of Action Network's Week 5 college football betting coverage.
---
Collin Wilson's College Football Best Bets
The team logos in the table below represent each of the matchups that our college football staff is targeting from today's slate of games. Click the team logos for one of the matchups below to navigate to a specific bet discussed in this article.
---
Michigan vs. Iowa
A rematch of 2021's Big Ten Championship game is set to kick from Kinnick Stadium on Saturday.
Michigan had all of the momentum after defeating Ohio State with all eyes forward to a trip to the College Football Playoff. The result was nothing close to the desired target for the Hawkeyes, who lost 42-3 thanks in part to a Wolverines defensive line that dominated the game.
Fast forward to Week 5 of 2022, and Michigan head coach Jim Harbaugh believes the game in Kinnick will be a 'knock down, drag out' affair.
Michigan struggled to put Maryland away as 17-point favorites last week, despite scoring on the first offensive play of the game and being gifted a trio of turnovers.
The Wolverines allowed Maryland to score 27 points on drives that extended past the 40-yard line as the defense posted a subpar performance from a Havoc perspective.
Iowa has continued to be one of the most opportunistic teams in the nation when it comes to opponent mistakes. A pick-six and scoop-and-score highlighted a win over Rutgers that just went over the closing total.
The offense continues to struggle, having yet to pass for more than 175 yards in any game.
The Hawkeyes will look to keep this game close, as a handful of meetings against Michigan in Iowa City have finished within one possession.
---
Harbaugh ran up the score in nonconference play against UConn, Hawaii and Colorado State. None of those teams had the offense to question whether or not the Michigan defense would still be the biggest chaos creators in college football after the loss of Aidan Hutchinson and David Ojabo.
Those answers were clear in present in the narrow victory over Maryland. The Terrapins racked up nearly 400 total yards as five different receiving targets recorded an explosive catch.
Converted wide receiver Mike Sainristil provided the bulk of the Havoc numbers with two tackles for loss and a sack.
Despite the heroics of Sainristil, the Michigan defense has struggled to create disruptions for opposing offenses. The Wolverines rank just 72nd in Defensive Havoc, highlighted by just a single forced fumble and an uncharacteristically low ranking in tackles for loss.
The defense is still the standard in college football against the pass, ranking as the top overall coverage team, per PFF.
Quarterback JJ McCarthy continues to receive snaps under center with Cade McNamara's injury. McCarthy cruised in nonconference play, but fumbles — he recorded two against Maryland — continue to limit the Michigan coaches in calling designed runs.
The possible return of Donovan Edwards would simultaneously take the rushing load off Blake Corum and alleviate any designed plays for McCarthy on the ground.
Michigan has been excellent at putting points on the board in sustained drives, averaging 5.3 points on 31 trips past opponents' 40-yard line.
---
The animadversion of Iowa football has always centered around the offense and the play-calling of coordinator Brian Ferentz. The Hawkeyes always aim to fill the identity of a bruising offensive line as a gateway to a run-first attack.
Asking a quarterback to limit turnover-worthy plays in passing downs is also key to the Iowa offense. Quarterback Spencer Petras did just that against Rutgers, going 11-of-17 for 148 yards in his first game without a turnover-worthy play this season.
With 28 targets on the season, tight end Sam LaPorta will be the biggest threat to Michigan's back seven.
Running back Kaleb Johnson has the most explosive plays from the backfield, averaging 3.3 yards after contact primarily on zone-read runs.
While the Iowa offense continues to piece together minimal production, the Hawkeyes defense has terrorized opponents throughout the month of September.
A top-10 rank in coverage and Line Yards suggests there's no easy path against this defense. A top-20 rank in Havoc is assisted by 24 pass breakups on the season.
For the front seven, defensive interior Lukas Van Ness is the highest-graded player with 10 quarterback hurries on the season.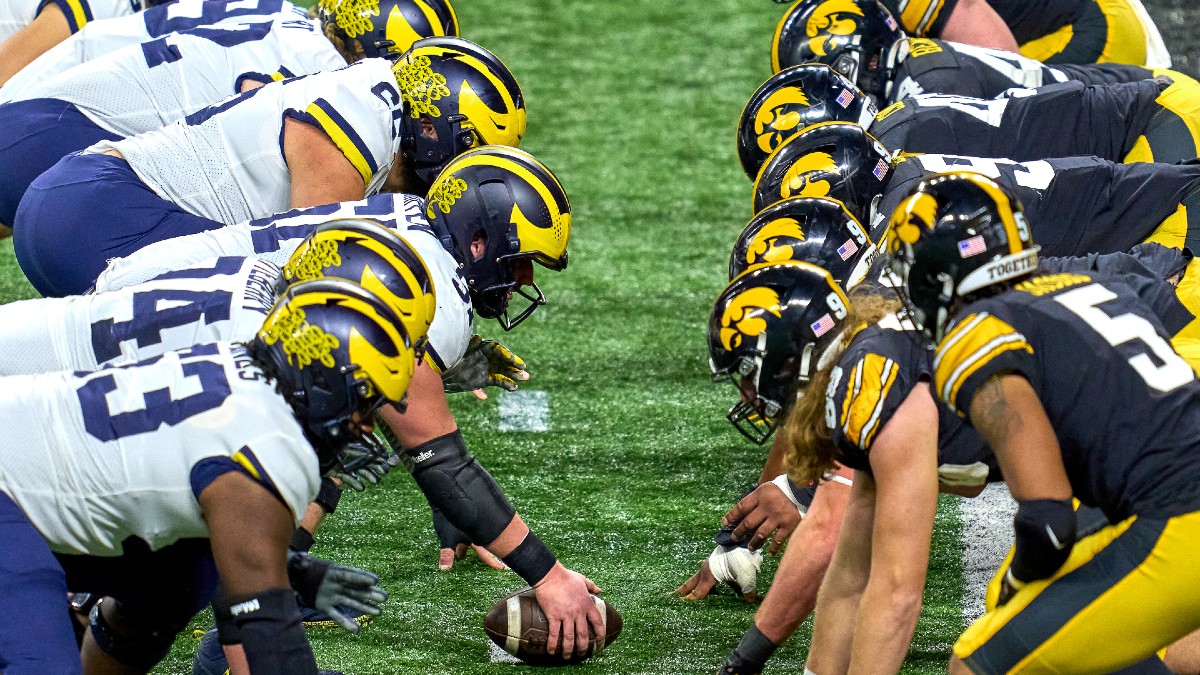 ---
Michigan vs. Iowa Betting Pick
This Big Ten collision featured two defenses that rarely make mistakes. Both Michigan and Iowa rank top-10 in opponent plays greater than 10 yards. The Wolverines and Hawkeyes are also two of the best teams in terms of tackle grading and coverage, per PFF.
While the bulk of that production came against a soft strength of schedule, the handicap for Iowa is limiting Michigan's rushing attack.
The Wolverines have one of the heaviest rush rates at 61% with a rank of 33rd in run blocking. The Hawkeyes' front seven should have success, pulling a top-10 rank in Defensive Line Yards.
Iowa is the top defense in the nation in terms of limiting the explosive play, and a passing downs rate ranking of third means teams are unsuccessful in early-down attempts.
Michigan sits 60th in pass blocking — an area Iowa can exploit by flushing McCarthy out of the pocket for the purpose of creating fumbles. The Michigan quarterback has a tenured history with ball protection, which Iowa has been happy to expose against previous opponents.
Michigan's offense on Iowa's defense is strength-on-strength, but a potential cover may rely on Iowa's ability to sustain drives and score on offense. The Wolverines have fallen to 66th in Defensive Finishing Drives, alongside a Havoc rank of 72nd.
The Hawkeyes will attempt to run on the Michigan defense with Gavin Williams, Leshon Williams and Johnson.
Action Network projects Michigan -10 with a total of 47, as the spread is in line with the current market.
A number of 11 or better gives Iowa value, but there's also value in the totals market. The key numbers in this rank are 45 and 41, each hitting in more than 2.75% of college football games. Considering McCarthy's penchant for putting the football on the carpet, there are defensive and special teams touchdowns in play for Iowa.
Look for Michigan to pound the rock and get a half-dozen drives past the 40-yard line, where the offense ranks 11th in points per scoring opportunity. Iowa will counter with a run game against a Michigan front seven that ranks 62nd in Stuff Rate.
There's nothing pretty about the Iowa offense, but generating enough points to cover and hit over the key of 41 is well within reach.
Pick: Iowa +11 or Better · Over 41 (-120 or Better)
---
---
Oklahoma vs. TCU
As the season approaches the month of October, the Big 12 is completely upside down. Texas Tech, Kansas, Baylor and Kansas State are undefeated in conference play, while Texas and Oklahoma have started off league play 0-1.
This makes the Sooners' date with TCU nearly a must win if there are desires to make the conference championship game.
Oklahoma had no answers for the Kansas State offense last week. The Wildcats posted touchdowns on their first and last two drives of the game, never allowing the Sooners to lead.
Head coach Brent Venables is known as the best defensive mind in college football, but the Oklahoma defense did not have the personnel to stop a dual-threat quarterback.
Adrian Martinez tallied 148 rushing yards and four touchdowns to go along with 234 yards and a single score from the air.
Meanwhile, Sonny Dykes is flourishing as the new head coach of TCU, beating his former squad SMU, 42-34. Despite playing just three games, the Horned Frogs already rank in the top 10 in long offensive rushing plays.
Gone is the Gary Patterson era of erratic defensive play, as the new defensive staff has improved execution in tackling and defending the pass.
TCU is back on track as a feared squad in the Big 12, but contending for the conference requires a win against Oklahoma.
---
Venables spent the entire summer changing the mindset of the Oklahoma roster. The former Clemson coordinator wanted a blue-collar grittiness associated with the defense, an element that was missing from the Lincoln Riley regime.
The current Oklahoma roster did not have anyone capable of stopping the Kansas State offensive line or skill-position players.
The Sooners continue to struggle against the rush, ranking 110th in Line Yards. The Wildcats implemented a heavy ground rush, averaging 5.6 yards per carry. Martinez went for 3.6 yards after contact, while Deuce Vaughn had five carries go over 10 yards. Both players were untouched on a number of attempts.
As Oklahoma looks for answers on defense, the offense put up 550 yards, with a healthy 7.5 yards per play. The Sooners prefer an up-tempo pace at 21.2 seconds per play, but their struggles on third down — combined with penalties — kept them off the board for three of their first four offensive drives.
Coordinator Jeff Lebby is getting the most out of the offense, ranking top-20 in nearly every analytical category. This is one of the most explosive offenses in Standard Downs, and is led by quarterback Dillon Gabriel.
Gabriel has yet to throw an interception or log a Turnover Worthy Play. Furthermore, the fourth-year quarterback has a minimal drop in adjusted completion percentage with pressure.
The targets for the Sooners have dropped just one pass a game, but there is still meat on the bone when it comes to passing downs. On second- or third-and-long, Oklahoma ranks 41st in Success Rate and 99th in Explosiveness.
---
Dykes has the offense humming, as quarterback Max Duggan leads the nation in passer efficiency rating.
Oklahoma transfer Chandler Morris started the season as the Horned Frogs' signal caller, but injury has opened the gateway for Duggan to shred opposing offenses.
Morris is expected to be ready for action against Oklahoma, but the kickstarter for the offense is pair of running backs, Kendre Miller and Emari Demercado.
Demercado has posted a ridiculous 5.3 yards after contact, while Miller has produced 11 missed tackles and eight runs of 10 yards or more.
If there is a player that defenders on the Oklahoma side do not want to see, its TCU wide receiver Quentin Johnston. The junior posted 185 receiving yards and three touchdowns last season, but has yet to bust out during the 2022 season.
The questions on the Horned Frogs' roster begin on defense. A rank of 114th in Finishing Drives indicates coordinator Joe Gillespie does not have this unit executing at a high level.
There have been 14 opponent drives to cross the TCU 40-yard line with an average of 4.6 points per scoring attempt. There is also a severe lack of Havoc, as the unit has recorded just five sacks on the season.
---
Oklahoma vs. TCU Betting Pick
Oklahoma allowed a score on seven of 12 Kansas State drives while posting 11 penalties. The Sooners had more total yards on less plays in the loss, but allowing an opponent to convert half of their third- and fourth-down attempts is a recipe for a loss in a shootout.
There are plenty of expectations that TCU and Oklahoma will be a shootout between an up-tempo Sooners offense and an explosive Frogs team.
The Action Network projects a spread of a pick'em with a total of 71. The market has steamed on the over from the opener of 66 to the doorstep of 69 — both numbers are key in this range.
Both teams are top-30 in Offensive Finishing Drives, with lackluster numbers in the same category on defense.
Both offenses have scored 11 touchdowns on 15 red-zone trips, indicating Venables and Dykes are more willing to go for the end zone than settle for a field goal.
The steam on the total is justified, as neither defense is equipped to stop the opposing offense.
Are there expectations that the Sooners will rebound defensively? Venables did not sound confident in his weekly press conference, noting the lack of depth at linebacker — and freshman reserves likely will not see the field.
There have been issues with slow starts not just against Kansas State, but in previous games (vs. Kent State).
With this game scheduled for an 11 a.m. local kick, Venables must conquer a roster that is not tackling, nor controlling the trench against the run.
Look for Duggan and TCU to match Gabriel and the Sooners score-for-score, giving plenty of value to the home Frogs.
Pick: TCU +6.5 or Better
---
---
Alabama vs. Arkansas
The Razorbacks return from Arlington deflated from an SEC loss to Texas A&M. The Razorbacks had a 70% post-game win expectancy, but a goal-line fumble and touchdown return — alongside a last-minute field goal botch — sealed the victory for the Aggies.
No single source was the reason for the loss, as head coach Sam Pittman pointed to offensive play calling, ball security and tackling as the primary issues facing the Hogs.
Two consecutive weeks of mistake football against Texas A&M and Missouri State may give the coaching staff and players motivation for the biggest game on their schedule.
Alabama has been sweat free since a previous road trip to Austin, when it barely beat Texas. The Crimson Tide blasted through ULM and Vanderbilt to the combined score of 118-10.
Both the offense and defense have been stellar out of the locker room, outscoring opponents 107-9 in the first and third quarters through four games this season.
Head coach Nick Saban was complimentary of Arkansas, noting the Razorbacks were dangerous team.
Alabama's goals are clear for this trip to Fayetteville, defend the Hogs' ground attack and take away one of the best power quarterbacks in the nation.
---
Saban continues to look for an identity on offense.
The passing game was non-existent against Texas, as running back Jahmyr Gibbs had twice as many catches than any wide receiver.
The Crimson Tide had more rushing yards than passing yards after three games to start the season.
In Week 4 against Vanderbilt, Bryce Young returned to Heisman numbers, with 385 yards passing and four touchdowns.
12 different targets caught a pass against the Commodores, establishing balance back to the Crimson Tide offense.
Ja'Corey Brooks leads the team in explosiveness, with 2.4 yards per route run from 60 snaps lined up as a wideout.
Jermaine Burton leads the team in snaps from the slot, but the versatility of Traeshon Holden to lineup anywhere on the field has helped him log more first downs than any other receiver.
Combine that with the rushing of Jase McClellan and Gibbs, and Alabama is one of the most balanced attacks in FBS.
The stiffest test for the defense came against the onslaught of Quinn Ewers and Texas. In limited action thanks to injury, Ewers connected on 9-of-12 attempts for 134 yards.
More importantly, Alabama was able to shut down one of the best running backs in the nation in that game, as Bijan Robinson logged just 2.7 yards per carry.
Coordinator Pete Golding has another top defense, with a top-10 ranking against the rush and a top-20 ranking in coverage.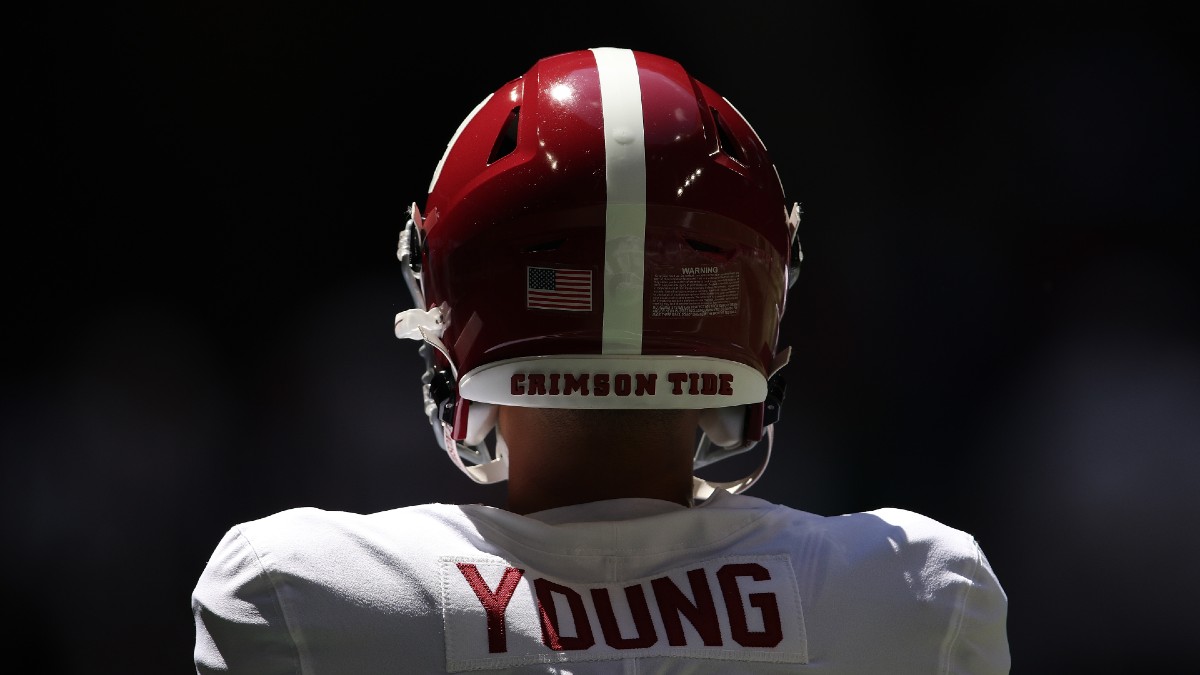 ---
There may not be a single Razorback looking forward to this Alabama game more than transfer linebacker Drew Sanders.
After spending his first two seasons as a member of the Crimson Tide, Sanders elected to hit the portal for Arkansas.
Sanders has benefitted from a defense that allows him to stand up rather than have a hand down pre-snap. The third-year linebacker ranks fourth nationally among his position group in pass-rush grading, per PFF.
The return of Myles Slusher to the back seven was a needed boost for Arkansas against Texas A&M. The Razorbacks recorded their lowest number of missed tackles on the season — 12 against the Aggies, down from 21 versus Missouri State.
Coordinator Barry Odom collected another three sacks to continue leading the nation with a rising Havoc rank in the top 20.
While Slusher was an important returning piece, running back Dominique Johnson's return to the Arkansas backfield last weekend after rehab from an offseason knee injury was key.
Coordinator Kendal Briles has an offense that lives and dies by the play of KJ Jefferson. The temperamental play of the fourth-year quarterback has been responsible for victory, and indirectly the cause of defeat against Texas A&M.
Both Briles and Jefferson took heat for a quarterback dive on first down that resulted in the biggest play of the game in Week 4.
Jefferson has fumbled five times on 48 carries this season. In previous seasons, there were a total of 10 fumbles on 143 rushing attempts.
Passing downs have seen no drop off in Big Time Throw-to-Turnover Worthy Play Rate despite losing a top weapon from last season. However, Jefferson's ball protection in designed runs has hindered the Razorbacks.
With the return of Johnson and the continued play of Rashod Dubinion, there are options to give Raheim Sanders a spell without running Jefferson.
---
Alabama vs. Arkansas Betting Pick
Saban stated during his weekly press conference that there is a philosophical approach to how games will play out. The script in the first and third quarters have resulted in more than 100 points, but the plan of attack is determined pre-game.
Saban explicitly stated, "We thought spreading Vanderbilt out and making them play in space would be an advantage for us."
In game planning for Arkansas, there most certainly is notice of how the Razorbacks' defense has responded to passing attacks.
Arkansas is 121st in tackling and outside the top 100 in coverage grading. While those numbers did not mean much to the inept passing attack of the Aggies, it means everything to an Alabama team that is thriving as a balanced attack.
The Razorbacks' defense is 122nd in passing expected points. If the philosophy of the Crimson Tide is to execute passing plays more than rushing plays — similar to Missouri State's 357 yards — the Hogs' secondary could be in for a long afternoon.
The Action Network projects this game Alabama -11.5, upgrading Arkansas after box score grading against Texas A&M.
As of this writing, the market has not found resistance to a spread that opened at -14 in some shops. There is value on the Razorbacks' number anywhere north of 17.
With no end in sight to the steam and a lack of support on Arkansas from investors, the best time to buy into the Razorbacks could be hours before kickoff.
The better bet is on a Crimson Tide team that has advantages at the skill positions in terms of creating missed tackles. If Arkansas elects to blitz Young, there will plenty of dump offs to Gibbs, who has created almost twice as many missed tackles in the passing game compared to his rushing attempts.
There is not a single Razorbacks defender that ranks in the top 100 in coverage grading. Slusher's versatility may draw Burton from the slot, but Young will be quick to target Brooks on passing downs.
Pick: Alabama Team Total Over 39.5
---
---
NC State vs. Clemson
With plenty of preseason steam on NC State, head coach Dave Doeren starts conference play against the biggest name in the conference. For the Wolfpack to win the Atlantic division, they'll have to conquer a trio of 2-0 teams that await on their remaining schedule.
Florida State, Syracuse and Clemson all pose road blocks to an NC State team that survived non-conference play undefeated. The Wolfpack will not be short on confidence for this one after defeating this Clemson team 52 weeks ago.
While the teams should be the star of the show, Mother Nature looks to play an integral part.
Hurricane Ian made landfall in Florida on Wednesday. The forecast of the storm is to head north on Interstate 95, passing through Clemson Memorial Stadium on Saturday.
As of this writing, heavy rain and gusts of more than 35 miles per hour await at kickoff. Wind generally flows from end zone to end zone, but Ian looks to bring wind in a stiff south-southwest direction that will diagonally affect every pass and kick.
---
Doeren was the only head coach in the ACC to keep both coordinators. The continuity in the coaching staff and lack of player turnover helped the Wolfpack survive their opener against East Carolina.
The defense has been excellent since Week 1, allowing less than 160 total yards to both Charleston Southern and UConn. This is the top-ranked defense in the nation in terms of Passing Success Rate from a schedule that includes Texas Tech.
The top-20 Havoc ranking is powered by 23 apiece in pass breakups and tackles for loss.
A top-30 ranking against the rush is also a plus for the defense, especially with Doeren having previously coached in these weather conditions.
Hurricane Matthew passed through the Carolinas in 2016, interrupting a 10-3 NC State win over Notre Dame. Doeren recalled the affair where the pass-based offense tallied just 14 drop backs.
The Wolfpack have been a balanced offense, ranking top-40 in both Line Yards and Passing Success Rate.
Quarterback Devin Leary has nine touchdowns to just two interceptions, but the advanced numbers tell a different story. Leary logged three Turnover Worthy Plays against UConn, though just one resulted in an interception.
The fourth-year signal caller has the lowest Big Time Throw rate of his career, and generated nothing against a Texas Tech defense that is 93rd in coverage.
---
Wake Forest took the Tigers to double overtime and lost when Sam Hartman failed to gain a first down on targets to Blake Whiteheart and A.T. Perry. The Demon Deacons took control in the second half as Hartman chopped up a Clemson secondary that was missing several players.
Both safety Andrew Mukuba and corner Sheridan Jones have returned to the depth chart, a must-needed boost for a defense that ranks 70th in coverage.
The secondary may improve from an experience and depth perspective, but this game could be all about the rush defense.
Power Five offenses have been held in check by Clemson, as Georgia Tech and Wake Forest combined for 183 total rushing yards.
This is the second-best defense in terms of limiting the explosive rush, allowing just one attempt to exceed 20 yards. The Tigers are playing behind the line of scrimmage, logging the 12th-most tackles for loss.
The Clemson offense has been just as productive on the ground. Quarterback DJ Uiagalelei is a power back in the run game, gaining 155 yards on designed plays. His weight loss over the summer has translated to a higher rate of scramble yards and an astronomical increase in missed tackles created.
Uiagalelei had just 14 missed tackles in 110 rushing attempts prior to this season. That number has already increased this season, with 18 missed tackles created on just 28 rushing attempts.
Those numbers have been overlooked after a career passing day against Wake Forest.
---
NC State vs. Clemson Betting Pick
This game is expected to be a sloppy affair determined by ball protection and the play in the trenches. The arm strength of both Uiagalelei and Leary may not matter with forecasted gusts of 40 miles per hour.
While both teams have two lost fumbles, it's the Clemson defense that plays behind the line of scrimmage with more frequency.
Furthermore, tackling is important in every college football game, but becomes a bigger point of emphasis through a tropical storm.
The Wolfpack have yet to establish a dominant identity in establishing the rush, with a blocking grade outside the top 50.
While Line Yards belong to the offensive line, highlight yards belong to the running back, and there have been plenty of highlight yards for Demie Sumo-Karngbaye.
The freshman averages 4.9 yards after contact and owns the fifth-highest elusiveness grade of any running back with a minimum of 35 attempts.
Clemson has the advantage in one-on-one tackles, grading 23rd vs. NC State's 111th ranking in tackle grading per PFF.
The Action Network makes Clemson a touchdown favorite, giving small value to any number south of seven.
Uiagalelei is coming off the best passing game of his career, aiding an already impressive rushing game from a missed tackles perspective.
NC State may be forced to abandon its 3-3-5 principles if the weather dictates a strict diet of rushing attempts from both teams.
Considering Clemson is averaging 5.5 points per scoring opportunity, this game belongs to the Tigers.
As for the total, the key number of 41 is dependent on wind speed. If the wind drops below 20 miles per hour, look for Leary to target a recovering secondary and push this game over the total.
Pick: Clemson -6.5 or Better
How would you rate this article?
This site contains commercial content. We may be compensated for the links provided on this page. The content on this page is for informational purposes only. Action Network makes no representation or warranty as to the accuracy of the information given or the outcome of any game or event.