Rovell: 'Parlay Patz' Wins Another $109K, Says He's Up $616K in Past Month
Saturday Updates
10:30 p.m. ET: The man nicknamed "Parlay Patz" pocketed another six-figure payout on Saturday night. Patz's seven-team moneyline parlay officially won after LSU beat Texas A&M, 50-7.
The other six legs of the parlay came through on Friday and Saturday: Texas beat Texas Tech, Memphis beat Cincinnati, Appalachian State bested Troy, Boise State triumphed over Colorado State, Ohio State crushed Michigan and Notre Dame came back to blowout Stanford.
Patz risked $40,000 on the parlay and profited $108,951.33.
"This feeling never gets normal, that's for sure." Patz told The Action Network on Saturday night. "It's adrenaline unmatched."
In the past month, the 23-year-old Ben Patz has cashed parlays for $326,000, $237,200, $108,751, $71,756, $36,892, $33,481 and $22,202 for a total of $836,282. All were confirmed by William Hill, where he placed the bets. Patz lives in New York, but makes his bets on his cell phone either by taking the train to Hoboken, N.J. or by driving his car across the George Washington bridge to Fort Lee, N.J., where he sits in a parking lot of a Korean supermarket.
Despite his big-ticket wins, Patz told The Action Network on Saturday night that he's far from perfect: He's lost approximately $220,000 betting parlays during this span, which would make his overall net around $616,000.
Note: Always tread lightly when betting parlays, as they tend to be -EV bets over a long period of time.
---
6:30 p.m. ET: Down goes Alabama.
Auburn, which closed as 3.5-point underdogs, pulled off an outright upset of the Tide, winning 48-45, and bringing a huge win to sportsbooks in the process.
John Murray from the Westgate Las Vegas SuperBook told The Action Network that Auburn's victory was "Very good for us. Our day really turned around in the afternoon. Wisconsin was a big win for us."
---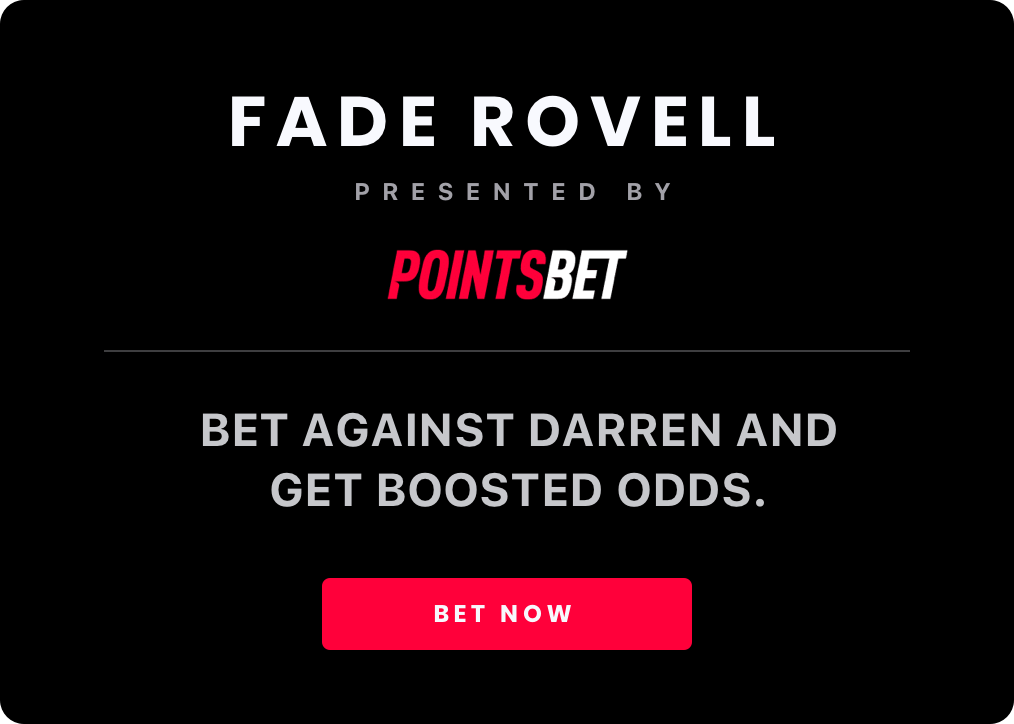 Darren Rovell isn't buying Tom Brady OR Deshaun Watson this week on Sunday Night Football. PointsBet is giving everyone in New Jersey boosted odds to Fade Rovell and bet on the Over of 499.5 Passing Yards combined between Brady and Watson (normally -120, now +120). New customers get an exclusive promotion: Deposit $50, bet with $150. No strings attached. No rollover required.
---
Earlier in the day, William Hill's Nick Bogdanovich said that Auburn was his sportsbook's second-biggest need of the say, behind only Michigan.
Notre Dame's backdoor cover against Stanford — the Irish scored a touchdown with less than a minute remaining to win by 19 and cover as 17.5-point favorites — kept sportsbooks from having a clean sweep of the late afternoon slate.
"That hurt us," Murray said. "I would've called the day great without that play. Still good after the afternoon results post but no longer great."
Auburn's win has wide-ranging non-betting impact, as well. With two losses, Alabama is now effectively eliminated from College Football Playoff contention.
Stay up to date with our live Bowl Projections here.
11:35 a.m. ET: Ben Patz, the 23-year-old bettor who won $619,000 on parlays a few weeks back, will be sweating another potential six-figure winner on today's college football slate.
Patz — whose friends call him "Parlay Patz" due to his affinity for these high-risk, high reward wagers — has a 7-leg parlay in play for $40,000. It would pay out $108,951 if the following happens today:
Ohio State beats Michigan
Notre Dame beats Stanford
LSU beats Texas A&M
All three schools are sizable favorites to win outright. The other four legs of the college football parlay, which was placed on Friday morning in New Jersey via William Hill's mobile app, have already won:
Texas beat Texas Tech, 49-24
Memphis beat Cincinnati, 34-24
App State beat Troy, 48-13
Boise State beat Colorado State, 31-24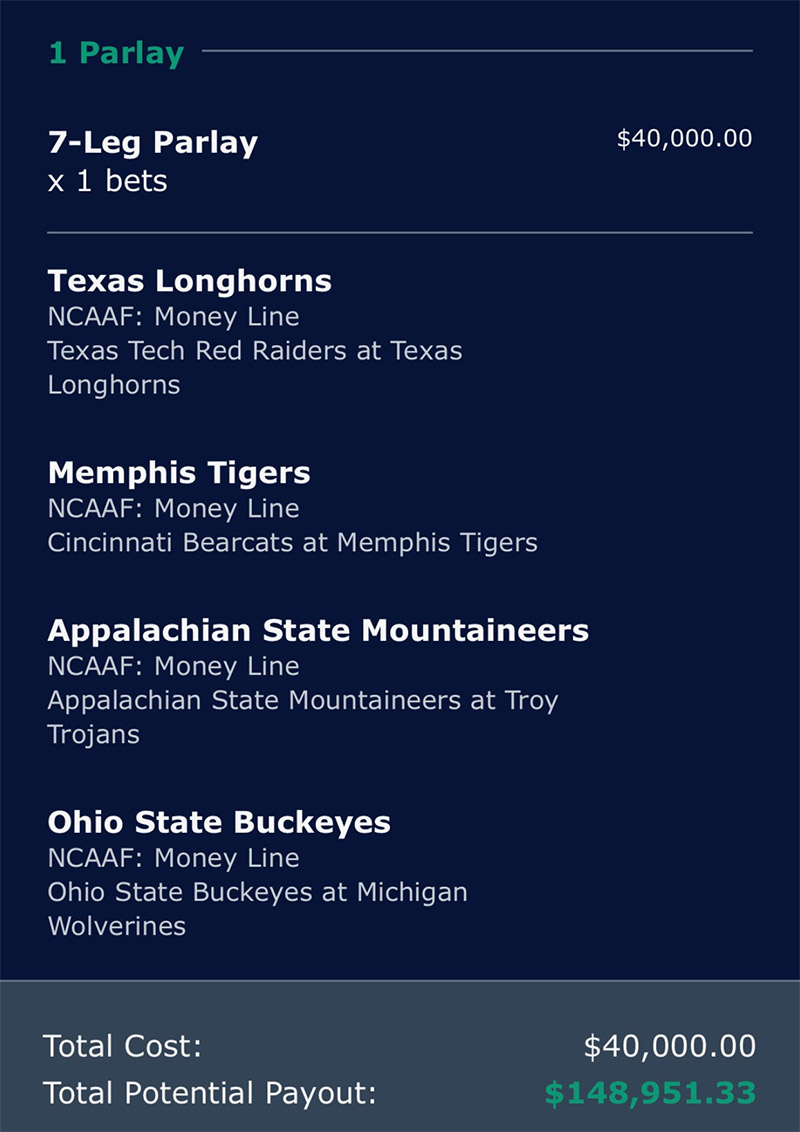 If Ohio State, Notre Dame and LSU all come through, this would mark Patz's third six-figure parlay winner.
Note: Always tread lightly when betting parlays, as they tend to be -EV bets over a long period of time.
11:15 a.m. ET: Other big needs for sportsbooks around the country.
PointsBet has 90% of the money on Wisconsin to cover as favorites against Minnesota. The New Jersey book will be cheering for the Gophers.
William Hill's Nick Bogdanovich says their biggest need is Michigan as home underdogs vs. Ohio State, followed by Auburn as home dogs against Alabama.
At DraftKings, the most lopsided games in terms of handle are Clemson -27.5 vs. South Carolina and Indiana -7 at Purdue. Both road teams are getting 80 percent of the money.
11 a.m. ET: It might not be the biggest game on the Week 15 college football slate, but Northwestern vs. Illinois has Matt Lindeman's full attention. Circa Sportsbook opened this game at Illinois -8.5 last Sunday afternoon, and it got as high as -10.5 on Sunday evening. That's when Northwestern money flooded the market.
Circa got as low as Illinois -6 on Saturday morning before getting a little action on the Illini, bumping the spread back up to 6.5.
Some other notes from Lindeman:
Circa needs San Jose State to win by three or more against Fresno State. The book opened SJSU as 2-point favorites, but the line has since been hammered, moving to Fresno State -2.5.  This is one of Lindeman & Co.'s biggest decisions of the day.
The Wisconsin-Minnesota over/under has dropped from an opener of 48.5 down to the current number of 44.5 due to weather. The forecast calls for 17 mph winds and light rain/snow. Circa will be cheering for points and really hoping the game doesn't fall on 48, 47, 46 or 45 points.
No one wants to bet on Texas A&M +17 against LSU. Circa has exactly $90 on the Aggies.
10:10 a.m. ET: We've seen differences in opinion on what the Ohio State-Michigan spread should be. Some sportsbooks had the game at Ohio State -8 for much of the week, while others had the Buckeyes at -9.5. The -8 crowd, including FanDuel and PointsBet, took on Ohio State money this morning, as they moved to -8.5, then -9, before bumping back down to -8.5.
It's clear sportsbooks will be cheering for the home underdog in this rivalry.
The over/under for this game has undergone a similar transformation. Circa Sportsbook opened the total at 55.5. It dipped down below 49.5 at some books last night, as it looked like the weather would be nasty. It's still supposed to be windy and cold, but the over/under is back on the rise due to action from professional bettors. Some books have it as high as 52.5.
Matt Lindeman of Circa Sportsbooks told me they need the Over to come through in The Game, as the book took one of its bigger bets of the week on Under 53. That helps explain why Circa had the total at 53 for just two minutes and 25 seconds this morning before moving it back down to 52.5.
---
Ohio State hasn't shut out Michigan since 1962 and hasn't goose-egged the Wolverines in Ann Arbor since 1955, but there's confidence abound in Ohio.
Fans in the state have taken advantage of the promotion by the Appliance Factory & Mattress Kingdom, which calls itself the nation's largest discount appliance and mattress store. Any appliances purchased between Nov. 24 and Nov. 29 are free if the Buckeyes shut out Michigan.
We called the store's spokesman John Higgins, who told The Action Network that the company had taken out $500,000 worth of insurance, but with a half of a day left in the promotion, customers stopping into the five stores had reached $500,000 in value. "We will self-insure the rest," Higgins said.
Ohio State has won 14 of the last 15 games against Michigan, but the odds of a shutout happening are obviously very low. The Wolverines haven't been shutout since a 31-0 loss to Notre Dame in September 2014.
As for the betting market, you'd think that bettors would be keen to back Ohio State, the No. 1 team in the country according to the College Football Playoff Committee, but there seems to be some confidence in the suddenly surging Wolverines.
Circa's Matt Lindeman opened this game at Ohio State -9 and thought it would tick up to -10, but it has yet to do so.
PointsBet's Matt Chaprales said that 75% of the bets at his shop were on Ohio State, but the number has been driven down by respected bettors.
"Sharp money has taken a clear position on Michigan," Chaprales said. "That drove the number down to 8 off an opener of 9."
Seventy-seven percent of the money is on Ohio State at DraftKings.
The Iron Bowl
Alabama's name will always carry water in the betting market, even if the Crimson Tide will be without their generational quarterback, Tua Tagovailoa.
According to our market-wide data, 72% of the bets are backing Alabama as 3.5-point road favorites over Auburn. DraftKings reports that this is the most lopsided game of the slate for them, with Alabama getting 81% of the money.
After touching -4 at some shops early in the week, this line has remained relatively stagnant at -3.5 throughout the week.
[In New Jersey? Bet now at PointsBet]
LSU Love
It may feel like a foregone conclusion that Louisiana State is heading to the College Football Playoff, but the Tigers still have to take care of Texas A&M on Saturday. The Aggies are no pushovers and have played one of the toughest schedules in the country. In fact, Texas A&M's four losses came against Clemson, Alabama, Auburn and Georgia.
Perhaps that's why Lindeman is surprised that he's seen very little resistance to LSU in the market.  After opening this market LSU-15, Circa now sits at -17.
Mother Nature
Seasoned bettors know that weather plays a huge role when gambling on football and Mother Nature's voice is going to be heard this Saturday.
According to Danny Donahue, there are currently 18 games with some heavy winds, including Michigan-Ohio State.
Unsurprisingly, Lindeman reports that they've taken a healthy amount of action on the unders in these wind-swept games.
Big Friday Decisions
This weekend featured an unusually large Friday slate and Lindeman said that there were a couple of big decisions for his book.
Lindeman said Circa badly needed Toledo to cover as 7-point underdogs at Central Michigan.
A win for Central Michigan over Toledo meant the Chippewas would head to Detroit for the MAC Championship. On the other hand, this game meant very little to Toledo, as the Rockets already had the requisite sixth win for bowl eligibility. Bettors will almost always back the more motivated team in a spot like that, so the liability built up on Central Michigan.
It doesn't look good for the guys in the desert as Central Michigan raced off to a 35-7 lead after the first half.
Another game that Lindeman will be sweating is Iowa at Nebraska. The Cornhuskers have arguably been the most disappointing team in college football this season and bettors aren't interested in backing them in their regular season finale.
Not only will Lindeman be rooting for the Huskers to cover, but he will also be hoping that the defenses show up. Circa took a five-figure bet on the Over 45 in this Big Ten matchup.
According to our market-wide data, 66% of the bets came in on Iowa.
How would you rate this article?