Saturday College Football Odds & Picks: Collin Wilson's 6 Favorite Betting Spots for Week 5 (Oct. 3)
Credit:
Streeter Lecka/Getty Images. Pictured: Travis Etienne (9).
Collin Wilson breaks down his 6 favorite betting picks for Saturday's college football slate.
The SEC is bringing the heat once again in Week 5, featuring juicy top-25 matchups in Texas A&M vs. Alabama and Auburn vs. Georgia.
Read on for a full breakdown on each of his 6 favorite Saturday betting positions below, including his picks for some of the slate's most highly-bet games.
Many have pointed to Week 5 being a "skip-over" weekend given the quality of high-profile college football games on the docket. The SEC takes center stage yet again to present the only top-25 matchups of the weekend.
By contrast, next week's betting card features highly-anticipated barnburners across multiple conferences. Miami and Clemson meet in top-15 ACC action, while Texas and Oklahoma resume their annual Red River Rivalry in the Big 12.
Nonetheless, those juicy matchups in Week 6 should not deter any investor from finding value in the current Week 5 schedule.
Using Action Network tools like our Havoc Ratings and Pace Report can help identify valuation mistakes in the betting market. Check out our College Football Betting Power Ratings for all Week 5 games and follow me on the Action App for the latest updates.
My College Football Week 5 Betting Card
Here's a quick rundown of my six favorite betting spots on Saturday's slate of games:
---
All odds listed below are as of Friday and via DraftKings. Specific bet recommendations at the end of each matchup breakdown come from the sportsbook offering preferred odds as of writing. Always shop for the best price using our NCAAF Odds page, which automatically surfaces the best lines for every game.
---
---

---
Arkansas State at Coastal Carolina Betting Odds
| | |
| --- | --- |
| Arkansas State Odds | -3.5 [BET NOW] |
| Coastal Carolina Odds | +3.5 [BET NOW] |
| Moneyline | -157/+130 [BET NOW] |
| Over/Under | 65 [BET NOW] |
| Time | Saturday, 12 p.m. ET |
| TV | ESPN2 |
Saturday kicks off with two of the most successful offenses in the nation, as both Arkansas State and Coastal Carolina rank top-14 in success rate. The Red Wolves have been one of the more explosive passing teams in the country, and they're capable of putting up points in a hurry. The Arkansas State offense averages a lightning-quick 21 seconds per play.
If you have yet to put eyes on Arkansas State, "The Jonathan Adams Jr. Show" has been on display since the Red Wolves' Week 2 upset over Kansas State:
The Red Wolves attempt a pass in 63% of their snaps from 11 personnel. Both Logan Bonner and Layne Hatcher have had plenty of snaps at quarterback, with Hatcher showing an early lead in passing plays over 20 yards.
The Red Wolves offense could start the game with some rust to shake off: They have not played since Sept. 12. COVID-19 forced postponements in consecutive games against Central Arkansas and Tulsa, during which time head coach Blake Anderson dealt with the novel coronavirus.
Coastal Carolina looks to start Sun Belt play with a victory after an upset at Kansas and a victory against Campbell. Through those two games, the Chanticleers have been the best offense in the nation in finishing drives. Coastal has scored on all nine red-zone trips, eight of which have resulted in a touchdown.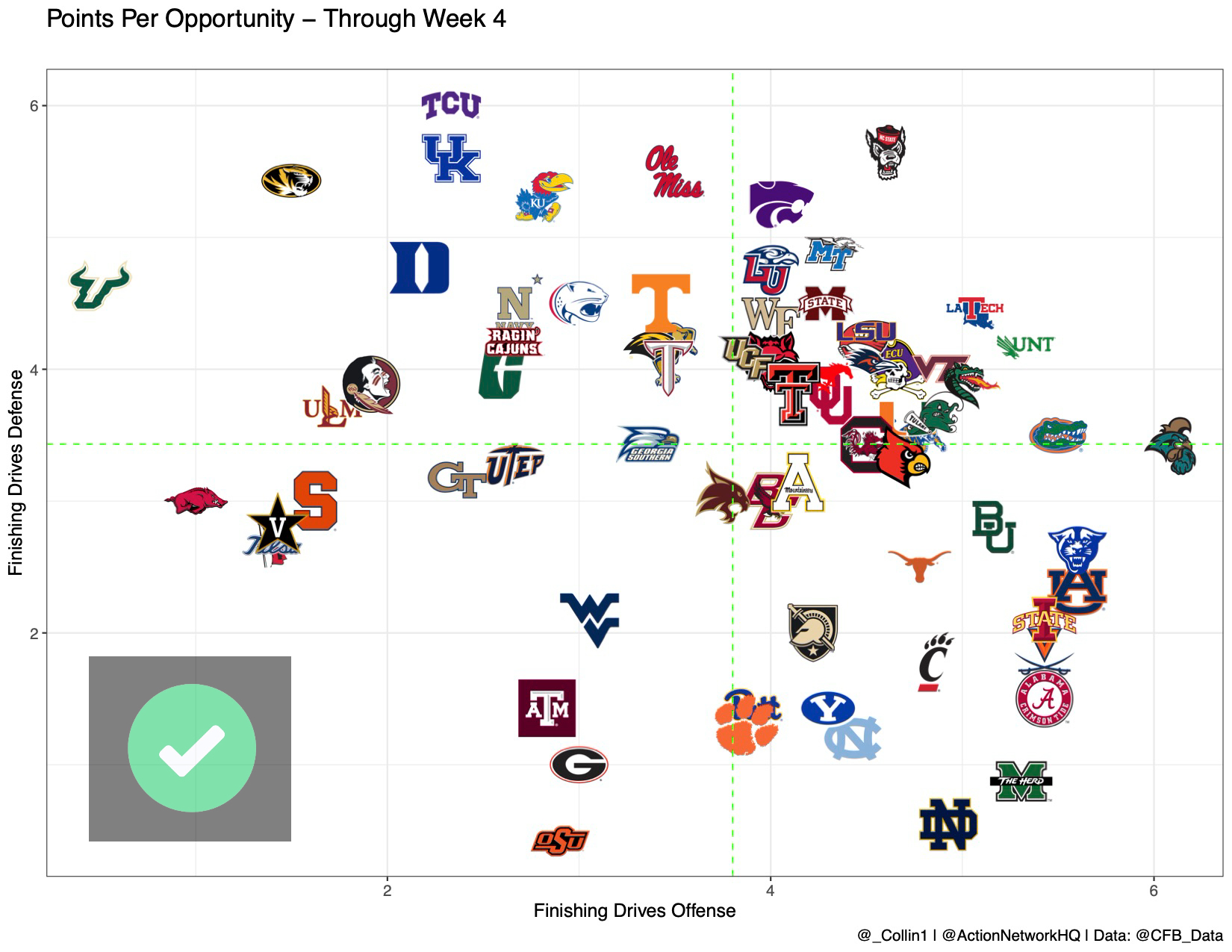 Furthermore, neither defense is particularly stalwart at preventing forward progress, and both teams' defenses allow an above-average scoring rate. However, one the Coastal defense has excelled in preventing explosive drives, defined as any drive during which the offense averages over 10 net yards per play. The Chants have allowed only one explosive drive in 20 total opponent possessions.
No one will mistake the Kansas and Campbell passing attacks for Arkansas State, but for Coastal Carolina to compete in the Sun Belt the back-seven needs to step up. The Chanticleers have only defended eight total pass attempts in 148 defensive snaps this season.
Coastal Carolina's best defense may come at the pace of its offense. The Chanticleers average over 30 seconds per play through two games. The modified version of the RPO has been run through five different personnel groups this season. Per Sports Source Analytics, Coastal Carolina runs 74% out of 21 and 93% out of 22, making "keep away" the primary objective against Arkansas State.

The expectation is that both offenses will have success — and that Coastal Carolina's exceptionally slow offensive pace will enable the Chanticleers to eat up time of possession and stave off a breakneck pace from the Red Wolves. Considering Coastal's offensive efficiency beyond the opponent's 40-yard line, this game has the potential for an upset.
The Bet: Coastal Carolina +3 or better
[Bet Coastal Carolina +3.5 now at DraftKings and get a $1,000 bonus, including a $500 risk-free bet]
---
---

---
Texas A&M at Alabama Betting Odds
| | |
| --- | --- |
| Texas A&M Odds | +17.5 [BET NOW] |
| Alabama Odds | -17.5 [BET NOW] |
| Moneyline | +600/-1000 [BET NOW] |
| Over/Under | 52.5 [BET NOW] |
| Time | Saturday, 3:30 p.m. ET |
| TV | CBS |
Texas A&M joined the SEC in 2012 and beat Alabama on its first attempt. The Aggies have experienced nothing but defeat to the Crimson Tide since, but 2020 may represent Texas A&M's best chance at winning the SEC West since its induction into the nation's toughest conference.
The Aggies' first SEC game against Vanderbilt raised plenty of eyebrows with the final score.
If head coach Jimbo Fisher's goal was to stay vanilla in Week 4, then he sure nailed it. But Fisher wasn't the only SEC coach to play his cards close to the vest in the conference's opening week. In fact, if Texas A&M was vanilla, then Nick Saban and and Alabama were tapioca.
The Crimson Tide scored just 10 points in the second half against Missouri. The defense did its part against the Tigers, allowing just one explosive drive out of 10 possessions and zero rushing attempts over 12 yards.
Mac Jones-to-Jaylen Waddle is going to be on the tip of announcers' tongues on Saturday afternoon. That quarterback-to-wide receiver connection connected eight times on 10 targets for 134 yards and two touchdowns against Mizzou.
Aggies defensive coordinator Mike Elko will have his hands full, as the Texas A&M back-seven had just six pass breakups in 31 passing plays by Vanderbilt. Defensive backs Demani Richardson, Keldrick Carper and Leon O'Neal Jr. saw these Crimson Tide receivers last season, so the secondary knows the challenge in store.
The biggest reason for Alabama's victory in 2019 was Jaylen Waddle. The wide receiver had just three receptions for 48 yards, but he also contributed four punt returns for 128 yards. Alabama had an average starting field position of the 47.5-yard line and accumulated over 270 hidden yards. If that is a forecast of moments to come in this game, look no further than Vanderbilt's 134 hidden yards against Texas A&M in Week 4 for the Aggies' potential Achilles' heel.
The Commodores boasted an 13-yard advantage in average starting field position. Vanderbilt's offensive drives began around the 35-yard line, whereas the Aggies operated from their 22-yard line on average. Most of that disparity came from Harrison Smith booting 246 yards on punts with only two return yards from the Aggies.
Field position will be of the utmost importance in this game, as each offense runs at 28.5 seconds per play or higher.
Both Mike Elko and Pete Golding will field defenses designed to stop the explosive play. If Texas A&M has any shot of beating Alabama, then it must prevent Waddle from breaking the game open via the return game. Aggies punter Nik Constantinou has just three total punts in his career with an average of 49 yards. With a slower pace and defenses keen on stopping the explosive pass, look for a Texas A&M backdoor cover in a game that might have gaps of scoring.
The Bet: Under 52, Texas A&M +17 or better
[Bet Texas A&M +18 or Under 52.5 now at PointsBet risk-free up to $250]
---
---

---
Ole Miss at Kentucky Betting Odds
| | |
| --- | --- |
| Ole Miss Odds | +6 [BET NOW] |
| Kentucky Odds | -6 [BET NOW] |
| Moneyline | +165/-205 [BET NOW] |
| Over/Under | 61.5 [BET NOW] |
| Time | Saturday, 4 p.m. ET |
| TV | SEC Network |
Watching the Ole Miss offense will not lack in entertainment throughout 2020. In Lane Kiffin's first game as the Rebels head coach, there were 78 plays in 11 personnel. Matt Corral was fantastic without pressure, completing 18-of-22 passes for a 130.1 passer rating. Elijah Moore was the primary target, with 10 receptions and 227 total yards, including 106 yards after the catch.
Where Ole Miss struggled was on the defensive front. Mississippi posted the second-worst success rate among all active FBS defenses. The Rebels also rank in the bottom-10 in defending explosiveness after facing Bo Nix and a skilled group of Auburn receivers.
Many Kentucky season ticket-holders will point to the three turnovers as the reason for the loss to Auburn. But there were other contributing factors, such as the Wildcats' failure to engineer a single explosive drive, plus Auburn's 170 hidden yards that shifted the offensive rules of engagement.
The handicap in this game comes down to the Kentucky defense stopping an explosive Ole Miss offensive attack. The Wildcats did a great job stuffing Auburn's runs 10 times in 29 plays, but two explosive drives through the air could be troublesome moving forward.
The Kentucky defense gave up big yardage to Auburn's core of talented skill position players. Ole Miss has no shortage of playmakers on offense either, as Kiffin disguises his offense presnap. Although the Rebels lined up solely in 11 personnel last week, 71% of running plays utilized pre-snap motion as the offense changed gears in and out of no-huddle. Of the 44 passing plays called by Kiffin, 13 were play-action and five were screens.
Kiffin's offense should continue to confound and bust explosive plays against Kentucky. Ole Miss ran plays at a pace of 20.9 seconds, which will bring a level of tempo that Kentucky did not see against Auburn.
If Ole Miss is allowed to move up and down the field, then Kentucky will need to deliver more touches to its star running back. Kavosiey Smoke averaged 8.9 yards per carry on just seven rushing attempts.
Kavosiey Smoke beats Smoke Monday for a UK TD!💨

— PFF College (@PFF_College) September 26, 2020
In a game that should go back and forth, the Wildcats defense may take a few drives to adjust. Look for the Rebels to put up their fair share of points and go over the total early.
The Bet: Ole Miss +6.5 or better; First Half Over 29.5
[Bet Ole Miss +6.5 at FanDuel completely risk-free for $1,000]
---
---

---
Auburn at Georgia Betting Odds
| | |
| --- | --- |
| Auburn Odds | +6.5 [BET NOW] |
| Georgia Odds | -6.5 [BET NOW] |
| Moneyline | +200/-250 [BET NOW] |
| Over/Under | 45 [BET NOW] |
| Time | Saturday, 7:30 p.m. ET |
| TV | ESPN |
The Georgia-Auburn series is best described as aberrant. The Prayer at Jordan-Hare in 2013 leads the way in a rivalry that displays plenty of future NFL talent and wild scoring swings. We should expect no less when Bo Nix faces the Georgia defense.
Auburn quarterback Bo Nix and his all-star cast of wide receivers will go toe-to-toe against Georgia's back-seven. Seth Williams had 12 targets and six receptions for 112 yards and two touchdowns against Kentucky. Georgia's ability to detect Nix post-snap is crucial, because 6-of-12 passes to Williams came through play action.
Anthony Schwartz and Eli Stove combined for five screen-pass targets, but Williams will be the primary focus after torching the Bulldogs for 13 receptions and 121 yards in 2019.
USC transfer quarterback JT Daniels has been medically cleared and is expected to play in this game. It's difficult to know with certainty what we might get out of Daniels in his first action as a Georgia Bulldog. He was featured in a pass-heavy offense in 2018 with the Trojans, but Georgia' s offensive philosophy is a far cry from Southern Cal's.
Stetson Bennett and D'Wan Mathis took all the snaps against Arkansas but failed to produce a single explosive drive. The results in Fayetteville are not what new offensive coordinator Todd Monken had in mind for the Bulldogs' attack.
In reality, Georgia's defense and special teams collected 360 hidden yards from Arkansas. That was the result of average starting field position at the 41-yard line and two kickoff returns averaging 45.5 yards.
Whether Bennett, Mathis or Daniels gets the start, the Auburn defense will be ready for the rush-heavy Bulldogs. The Tigers stuffed 13 of 38 runs and allowed zero explosive drives against Kentucky.
Arkansas knew the way to pick at Georgia's defense was via the play-action pass. Wide receiver Treylon Burks racked up 11 targets, eight of which came on play-action passes. Nine different Razorbacks were targeted off play action against the Bulldogs defense. Any college football DFS player would gladly pay the price tag on Seth Williams breaking loose during this game.
Chad Morris and Gus Malzahn will do whatever it takes to set up the play-action pass to Seth Williams later in the game. A few disguised runs and screens to Schwartz and Stove should distract the Georgia secondary early as the Tigers set up their most advantageous moment to pounce.
Georgia's offensive game plan may be a rush-heavy offense to break in Daniels in passing downs. It may take several drives before Daniels is sufficiently familiar with WR George Pickens' tendencies and decision-making. Furthermore, Daniels' conditioning may have an expiration of just a few drives.
Our Action Network projection makes Georgia -5.5, showing slight value on Auburn at the current number. The total is a bit shy of our estimated 48.5, but there may be some value in playing a first-half under while hunting for a live over.
The Bet: First Half Under 22.5 or better.
[Bet Auburn-Georgia 1H under 23.5 now at DraftKings and get a $1,000 bonus, including a $500 risk-free bet]
---
---

---
Arkansas at Mississippi State Betting Odds
| | |
| --- | --- |
| Arkansas Odds | +17 [BET NOW] |
| Mississippi State Odds | -17 [BET NOW] |
| Moneyline | +510/-770 [BET NOW] |
| Over/Under | 69 [BET NOW] |
| Time | Saturday, 7:30 p.m. ET |
| TV | SEC Network |
One of the biggest questions coming into the Razorbacks' season was tempo. The transfer of quarterback Feleipe Franks along with the hiring of offensive coordinator Kendal Briles led to the expectation of a quick pace. Well, Arkansas clocked in at 22.3 seconds per play in its season debut — one of the quickest times in the nation.
When asked directly about slowing down to beat Mississippi State, head coach Sam Pittman told local media, "No, we don't need to slow down … this is what we do."
One change for new Mississippi State head coach Mike Leach has been pace — his offenses at Washington State would accumulate plenty of plays per game, but generally didn't press the play clock. But in his debut at the helm for the Bulldogs, they came in at 24 seconds per play with 81 plays against LSU. Running 10 personnel, Mississippi State threw 84% of the time, including 33 times on first down.
Arkansas had seven passes defensed (out of 47 attempts) last week against Georgia, but will have to be much better against Mississippi State quarterback K.J. Costello, who should be able to find his receivers on Saturday.
One key to stopping Leach's air raid offense is to backload the defense and disguise coverage. So while the Razorbacks lined up in a 4-2-5 with a bit of 3-3-5 mixed against Georgia last week, expect their defensive package to go full 3-3-5 against the Bulldogs.
Washington head coach Jimmy Lake has proven it's possible to stop the Mike Leach air raid — in fact, Lake never had a problem doing it. Lake's Huskies ran primarily 2-4-5 in a defensive domination against the Cougars in the Apple Cup each season.
The key to stopping Mississippi State is to look for defenses that float from the 3-3-5 to the 2-4-5, have two excellent edge rushers while the remaining defense goes into "drop 8." Taking away the deep routes and punishing the cross routes will be a tall task for a young Razorbacks defense, but Arkansas showed plenty of guts on defense against Georgia last week, holding its offense in check for a full half.
While there should still be plenty of scoring, this 69-point total has gone far past any mathematical equations — oddsmakers may not be able to properly adjust for Mississippi State's fire power or Arkansas' new pace of play on offense. But one way to invest in a high-scoring game is the first-half over, as it may take the Razorback defense a bit to adjust against the air raid.
There's also value on the current point spread, which is far beyond my projection.
The Bet: Arkansas +17.5, First Half Over 34.5
[Bet Arkansas +17.5 at FanDuel completely risk-free for $1,000]
---
---

---
Virginia at Clemson Betting Odds
| | |
| --- | --- |
| Virginia Odds | +28 [BET NOW] |
| Clemson Odds | -28 [BET NOW] |
| Moneyline | +1500/-5000 [BET NOW] |
| Over/Under | 55 [BET NOW] |
| Time | Saturday, 8 p.m. ET |
| TV | ACC Network |
Virginia scored 38 points against Duke on a combination of six turnovers, 11 tackles for loss and an offensive line that was stuffed on just six of 36 rushing attempts. While the Cavaliers' first game may have been more about Duke's collapse, head coach Bronco Mendenhall now faces a majorly early-season test as Virginia takes on the nation's best team.
The Clemson defense has been taking the line of scrimmage hostage in early play, generating 23 tackles for loss. That does not bode well for Virginia quarterback Brennan Armstrong, who ran plenty of RPOs and forced a couple of costly interceptions against the Blue Devils.
The Cavaliers have not changed their offensive scheme after the departure of last season's starting QB Bryce Perkins. Virginia's decision to stick with last year's scheme may favor Clemson, who destroyed Virginia in the ACC Championship last December. Armstrong saw limited action in that game, and he coughed up a fumble and an interception to the Clemson defense.
Trevor Lawrence has not thrown an interception in almost a full calendar year, since facing Louisville on Oct. 19, 2019. The Virginia defense held its own against Duke, producing plenty of pass breakups and tackles for loss. That may not matter against an offensive line that is loaded with NFL-caliber talent and running back Travis Etienne, who averaged 8.1 yards per carry in the ACC Championship.
Because of Virginia's style of offense, which has not changed schematically year-over-year, it is hard to expect anything different than last year's demolition.
The projection for this game is Clemson -21.5, which is well below where the current market resides. With Miami on deck in Week 6, the Tigers may elect to get a big lead and sit on it during the second half. (Ask over backers and Clemson ticket-holders about sitting on halftime leads when The Citadel came to town.)
The current number leaves room for a backdoor cover, while the total could simply come down to how long Dabo Swinney plays the starters. Don't expect anything new from Clemson with Miami on deck: A low stake in the first half is the only way to go on the Tigers.
The Bet: Clemson 1H -16.5 or better.
[Bet Clemson 1H -15.5 now at DraftKings and get a $1,000 bonus, including a $500 risk-free bet]
College Football Betting Related Links
How would you rate this article?