College Football Win Totals & Futures: Stuckey's Top Preseason Bet for Every Conference
Credit:
Adam Davis/Icon Sportswire via Getty Images, Nic Antaya/Getty Images and Ali Gradischer/Getty Images. Pictured (left to right): Texas quarterback Quinn Ewers, Michigan State head coach Mel Tucker and Oregon State quarterback DJ Uiagalelei.
Just days away from the start of the college football season, I wanted to share my favorite preseason bet for all 10 conferences to help with your last-minute furious preparation.
I also listed all of the preseason wagers I made — 14 win totals and eight futures in total — which I have logged on the award-winning Action App.
Hopefully, I can help push you to find a last-minute winner before or just provide a valuable nugget that you store away to help handicap the hundreds of games that are right around the corner.
---
---
Florida Atlantic Owls
To Win AAC (+650)
I'm actually a big fan of Tom Herman, who I believe serves as a significant upgrade in the coaching department.
I also just love the potential of this roster, starting with quarterback Casey Thompson, who has familiarity with Herman's system and could really shine at this level. The depth at the position is also really solid with Central Michigan transfer Daniel Richardson.
The Owls also have a loaded backfield that will feature the supremely underrated Larry McCammon III, who will run behind a massive offensive line filled with upperclassmen under the tutelage of a very good offensive line coach.
New offensive coordinator Charlie Frye also has two very talented wide receivers and a pair of Power 5 transfer tight ends to work with on the outside. This offense has a ton of potential.
I also really like the makeup of the defense if it can just find a few players to step up at linebacker, which is clearly the weakest area of the defense.
The defensive line oozes with potential, led by a deep group of nasty tackles with a pair of returning junior starters off the edge. If the Owls can increase their pass-rushing prowess, that will make things much easier on a loaded veteran secondary that can take care of the rest.
Lastly, the conference schedule is extremely favorable. The Owls get to host both UTSA and Tulane in Boca Raton while avoiding SMU and Memphis. As a result, they have an extremely manageable AAC road slate that includes USF, Charlotte, UAB and Rice.
Others: UAB Under 4.5 Wins (+100) · SMU to Win AAC (+330)
---
Boston College Eagles
Over 5.5 Wins (-140)
Even with the departures of quarterback Phil Jurkovec (portal) and the top two receivers, notably Zay Flowers (NFL), I'm buying the experienced Eagles to reach bowl eligibility in 2023.
Last season's three-win campaign did not go according to plan due to an anemic offense that was plagued by disastrous offensive line play and a potentially hampered Jurkovec.
Well, I believe the offense can bounce back in a major way with new quarterback Emmett Morehead, who showed some promise when he took over for the final four games of the 2022 season.
But the main reason I'm so bullish is I believe Boston College will have one of the most improved offensive lines in the country. They are not only much more experienced after basically starting from scratch last season, but they will also get their best lineman back from injury and added two promising transfers who could step right into starting roles.
With Pat Garwo returning at running back and significantly better blocking up front, this rushing attack can go from downright dreadful to respectable.
Defensively, I like what BC returns up front at linebacker. The biggest question mark comes in the secondary, as it saw four starters either leave for the NFL or the portal.
However, I have faith in head coach Jeff Hafley to figure something out for that group. It is his specialty, after all. Plus, a more competent offense will certainly assist a defense that was on the field for way too many snaps last season.
There are also a number of peripheral factors that suggest BC could be due for some positive regression with things like injuries, turnover luck and special teams play.
Lastly, the Eagles will also benefit from one of the easiest schedules of any Power 5 team in 2023. They avoid Clemson and UNC in ACC play, while getting three very winnable nonconference games, including Northern Illinois and Holy Cross at home to start the season, which could help build some momentum.
The other comes at Army against a Black Knights team going through a complete overhaul on offense. In total, there are eight very winnable games on the schedule:
NIU
Holy Cross
Virginia
at Army
at Georgia Tech (following a bye)
Connecticut
at Syracuse
Virginia Tech
I think they win at least six and head back to a bowl.
Others: Wake Forest Under 6.5 Wins (-130)
---
Michigan State Spartans
Under 5.5 Wins (-155)
I'm not really sure where this program is headed, but it doesn't seem to be headed in the right direction under Mel Tucker.
Not only did the Spartans lose starting quarterback Payton Thorne (recently named the starter at Auburn) and top returning wideout Keon Coleman (now at Florida State) in the spring, but they also lost wideout Jayden Reed to the NFL (Packers, second round) and their top two defensive backs, including one who also got selected in the NFL Draft.
The running back room looks like a strength, but it might be tough sledding on the ground without much threat of a downfield passing attack.
Yes, the offensive line returns plenty of experience, but I'm not sure how much we can expect that unit to improve after failing to really generate any push in 2022.
Maybe the defense is due for some positive regression after the injuries and suspensions last season in addition to a lack of takeaways, but it's hard to imagine this secondary having a productive season.
Additionally, the special teams could turn out disastrous, which may cost the Spartans a close game or two. They must find a new kicker and lost their excellent punter to the NFL in addition to Reed's elite returning ability.
Lastly, look at the schedule! It's one of the hardest in the country. They should start out 2-0 — although we've seen Sparty trip up in East Lansing against Central Michigan before — but then have a very tough nonconference matchup with Washington before Big Ten play commences.
Since 1920, Michigan and Michigan State have only 3 combined losses against the directional Michigan MAC schools (WMU, CMU, EMU)

•1991 CMU at Michigan State
•1992 CMU at Michigan State
•2009 CMU at Michigan State

— Stuckey (@Stuckey2) August 20, 2023
Out of the West, they drew Nebraska, plus road games against Minnesota and Iowa. That's brutal.
And as always, they have the trio of East powerhouses on their schedule in Michigan, Ohio State and Penn State with the latter coming in Detroit, which means they have only three true Big Ten home games.
Plus, they have to face two of their easiest league opponents — Indiana and Rutgers — on the road with the Hoosiers matchup sandwiched in between Ohio State and Penn State. There's just nothing to like about this schedule.
I just can't see this team getting to bowl eligibility.
Others: Penn State to Win National Championship (+2500)
---
Texas Longhorns
To Win Big 12 (+100)
The uncertainty surrounding the Iowa State betting scandal, in addition to some market movement, has thrown a wrench into a few of the win totals I played smaller earlier in the summer if you listened to our Big 12 preview podcast episode.
However, I do still like the price on Texas to win the league.
Is Texas finally back? From a national perspective, I'll say almost.
If Quinn Ewers truly worked on his footwork in the offseason to improve the efficiency of his deep ball, the Longhorns have a real chance of making the College Football Playoff. If not, I don't think the Longhorns can compete with the big boys for a national title just yet, but they certainly can still easily win the Big 12.
Head coach Steve Sarkisian has finally built up the depth and size across the roster to upper-echelon SEC quality. Look no further than the offensive line, which has gone from a weakness to one of the best units in the country.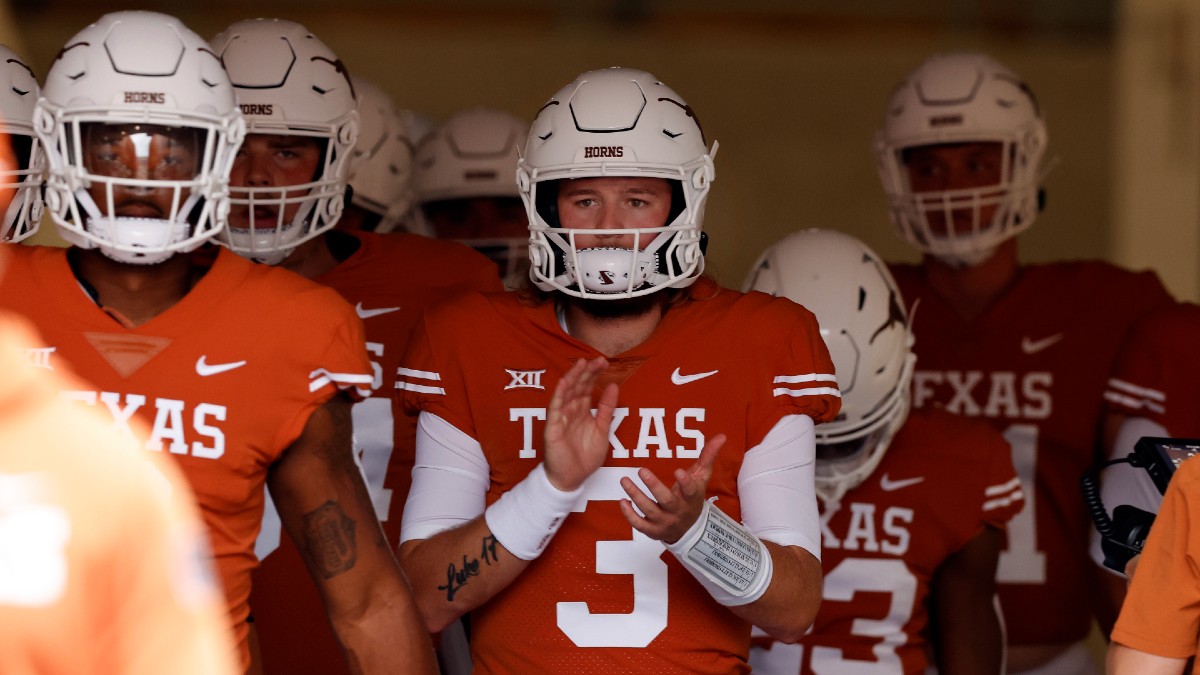 The skill-position talent is immense even after losing Bijan Robinson, and the quarterback depth provides a very nice luxury that most teams don't have. Back-to-back top-five recruiting classes certainly helped build out a strong depth chart.
I also fancy some of the transfers brought in for a defense that doesn't have many glaring holes for a very good coordinator to work with.
The Horns won just eight games last season but came oh-so-close to a special year. They finished just 2-5 in one-possession games, including a one-point loss to Alabama and a brutal three-point loss in overtime to Texas Tech. In 2022, Texas finished outside the top 100 in turnovers forced and outside the top 70 in sacks despite leading the nation in pressure rate. Positive regression certainly looms on the Forty Acres.
The road won't be easy with all of the other top contenders showing up on the Big 12 schedule. However, I'm lower than the market on a number of those clubs. Plus, the league road slate is fairly manageable with Baylor, Houston, TCU (which should take a step back) and an Iowa State team in turmoil.
Ultimately, I think the Horns are head-and-shoulders above the rest of the league and we will see them back in the Big 12 title game for the first time since 2009. Hook 'em.
---
New Mexico State Aggies
Under 6 Wins (+100)
This is primarily just a numbers play, as I show significant value on the under compared to my projections.
Yes, the Aggies went 6-6 in the regular season last year, but just take a look at the teams they beat:
Hawaii
New Mexico
UMass
Lamar
Valparaiso
Liberty
The Liberty win was the most impressive, but the Flames had completely checked out amidst all of the Hugh Freeze rumors. The Aggies then added lowly Valpo to the schedule — since their game with SJSU got canceled earlier in the season — to reach bowl eligibility.
Don't let that finish to the season fool you. This is still one of the five worst teams in the country that now has a win total twice as high as what we saw last preseason.
From a roster perspective, the Aggies do return a lot of production from their run-first offense, but it will still be a severely limited unit. I actually liked the defense last season, but they lose their top two tacklers at linebacker and almost the entire secondary from a very underrated group. The defense is primed to take a major step back.
The schedule (keep in mind NMSU plays 13 games) is arguably the easiest in the country, but I just can't get to this number.
---
Miami (OH) RedHawks
To Win MAC (+800)
Please reference my MAC Manifesto.
Others: NIU Over 5.5 Wins (-150) · Buffalo Under 6.5 Wins (-140) · Bowling Green Under 4.5 Wins (+105) · CMU to Win MAC (+2500)
---
Utah State Aggies
Under 5 Wins (-135)
I'm super low on the Aggies, who were gutted by departures in the offseason, including their top back, two starting wideouts and a good chunk of the offensive line.
The post-spring departures and some of the quotes I've read signal it's going to be a long year in Logan for head coach Blake Anderson, who will also have to juggle new play-calling duties with trying to manage a ton of roster attrition.
I simply show a ton of value on this under based on my projections. From a scheduling standpoint, the Aggies are the only team in the league to play each of the top-five projected finishers.
They are also a major regression candidate after going 4-0 in one-possession games with seven double-digit losses during a 6-7 campaign that included help from facing a number of backup quarterbacks.
They should beat Idaho State and probably Nevada. Outside of those two games, I have them as a small home dog against Colorado State (which could be drastically improved) and in a coin-flip at New Mexico, which comes at the end of the season.
I have them as double-digit underdogs in the other eight games, so I'll take my chances on them not winning two of those, assuming they even win the other four aforementioned contests.
---
Oregon State Beavers
To Win Pac-12 (+1200)
This one isn't rocket science.
I'm simply buying the upside potential of DJ U living up to his potential and flourishing under new circumstances. He'll at least benefit from playing behind one of the best offensive lines in the country while leaning on a very effective rushing attack.
I'm a big fan of this entire staff, and the Beavers do at least get to play all of their toughest opponents in the friendly confines of Corvallis before the regular-season finale against Oregon.
As a result, they have a very manageable conference road slate that includes Washington State, Arizona and Colorado prior to the aforementioned meeting with the Ducks.
The back end of the defense is certainly a question, but I don't think things are as dire as others believe.
The special teams are a bit of a worry, however. The program lost its best punter ever and two other major contributors who are now on NFL rosters. The returners are at least solid, but it's a concern.
Although, this is ultimately a bit too steep for me to pass up.
Others: Washington State Under 6.5 Wins (-165)
---
Kentucky Wildcats
Over 7 Wins (-120)
I'm based out of Lexington and love some of the things I'm hearing about the progress of this team.
The opposite was true last year when I bet the Kentucky win total under in large part due to imminent issues along the offensive line, which was the ultimate demise of the Cats even with a talented quarterback.
Well, I think they could potentially have one of the most improved offensive lines in the country due to an abundance of returning production and new additions that will allow everyone to slide into their more natural positions.
Consequently, we should see increased offensive efficiency across the board.
Speaking of which, I don't think they will miss a beat with Devin Leary now under center in large part due to that improved play up front. They also return their top five receivers and maybe even more importantly bring back offensive coordinator Liam Coen, who should serve as a major upgrade.
On the other side of the ball, you can almost undoubtedly count on the defense being very good under Mark Stoops and coordinator Brad White, so I'm not too concerned with some of the key pieces lost.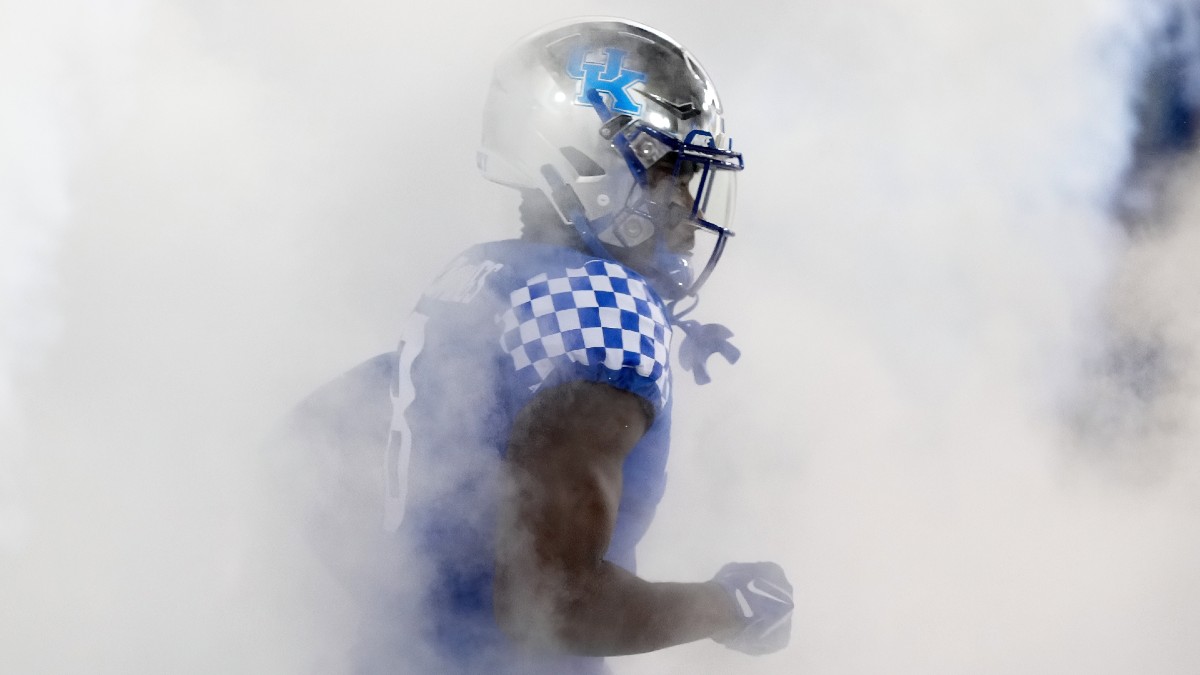 Plus, an improved offense will in turn do wonders for a defense that won't have to live on the field.
The special teams were also a disaster for Kentucky last year, so Stoops named a new coordinator to help fix those issues, which could really help in close games.
Lastly, they could build plenty of momentum out of the gates with a real chance of starting 5-0 with the following start:
vs. Ball State
vs. Eastern Kentucky
vs. Akron
at Vanderbilt
vs. Florida
The back half of the schedule is obviously not easy — it's the SEC, after all — but I'm a bit lower than the market on a few of the teams they'll face in those games.
An under-the-radar Cats team is primed for an eight- or nine-win campaign in a bounce-back post-hype season. That's exactly the environment that Stoops thrives in.
Others: Georgia Under 11.5 Wins (-135) · Mississippi State Under 6.5 Wins (-165) · Ole Miss to Win West Division (+2000)
---
Old Dominion Monarchs
Under 3.5 Wins (-110)
I can't see much going right in Norfolk this year with all of the change taking place on a roster I have rated as having the least talent in all of college football.
The offense loses its starting quarterback to the portal, leading rusher, leading receiver and star tight end to the NFL, plus three starting offensive linemen, including both tackles — one who the Saints selected in the fourth round of the NFL Draft and another who transferred to UCLA.
That's a lot of turnover to deal with for an offense under new leadership with new offensive coordinator Kevin Decker (third OC in three years at ODU) installing a brand new four-wide, uptempo shotgun spread attack he used at Fordham.
The man under center at least knows the system, as head coach Ricky Rahne named Fordham transfer Grant Wilson as QB1 this week, but I don't have much hope for this unit.
The Monarchs do have a very solid linebacker duo, led by Jason Henderson, who paced the nation in tackles last season. However, the rest of the defense is in flux after losing two key defensive linemen to the portal — Alonzo Ford to Penn State and Chazz Wallace to Colorado — and four of the five starters in the secondary.
Looking at the schedule, they should beat Texas A&M-Commerce and lose five games in which I have them projected as a double-digit underdog. In the remaining six games, I have them projected as underdogs in each with five of the six landing between five and seven points.
I'll take my chances on this team not getting at least a split.
How would you rate this article?
This site contains commercial content. We may be compensated for the links provided on this page. The content on this page is for informational purposes only. Action Network makes no representation or warranty as to the accuracy of the information given or the outcome of any game or event.