The Gambling Moment of the Year Took Place While You Were Watching Seahawks-Rams
Credit:
East Carolina University.
The gambling gods have a sick, twisted sense of humor.
While the Seahawks were gutting out a 1-point victory over the Rams in Primetime, one of the best endings of the football season took place on the other side of the gambling universe, well outside of the public's eye. It will go down as a routine, 10-point victory for Temple over East Carolina. But to call it anything short of spectacular would be a disservice to the thousands of bettors who were affected.
The Owls were 12-point favorites on the road in Greenville, and were plodding their way to a ho-hum cover in the fourth quarter. Staked to a 27-10 lead with under four minutes to go and the ball, Temple -12 and Under 47 seemed to be in good shape.
And then things got dark. Literally.
The power outage lasted a few minutes but it felt like eons for anybody holding a ticket on the game. "This would only happen to me," sighed a few thousand people.
They say not all heroes wear capes and the great people at Dowdy-Ficklen Stadium figured out the issue and the show went on. And thank heavens they did. Because things were about to get funky.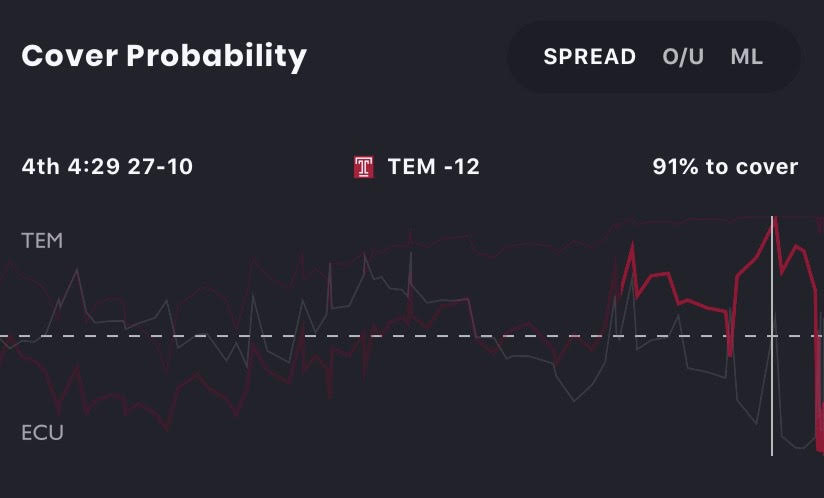 After getting a couple stops, ECU got the ball back and went into their two-minute-backdoor-cover offense. Holton Ahlers, who apparently goes by the 'Mini-Tebow', drove the Pirates down the field and got them in the endzone with 29 seconds left. It was a classic back-door cover. Once you've seen it once, you've seen 'em all. Right?
Wrong.
In my gambling career, which spans thousands of games, I can say with certainty that I've never had the following plays go my way: a muffed punt and an onside kick recovery.
Holding an Under 47 ticket, the onside kick was the only thing that could turn my relaxing Thursday night into a clinic in self-pity.
The Pirates recovered the kick. I buckled in while keeping my cool so my significant other didn't raise an eyebrow at why I was holding a Rabbits Foot during an AAC Football Game on a Thursday night.
I got fooled into thinking we were in the clear when Mini-Tebow chumped his way into a 17-yard sack on first down.
Down 27-17 with time for one play and no chance to win, the Pirates lined up for a meaningless 4th-and-14 play. And then it wasn't meaningless anymore.
The faint sound of an inexplicably-blown whistle can be heard about a second after the lateral, blowing the would-be touchdown dead.
It's one thing for the guys in the booth to give gamblers a nod with the "That will matter to some," Al Michaelsism. But the fact that the dudes in the booth were losing their collective shit as the Temple defender was rumbling towards gambling infamy tells you just how important that incomprehensible play was.
A score there would have flipped the following:
Spread: East Carolina +12
Over/Under: 47
2H Spread: East Carolina +6.5
2H Over/Under: 23.5
Like any good Shakespearean Theatre, people will argue for years whether Temple at East Carolina was a tragedy or a comedy.
Your move, Roger.
How would you rate this article?