FCS Playoffs Betting Odds, Picks & Predictions for NDSU-Illinois State
Credit:
Ron Chenoy-USA TODAY Sports. Pictured: Illinois State Redbirds running back James Robinson (25).
The updated betting odds for Saturday's FCS playoff game between North Dakota State and Illinois State has NDSU as huge favorites (spread: NDSU -24.5) with the over/under at 41.5.
Should you expect the Bison to be dominant, or can the Redbirds hang around for a bit to make it a close game?
Our college football betting experts break down the matchup and pick out the favorite bets on the board.
Last year, North Dakota State had the best FCS team in the country by a wide margin. And while the Bison are still ranked No. 1 and have won an FCS record 34 straight games (including each this year by double digits), the separation between No. 1 and No. 2 isn't as large as it was last year as we enter the quarterfinals of the FCS playoffs.
James Madison isn't too far behind in our power ratings. We make them both within a field goal of each other and they are the clear Tier 1 of FCS. Sagarin only has NDSU as four points better on a neutral field.
Someone will have to pull a pretty big upset to prevent a JMU-NDSU national title game.
Those two teams are in a tier by themselves and broadly speaking are about 10-13 points better than the next tier of remaining playoff teams — Montana, Montana State and Weber State.
That then leaves the third tier of teams which you can think of as around 14-17 points worse than the JMU/NDSU Tier 1. That trio consists of Northern Iowa, Illinois State and Austin Peay.
The market isn't huge for FCS games and limits are significantly lower, but there can be value found at times. It's also worth noting that teams favored by more than 3 points are 69-53-1 (57%) since 2005 in the FCS playoffs.
Let's dive into the games.
FCS Playoffs Odds & Picks
---
Odds as of Friday morning and via PointsBet, where Action Network users can access an exclusive promotion to get a 200% deposit match (deposit $50, bet with $150). No strings attached. No rollover required.
---
Illinois State vs. North Dakota State
Odds: NDSU -24.5
Over/Under: 41.5
Time: Saturday, 12 p.m. ET
TV: ESPN
Location: Fargo, N.D.
Travel for FCS teams can be as brutal as a Single A baseball team with a broken greyhound bus.
Illinois State is playing its fourth straight road game, this week in the hostile environment of the Fargo Dome. The Redbirds may not have enough in the tank to pull off the upset, as the team has not had a bye week since Sept. 28. In contrast, North Dakota State had a bye week on Nov. 30.
Illinois State is a one man show, that of running back James Robinson. The one dimensional offense has been good enough to this point, with Robinson gaining over 1,800 yards on the ground. The Bison are 30th in rush defense on the FCS level, but rank third in red zone touchdowns allowed. North Dakota State has allowed just five rushing touchdowns from the red zone all season. Illinois State has a similar identity offensively to North Dakota State, but has plenty of fatigue and an empty passing game for this contest.
The point spread is a tad high in relation to the Sagarin and SP+ projections. Illinois State may be able to take advantage of a North Dakota State defense that allows plenty of rushing yards. At some point, the Redbirds will not have enough to play a four quarter game. I'll look to back James Robinson in the first half, as the Bison should control the game from halftime on.
Pick: Illinois State First Half (+14) — Collin Wilson
---
The NDSU offense has been a model of efficiency with only five turnovers on the entire year. They are led by freshman quarterback Trey Lance (FCS Player of the Year), who has been unbelievable this year with 25 passing touchdowns (and a bunch on the ground) and zero interceptions. Yes, zero.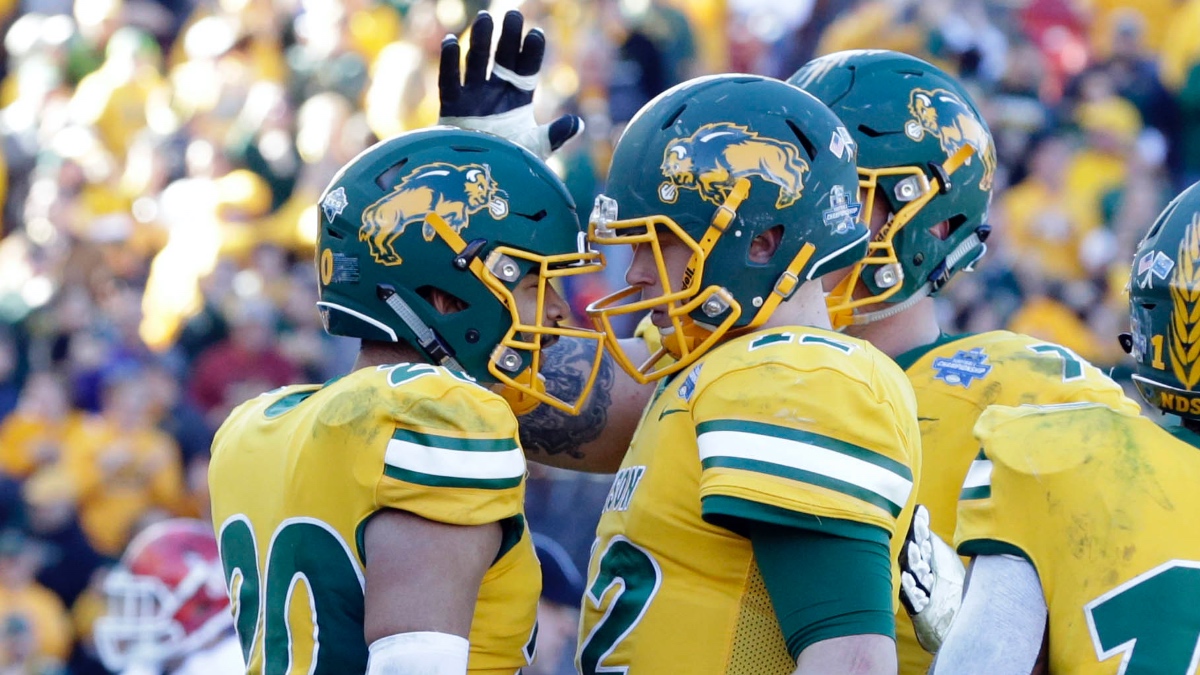 And on the other side of the ball, NDSU features one of if not the best pass defenses in FCS. Their run defense isn't quite as elite but it's certainly not a weakness.
When it comes to Illinois State, similar to Northern Illinois, the Redbirds rely on their defense. The offense is very limited through the air. QB Brady Davis has 9 TD and 9 INT so don't expect him to do much against that terrific NDSU secondary.
Illinois State's offense relies on a heavy ground and pound attack that features star running back James Robinson, who has 78 carries for over 500 yards in its two playoff wins.
However, I'm not sure he can carry the load here against an NDSU defense that will simply stack the box and focus on stopping Robinson.
This is a conference game so these teams are familiar with each other. Robinson faced NDSU three previous times and has averaged a tad over 100 rushing yards per game. That's what you can probably expect again on Saturday.
When these two teams met earlier in the season, NDSU won 37-3 and held Illinois State to only 200 total yards of offense. (NDSU has actually won eight in a row in this series — one of which was the 2014 national title in a two-point win with Carson Wentz at the helm.)
As I said previously, the Illinois State defense is the feature unit on this team. They've forced 33 turnovers and have 50 sacks but I'm not sure they can rely on doing either against an NDSU offense that doesn't give up pressure nor turn the ball over.
There's something else worth mentioning here. This will be the third straight road playoff game for Illinois State, which is coming off two wins at SEMO and UCA. That can't be ideal this late in the season against a very physical NDSU team that can bury you in a flash in the second half (just ask Nichols State, which trailed 14-13 midway through the third quarter last week before ultimately falling 37-13).
The line is definitely inflated here but it's just not a great matchup for Illinois State as NDSU can simply focus on taking away Robinson, which will completely stymie the Redbird offense. And while the Illinois State defense is very good, I'm not sure anybody can slow down Lance and company in Fargo. — Stuckey
[In New Jersey? Bet now at PointsBet]
Northern Iowa at James Madison
Odds: JMU -20
Over/Under: 46
Time: Friday, 7 p.m. ET
TV: ESPN2
Location: Harrisonburg, Va.
Northern Iowa has an injury report the length of Walgreens receipt. After losing most skill position players since the first game of the season, another top target went down for the Panthers. Wide receiver Isaiah Weston led the team with over 1,000 yards receiving and 10 touchdowns, but was injured in victory over South Dakota State last weekend.
The Panthers struggles to get points on the board over the last few weeks are a direct result of fresh faces on the offense.
James Madison has long been projected as a front runner for the FCS national championship, but Mother Nature may have her say in the Dukes path. The forecast calls for at least a 50% chance of ice and rain in Harrisonburg on Friday night.
That only benefits a Northern Iowa defense that is top 10 in total defense along with James Madison. The defense of the Panthers has been the one saving grace for the team, as no Northern Iowa game has eclipsed 45 points their past seven games.
With a Sagarin total projected at 37, I will be looking for an under with fingers crossed for a sloppy field with immobile offenses. — Collin Wilson
---
James Madison is right there with NDSU in the elite tier. The well-rounded Dukes are dominant in all three phases. Their offense averages an FCS-leading 44.1 points per game while the defense ranks in the top 3 in scoring (16.1), total yards, third downs, and against the run (65.1).
Pitt transfer quarterback Ben DiNucci mans the offense under center. His favorite target is 1,000-yard receiver Brandon Polk (Penn State transfer) and he also has a rock solid rushing attack. The Dukes are one of only 10 FCS teams to average over 250 yards on the ground.
The JMU defense features a pair of star defensive ends in Ron'Dell Carter and John Daka, who should live in the backfield against a UNI offense that allows plenty of penetration (79th in TFL allowed) which spells trouble against Carter and Daka, who lead a unit that averages over nine tackles for loss per game (third in FCS).
Speaking of that UNI offense, it's ugly. It ranks outside the top 100 in FCS in yards per game and only averages five yards per play.
UNI has got to this point by relying on its stellar defense, which has held seven straight opponents to 10 points or fewer. They are one of 10 teams allowing fewer than 300 yards per game. And from a yards per play perspective, both defenses are in the top 5 at the FCS level.
I don't think that UNI will be phased by this moment or atmosphere as they've already played two enormous road games this year — one at the Fargodome to NDSU (lost 46-14) which is one of the toughest venues in all of college football. And the other in Ames to open the year against in-state foe Iowa State in a game UNI would eventually lose in triple OT by a score of 29-26. This team is battle-tested and won't be afraid of the road.
That said, I'm just not sure how they will be able to move the ball on a consistent basis against the excellent JMU offense, especially with the forecast looking bleak — freezing rain with a high of 38 degrees although no wind. That task could become even more difficult if UNI doesn't have the services of a number of offensive contributors who remain questionable, including its No. 1 receiver and an All-American tight end.
I just don't see how UNI can keep this close without forcing a number of JMU mistakes and potentially turning them into points. UNI is one of the leaders in FCS with four defensive TDs and has been very fortunate in the turnover department (one of five teams averaging over +1 margin per game). However, I'm not sure this veteran JMU offense is going to offer any early Christmas gifts.
I make this line JMU -17 but that might be a little low based on some of these injuries on the UNI side and I just can't trust its offense on the road. In regards to the total, I agree with Collin that the look is under or nothing. — Stuckey

[In New Jersey? Bet now at PointsBet]
Austin Peay at Montana State
Odds: Montana State -6.5
Over/Under: 55.5
Time: Friday, 8 p.m. ET
TV: ESPN+
Location: Bozeman, Mont.
Austin Peay traveled to California and defeated Sacramento State last weekend. The Bees were No. 3 overall in the FCS Top 25 and made a name for themselves nearly defeating Arizona State earlier this season.
The Governors are as hot as anyone on the FCS level with a seven-game winning streak. If not for a last minute field goal miss against Tennessee State, Austin Peay would be riding a 10-game winning streak. With an 11-3 record, no team has beaten the Governors by more than a possession.
The victory over the highly ranked Sacramento State was not a result of a box score fraud or good fortune. Of the Bees' seven drives in the first half, five ended with a three and out punt. Another drive ended in four plays.
The Governors dominated one of the best teams in FCS and now travel again on short rest to Bozeman, Mont. While fatigue may not be an issue a second week in a row, it is a factor that will be handicapped if Austin Peay makes the semifinals. — Collin Wilson
Pick: Austin Peay +6.5
---
One thing worth mentioning here is that Austin Peay has been very undisciplined all season which could end up costing them here on the road. The Governors average 87 penalty yards per game, which ranks 121st of 124 teams. Montana State has had almost half as many penalties and penalty yards on the season.
However, what I want to focus on here is the altitude of Bozeman, which is in the Rocky Mountains at an altitude of close to 5,000 feet. That could be a major issue for an Austin Peay team playing its second straight road playoff game and on a short week after going from Sacramento back to Tennessee and now up to Montana. Meanwhile, the Bobcats won comfortably in Bozeman last week and stayed at home for this week.
Fatigue could be an issue for the Governors, especially as the game progresses. I'm personally going to be targeting a Montana State second half play. Ideally, the Bobcats will be trailing at the half. — Stuckey
[In New Jersey? Bet now at PointsBet]
Montana at Weber State
Odds: Montana -2.5
Over/Under: 55
Time: Friday, 10 p.m. ET
TV: ESPN2
Location: Ogden, Utah
This is a repeat match from earlier this season, when Weber State lost 35-16 at Montana. But it wasn't as ugly as it looked.
The Wildcats had four turnovers and found themselves down 35-3 after the Grizzlies first four touchdowns came on drives of four plays or less. Three of the Weber State turnovers came in their own territory, while a second half interception came in the red zone.
Both Montana and Weber State have the top home field advantages in FCS. But different from the first matchup, this game will be played in Ogden, where the elevation is 4,300 feet.
Montana has a total defense rank of 85th, which Weber State could not take advantage of because of takeaways. Expect the Wildcats to clean up the turnovers from their previous loss and advance as a short underdog. — Collin Wilson
Pick: Weber State +2.5
---
Montana plays much better in the friendly confines of its home stadium. That showed last week in their home playoff win over SELA by a score of 73-28.
Yes, 73 points. Montana has a very good quarterback in Dalton Snead, who is now fully healthy after missing a few games in the middle of the season. He has three excellent receivers on the outside that spearhead a very explosive offensive attack.
The problem with Montana has been on defense, especially away from home. And the rematch will take place in Ogden this time around in front of what should be a raucous crowd.
That said, I don't necessarily know if I trust this Weber State offense to take advantage of Montana's defensive weaknesses. Jake Constantine is clearly the inferior quarterback in this matchup. He comes into this game with only 12 TDs on the season to 10 INTs and threw three (with 0 TD) in the earlier season meeting with Montana.
Weber State will try to muck up games and win with defense and special teams and the offense should perform better at home. However, I just trust the Montana offense to ultimately come through. The line is about right to me overall but I may jump in on Montana at the half. —  Stuckey

How would you rate this article?