Friday College Football Odds & Betting Picks: How to Bet the Frisco Bowl Between Utah State and Kent State
Credit:
Jeff Hanisch-USA TODAY Sports. Pictured: Kent State
Looking for betting picks for Friday night's Frisco bowl between Utah State and Kent State? Our betting experts have you covered with updated analysis on the latest odds and injuries.
The latest odds make Utah State a 7-point favorite, with the over/under set at a ridiculously high 71.
Check out our full breakdown below to see if our experts are betting on Kent State pulling off the upset.
It truly is the most wonderful time of the year.
College football's bowl season kicks off on Friday with the Bahamas Bowl between Charlotte and Buffalo, then the Frisco Bowl between Utah State and Kent State.
We break down each bowl game from every betting angle, including the latest news, weather, on-field matchups and more.
Friday College Football Bowl Betting Picks & Odds
---
Bowl game odds as of Friday morning and via DraftKings, where Action Network users get a risk-free bet up to $500.
---
Updated Bahamas Bowl Odds: Buffalo vs. Charlotte
Spread: Buffalo -7
Over/Under: 50.5
Date: Friday, Dec. 20
Time: 2 p.m. ET
TV: ESPN
Location: Nassau, Bahamas
Charlotte is making its first ever FBS postseason appearance against Buffalo in the Bahamas on Friday to kick off bowl season.
The 49ers are likely to hold onto coach Will Healy after he was rumored for the Ole Miss and Missouri vacant positions.
You can throw any potential motivation advantage out the window as both teams are seeking their first bowl win in program history. This will mark Charlotte's first bowl appearance since the inception of its program in 2013.
The Bulls do have bowl experience, but lost all three trips, including their most recent appearance last year in the Dollar General Bowl (lost 42-32 to Troy).
Who has the edge in the first game of the 2019 bowl season? Let's dive in.
Buffalo vs. Charlotte Line Movement
Buffalo has been the most popular bet within the first wave of bowl games. The Bulls are attracting an impressive 82% of bettors as 6.5-point favorites — a line that has come up from -4.5.
It's worth noting, though, that the 18% of bets on Charlotte have accounted for 31% of money wagered thus far, revealing how bigger bettors see this spread.
The total has come crashing down thanks to a windy weather in store in Nassau. Seventy-three percent of money on 50% of actual bets have also hit the under, driving the number from around 58 to 51.5. We did see some buyback on the over at 51. — Danny Donahue
Latest News & Weather
Two Fun Facts
Buffalo was one of the unluckiest teams in the country this season, ranking bottom 25 in turnover luck, second order win total and games lost with a positive yards per play differential.
Both Charlotte and Buffalo rank bottom 10 in special teams efficiency and bottom 20 in net starting field position.
Collin Wilson: Strength on Strength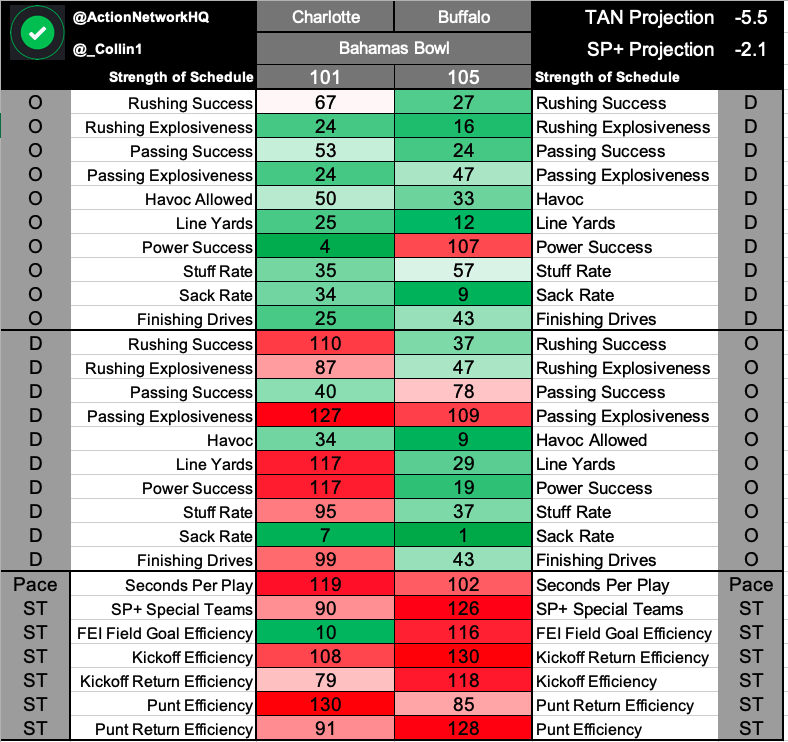 This game could be slower than what we've seen in previous Bahamas Bowls, which are known for their wild finishes and bad beats. Both teams rank outside the top 100 in pace of play.
Charlotte's bread and butter has been its offensive line and explosive rushing attack. Even in games without star running back Benny Lemay, Charlotte has still had multiple backs over 100 yards.
But the Bulls defense is top 30 in defensive rushing success rate and against explosiveness, setting up a matchup of strength-on-strength.
On the other side of the ball, the Charlotte defense has had issues with the rush all season. Buffalo's biggest advantage comes on the ground, with top 30 ranks in line yards and power success on offense in contrast to the 49ers rank outside the top 100.
The strength-on-strength matchup on this side of the ball will be Buffalo's offensive line vs. Charlotte's pass rush — both are top 10 in sack rate.
The current point spread is almost in line with the Action Network projection of -5.5, leaving close to no value in the current offering.
The total certainly deserves attention, as both teams run a slower pace and will have success moving the chains on the ground. Not only do these teams rank outside the top 100 in seconds per play, both offenses rank top 25 in rush rate.
Although precipitation is in the forecast, high winds are expected to bring chaos to the few passing attempts.
Our Action Network projected total of 54.5 did lead to value on the total when this game opened, but earlier this week, it fell to 51.5 as reports of the impending weather started to surface.
The under is the only look for me given the weather and run rate, but it's lost most of its value. — Collin Wilson
Stuckey: Waiting for the Right Number
Well, luckily this line won't force me to play two MAC teams on the opening day of bowl season. And with this line looking like it might reach +7, I may end up with money on Charlotte since I personally make this line +4.
As a result of the heavy forecasted winds, the total has steadily dropped throughout the week. Those same conditions may also be the reason we are seeing this line creep up in favor of the favorite Bulls. You'd think that the wind would hurt a Charlotte offense that is much more capable through the air more than Buffalo.
On offense, the Bulls rely on an outstanding offensive line and workhorse back Jaret Patterson, who's one of seven backs with over 1,500 rushing yards this season.
Charlotte's defensive line profiles similar to most of the inferior ones we saw in the MAC this year (8 of the 11 other MAC teams not named Buffalo rank 85th or worse in yards per rush allowed). The super sophomore should have lanes to run through against a very vulnerable Charlotte front seven.
The 49ers can also run the ball but will have a much stiffer test against a much more stout Buffalo front seven. The Bulls were one of only eight teams in FBS to allow fewer than 3.0 yards per rush on the season. Meanwhile, Charlotte allowed 5.0 yards per rush, which ranks 110th in the nation.
Charlotte will have the advantage on special teams as Buffalo has one of the worst special teams units in the entire country. However, the field goal edge for Charlotte may be negated by the heavy winds.
The heavy winds hurt Charlotte more than Buffalo but a move up to +7 or above would still be too much. If this gets to a touchdown, I'll make a small investment on the 49ers. — Stuckey
Stuckey's Pick: Charlotte only at +7 or better
2019 Frisco Bowl Odds
Spread: Utah State -7
Over/Under: 68
Date: Dec. 20
Time: 7:30 p.m. ET
TV: ESPN2
Location: Frisco, Texas
The Frisco Bowl doesn't usually make headlines, but it did this year in the days leading up to kickoff.
Utah State quarterback Jordan Love and two other players were cited for marijuana possession earlier this week, but will play on Friday despite some speculation and line movement against the Aggies.
Love's had a rough year, but is a legitimate NFL prospect who already declared for the 2020 NFL Draft.
Kent State is looking to win its first bowl game in program history behind an offense that really came on late in the season.
Who has the edge in this matchup? Let's break down the 2019 Frisco Bowl.
---
Check out DraftKings, where Action Network users get a risk-free bet up to $500.
---
Utah State vs. Kent State Line Movement
After opening as high as -9.5, Utah State has come all the way down through the key touchdown number thanks to a mixture of betting activity and player uncertainty. Fifty-five percent of bets generating 77% of money have landed on Kent, which brought this line down to a flat +6, though more recent moves have reversed direction toward the Aggies.
The total has attracted 61% of bets and 72% of money to the over, which has convinced oddsmakers to up their line from a low-water mark of 64 up to 67.5. — Danny Donahue
Collin Wilson: How Many Points Is Jordan Love Worth?
Originally, the biggest news ahead of the Frisco Bowl was that Utah State quarterback Jordan Love was going to play even though he declared for the NFL Draft. Love had a down season in 2019, but is still projected by some as a first-round pick.
Now, the biggest news is that Love and leading rusher Gerold Bright were arrested for possession of marijuana and was in danger of missing the Frisco Bowl.
However, coach Gary Anderson confirmed that Love will play on Friday.
When word got out about the charges against Love, Kent State took some money to go under the key number of +7, but the over/under has actually ticked up to 67.5.
Even with confirmation of Love's status, we still haven't seen Utah State money push the Aggies back over a touchdown.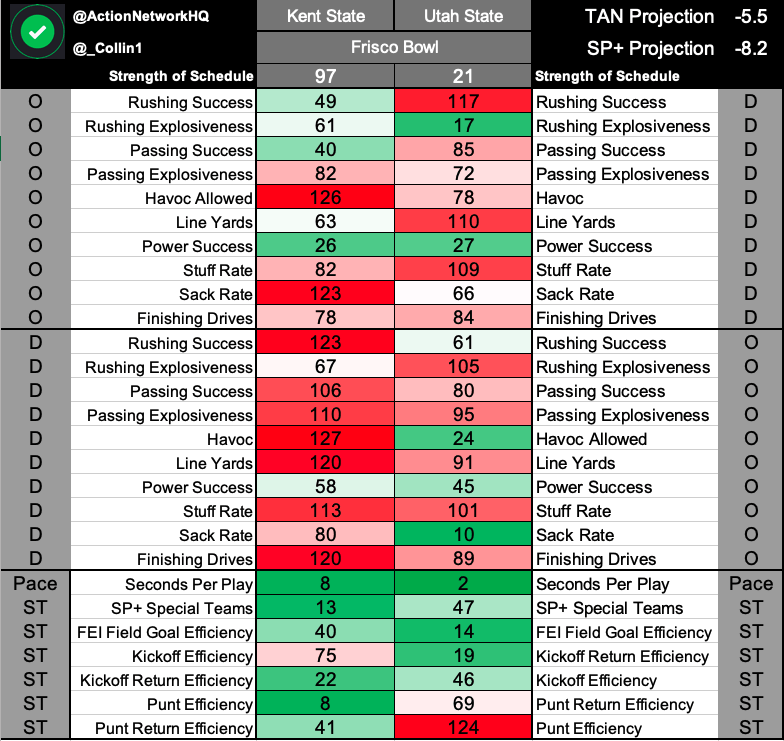 Both of these teams rank inside the top-10 in pace and, even without Love, there should be some points in this game as neither defense boasts an impressive statistical profile. Utah State particularly struggles against the run, ranking 110th in line yards and 109th in stuff rate.
With Love under center, our projected spread for this game was Utah State -5.5, so there was already value on the Golden Flashes even if the Aggies had their No. 1 quarterback.
The Bet: Kent State +6.5
Collin Wilson is 506-429-27 (54.1%) overall betting on college football. You can follow him in our free app.
Stuckey: Kent State Is A Live Dog
I can't think of a team that will have more motivation than Kent State. Head coach Sean Lewis is slowly turning this program around. The Golden Flashes have never won a bowl game and this is their first postseason appearance since losing to Arkansas State in 2012.
That was one of only three all-time previous bowl appearances with the other two coming in 1954 and 1972 against Delaware (now FCS) and Tampa (which doesn't even have a football program now) in the Refrigerator Bowl (my favorite bowl name ever) and Tangerine Bowl.
On the other hand, Utah State is no stranger to bowl games. The Aggies have played in seven bowls over the past nine years, winning four of the seven. It's certainly reasonable to wonder how motivated they may be against a .500 MAC team.
The Kent State defense is nothing to write home about and may arguably be the worst among all bowl teams, but that isn't the strength of the Lewis' team.
The offense really started to come on toward the end of the season and the Golden Flashes also boast an extremely solid special teams unit (top 15, per S&P). That's a rare feat for a MAC school.
Even with Love playing for Utah State, I still make this under a touchdown, which means I still  like the underdog at the current price.
Stuckey's Pick: Kent State +6.5
Stuckey is 528-487-30 (52%) overall betting on college football. You can follow him in our free app.
How would you rate this article?