College Football Odds & Pick: Back South Alabama As A Thursday Night Underdog vs. UAB
Credit:
Michael Wade & Bobby McDuffie/Icon Sportswire via Getty Images. Pictured (L-R): UAB quarterback Tyler Johnston III (17) and South Alabama quarterback Desmond Trotter (11).
UAB makes its second appearance in nationally televised Thursday night college football action, this time against the Jaguars of South Alabama.
Both teams will trot out backup quarterbacks on Thursday night, so the game could come down to each squad's respective defensive performance.
Collin Wilson breaks down the odds, analyzes the matchup and recommends which unit you should back.
UAB at South Alabama Odds
| | |
| --- | --- |
| UAB Odds | -7 [BET NOW] |
| South Alabama Odds | +7 [BET NOW] |
| Over/Under | 47.5 [BET NOW] |
| Time | Thursday, 7:30 p.m. ET |
| TV | ESPN |
---
Odds updated as of Wednesday night and via PointsBet, where you can get $250 FREE instantly after signing up AND your bets automatically sync to the Action app. Learn more about BetSync here.
---
Another standalone game for the Blazers during the 2020 season.
The South Alabama Jaguars host UAB in Thursday night's primetime college football matchup. Both teams enter at 1-1 on the season, having already toyed with bettors' emotions more than once this season.
South Alabama, the doormat of the Sun Belt, came this close to starting the season 2-0 despite the Jaguars' underdog status in both of their games. Tulane mounted a miraculous second half in the Jags' Week 3 home opener as the Green Wave erased an 11-point deficit to win by three points.
Which of these two teams will come out on top in Week 4? And, which squad will extend its streak of letting bettors down?
UAB Blazers
Defensive havoc has been a staple for head coach Bill Clark's team, which has already collected 14 tackles for loss and three forced fumbles in its two games against Central Arkansas and Miami. The linebacker position has been the strength of the group: Kristopher Moll leads the team with 13 tackles while Alex Wright has seven hurries.
On offense, incumbent starting quarterback Tyler Johnston III is out indefinitely as he rehabs a shoulder injury. Johnston's absence elevates backup QB Bryson Lucero into starting duties against South Alabama and for the foreseeable future thereafter. Thankfully for Lucero, he'll receive some much needed support via the return of running back Spencer Brown, who will alleviate pressure on Lucero to carry the offense on his own.
Comme prévu. UAB a du répondant. Long drive de 75 yards et qui d'autre que RB Spencer Brown pour conclure ? TD de 6 yards du running back des Blazers. On a un match !

Miami 17, UAB 14 pic.twitter.com/2mzdMZdSr9

— TBP College Football (@thebluepennant) September 11, 2020
Bill Clark runs both 11 and 12 personnel with a balanced 50-50 split between rushing and passing plays. Clark has exhibited a tendency to run the ball in any down and distance and in either of UAB's primary personnel groups, but definitely expect Brown to get the ball near the goal line. Brown is just three touchdown's shy of being the all-time leader at UAB.
The Blazers' typically balanced play-calling may gravitate more towards the run given the combination of Brown's return and Lucero's inexperience. Lucero has had limited action as a Blazer and has only completed a handful of passes in his career.
The QB position notwithstanding, UAB's offensive line has been a big reason why the Blazers offense has been able to move the chains. Per Sport Source Analytics, the Blazers' offensive trench has allowed just a single sack.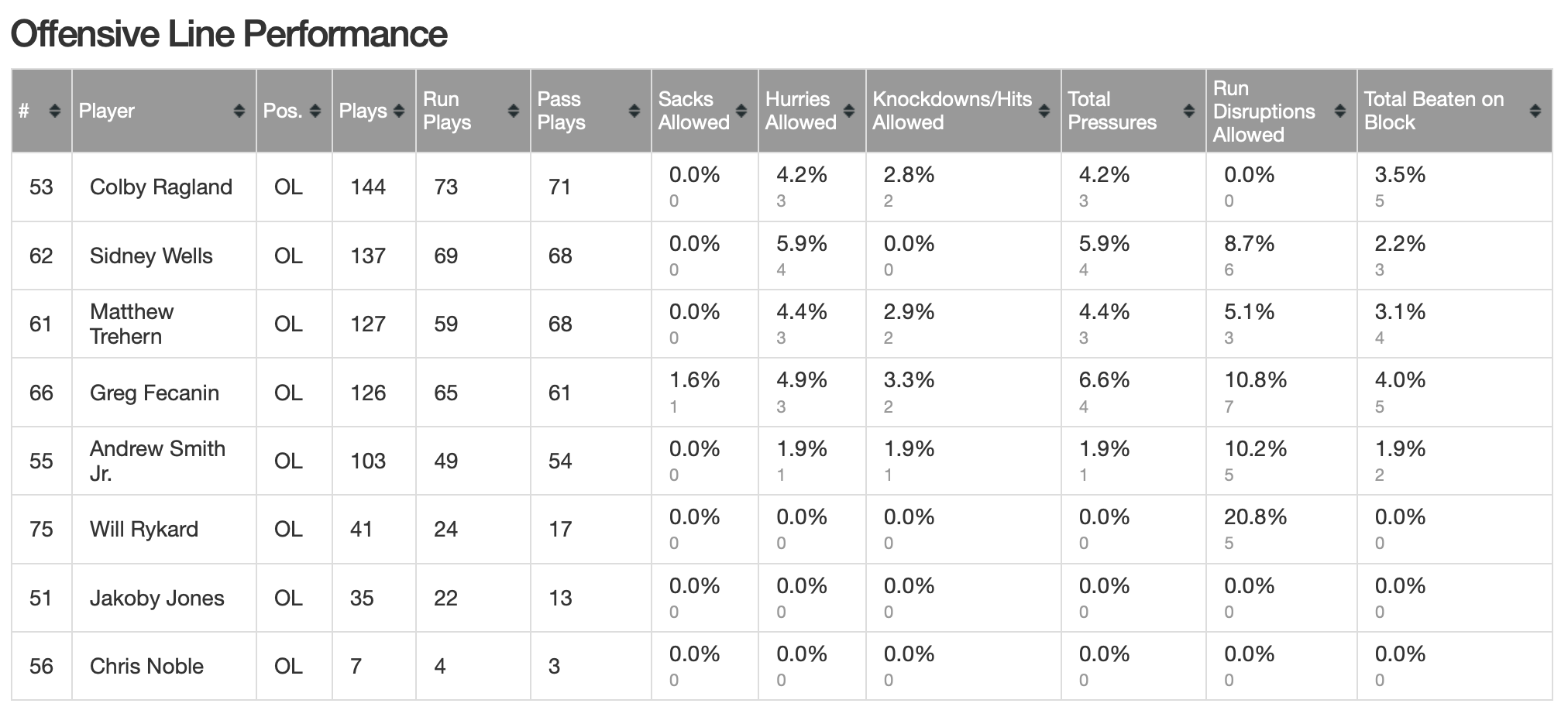 The Blazers staff has plenty of familiarity with South Alabama. Bill Clark was the defensive coordinator for the Jags for five years, and UAB offensive coordinator Bryant Vincent has had two different stints in Mobile.
South Alabama Jaguars
South Alabama has posted a middling offensive success rate through two games, but its explosiveness has distinguished it among FBS competition. The Jags rank eighth in expected points added and rank top-5 in passing downs explosiveness among active teams.
Those lofty metrics can be attributed to the play of Chance Lovertich, who shares QB duties with Desmond Trotter. Much like UAB's Tyler Johnston III, Trotter is also nursing a shoulder injury — though less severe in nature. As a result, Lovertich played the bulk of the Jaguars' most recent game against Tulane and is the presumed starter entering Thursday night's matchup.
Upon entering the game against the Green Wave, Lovertich guided the Jags to their first score of the game in his first drive under center. He remained in command as he engineered South Alabama's offense to a commanding 24-6 lead in the third quarter. Moreover, Lovertich is completing 74% of his pass attempts from a clean pocket:
On defense, the Jags have had issues giving up big plays. South Alabama ranks 45th out of 52 teams in allowing plays from scrimmage over 10 yards.
The biggest handicap is how the Jaguars front-seven can hold up against a quality Blazers offensive line and a stud running back. South Alabama ranks 18th in line yards allowed and 16th in stuff rate.
The spotlight will be on Nick Mobley, who is listed as the 12th-best linebacker defending the rush of all 2020 players per Pro Football Focus.
---
Betting Analysis & Pick
Check out our new CFB PRO Report, where we highlight factors that provide betting edges — like large wagers, historically profitable betting systems, model projections and expert picks — that when combined with sharp money can powerfully detail the smartest bets on a given slate.
---
Our Action Network College Football Power Ratings make this game UAB -5.5, giving a slight edge to South Alabama on the point spread.
The Jaguars defense will be able to plug gaps and impede the rush of running back Spencer Brown, forcing Bryson Lucero to throw in passing downs. There may be value in UAB at any number under -5, while South Alabama is a buy at anything +6 or better.
However, the total in this game may be where we focus our energy. The Blazers may elect to lean on their strongest assets: Their havoc-minded defense and a strong rushing game. Generally, UAB runs a 50% split between the rush and the pass, but it's reasonable to expect Bill Clark to take the load off of his redshirt freshman in Lucero's first start at quarterback.
South Alabama's two biggest weapons are its front-seven rush defense and its offense on passing downs. Both Desmond Trotter and Chance Lovertich have posted a top-15 ranking in passing downs success rate. Once South Alabama adjusts to the UAB defensive scheme, expect the Jaguars to bust big plays in passing situations.
The Bets: First Half Under 24; South Alabama +7 or better
[Bet South Alabama +7 OR the first half under now at PointsBet risk-free up to $250]
How would you rate this article?