Wednesday College Football Best Bets | MACtion Picks for Miami-OH vs Akron, Kent State vs Bowling Green, More
Credit:
Getty Images. Design by Cyriel Klitsie/Action Network.
Wednesday. Night. Football.
After a solid three-game slate on Tuesday night, we have another three-matchup set on this beautiful November Wednesday.
First, the Kent State Golden Flashes look to rebound after a tough loss to Akron when they host the Bowling Green Falcons. Then, those same Akron Zips hope to keep their momentum rolling against a solid Miami (OH) RedHawks unit that is once again without starting quarterback Brett Gabbert.
Finally, the Eastern Michigan Eagles make the trip to the Glass Bowl to take on the conference-leading Toledo Rockets.
Our staff broke down all three MACtion games and came through with a betting pick for each, so let's dive into our Wednesday night college football analysis.
---
Wednesday College Football Best Bets
The team logos in the table below represent each of the matchups from Wednesday's slate of games. Click on the team logos for any of the matchups below to navigate to a specific bet discussed in this article.
Game
Time

(ET)

Bet
7 p.m.
7:30 p.m.
7:30 p.m.

Specific betting recommendations come from the sportsbook offering preferred odds as of writing. Always shop for the best price using our NCAAF Odds page, which automatically surfaces the best lines for every game.
---
Bowling Green vs. Kent State
By John Feltman
We all went dumpster diving last week when Akron and Kent State faced off in the 2023 Toilet Bowl, but my goodness, this matchup might be just as brutal.
If you thought last week was ugly, just wait until we head out to Dix Stadium in Ohio on Wednesday evening.
The Kent State Golden Flashes host the Bowling Green Falcons as they look to pick up their second victory of the season. The Falcons are coming off a fortunate win over Ball State in a game they were narrowly outgained in total offense.
Let's try to dig through this pile of trash and uncover some Wednesday Night MACtion gold.
---
The Falcons offense has been a rollercoaster this entire season, and I have a feeling it's going to continue to trend downward.
Running back Terion Stewart, who has been a machine for the Falcons averaging nearly 6.5 yards per carry during MAC play, is most likely out for this game. Stewart was seen with crutches after he injured his ankle last week against Ball State, and he's officially listed as questionable.
If he's out, a lot more pressure will land on the shoulders of quarterback Connor Bazelak's shoulders, who has already struggled to be a consistent passer this season. Bazelak is completing only 58% of his passes this season, and he's been even worse in conference play at 53%.
The Falcons offense ranks 104th in Passing Success Rate and 124th in Havoc Allowed. I realize Kent's defense isn't very good, but this smells like a spot in which Bazelak struggles without his star running back.
On the defensive side of the ball, the numbers don't get much better. This defensive unit sits outside the top 80 in almost every defensive category, including a bottom-25 rank in Line Yards and Rushing Success Rate.
Surprisingly, the Falcons enter inside the top 50 in both PFF tackling and coverage grading. They're also not too terrible inside the 40-yard line, as they tend to force a lot of drives to stall in the red zone.
If Stewart was a guaranteed go, I would be interested in the Falcons in this spot. However, this could easily be a game in which they overlook their opponent on the road considering the Golden Flashes have one win on the season.
---
I spoke about how bad the Falcons offense has been, but wait until I dive into these Golden Flashes numbers. News flash: They're worse.
Kent State ruined our under last week, as I was surprised to see this offense find some success against a mediocre Akron defense. I was even more surprised the Golden Flashes put up over 340 yards of total offense and 27 points on the scoreboard.
Maybe these metrics are skewed due to the level of competition they've faced, but this Golden Flashes team is dead last in Rushing Success Rate and 127th in Havoc Allowed.
You'd be stunned to see that Kent comes in at 28th in rush rate despite its horrid ground attack. The good news is that quarterback Tommy Ulatowkski looked pretty sharp last week, and he gets a good matchup against a terrible Falcons defense in Week 11.
Normally, I'd say the Flashes could find some success here on offense, but I'm worried about their ability to finish drives. This is also an area where the Falcons defense has been solid, so I truly don't know how Kent will replicate last week's success.
It's also important to note that wide receiver Chrishon McCray is questionable, and even if he plays, he will not be 100%. McCray completely shredded Akron's secondary last week for six catches and 161 yards.
Defensively, this team will get a break if Stewart sits out for the Falcons. But this secondary still has to step up.
Considering the Golden Flashes are 69th in Line Yards, I think this defensive front should get a bit of a push against a struggling offensive line.
I don't want to waste too many more words about this horrific defense, but I will note that Kent State actually has a very good special teams unit. I would expect it to pin the Falcons deep on numerous possessions if its offense struggles to move the ball.
---
Bowling Green vs Kent State
Betting Pick & Prediction
I wanted to hold my nose and go against the market with Kent State here, but I think the best play is the under. I realize we got burned last week with the under in the Toilet Bowl, but I think we'll have a bit more wiggle room in this matchup.
First and foremost, Stewart's absence would be a huge blow to the Falcons. Kent State's defense is atrocious, but its defensive front should have the edge against the BGSU's front.
The Falcons are also one of the slowest teams in the nation on offense, so the clock should be ticking throughout. The Flashes should continue to run the ball the majority of the time, and they're also in the bottom half of the country in terms of seconds per play.
Don't get me wrong — these defenses aren't world-beaters by any stretch. But I expect both of these offenses to struggle, especially if the Falcons get pinned deep in their own territory by the Flashes' excellent special teams unit.
Let's hope these quarterbacks protect the football and the clock runs rapidly all night long.
Pick: Under 41 (Play to 40)
Use our Caesars Sportsbook promo code to get the most out of your Bowling Green vs. Kent State action.
---
---
Midweek MACtion games rarely look good on paper, but we know these contests almost always exceed expectations. The conference is too crazy and unpredictable.
That's the thought in my mind as Akron prepares to battle Miami (OH) in Oxford on Wednesday.
While the RedHawks are cruising to a MAC East title, the Zips needed 21 unanswered fourth-quarter points to claim their first FBS victory of the season last week.
Naturally, Akron's catching 18 on the road on Wednesday night.
So, can the Zips use MACtion magic to make this stinker a competitive game? Let's take a look at the Akron vs. Miami (OH) odds and make a pick and prediction for Wednesday's college football clash.
---
Since DJ Irons went down, Akron's offense has turtled.
In the first three games without their starting quarterback, the Zips scored a combined 38 points. Backup quarterbacks Jeff Undercuffler and Tahj Bullock combined to complete 53% of their passes with two touchdowns and five interceptions.
Things seemed hopeless for Akron.
That is, until last week, when Undercuffler shredded Kent State for 298 yards and three touchdowns at 7.6 yards per attempt in an unbelievable comeback victory for the Wagon Wheel. He even rushed for the game-winning touchdown.
While it was an honorable performance, I wouldn't expect this to remain the standard for Undercuffler and the Zips' aerial attack. Kent State has next to no talent in the secondary, ranking fourth-to-last in EPA per Pass Allowed.
Even with that surprising performance, the Zips still rank 130th nationally in EPA per Dropback — and they're preparing to face a loaded, stifling RedHawk defense (more on that later).
Concerning Akron's defense, the unit has played surprisingly well at times.
The Zips rank top-60 nationally in Rush Success Rate Allowed, and the relatively talented secondary led by cornerbacks Devonte Golden-Nelson, Darrian Lewis and Tyson Durant have helped the Zips to a top-25 rank in EPA per Dropback Allowed.
However, between bad tackling and broken assignments, the Zips have allowed far too many explosive plays.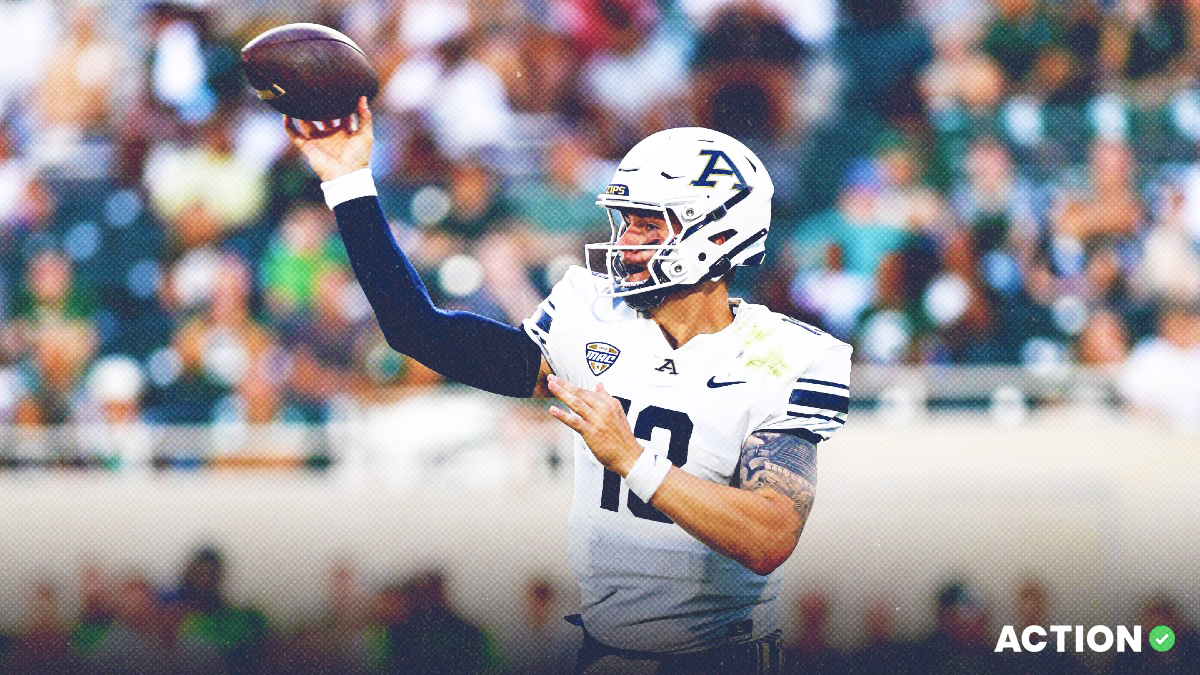 ---
Let's talk about Miami's defense.
Defensive coordinator Bill Brechin's 4-2-5 defense is the best in the MAC.
The defensive line is filled with experience, led by edge rushers Brian Ugwu and Caiden Woullard, who have a combined 50 pressures and a pass-rush win rate of over 20%. With their help, the RedHawks rank top-40 nationally in pressure rate (31.5%).
The linebacking duo of Matt Salopek and Ty Wise are playing at a high level, especially when cleaning up in the run game — Salopek has a team-high 60 tackles and 37 stops.
But the secondary is the bright spot of this rock-solid unit.
Safeties Michael Dowell and Jacquez Warren are top-notch safety valves, helping the RedHawks prevent explosive passing plays (11th nationally in pass explosiveness allowed) while stopping opposing rushers from reaching the third level and beyond.
Meanwhile, cornerbacks Yahsyn McKee and Raion Strader have stepped up and held their own. They've been targeted more than any other cornerback duo in the MAC — 95 times, and Toledo is second with 81 — yet have allowed only 50 completions (52%) and three touchdowns.
The RedHawks defense is experienced and consistent. They're 20th nationally in EPA per Play Allowed and have given up a MAC-low 61 points through five conference games. To put that in perspective, Ohio is second at 91.
Also, you may be surprised to learn that Miami (OH) ranks first nationally in Pro Football Focus' special teams grades. The RedHawks are 11-for-11 kicking field goals and have the MAC's highest average punt distance (47 yards).
With a defense this loaded, all quarterback Brett Gabbert had to do was stay healthy. Alas, he'll once again miss significant time.
Backup Aveon Smith is a solid dual-threat quarterback but can't drive the ball downfield through the air with his career completion percentage hovering around 50%.
Between Smith, lead running back Rashad Amos and a reasonably experienced offensive line, the RedHawks field a solid rushing attack — even as opponents stack the box because they no longer have to respect Gabbert and the passing game.
Miami (OH)'s likely heading to the MAC Championship game. If the RedHawks want to win that, they'll have to control the clock with their solid rushing attack while leaning on their defense and special teams.
---
Akron vs Miami (OH)
Betting Pick & Prediction
It's hard to handicap motivation.
The RedHawks are one game ahead of Ohio, Bowling Green and Buffalo with head-to-head tiebreakers over the first two and a home game against the third a week after this game.
Barring disaster, Miami (OH) is a shoo-in for the conference championship game. With that in mind, how fired up will head coach Chuck Martin and the RedHawks be for this one?
However, if you look past the motivational angle, Miami (OH) is the obvious play.
Schematically, I don't see how the Zips score on Miami's defense. Meanwhile, the RedHawks' new run-first offense should take advantage of Akron's poor tackling.
Situationally, Akron is due for a letdown after its furious comeback win last week, and I don't expect Undercuffler to have similar success with a considerable step up in competition. At the same time, Miami (OH) is coming off a bye.
The RedHawks are 4-0 against the spread (ATS) as a favorite this year, while the Zips are 2-3 ATS as an underdog. Miami (OH) has won five straight in this rivalry by a combined score of 161-71.
And, analytically, projection systems make the RedHawks bigger favorites than the market. Our Action PRO model projects them as 19.5-point favorites, while ESPN's SP+ model makes them 21.5-point favorites.
This game is a tad unpredictable given the situation, but if you must bet on this game, I'd lay the points with the Detroit-bound RedHawks.
Pick: Miami (OH) -18
Maximize your Akron vs. Miami (OH) action with our FanDuel promo code.
---
---
Eastern Michigan vs. Toledo
Wednesday night brings us some MACtion in Ohio, where the Toledo Rockets welcome the Eastern Michigan Eagles for a Week 11 matchup.
Both of these teams are very familiar with each other as they sit on the MAC West side of the conference and square off each year.
Eastern Michigan enters this one looking to get back on track after dropping its last two games — at Northern Illinois and at home against Western Michigan.
Toledo looks to keep its momentum rolling after winning eight straight following a close Week 1 loss at Illinois.
Can the Rockets defend home turf and keep their stride, or do the Eagles pose a threat this week? Let's dive into the Eastern Michigan vs. Toledo odds and make a pick and prediction for Wednesday night.
---
The Eagles are fighting to reach bowl eligibility, sitting at 4-5 on the year thus far. They're 2-3 in their last five against Toledo, so headcoach Chris Creighton knows what he has ahead of him when traveling to the Glass Bowl.
This game gives Eastern Michigan an opportunity to pick up one of the two wins it needs in its final three games to make the postseason.
Offensively, this Eastern Michigan team has flat-out struggled this season, averaging only 18.5 points per game.
Quarterback Austin Smith is the man in charge of this offense, and he has thrown for only 1,334 yards this season while adding 96 yards on the ground through nine games.
The Eagles rank 124th in Passing Success Rate and even worse at 130th in passing explosiveness.
The run game has not been much better with running back Samson Evans averaging 4.2 yards per carry on the year. Evans has been solid, but the Eagles favor the pass over the run, as they've played from behind so often this year.
The ground attack ranks 106th in Success Rate, so the Eagles need to find success in that area to hang around in this one.
The Eagles defense has been something of a bright spot this year, specifically when it comes to defending the pass. Their pass defense ranks 10th in the country, and they eat up pass-heavy teams defensively.
However, the weak area of the pass defense comes from allowing the big play, as they rank 93rd in defensive pass explosiveness.
While worse overall, EMU's run defense limits the big plays and ranks 30th in explosiveness. The Eagles will need to defend the run well this week in order to keep this one close.
---
The Rockets are on an absolute roll after a shaky start at Illinois this season. They've rattled off eight straight wins, including a few that starting quarterback Dequan Finn missed.
Toledo looks to keep it rolling following its hot start and maintain its reign at the top of the MAC after winning the conference championship a year ago.
The Rockets offense has been high-powered all season long with Finn returning under center. The Rockets average 34 points per game, lighting up the scoreboard with ease.
They rank 17th in Offensive Success Rate, and a lot of that can be credited to Finn's ability to make plays through the air and on the ground. Finn has thrown for 1,601 yards on the season and added 489 yards on the ground.
This is not to overshadow running back Peny Boone, who has averaged 7.3 yards per carry on 136 carries. The Rockets can really run the ball and should be able to exploit a weak Eastern Michigan run defense in this one.
However, Toledo has some weaknesses on defense that can open the door a bit for Eastern Michigan. The Rockets allow 19.3 points per game and are stout against the pass (13th). They'll eat up whatever pass attack Eastern Michigan throws at them.
The matchup I'm more interested in comes on the ground, as Toledo ranks 81st against the run.
There could be some opportunities for a weak Eagles offense to find some success, so Toledo will need to be ready against the run here.
---
Eastern Michigan vs Toledo
Betting Pick & Prediction
While Toledo holds a big edge on the ground against a weak Eastern Michigan run defense, I think the history of this matchup matters.
Eastern Michigan has played one-score games against Toledo in four of their last five matchups. I think the Eagles can find enough success on the ground to hang around in what should be a low-scoring ground-and-pound game for both teams.
Give me EMU at +19.
Pick: Eastern Michigan +19
Maximize your Eastern Michigan vs. Toledo action with our BetMGM bonus code.
How would you rate this article?
This site contains commercial content. We may be compensated for the links provided on this page. The content on this page is for informational purposes only. Action Network makes no representation or warranty as to the accuracy of the information given or the outcome of any game or event.