Rovell: Oregon, Miami Losses Provide Relief for Sportsbooks After Brutal Afternoon
Credit:
Mark J. Rebilas, USA Today Sports.
Saturday Night Updates
Vegas Loves Upsets: The guys and gals in the desert can sleep a little easier tonight. After a brutal start to the day thanks to covers by Minnesota and Oklahoma State, sportsbooks were hoping for a couple of underdogs to bail them out on the night slate. They got their wish.
First, Miami fell as a 20.5-point favorite against Florida International. The Hurricanes were one of the day's most popular sides. According to our market-wide data, 81% of the tickets for this game were on The U. William Hill reported that 99% of the money was on Miami, making it their most lopsided game of the day.
It was the biggest upset against the Hurricanes in more than 15 years. The last time the Hurricanes were at least -20.5 and lost? Way back on Oct. 30, 2004 when they lost to UNC as 21.5-point favorites.
There weren't any huge tickets on the FIU moneyline, but there were some folks who walked away with a nice payday. One bettor wagered $200 to win $1,800 at William Hill and another put down $70 to win $700 at the Westgate SuperBook. William Hill also said they took a $1,600 play on the Miami moneyline. That bet would have netted $100.
Perhaps the biggest result of the day, at least for the College Football Playoff picture was Arizona State's 31-28 win over Oregon. The Ducks, who closed as 13.5-point favorites, received 71% of the tickets according to our data.
John Murray of the Westgate SuperBook said they "badly needed" Arizona State/
Saturday Afternoon Updates
Bloodbath: This morning we reported that two of the biggest decisions of the day in Vegas would be Minnesota-Northwestern and Oklahoma State-West Virginia. In terms of betting-drama, it did not disappoint.
Northwestern closed as a 16-point underdog to the Gophers, but for most of the week the Wildcats were listed at +13.5. Bettors kept pounding the Golden Gophers, eventually moving the line to -15.5 at 10:30 a.m. ET and then -16 by the time the game started.
The game finished Minnesota 38, Northwestern 22 thanks to a failed "meaningless" two-point conversion by Northwestern with 1:16 left in the fourth quarter. Needless to say, it was a brutal result for Vegas but a great one for the public, as most bettors were able to get in below the closing line.
"Bloodbath," Circa's Matt Lindeman said after the game. "To add insult to injury, we took a limit bet on Minnesota -15.5 late. Always fun having mid-five-figure swings come down to completely illogical two-point attempts late in games."
"16 was a very poor number for it to land on," William Hill's Nick Bogdanovich said.
The result wasn't as bad for the Westgate SuperBook, but John Murray says his shop was also hoping the Wildcats would punch in the two-point try.
"16 was okay for us," Murray noted. "We came out a little ahead. We really wanted that two-point conversion, but we'll take it."
And the Oklahoma State game? Well, the Cowboys won, 20-13, to cover as a very popular 6.5-point favorite.
"Middled there also. We blew low-six figures between both games falling," Lindeman added. "Not the best time to take a stand on quarterback injuries."
---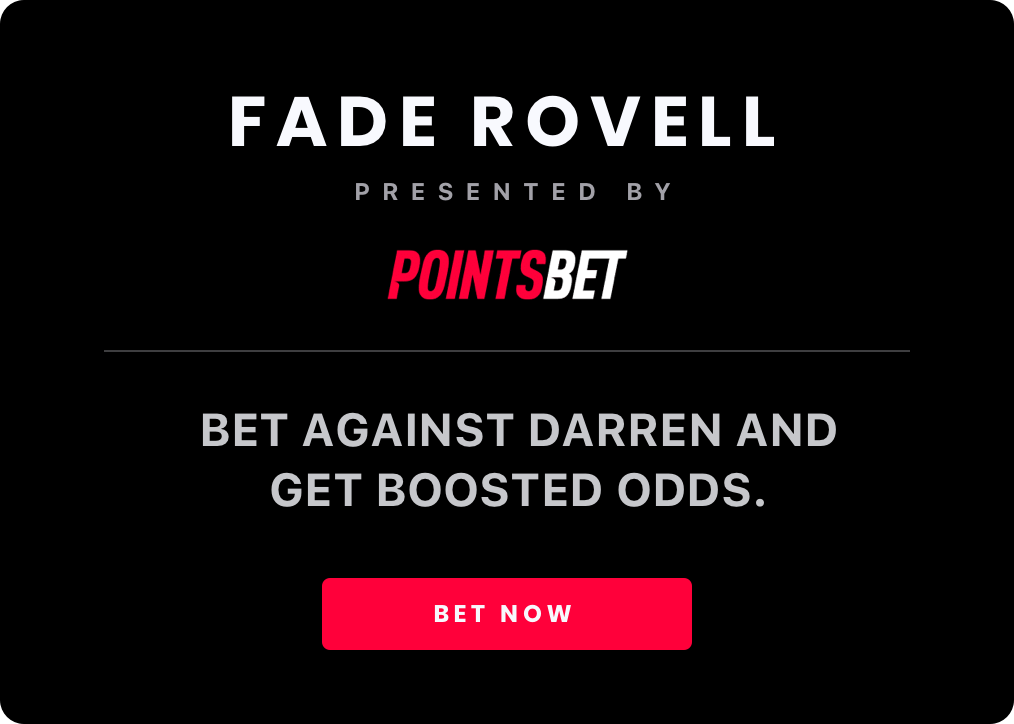 Darren Rovell isn't buying Jimmy Garoppolo this week against the Packers. PointsBet is giving everyone in New Jersey boosted odds to Fade Rovell and bet on the Garoppolo Over 1.5 passing TDs at +125. New customers get an exclusive promotion: Deposit $50, bet with $150. No strings attached. No rollover required.
---
Saturday Morning Updates
Parlay Patz: Ben Patz — the 23-year-old bettor on the heater of a lifetime — came away with a couple of big wins on Friday night. Not only did he win $71,756 on a $10,000 7-leg moneyline parlay: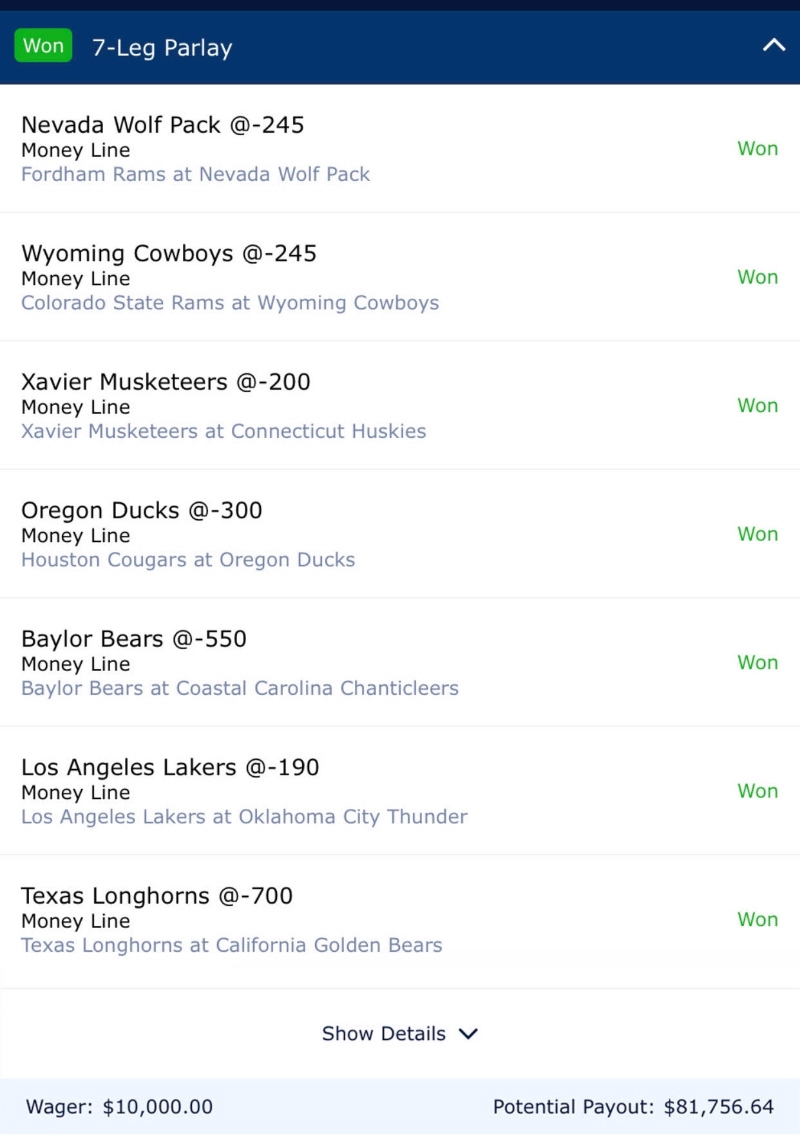 But he also cashed $13,488 on a $20,000 two-leg moneyline parlay: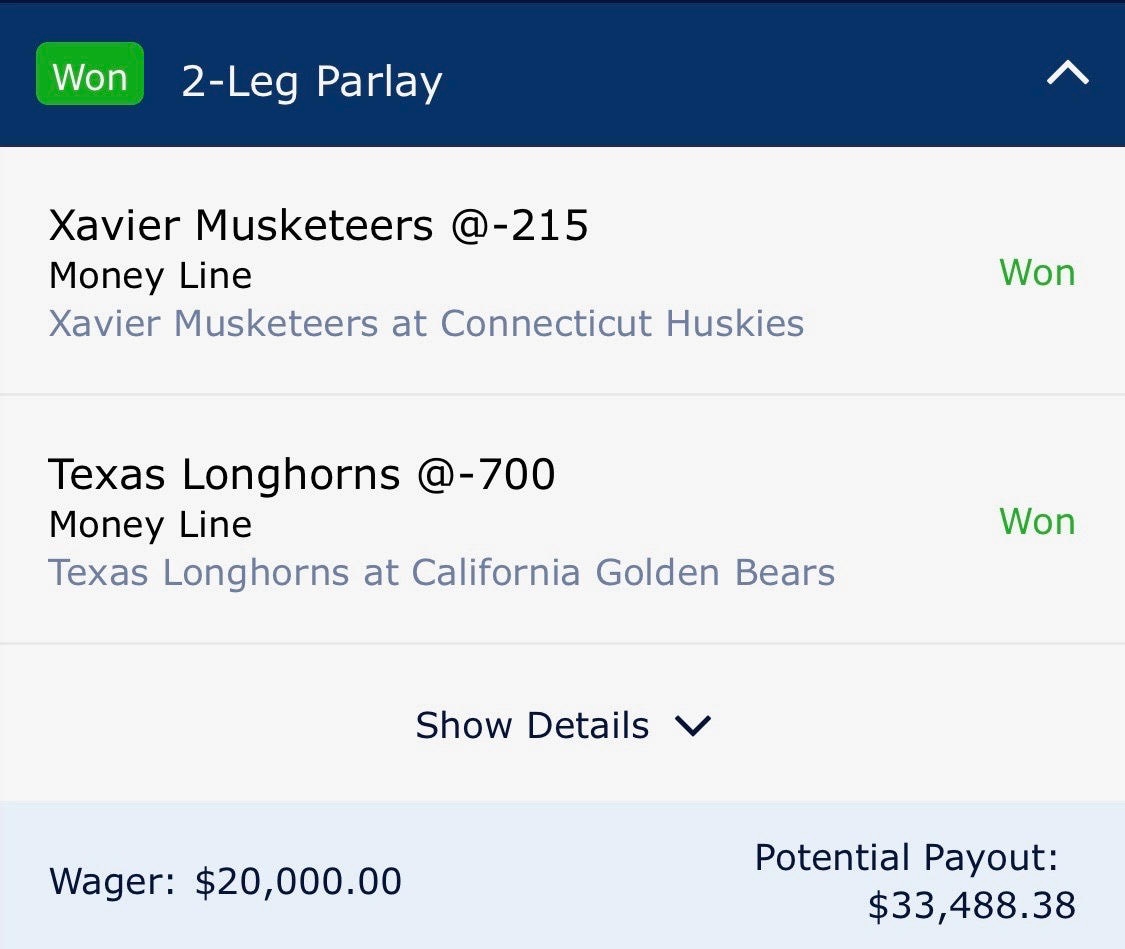 He's back for more today, putting $20,000 on a five-team moneyline parlay of Cincinnati (vs. Temple), Washington (at Colorado), Oregon (at Arizona State), USC (vs. UCLA) and Minnesota (at Northwestern).
If you want to see if Patz can continue his lucky run, you can track his action in The Action Network app under the username: @parlaypatz.
Sharps on Michigan: PointsBet's Matt Chaprales reports that there's a bit of a Sharps vs. Squares pattern in Michigan (-10) at Indiana.
"The public has been pounding Indiana, espcially on the moneyline," Chaprales said. "But gameday sharp money has landed on Michigan, resulting in an adjustment up to -10 from 9.5."
Late moves: Some late money has come in on Ohio State, pushing the Buckeyes to -20 at some sportsbooks.
Biggest Liabilities: The biggest decisions almost everywhere today are Minnesota (-13.5) at Northwestern and Oklahoma State (-6) at West Virginia.
"The Minnesota number is too big," said Matt Lindeman of Circa Sports. "Even with starting quarterback Tanner Morgan playing, it should be at -9. If he sits out it's -7 or -8."
Minnesota went from -13.5 to -14 this morning as news came in that Morgan was out of concussion protocol.
A whopping 96% of the money is on Minnesota at FanDuel. It's 95% at DraftKings and 78% at PointsBet.
Big Ten Liabilities: As expected, Penn State at Ohio State (-18.5) is easily the most bet game of the day. Even with a large spread, the Buckeyes are getting 58% of the tickets and 62% of the money for Saturday's headliner.
Judging by the size of the handle and the market, it's pretty safe to assume that sportsbooks will have a lot of liability on Ohio State on Saturday.
Bettors are also expecting counting on a bounce-back performance for Minnesota today. Iowa handed the Gophers their first loss of the season last Saturday but that hasn't stopped the bets from flying in on Minnesota as 13.5-point road favorites over lowly Northwestern in Week 13.
According to our market-wide data, Minnesota at Northwestern is the third-most popular game of the day at the window and the Gophers are seeing 83% of the tickets and 80% of the money against Pat's Cats. That tells you that sportsbooks will be rooting hard for the home underdogs.
Roll Tide: It's been a rough couple of weeks for the Alabama Crimson Tide. First, they lost to LSU. The following week, they lost Tua Tagovailoa for the season. This Saturday, they will look to take out their frustration on an FCS school — Western Carolina University.
You have to worry a little bit for the Catamounts, as the timing of their visit to Tuscaloosa couldn't be worse. Bettors seem to think the same way. PointsBet opened this line at Alabama -55.5 on Saturday morning and it didn't take long for it to begin moving. It currently sits at -57.5.
Lindeman says he hasn't seen much action on these SEC-FCS showdowns, as bettors don't want to lay this many points in games where the SEC teams just want to stay healthy.
Thursday Updates
This week we have a top-10 matchup with an 18-point spread and the largest spread in SEC history. But we must begin our college football betting roundup with…Hawaii-San Diego State?
WUT.
Yes, that's right. The game to decide who wins the Mountain West…West.
We like to be go against the grain in this column and this game certainly does the trick. Each week, our college football analysts use our tools and data to try and break down each matchup to help readers come to a smarter decision. Well, this one might be the most fun to try and figure out.
For years, bettors who wanted to make or break their days by betting Hawaii are all too familiar with the voice and image (always has a great Hawaiian shirt on) of Robert Kekaula. Seeing him pronounce names like Kalani Kamakawiwo'ole with ease is objectively entertaining, even to a bettor on the wrong side of the game on the Island.
But this one is more than entertaining should a sports bettor choose to dip into this swirling volcano of hot lava.
I'm going to hold off telling you the total until after I break down the matchup.
One on side, you have Hawaii. The Rainbow Warriors have amassed at least 395 yards of offense in every game this season. On the other side, San Diego State's defense hasn't given up more than 376 yards in a game.
Hawaii averages 35.8 points per game (21st in the nation) and San Diego State gives up 13.8 points per game (8th).
The Rainbow Warriors have rushed 200 yards in each of its last three games. The Aztecs rank second in the nation in rushing defense and have only allowed 100 yards rushing twice this season.
Nine different Rainbow Warrior receivers have scored touchdowns and six receivers have gone for over 100 yards in a game this season.
And the regular starter, Cole McDonald, who was on his way to approaching school records set by Cole Brennan and Timmy Chang, was benched for Chevan Cordeiro. Cordeiro followed Tua Tagovailoa at St. Louis High School in Hawaii, and was firing the long ball in his start against San Jose State. Hawaii won, 42-40, in the only game this season that did not feature a single punt.
But the Rainbow Warriors didn't score a touchdown in its last game — their first win without a touchdown in three years — and there's only one team who has greater time of possession than San Diego State (34:43): Wisconsin!
The total started at 52 at Circa, but it's down four points to 48. It's the lowest total for Hawaii in two years. That may sound crazy to casuals, who think Hawaii and the Over go hand in hand, but bettors are actually happy to take the Under. According to our market-wide data, 88% of the bets are on the Under for Saturday's game on the Island.
"It's a huge contrast of styles, but San Diego State is usually able to dictate the play moreso than its opponents, so not too surprising they've bet it down to 48," said Circa's Matt Lindeman, who took max-limit bets early in the week at Under 52, Under 51 and at Under 50.5. PointsBet reported they took a four-figure bet on the Under at 51, as well.
Last week, Hawaii-UNLV went under. The last time, Hawaii went under in back-to-back weeks? September 2018.
But San Diego State is 25-10-1 to Under in the last three seasons, making the Aztecs the most profitable "Under Team" in that span. Things haven't changed much this season, as the the Under has hit in nine of San Diego State's 10 games.
As for the spread, Hawaii is now a 3-point favorite at some sportsbooks after opening -1 at most shops. Circa's market-setting opener had Hawaii -2 and has also adjusted towards the 'Bows to -2.5.
The line movement is interesting because Hawaii is only receiving 19% of the bets according to our market-wide data. That tells us that the more respected bets are taking the Rainbow Warriors, who are 20-41-2 (32.8%) Against the Spread (ATS) since 2015. They are the least profitable team ATS in that span.
The Headliner
Since Saturday's card is pretty weak, all signs point to this top-10 matchup being the most-bet game on the card.
Ohio State has its annual tussle with Michigan on deck, but bettors don't seem to be too worried about the Buckeyes being caught sleeping on Saturday. Ohio State is getting 65% of the tickets as an 18.5-point favorite over the Nittany Lions, who have lost some of their luster after a losing effort in Minnesota and a close win against Indiana.
And how about this note from ESPN's "The Bear" Chris Fallica (a fellow Long Island native and a great Islanders fan), who I sat next to in Bristol in Building 4 for three years, while sharing a desk with Tim Kurkjian.
Penn State is currently an 18-point underdog vs Ohio State. In the last 40 years, only seven Top 10 matchups have had a point spread this big. All seven favorites won outright and they went 5-2 ATS. Last was Alabama -18 vs A&M in 2016, won by 19.

— Chris Fallica (@chrisfallica) November 20, 2019
Let's dig deeper. Penn State being +18.5 makes them the second-biggest underdog in a top-10 matchup since 2005. The only bigger pooch was No. 7 Miami, which was a 21.5-point dog to No. 3 Florida State in 2013. The Seminoles won by 27.
If this spread closes at Ohio State -18.5, it will mark the fourth time since 2005 that Penn State is getting at least 18.5 points. The Nittany Lions are 1-2 in the other occasions, including a straight-up win over Wisconsin as a 25-point underdog in 2013. However, their two ATS losses in this spot came against the Buckeyes, losing by 24 as a 19.5-point dog in 2010 and by 28 as an 18.5-point dog in 2015.
Woo Pig Sooie
No. 1 LSU opened as a 46-point favorite over Arkansas, the largest spread for an SEC matchup since at least 1980. The number is now down to 43.5.
There are only five teams in the country with a worse ATS record than Arkansas' 2-8 mark. It isn't all that often that bettors are looking to fade an elite team against a terrible team, but that's a lot of points. Bettors feel the same way.
At DraftKings, 78% of the money has come in on the Hogs.
PointsBet spokesman Patrick Eichner says their total handle of the game is small.
"The number is so big that nobody wants to lay it," he said.
According to our data, 59% of the tickets and 74% of the money is on Arkansas to cover against the No. 1 team in the country.
How would you rate this article?