Koerner's Updated Fantasy Football Tiers: Rankings for Every Position
Credit:
USA Today Sports. Pictured: JuJu Smith-Schuster, James Conner
Sean Koerner updates his fantasy tiers featuring his rankings for every position heading into the final stretch of draft season.
Tiers are very important when it comes to analyzing fantasy football rankings.
People often use rankings too literally without accounting for drop-offs within each position. That's why it's important to rank players into tiers: They help us visualize positional rankings in buckets and understand the optimal time to draft players.
You'll find recaps of my top-level draft strategy for each position below, followed by my updated tiers. Note that I'll also publish my weekly tiers throughout the regular season so you always have a guide to streaming players off the waiver wire, evaluating trades and setting your lineups.
Now let's get to my updated quarterback, running back, wide receiver and tight end tiers.
Note: Get my up-to-date rankings and create cheat sheets for your exact league settings with our Draft Kit.
---
Go To:QB | RB | WR | TE
---
Quarterbacks
The position is extremely deep this season, so if you're in a 12-team league that starts only one QB, you should try to bolster other positions before drafting a QB.
It's very likely you'll be able to get a solid QB extremely late, and the talent available on the waiver wire during the season will also be better than we've ever seen thanks to the QB situation being arguably the best it's ever been across the league. So I'm much more likely to take a high-upside QB later on. And if he doesn't pan out, you should be able to just add a steady veteran from the waiver wire.
If you're in a 2QB or superflex league, you'll instead need to target the QB position fairly early then draft two to three "safer" QBs. The reason you can't wait as long in these formats is the massive drop-off after QB30-32: There are only 32 possible starting QBs in a given week (sometimes fewer with BYEs), therefore the demand to draft two to three QBs before that drop-off and before the rest of your league does is critical.
Now for my updated tiers.
Tier 1
Patrick Mahomes, Chiefs
Tier 2
Deshaun Watson, Texans
Tier 3
Aaron Rodgers, Packers
Tier 4
Matt Ryan, Falcons
Baker Mayfield, Browns
Tier 5
Russell Wilson, Seahawks
Cam Newton, Panthers
Kyler Murray, Cardinals
Tier 6
Carson Wentz, Eagles
Dak Prescott, Cowboys
Jameis Winston, Buccaneers
Drew Brees, Saints
Lamar Jackson, Ravens
Jared Goff, Rams
Tier 7
Mitchell Trubisky, Bears
Ben Roethlisberger, Steelers
Tom Brady, Patriots
Kirk Cousins, Vikings
Josh Allen, Bills
Philip Rivers, Chargers
Tier 8
Jimmy Garoppolo, 49ers
Matthew Stafford, Lions
Derek Carr, Raiders
Jacoby Brissett, Colts
Sam Darnold, Jets
Tier 9
Andy Dalton, Bengals
Marcus Mariota, Titans
Nick Foles, Jaguars
Joe Flacco, Broncos
Tier 10
Dwayne Haskins, Redskins
Josh Rosen, Cardinals
Daniel Jones, Giants
Eli Manning, Giants
Ryan Fitzpatrick, Dolphins
Case Keenum, Redskins
---
Running Backs
People target RBs early and often in drafts, but often get complacent once they have about four as if they're content with their RB situation. I'm the exact opposite. I always try to make sure I have too many RBs, so I'm still taking RBs late in drafts — specifically backs with RB2 upside if/when their starter were to ever miss time.
If your leagues allow it, you should to skip drafting a kicker and/or defense and instead draft two more RBs with upside.
In almost every 2018 draft I loaded up on James Conner: If Le'Veon Bell's holdout went into the season, Conner would give me RB1/2 type value, and it's safe to say that stashing him was like hitting the jackpot.
Once the season starts, it's just as important to make sure your bench is loaded with RBs. I avoid rostering a backup QB and/or TE (if I can), keep one to two WRs on my bench and fill the rest with RBs. You can best avoid the pitfalls of spending too much high draft capital on RBs this way, and by knowing when to target RBs based on your draft position and by understanding the types of backs to stash to give your entire team the perfect amount of safe floor and upside to become your league's champion.
Now let's dig into my updated tiers.
Tier 1
Saquon Barkley, Giants
Christian McCaffrey, Panthers
Alvin Kamara, Saints
Tier 2
Ezekiel Elliott, Cowboys*
David Johnson, Cardinals
*Note: Zeke would be a Tier 1 back if his holdout ends prior to Week 1.
Tier 3
Le'Veon Bell, Jets
James Conner, Steelers
Nick Chubb, Browns
Joe Mixon, Bengals
Todd Gurley, Rams
Tier 4
Dalvin Cook, Vikings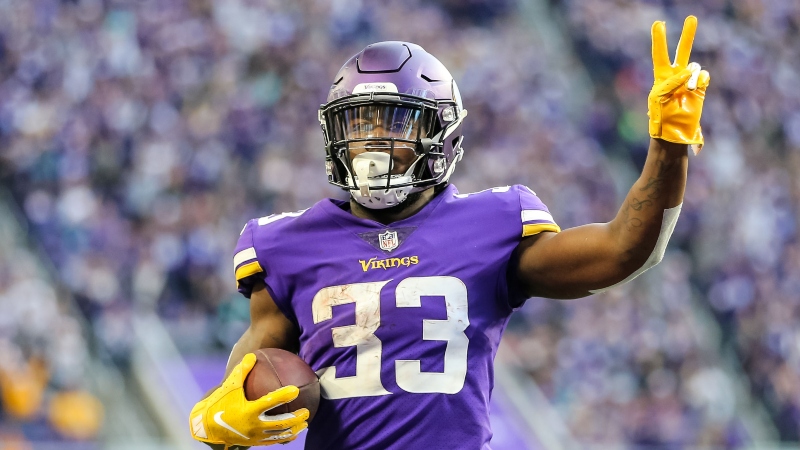 Tier 5
Kerryon Johnson, Lions
Leonard Fournette, Jaguars
Chris Carson, Seahawks
Damien Williams, Chiefs
Derrick Henry, Titans
Aaron Jones, Packers
Devonta Freeman, Falcons
Josh Jacobs, Raiders
Tier 6
Sony Michel, Patriots
Marlon Mack, Colts
Mark Ingram, Ravens
David Montgomery, Bears
Phillip Lindsay, Broncos
Tier 7
Melvin Gordon, Chargers
Duke Johnson Jr., Texans
Austin Ekeler, Chargers
James White, Patriots
Tier 8
Kenyan Drake, Dolphins
Tevin Coleman, 49ers
Latavius Murray, Saints
Tier 9
Tarik Cohen, Bears
Derrius Guice, Redskins
Miles Sanders, Eagles
Royce Freeman, Broncos
Jordan Howard, Eagles
Rashaad Penny, Seahawks
Peyton Barber,  Buccaneers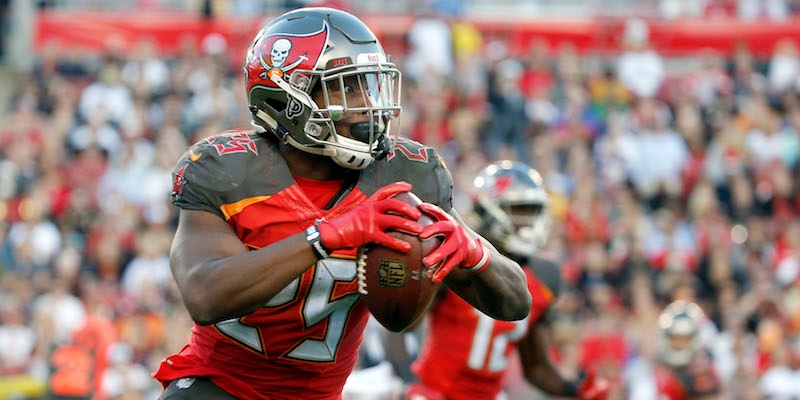 At this point, after Tier 9, it's better to sort the remaining RBs into three different buckets. You can use our Draft Kit to see their numerical rankings:
High(er) Floor/High(er) Ceiling RBs
Adrian Peterson, Redskins
Dion Lewis, Titans
Darrell Henderson, Rams
C.J. Anderson, Lions
Getting this combo later in the draft is pretty valuable. These are backs who will likely have enough touches early in the season to be a plug-and-play in certain situations, but also have upside to become an RB2 if their team's starting RB were to miss time.
High(er) Floor RBs
LeSean McCoy, Bills
Kalen Ballage, Dolphins
Jalen Richard, Raiders
Chris Thompson, Redskins
Giovani Bernard, Bengals
Nyheim Hines, Colts
You can get you a several points from these backs in a pinch, but they probably won't single-handedly win your league.
High(er) Ceiling
Matt Breida, 49ers
Justice Hill, Ravens
Alexander Mattison, Vikings
Damien Harris, Patriots
Darwin Thompson, Chiefs
Justin Jackson, Chargers
Devin Singletary, Bills
Chase Edmonds, Cardinals
Malcolm Brown, Rams
Tony Pollard, Cowboys

These backs are bench stashes who could breakout to create a committee-type situation or become the lead back if their starter were to miss time. At that point, they can potentially help you win your league with a massive return on investment.
---
Wide Receivers
There isn't much turnover among the top WRs, so it's critical to stockpile them with early picks. Let's look at the best strategy depending on draft order.
If you have Picks 1-5, you should absolutely go with a stud RB. But when the draft comes back your way, you should be able to at least snag two WRs from Tier 4 or better to give yourself a nice RB/WR/WR start.
If you have Pick 6 or later, it's much more likely you can start your draft off by taking two stud WRs in the first two rounds, then pick off RB2 types in Rounds 3-4.
The middle of the draft order (Picks 5-8) are among the most trickiest positions, but also the most flexible. There can be scenarios in which you go WR/RB/TE or TE(Travis Kelce)/WR/RB over the first three Rounds. Of course, your draft plan shouldn't be set in stone — you want the draft come to you and to anticipate what your league-mates will want to do.
Now for my updated WR tiers.
Tier 1
DeAndre Hopkins, Texans
Davante Adams, Packers
Tier 2
Julio Jones, Falcons
Odell Beckham Jr., Browns
Tyreek Hill, Chiefs
JuJu Smith-Schuster, Steelers
Tier 3
Michael Thomas, Saints
Mike Evans, Buccaneers
Tier 4
Antonio Brown, Raiders
Keenan Allen, Chargers
Adam Thielen, Vikings
Stefon Diggs, Vikings
Amari Cooper, Cowboys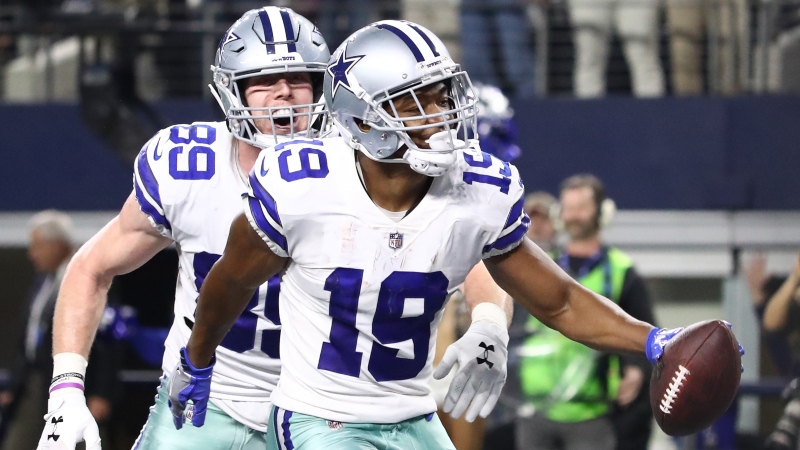 Tier 5
Brandin Cooks, Rams
Kenny Golladay, Lions
Julian Edelman, Patriots
Tyler Lockett, Seahawks
Chris Godwin, Buccaneers
Robert Woods, Rams
T.Y. Hilton, Colts
Cooper Kupp, Rams
Calvin Ridley, Falcons
Tier 6
Tyler Boyd, Bengals
D.J. Moore, Panthers
Allen Robinson, Bears
Jarvis Landry, Browns
Alshon Jeffery, Eagles
Mike Williams, Chargers
Robby Anderson, Jets
Tier 7
Corey Davis, Titans
Josh Gordon, Patriots
Marvin Jones, Lions
Dede Westbrook, Jaguars
Christian Kirk, Cardinals
Will Fuller V, Texans
Sammy Watkins, Chiefs
A.J. Green, Bengals
Sterling Shepard, Giants
Courtland Sutton, Broncos
Larry Fitzgerald, Cardinals
Curtis Samuel, Panthers
Dante Pettis, 49ers
High(er) Floor/High(er) Ceiling WRs
Marquez Valdes-Scantling, Packers
Tyrell Williams, Raiders
Michael Gallup, Cowboys
Anthony Miller, Bears
These WRs likely have an early-season role, so you can use them in a plug-and play-situation. But they also the talent to become a WR2+ value. A great combo to get this late in the draft.
High(er) Floor WRs
Jamison Crowder, Jets
Emmanuel Sanders, Broncos
Mohamed Sanu, Falcons
Kenny Stills, Dolphins
Golden Tate, Giants*
Donte Moncrief, Steelers
Geronimo Allison, Packers
Danny Amendola, Lions
Cole Beasley, Bills
These WRs will give you several points every week in spot starts, but probably won't break out to WR2+ status.
*Note: Tate is suspended the first four games.
High(er) Ceiling WRs
DeSean Jackson, Eagles
James Washington, Steelers
D.K. Metcalf, Seahawks
John Brown, Bills
Tre'Quan Smith, Saints
Miles Boykin, Ravens
John Ross, Bengals
Keesean Johnson, Cardinals
Breshad Perriman, Buccaneers
Josh Reynolds, Rams
Hunter Renfrow, Raiders
Andy Isabella, Cardinals
Mecole Hardman, Chiefs
Preston Williams, Dolphins
Diontae Johnson, Steelers

This is my preferred type of WR to stash on my bench. They have the talent and offense to become a potential WR2+, but could also be droppable in-season.
---
Tight Ends
Much like last season, there's a steep drop-off at tight end after the top three players.
However, the remaining TE1 Tier features more talent than 2018. This time last year, we were targeting aging veterans like Delanie Walker, Jimmy Graham and Greg Olsen in the mid-TE1 range. Now we have a handful of pass-catching TEs entering the prime of their careers to target this season.
It's also important to remember that if you miss out on TE early, you can still try to strike gold on a high-upside option late in the draft. And while I wouldn't recommend it, you can always lean on the waiver wire to stream TEs if you strike out in the draft.
Overall, I let the flow of a draft dictate how I approach this position. Still, it's trickier to project any potential steals, so it's critical to use tiers to understand when the position is offering the most value — i.e. when the final TE in a tier has been available for awhile, it usually means it's time to snag him.
Now let's run through my updated TE tiers.
Tier 1
Travis Kelce, Chiefs
Tier 2
George Kittle, 49ers
Zach Ertz, Eagles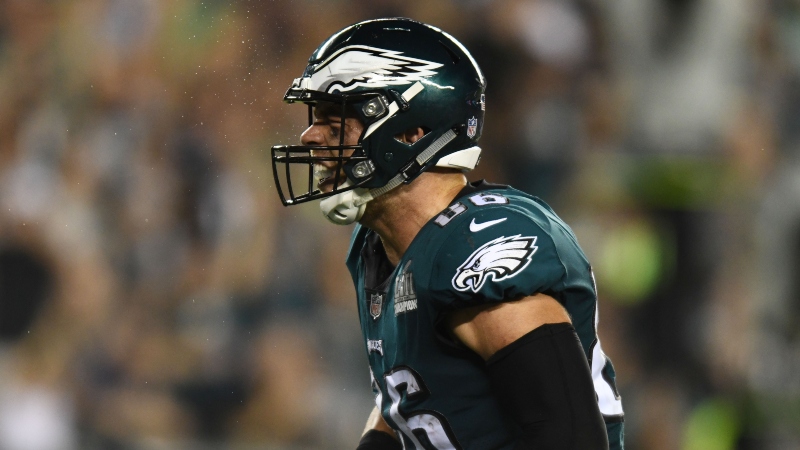 Tier 3
O.J. Howard, Buccaneers
Evan Engram, Giants
Hunter Henry, Chargers
Tier 4
Vance McDonald, Steelers
Austin Hooper, Falcons
Jared Cook, Saints
David Njoku, Browns
The 'We're Going Streaming!' Tier
Kyle Rudolph, Vikings
Jimmy Graham, Packers
Trey Burton, Bears
Jordan Reed, Redskins
Eric Ebron, Colts
Delanie Walker, Titans
Mark Andrews, Ravens
T.J. Hockenson, Lions
At this point, if you don't have a TE, you're streaming the position to start the season. Take your pick of these guys to start.
Potential League-Winner Stash
Dallas Goedert, Eagles
Maybe the first TE in fantasy football history you could draft to stash on your bench (assuming your league and bench is deep enough). If Ertz misses any time, Goedert would be a top-five TE.
How would you rate this article?
This site contains commercial content. We may be compensated for the links provided on this page. The content on this page is for informational purposes only. Action Network makes no representation or warranty as to the accuracy of the information given or the outcome of any game or event.