2021 NFL Mock Draft: Freedman's Final Round 1 Pick Predictions
Credit:
UA Athletics/Collegiate Images/Getty Images. Pictured: Najee Harris, DeVonta Smith
It's draft day, and this is my final 2021 NFL mock draft.
With all the recent trades and rumors, this updated mock looks significantly different from its predecessors.
Last year, I was 124-88-1 (+26.2 units) betting the NFL draft, and in 2019 I was 54-29 (+17.7 units).
There are three mock draft contests I am entering this year:
In 2019, I was a top-20 mocker in the Mock Draft Database competition, and last year I was the No. 6 mocker in the FantasyPros accuracy contest.
Per usual, I intend for this mock to be actionable for bettors, and many player and positional over/unders stand out to me as being exploitable based on the research I did in putting this mock together.
To see the odds I've assigned to almost every prop on the board as well as my active prop portfolio, check out the Action Labs NFL Draft Insider Props Tool and my standalone piece on some of my favorite draft bets.
This mock more or less represents how I imagine Round 1 will unfold.
The three aforementioned contests all measure accuracy differently. The same mock could rank in the top three and outside the top 20 in two different contests. So I'm not too focused on the particular scoring details of any given contest.
With this mock, here's what I want to accomplish.
Put as many likely first-rounders as possible in my draft.
Match players with teams relatively likely to draft them.
Mock players within their probable draft range. (I have consulted the draft market to a degree, especially the props at Circa, which has the largest limits and offering of player over/unders.)
Order players accurately by position.
If you were to do a mock, you might go through it pick-by-pick trying to match each player perfectly with his team and draft position. That's not the way I conceptualize a mock. To me, it's not an exercise in attempted sequential perfection.
I know I can't do a perfect mock. I'm just trying to create a mock that is good enough.
For almost any player selected after No. 1, it's hard to get everything about his draft situation right — and so I don't try to get everything right. Instead, I try to maximize my odds of being right about the generalities. If I happen to get the particulars, that's great. But I don't shoot for perfection. I shoot for sufficiency.
You'll notice that I don't have any trades in the mock. There are two main reasons for that.
Trades are almost impossible to predict, so I'd rather not try. My sense is that I'll be more inaccurate overall if I try to have an accurate number of Round 1 trades in the mock.
Because of the general randomness of the 2021 prospect evaluation process, I think it's possible we might see fewer trades than usual.
Final NFL Mock Draft Updates
Here are some scheduling notes related to how various versions of my mock will by graded by the industry.
The version published and broken down here is the one officially graded by Huddle Report and Mock Draft Database. It has already been submitted. Huddle Report's deadline was early this morning at 12:59 am ET. Mock Draft Database's deadline was today at noon ET.
Today, I will likely post updated versions of my mock on Twitter and link to those tweets in this section. The last of these updated mocks is the one that will be graded by FantasyPros, which has an 8 p.m. ET deadline on draft day.
UPDATE: I've posted an updated mock on Twitter. The main difference between my ultimate final mock and the version below is how I've positioned the quarterbacks. I have moved Trey Lance to No. 3, Justin Fields to No. 9 and Mac Jones to No. 15. With the recent movement in the prop market, I now believe that Lance is the pick for the 49ers at No. 3.
With that in mind, here's how I see Round 1 of the 2021 NFL Draft unfolding (as of writing).
---
2021 NFL Mock Draft
CLICK THE DROPDOWN TO GET A FULL LIST OF PICKS

| Pick | Team | Player |
| --- | --- | --- |
| 1 | Jaguars | QB Trevor Lawrence |
| 2 | Jets | QB Zach Wilson |
| 3 | 49ers | QB Mac Jones |
| 4 | Falcons | TE Kyle Pitts |
| 5 | Bengals | WR Ja'Marr Chase |
| 6 | Dolphins | WR Jaylen Waddle |
| 7 | Lions | OT Penei Sewell |
| 8 | Panthers | OT Rashawn Slater |
| 9 | Broncos | QB Trey Lance |
| 10 | Cowboys | CB Patrick Surtain II |
| 11 | Giants | LB Micah Parsons |
| 12 | Eagles | CB Jaycee Horn |
| 13 | Chargers | OT Christian Darrisaw |
| 14 | Vikings | G Alijah Vera-Tucker |
| 15 | Patriots | QB Justin Fields |
| 16 | Cardinals | WR DeVonta Smith |
| 17 | Raiders | LB Jeremiah Owusu-Koramoah |
| 18 | Dolphins | EDGE Kwity Paye |
| 19 | Football Team | LB Zaven Collins |
| 20 | Bears | OT Teven Jenkins |
| 21 | Colts | EDGE Jaelan Phillips |
| 22 | Titans | WR Elijah Moore |
| 23 | Jets | EDGE Azeez Ojulari |
| 24 | Steelers | RB Najee Harris |
| 25 | Jaguars | EDGE Jayson Oweh |
| 26 | Browns | LB Jamin Davis |
| 27 | Ravens | EDGE Joe Tryon |
| 28 | Saints | CB Caleb Farley |
| 29 | Packers | CB Greg Newsome II |
| 30 | Bills | RB Travis Etienne |
| 31 | Ravens | WR Rashod Bateman |
| 32 | Buccaneers | DT Christian Barmore |
1. Jaguars: Trevor Lawrence, QB, Clemson
I have bet on Lawrence to be the No. 1 overall pick and am yet to see a mock draft that doesn't have him slotted to the Jags at the top of the board.
No surprise here.
2. Jets: Zach Wilson, QB, Brigham Young
Former starter Sam Darnold has been traded to the Panthers, so the Jets seem destined to select a quarterback at No. 2. I imagine the NFL will prefer Wilson to Justin Fields because of Wilson's superior arm strength, passing skill, pocket presence and improvisational ability.
I am betting on Wilson to be the No. 2 pick.
3. 49ers: Mac Jones, QB, Alabama*
I've written extensively — both in my mid-April mock draft and in my Mac Jones prospect profile — about why I think he will be selected No. 3 by the 49ers as the third quarterback off the board.
The recent Kyle Shanahan-John Lynch press conference screamed: "We're taking our guy, and our guy is Jones, and please don't hate us."
If I'm wrong, my bankroll will pay for it.
*Pick via Texans & Dolphins
4. Falcons: Kyle Pitts, TE, Florida
The market has come around on the idea of Pitts to the Falcons. If Pitts in fact goes No. 4, he will be the highest-drafted tight end in NFL history. The Falcons could certainly use him.
The Falcons already have a solid tight end in Hayden Hurst, but they lack a good No. 2 tight end as well as an established No. 3 wide receiver. New head coach Arthur Smith relied heavily on two-tight end sets as the Titans offensive coordinator over the past two years, and the addition of Pitts would allow Smith to use his preferred base set.
With wide receivers Julio Jones and Calvin Ridley on the perimeter and Hurst inline as the Y tight end, Pitts could be the ultimate mismatch weapon in Atlanta, playing a hybrid role as a joker tight end and big-bodied slot receiver.
With that pass-catching quartet, the Falcons offense could be incredibly dynamic.
Pitts won the 2020 John Mackey Award as the No. 1 tight end in college football and was an easy unanimous All-American selection thanks to his unreal 43-770-12 receiving in just eight games. He is worthy of a top-10 pick.
Previous pick: Justin Fields, QB, Ohio State
5. Bengals: Ja'Marr Chase, WR, LSU
All the way to this point, I've had tackle Penei Sewell going No. 5, but I'm pivoting — and I hate myself for doing it. Rumors are that the coaching staff and scouts prefer Sewell but that franchise quarterback Joe Burrow would like to reunite with his No. 1 receiver from college.
I think this pick should be Sewell, but I tentatively expect it to be Chase.
I have a bet on Chase to be the No. 1 wide receiver selected.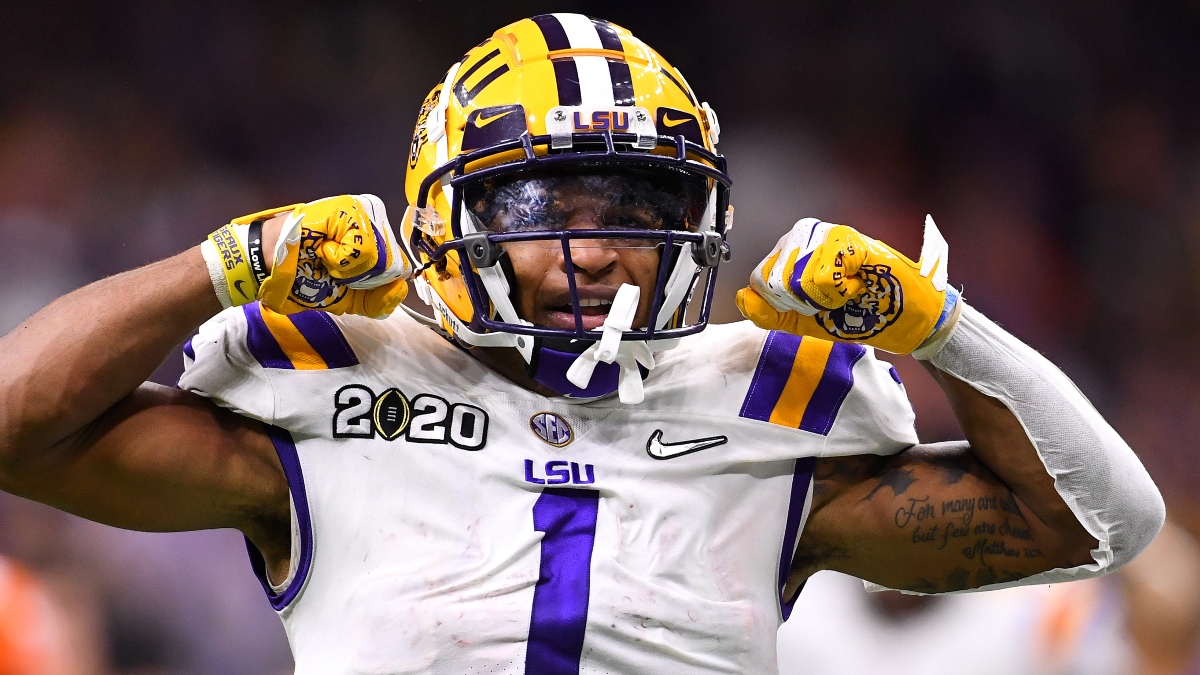 In drafting Chase and playing him alongside Tee Higgins and Tyler Boyd, the Bengals will have one of the best — or at least most intriguing — receiver trios in the league.
A bona fide star, Chase opted out of the 2020 season, but in 2019 he — not Justin Jefferson — was the No. 1 receiver on the title-winning LSU Tigers with a nation-high 1,780 yards and 21 touchdowns.
Previous pick: Penei Sewell, OT, Oregon
6. Dolphins: Jaylen Waddle, WR, Alabama*
With Chase no longer available, the Dolphins take the next-best receiver on the board.
Waddle missed most of the 2020 season with an ankle injury, but before his injury,  he — and not the Heisman-winning Devonta Smith — was the playmaking No. 1 receiver at Alabama.
Jaylen Waddle (Weeks 1-4): 25-557-4 receiving | 3-12-0 rushing
DeVonta Smith (Weeks 1-4): 38-483-4 receiving | 2-2-1 rushing
Waddle is raw and relatively unproven, but he has a good chance to go in the top 10.
Previous pick: Ja'Marr Chase, WR, LSU
*Pick via Eagles
7. Lions: Penei Sewell, OT, Oregon
Under new head coach Dan Campbell, the Lions want to play with a hard-nosed physicality, and drafting Sewell should help them do that: He is the best available offensive lineman, and he might even be the best overall player in the class.
Sewell opted out of the 2020 season, but in 2019 he was a unanimous All-American selection and the winner of the Outland Trophy for his outstanding line play.
Sewell has a good chance to be the first offensive lineman selected.
Previous pick: Jaylen Waddle, WR, Alabama
8. Panthers: Rashawn Slater, OT, Northwestern
The Panthers could use another protector for new quarterback Sam Darnold, and Slater is the best lineman after Sewell.
Slater opted out of the 2020 season, but he's a three-year starter with experience on both sides of the line, the flexibility to move into the interior if needed and the versatility to play in most schemes.
Previous pick: Kyle Pitts, TE, Florida
9. Broncos: Trey Lance, QB, North Dakota State
Shortly after the Broncos traded for quarterback Teddy Bridgewater yesterday, I tweet out something that I now regret.
Nope, not that tweet. That one is fine. Still looking … here we go.
After multiple national reporters said that the addition of Bridgewater would not impact any plans the Broncos might have for quarterback in the draft, I'm sticking with Lance to them at No. 9.
It's arguable as to whether the Broncos have a need at the position, given that they have Drew Lock, but Lance is almost certainly an upgrade. He's young, but he also has immense upside, which he amply demonstrated at his pro day.
Lance redshirted in 2018 and played just one game (basically a scrimmage showcase given that the FCS season had been postponed), so he has just one season of college football to his name — but it was a fantastic season.
In 2019, he won the Walter Payton Award as the most outstanding FCS player in the nation, and he led the Bison to a record-setting 16-0 season with 2,786-28-0 passing on a 66.9% completion rate and 169-1,100-14 rushing.
10. Cowboys: Patrick Surtain II, CB, Alabama
It's hard to know what the Cowboys will do — especially since they have so many needs on defense — but going with the No. 1 cornerback in the class makes sense here, especially since they lost corner Chidobe Awuzie via free agency.
With his elite combination of size and athleticism …
… Surtain has the potential to match-up with almost any NFL receiver as a shutdown corner. A unanimous All-American defender and three-year SEC starter, Surtain should be an immediate NFL starter.
11. Giants: Micah Parsons, LB, Penn State
The Giants had a promising bend-but-don't-break defense last year, but they are weak at linebacker.
Parsons fits the draft range given his outstanding pro day.
Although he opted out of the 2020 season, Parson was a consensus All-American selection as a true sophomore in 2019 and has a good chance to be the first off-ball linebacker drafted.
Previous pick: Rashawn Slater, OT, Northwestern
12. Eagles: Jaycee Horn, CB, South Carolina*
The Eagles could go with wide receiver DeVonta Smith, because they certainly need the pass-catching help. But their secondary is also weak, and Horn is an elite talent who has shot up mock draft boards.
In Horn, the Eagles get an immediate starter.
At his pro day, Horn flashed Jalen Ramsey-esque athleticism, and Horn stacks up favorably with Surtain.
A three-year SEC starter, Horn has experience playing on the perimeter and in the slot, and he has the size and physicality to press NFL receivers. He might have the skill set to be an eventual shadow corner. He's a great pick at No. 16.
Previous pick: DeVonta Smith, WR, Alabama
*Pick via 49ers & Dolphins
13. Chargers: Christian Darrisaw, OT, Virginia Tech
Left tackle Sam Tevi signed with the Colts in free agency, left guard Forrest Lamp is still unsigned, center Mike Pouncey retired, right guard Trai Turner was released to create cap space and right tackle Bryan Bulaga is 32 years old.
Some of these players have been replaced via free agency, but the Chargers still need help on the offensive line, and Darrisaw is likely to go as the No. 3 tackle after Sewell and Slater.
An overlooked recruit who received just one offer from an FBS school, Darrisaw prepped for a year at Fork Union Military Academy before enrolling at Virginia Tech, where he quickly won the starting left tackle job. A three-year starter, Darrisaw has improved each season.
He has the size, length and skill set to be an immediate NFL starter.
14. Vikings: Alijah Vera-Tucker, OT, USC
The Vikings have needs on the offensive line: Right tackle Brian O'Neill and left guard Dakota Dozier are slated for free agency after the 2021 season, and guard/tackle Ezra Cleveland doesn't have a set position.
In Vera-Tucker, the Vikings get an immediate starter who can play all over the line.
Blessed with good athleticism and ability as a pass and run blocker, Vera-Tucker has positional flexibility thanks to his time starting as a left guard (2019) and left tackle (2020). If selected as a guard, Vera-Tucker could be the first interior offensive lineman off the board, but I expect he'll get a shot in the NFL to show what he can do on the perimeter.
15. Patriots: Justin Fields, QB, Ohio State
Three years ago, quarterback Lamar Jackson feel to the Patriots at the end of Round 1, and they passed on him.
They won't make the same mistake this year with Fields.
It's not lightly that I mock Fields to the Patriots. Only three times in NFL history have we seen five or more quarterbacks go in Round 1.
1983: John Elway, Todd Blackledge, Jim Kelly, Tony Eason, Ken O'Brien, Dan Marino
1999: Tim Couch, Donovan McNabb, Akili Smith, Daunte Culpepper, Cade McNown
2018: Baker Mayfield, Sam Darnold, Josh Allen, Josh Rosen, Lamar Jackson
This is the type of thing that tends to happen only once every 15-20 years — and it just happened a few years ago. To have this many quarterbacks go at the top of the draft, you must have a great class of passers as well as a great need at the position in the league.
I think we have both this year.
Even with his rawness, Fields could be a strong starter in the league. An accomplished dual-threat quarterback, Fields was 5,373-63-9 passing with a 68.4% completion rate in 22 starts for the Buckeyes.
Previous pick: Micah Parsons, LB, Penn State
16. Cardinals: DeVonta Smith, WR, Alabama
The Cardinals grab a Heisman-winning receiver to pair with their Heisman-winning quarterback.
Smith falls down the board because of size concerns, but he provides excellent value here.
I have my doubts about Smith — primarily because he broke out later in college — but he outright dominated in 2020 with 117-1,856-23 receiving as the winner of the Heisman Trophy and Biletnikoff Award. And it's not as if he's a one-year wonder: In 2019, he was also the No. 1 receiver for Alabama — ahead of Jerry Jeudy and Henry Ruggs — with 68-1,256-14 receiving.
Previous pick: Jaycee Horn, CB, South Carolina
17. Raiders: Jeremiah Owusu-Koramoah, LB, Notre Dame
The Raiders have needs all over the defense. The addition of Owusu-Koramoah will immediately strengthen the interior of the unit.
With this pick, the Football Team gets a unanimous All-American and the 2020 Butkus Award winner. Owusu-Koramoah will likely need to add more muscle in the NFL, but he has great instincts and looks like a Week 1 starter.
Previous pick: Teven Jenkins, OT, Oklahoma State
18. Dolphins: Kwity Paye, EDGE, Michigan
The Dolphins defense was much improved in 2020, led mainly by the secondary, but the team could use more pass rushers. And with Paye, they have the opportunity to select the first edge defender off the board.
19. Football Team: Zaven Collins, LB, Tulsa
Washington has a loaded defensive line but almost nothing at off-ball linebacker. Collins fills a need.
A unanimous All-American and the winner of the 2020 Bronko Nagurski Trophy and Chuck Bednarik Award as the nation's top defensive player, Collins is the type of versatile defender who can make an immediate NFL impact. With his size, athleticism, intelligence and effort, he can hold up against the run, drop back in coverage or even rush the passer from the middle of the field or off the edge of the defensive line.
Collins looks like a multi-year starter at worst.
Previous pick: Jeremiah Owusu-Koramoah, LB, Notre Dame
20. Bears: Teven Jenkins, OT, Oklahoma State
The Bears need help on the offensive line: Left tackle Charles Leno is entering the final year of his contract, right tackle Bobby Massie was released in early March, right guard Germain Ifedi is on a one-year deal and left guard James Daniels is coming of injured reserve and also entering his final year under contract.
Jenkins could be an immediate starter, and he gives the Raiders an experienced player with 35 career starts and the versatility to play both tackle spots or kick inside to guard.
Previous pick: Samuel Cosmi, OT, Texas
21. Colts: Jaelan Phillips, EDGE, Miami (FL)
The Colts need bodies on the edge, and Phillips fits the draft range. A five-star recruit, Phillips did little at UCLA for his first two seasons of college. But after transferring to Miami and sitting out a season per NCAA rules, he dominated in 2020 with a team-high eight sacks and 15.5 tackles for loss.
Previous pick: Caleb Farley, CB, Virginia Tech
22. Titans: Elijah Moore, WR, Mississippi
The Titans could use another receiver after losing Corey Davis in free agency, so they grab Moore and pair him with former college teammate A.J. Brown.
Moore has elite athleticism, and last year he looked like one of the best players in the country with 86-1,193-8 receiving in just eight games.
Previous pick: Jaelan Phillips, EDGE, Miami (FL)
23. Jets: Azeez Ojulari, EDGE, Georgia*
The Jets have so many holes on the roster that they could draft almost anyone at No. 23, but they have little at edge rusher after Carl Lawson, and it's an important position for the defense.
Ojulari feels like the kind of player new head coach Robert Saleh would like. He's undersized, but he plays with effort and has the versatility to function as an off-ball linebacker if needed. And he's also productive: In 2020, he led the SEC with 8.5 sacks and 12.5 tackles for loss.
*Pick via Seahawks
24. Steelers: Najee Harris, RB, Alabama
Almost every mock drafter in the universe has Harris going to the Steelers. They need a back, and Harris was one of the best backs in the country for his two final seasons.
2019 (13 games): 209-1,224-13 rushing | 27-304-7 receiving
2020 (12 games): 251-1,466-26 rushing | 43-425-4 receiving
Previous pick: Greg Newsome II, CB, Northwestern
25. Jaguars: Jayson Oweh, EDGE, Penn State*
The Jags need more muscle on the defensive line, and they get that with Oweh.
Blessed with elite athleticism …
… Oweh has J.J. Watt-like upside as a pass rusher, and in 2020, Oweh was No. 1 in the nation among all edge defenders with a 13% stop rate against the run.
Previous pick: Trevon Moehrig, S, Texas Christian
*Pick via Rams
26. Browns: Jamin Davis, LB, Kentucky
The Browns defense is notably weak at linebacker, and snap-leaders B.J. Goodson and Malcolm Smith are both free agents. The Browns need some new blood at the position, and they get a great player in Davis at No. 26.
He has moved up draft boards steadily over the past month and now finds himself regularly near the end of Round 1 in sharp mocks.
Davis dominated his pro day …
… and last year as a junior was an All-SEC selection with a team-high 102 tackles in 10 games.
Previous pick: Zaven Collins, LB, Tulsa
27. Ravens: Joe Tryon, EDGE, Washington
The Ravens lost edge rushers Matthew Judon, Yannick Ngakoue and Jihad Ward in free agency, so they could look to address the position in Round 1.
I originally had Gregory Rousseau slated in this spot, but Tryon has bumped him out of Day 1.
Tryon feels like a player the Ravens would like. He's athletic, and he can line up at a variety of spots in the defense.
Tryon opted out of the 2020 season, but in his 2019 redshirt sophomore season, he had eight sacks and was strong against the run. He has been a later riser on sharp mock draft boards over the past two weeks.
Previous pick: Gregory Rousseau, EDGE, Miami (FL)
28. Saints: Caleb Farley, CB, Virginia Tech
At this point in Round 1, almost anything goes — especially with a team like the Saints, who don't have many glaring weaknesses. But they did part ways with cornerback Janoris Jenkins this offseason, and it has been an open secret for a few days that the Saints like Farley.
An elite cover man, Farley is not without his issues. He redshirted in 2017 because of an ACL injury and opted out of 2020 because of COVID-19, and he's still relatively new to the position because he played quarterback in high school and started out in college as a receiver — but in the 2018-19 seasons, he looked like a true talent as a perimeter corner with his size, athleticism and overall ball skills.
Until recently, he was widely expected to go in the top 10, but then he had a back surgery…
… and since then his draft stock has dropped.
But Farley is expected to be ready to play for the 2021 season, and the Saints need a cornerback to pair with Marshon Lattimore.
Previous pick: Rashod Bateman, WR, Minnesota
29. Packers: Greg Newsome II, CB, Northwestern
The Packers are weak at corner outside of No. 1 cover man Jaire Alexander. In Newsome, they get a Week 1 starter.
Newsome is small, but he has adequate length to press larger receivers, and in 2020 he was phenomenal (albeit in only six games), holding opposing receivers to just 93 yards and 12 receptions on 34 targets (per Pro Football Focus).
Previous pick: Kadarius Toney, WR, Florida
30. Bills: Travis Etienne, RB, Clemson
Etienne has screamed up mock draft boards over the past week and is often slated to the Bills.
He has a strong physical profile …
… and in his three final college seasons he proved himself to be one of the most consistently productive players in college football.
2018 (15 games): 204-1,658-24 rushing | 12-78-2 receiving
2019 (15 games): 207-1,614-19 rushing | 37-432-4 receiving
2020 (12 games): 168-914-14 rushing | 48-588-2 receiving
Previous pick: Jayson Oweh, EDGE, Penn State
31. Ravens: Rashod Bateman, WR, Minnesota*
Even with the addition of Sammy Watkins, the Ravens could look to get another receiver for quarterback Lamar Jackson.
There's a lot to like about Bateman. Before a five-game 2020 campaign in which he had 472 yards, he was an impressive 60-1,219-11 receiving in 2019 as a sophomore, and he flashed unexpected speed at his pro day.
Big picture: I think Bateman belongs in Round 1, and this is spot makes enough sense.
Previous pick: Trevon Moehrig, S, Texas Christian
*Pick via Chiefs
32. Buccaneers: Christian Barmore, DT, Alabama
This pick is mostly about getting Barmore in Round 1, but I think it also fits.
The Bucs don't have immediate needs anywhere on the team, but interior defensive linemen Ndamukong Suh and Vita Vea are respectively slated for free agency in 2022 and 2023.
With Barmore, the Bucs address a potential need without reaching. Despite playing for just two years at Alabama, Barmore is widely regarded as the top interior defensive lineman in the class, and in 2020 he had a team-high eight sacks.
---
Rounds 1-2 Borderline
Trevon Moehrig, S, Texas Christian
Kadarius Toney, WR, Florida
Gregory Rousseau, EDGE, Miami (FL)
Asante Samuel Jr., CB, Florida State
Tyson Campbell, CB, Georgia
Eric Stokes, CB, Georgia
Liam Eichenberg, OT, Notre Dame
Alex Leatherwood, OT, Alabama
---
How would you rate this article?
This site contains commercial content. We may be compensated for the links provided on this page. The content on this page is for informational purposes only. Action Network makes no representation or warranty as to the accuracy of the information given or the outcome of any game or event.