2022 NFL Draft RB Guide: Former GM Grades Kenneth Walker, Breece Hall, James Cook, Brian Robinson, Zamir White
Credit:
Getty Images. Pictured: 2022 NFL Draft RB prospects Kenneth Walker, Breece Hall, James Cook
In special collaboration with the Action Network, former NFL general manager and team executive Randy Mueller breaks down his 2022 NFL Draft prospect evaluations for his top five running backs (in order), including Kenneth Walker and Breece Hall.
---
2022 NFL Draft RB Evals
Zamir White, Georgia
White may have been in a "job sharing" program at Georgia, but he placed himself at the top of this draft pool when it comes to the potential of being a full-time NFL running back.
At a position that has become devalued by team builders and cap managers, White has made a case for a high selection with his difference-making sudden burst and his home-run speed — and that's despite having torn each of his ACLs before playing a down in the NFL.
White is the most complete RB in this class. He is a legit three-down player who can run inside with power, outside with speed, and play on third downs in the passing game as a receiver — and is willing to block.
Despite the knee injuries, White shows very good acceleration through the hole and an extra gear once in the secondary. He has the type of natural running skills and vision to give an evaluator the feel that he might go to the house on any given carry. He plays with an excellent pad level on contact and can carry tackles, but also makes defenders miss in space — a combination that is hard to find and should excite NFL teams.
To complete his skill set, White can catch outside his frame, adjust to bad balls and is even used to split outside to give you a favorable matchup as a receiver. Good luck trying to tackle him in space. And he is a willing pass-blocker who can hold his ground against a bigger blitzing linebacker.
The risks are minimal as a player, but obviously the medical side of the building will have to sign off on his history of knee issues. That said, his skill set and production are enough for me to want him on my team as a full-time back.
---
James Cook, Georgia
White's backfield mate at Georgia comes with a different skill set.
Cook is a slashing, one-cut runner who runs with a high pad level and goes north-south better than he goes east-west. He is going to take some shots at the next level because of it. He has good vision between tackles but moving piles and running with a solid power base is inconsistent and not his game. He is very impressive when he puts his foot in the ground and can hit a crease with explosive speed.
Most scouts would term him a "slasher" with fairly nifty feet.
Once in the secondary, Cook has speed to pull away from defenders, thus his 6.4 yards per carry average even though he had only one 100-yard game in 2021.
Cook excels in the passing game, catching 27 balls this season, including leading the Bulldogs with 112 yards against Michigan in the College Football Playoff semifinal. He will need to be a more detailed route runner at the NFL level, but he displays solid hands, can extend to catch outside his frame and is nifty enough after the catch to make the first defender miss.
I see Cook as a rotational back in the NFL, just as he was in college.
---
Breece Hall, Iowa State
Hall is a scout's nightmare when it comes to separating numbers on paper from what's on tape.
He has size, runs fast (4.39), has a 40-inch vertical and 10-foot-6 broad jump. Some analysts point to his TCU game as the neon sign of his skills. Having watched that game, it may have been the single-most dreadful effort of tackling by a college team that I have seen in years by a TCU defense that flat out quit.
I see flashes with Hall.
He has north-south burst and body control to spin and make defenders miss, but I see a lot of runs on which he is easily brought to the ground with arm tackles. I see a back who picks his spots in pass protection and lacks details in his route running as a receiver. He does have soft hands, can adjust outside his frame to extend and catch, and is shifty at his break points. But I don't see power or tackle-breaking ability. He does have natural vision to bounce to the edge when his hole is not defined, but other times, he goes down too easily.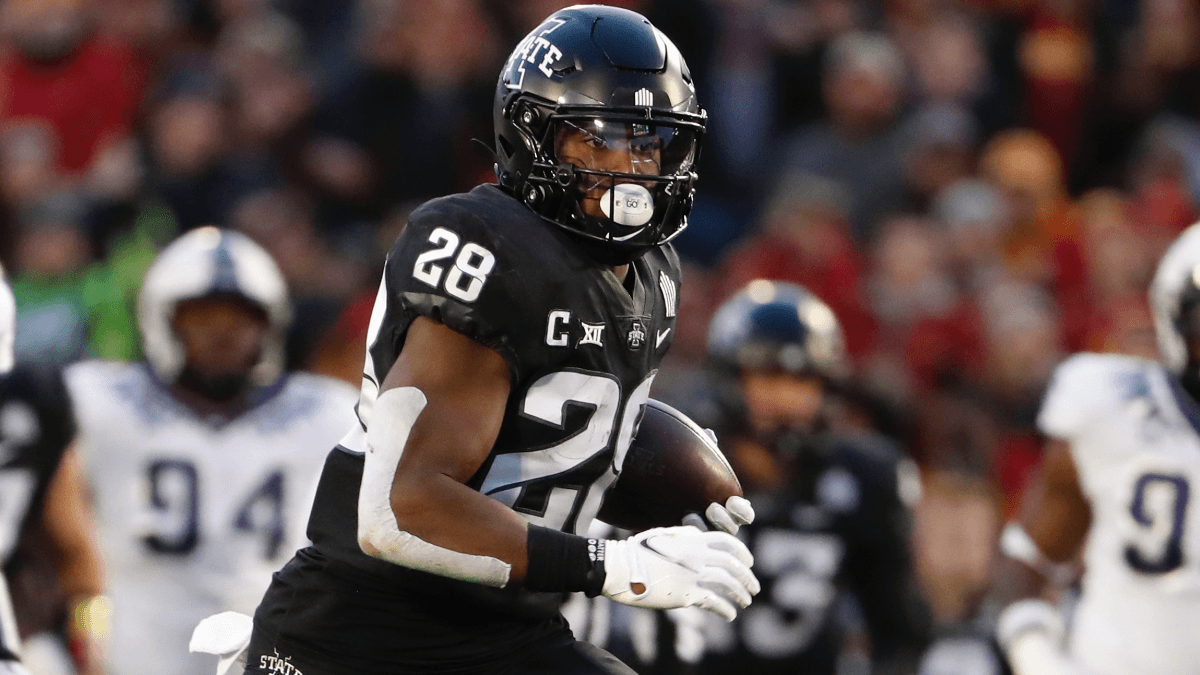 Hall is an enigma for me as an evaluator, which sounds crazy for a guy with 715 career rushing attempts and a 5.5 career average per carry. There should be plenty of reps to evaluate, right? Hall just picks his spots in the film that I watched.
Because of this inconsistency, Hall is not a first-round value in my book. I don't see a back who plays to that 4.39 speed or the explosion that those jump numbers should transfer to on the field.
I like him because I see the flashes, but I don't trust him 100% to give everything on every play.
---
Kenneth Walker III, Michigan State
The Wake Forest transfer is the epitome of a rotational back who will have to carve out his role depending on scheme at the next level. He is not big, he doesn't run inside much and he was a non-factor in the passing game at Michigan State.
What Walker is, though, is a hard guy to get on the ground in space. He's sudden, he can make defenders miss and he has speed to bounce and turn the corner and run out of sight. His vision and decision-making usually takes him outside, even if the play is designed for between the tackles. He would rather operate on the edges as opposed to between the tackles, and therefore a one-back type of spread scheme might fit him best (see: the Cardinals with Kliff Kingsbury).
Once in the secondary, Walker can make sharp cuts at a high level of speed.
At first glance, some evaluators might say Walker is a third-down back. Here is the problem, though: He can't hold up — at this point — in pass protection versus bigger blitzing linebackers and is an unrefined route runner who is a small target to locate.
His 13 receptions last season were a career high, so he would need to pass the test of a pass-catching workout before checking the box for having hands and ball skills. I'm not saying he can't catch, he just wasn't used much to do so.
There may be more questions than answers for teams at this stage, so I don't see him being selected before Round 2 or 3.
---
Brian Robinson Jr., Alabama
Robinson tripled his production in 2021, once he became the full-time option for the Crimson Tide. His 271 attempts for 1,343 yards and 35 receptions were all career highs. He comes in a longer, skinny-legged frame that's not traditional for the position.
He is a one-cut, slashing style back who can put his foot in the ground without hesitation and has juice through the line of scrimmage to hit the secondary with a surge in a straight-line fashion. His run style is slightly upright, and because of this, is really not a downhill, get behind your pads, inside pile mover at this point in his career.
His upright gate gives me a small pause because he's going to expose himself to taking physical shots, which may be problematic when it comes to durability.
Robinson has very good feet as a route runner, has been schooled well in this part of his game, and can extend and catch in his hands easily. He is a willing blocker who competes and displays good technique in picking up blitzes. Depending on the scheme at the next level, he might just get reps early on because of his third-down acumen.
He has a well-rounded game but does nothing with a dynamic nature. A good solid player who I like as an early Day 3 option.
How would you rate this article?
This site contains commercial content. We may be compensated for the links provided on this page. The content on this page is for informational purposes only. Action Network makes no representation or warranty as to the accuracy of the information given or the outcome of any game or event.