Who are the Favorites to Win Super Bowl 52 MVP?
Credit:
David Butler II-USA TODAY Sports
Not only are Super Bowl 52 lookahead lines available for all four potential matchups, but MVP odds are now posted.
As expected, Tom Brady is the clear favorite at +140 with Case Keenum next in line at +350. Considering both play quarterback for teams favored to meet on Super Sunday, it's not surprising to see such a large drop-off to the next group of candidates, led by Nick Foles at +1401.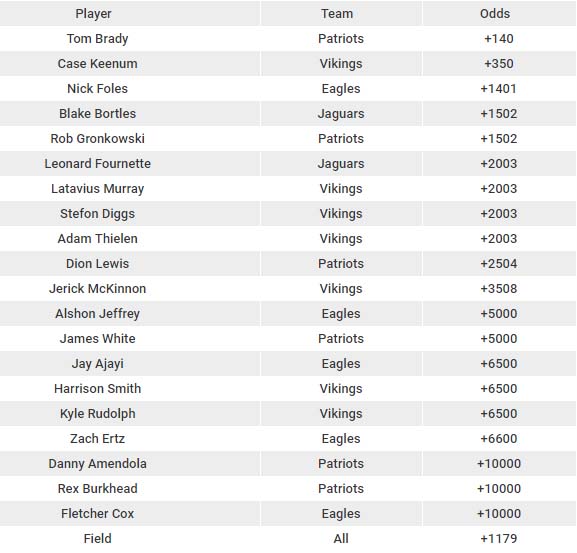 At first look, Dion Lewis is an intriguing option considering he plays for the overwhelming Super Bowl favorite and can accumulate yardage in both the passing and running games. Super Bowl MVP is normally a quarterback award, so being able to do damage on the ground means Lewis can rack up stats that aren't correlated with Tom Brady's numbers as well.
Interestingly, Harrison Smith (+6500) and Fletcher Cox (+10000) are the only defensive players listed, meaning all others are included in the "Field" option.
Photo via David Butler II-USA TODAY Sports