How David Johnson Trade Impacts His, Kenyan Drakes' & Duke Johnson's Fantasy Football Values
Credit:
Jordon Kelly/Icon Sportswire via Getty Images. Pictured: David Johnson
The new league year kicked off with a blockbuster trade that will send David Johnson to the Texans.
The deal, which includes shipping DeAndre Hopkins to the Cardinals,  has fantasy implications for skill players on both teams. In this piece our trio of fantasy football experts — Sean Koerner, Matthew Freedman and Chris Raybon — will focus on how it impacts the outlooks (and their initial rankings) for DJ, Kenyan Drake and Duke Johnson.
---
Tom Brady Free Agency Promo! Bet $5 and Win $100 if TB12 picks any team with the exception of the Jets, Bills or Dolphins
---
What It Means for David Johnson
Freedman
Wow. It's bad enough that the Texans traded away DeAndre Hopkins and his team-friendly three-year, $39.9 million contract and got back only a second-rounder. It's even worse that the Texans also included a fourth-rounder in the trade and had to take on Johnson and his painful contract, which calls for $10.2 million this year and carries a cap hit of $11.2 million.
If the Texans were to cut him before June 1, he would count against the salary cap with $16.2 million in dead money.
Ugh.
In his prime, Johnson was a fantasy gawd. His All-Pro campaign in 2016 was a beauty to behold, as he led the league with 2,118 yards and 20 touchdowns from scrimmage and all running backs with 120 targets. He was even fine in 2018, when he returned from a season-ending injury in 2017 and put up 1,386 yards and 10 touchdowns.
Last year, however, Johnson was abysmal. By the end of the season, he was nothing more than a change-of-pace backup, and his 715-yard, six-touchdown effort suggests that the elite athleticism he once owned is gone.
Raybon
When it comes to Johnson, his fantasy value has proved as elusive as Hopkins en route, and those who drafted DJ are D'Angelo Hall.
In 2017, DJ came off the board as the RB2 and was done for the season before the end of Week 1. In 2018, he stayed healthy, but hurt owners from a value perspective with an underwhelming RB9 overall finish (RB12 in points per game). And then last year, he was again selected in the top-five and returned just an RB36 overall finish in 12 games (RB32 in points per game) amidst two separate midseason demotions.
On Monday, DJ's ADP was down at RB38, but that will undoubtedly shoot up. So how high should it go?
Here are the per-game fantasy ranks for Bill O'Brien's lead back in each of the three seasons since Deshaun Watson was drafted:
2019: Carlos Hyde RB38, 15.3 carries, 1.0 targets
2018: Lamar Miller RB22, 15.0 carries, 2.5 targets
2017: Lamar Miller RB21, 14.9 carries, 2.8 targets
Miller is the more relevant comp here, though. Johnson is entering his age-29 season, while Miller was 26 and 27 in 2017 and 2018, respectively. That's worth noting because Johnson looked broken last season. Back in his 2016 heyday, Johnson posted slightly above-average marks in terms of creating yardage for himself, ranking 23rd in Elusive Rating (48.1) and 31st in yards after contact (2.53) among 63 qualified running backs. Of 61 qualifiers in 2019, Johnson slipped to 60th in Elusive Rating (17.4) and 58th in yards after contact (2.05).
At best, we're probably looking at low-end RB2 value. At worst, Johnson's ADP is Lucy with the football, and his owners are Charlie Brown for the fourth year in a row.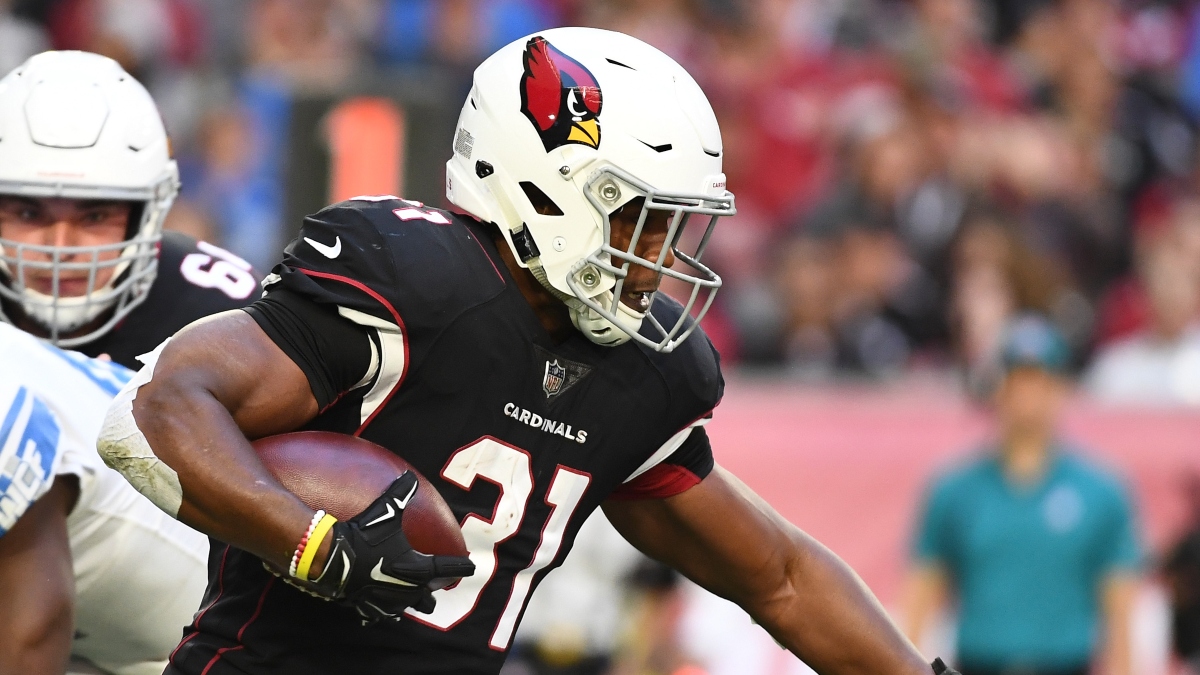 Koerner
DJ was arguably the biggest fantasy bust of the 2019 season. He was the consensus fifth overall pick and by midseason was nothing more than a change-of-pace back who couldn't be trusted in your starting lineup.
Heading to a new team should bring him back to fantasy relevance as a potential RB2.
I have DJ projected for 14.5 carries and 2.5 receptions per game. We can iron out these baseline projections over the coming months, but that's where I'm starting.
Koerner's Post-Trade Projections for DJ: 803 rush yards, 7.2 rush touchdowns, 35 receptions, 296 rec yards, 1.7 rec TDs (RB24)
What It Means for Kenyan Drake
Raybon
The Cards applied the transition tag to Drake and then traded Johnson, making it even clearer that Kliff Kingsbury sees Drake as his preferred feature back going forward.
In eight games with the Cardinals after coming over from Miami via a midseason trade, Drake was fed 85% of the backfield touches and posted 101.8 scrimmage yards and 1.0 touchdowns on 18.9 touches per game.
Drake was being drafted as the RB20 as of Monday, but the Johnson trade vaults him squarely into the top-12 discussion.
Koerner
Drake is arguably the biggest winner of this trade.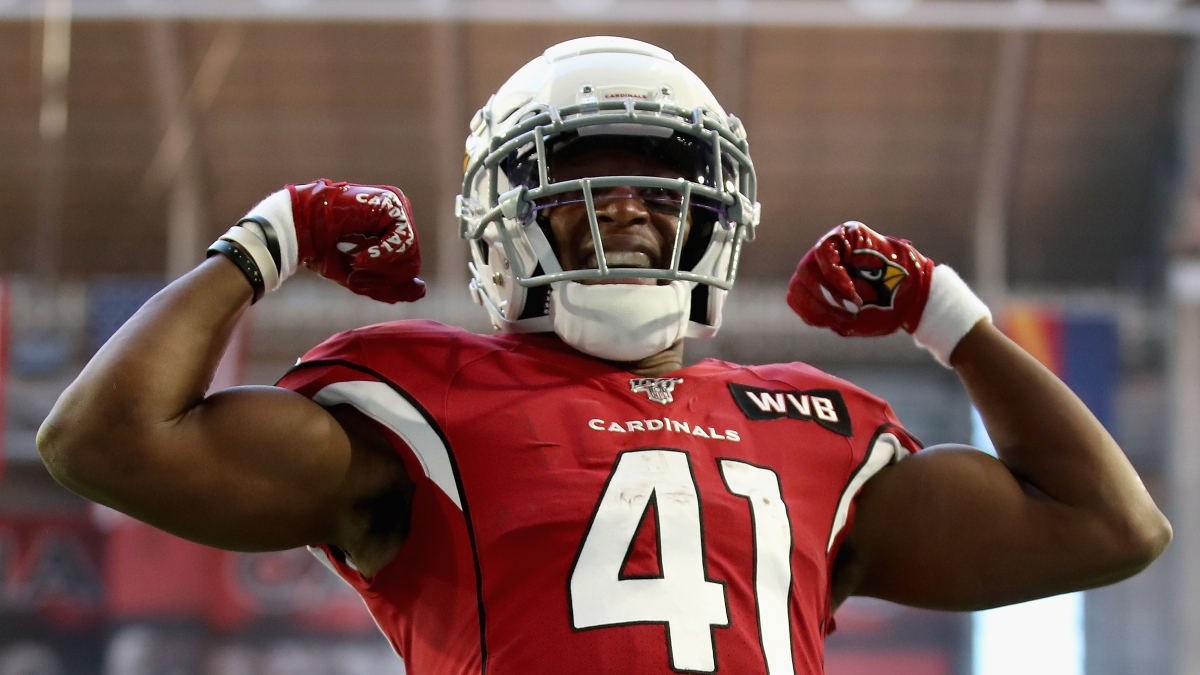 I was dreading trying to pin this backfield for 2020. It would have been very difficult to project DJ as nothing more than a change-of-pace back had he stayed in Arizona. He was dealing with a back injury last season, which is why the Cardinals initially acquired Drake from the Dolphins, but he went on to have an RB4 finish in his Week 9 debut for Arizona and likely won fantasy football championships as the RB1 in Weeks 15 and 16.
With DJ out of the picture, it raises Drake's floor significantly enough to begin treating him as a low-end RB1 entering next season.
Chase Edmonds will be the change-of-pace back who — while he is talented — probably isn't going to overtake Drake as the lead back (as long as both are healthy).
Koerner's Post-Trade Projections for Drake: 1,005 rush yards, 7.8 rush TDs, 49 receptions, 389 rec yds, 2.4 rec TDs, (RB9)
Freedman
The path is totally clear for Drake, to whom the Cardinals just gave the transition tag, to run wild as the team's lead back. Acquired last year from the Dolphins on the cheap with a conditional sixth-round pick, Drake is one of the league's most under-appreciated backs.
Despite horrible circumstances over the past two years, Drake has had more than 1,000 yards and at least eight touchdowns in each season while adding 50 receptions. As the lead back in an ascending offense, Drake has RB1 upside at an RB2 average draft position.
What It Means for Duke Johnson
Freedman
This trade wasn't all bad news for the Texans. Now that DJ is in Houston and looking like a walking piece of burnt toast, his new teammate Duke might finally get his opportunity to break out.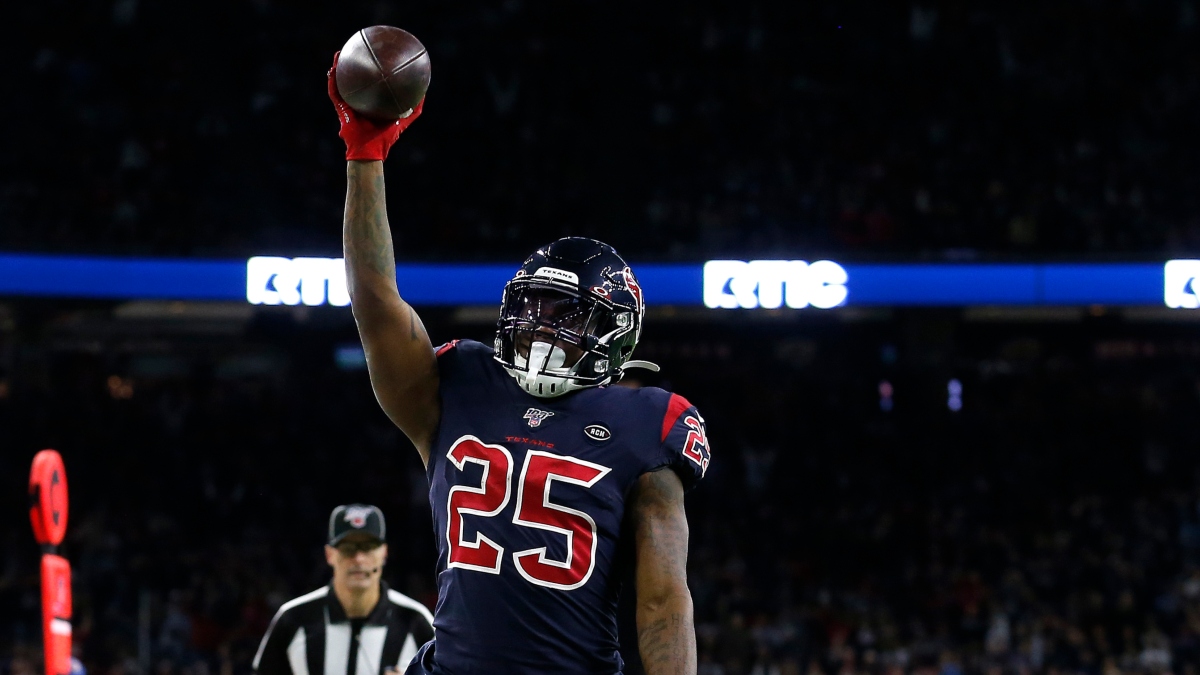 Despite being in the NFL for a half decade, Duke Johnson has never gotten the chance to be anything more than a committee back. Only once, in his 2015 rookie campaign, has Duke had even 100 carries in a season, but he has averaged an efficient 4.4 yards per carry, and as a receiver, Duke Johnson has never had fewer than 60 targets or 40 receptions.
With his minimal usage, it's impressive that Duke Johnson averaged 942 yards from scrimmage across his first three years, and after a down 2018 — in which he lost touches to the dominant Nick Chubb — Duke Johnson rebounded last year with an efficient 820-yard, five-touchdown campaign.
If all that stands between Duke and enhanced opportunity and production is the broken-down soon-to-be carcass of David Johnson, then Duke will be one of the most intriguing Zero RB candidates in 2020 fantasy leagues.
It will be especially important to monitor what the Texans do in the draft. If they select a running back with a top-100 pick, he will probably be the player to roster in anticipation of David Johnson's demise. But if the Texans enter the 2020 season with just Johnson and Johnson at the position, then Duke could become a king.
Also, random note: Keep in mind when drafting and creating daily fantasy lineups that we will now have two guys designated as "D. Johnson – HOU." Be sure not to confuse the two.
Koerner
Carlos Hyde and Lamar Miller are unlikely to re-sign with Houston as a result of this trade, leaving Duke Johnson as DJ's main competition for touches. I anticipate Duke Johnson to maintain a change-of-pace role, specializing in passing downs. DJ should inherit most of the touches Hyde is leaving behind.
Koerner's Post-Trade Projections for Duke: 486 rush yds, 2.9 rush TD, 42 rec, 364 rec yds, 1.7 rec TD (RB34)
How would you rate this article?