Koerner: What to Do If You Drafted Jameis Winston as Your Fantasy Football QB
Credit:
Douglas DeFelice-USA TODAY Sports. Pictured: Sean Koerner
Jameis Winston was one of Sean Koerner's favorite late-round quarterback targets. Now he explains what to do with the Buccaneers QB.
My fantasy quarterback draft strategy was essentially: Wait until Rounds 10-14 to take Jameis Winston, Dak Prescott or Lamar Jackson.
I've been flooded with questions about Jameis since his abysmal season debut — 20-for-36 passing for 194 yards, one touchdown and three interceptions — so I'd like to explain why Winston was (and still is) a good Round 10 or later pick. If you understand why, then you'll better understand what to do next.
Let's start with why we drafted Jameis Winston after Round 10.
Reason No. 1: QB is incredibly deep this season and streaming the position is going to be easier and more efficient than ever. 
I had mentioned that QBs like Tom Brady, Ben Roethlisberger, Matthew Stafford, Kirk Cousins, Jimmy Garoppolo, Mitch Trubisky and Josh Allen will be available on the waiver wire most weeks. (Check out my streamers piece to see who my top QB streamer is each week.)
Essentially, everything is going to lead us back to Reason No. 1.
Reason No. 2:  Any players drafted after Round 9 should be considered strategy picks — you don't need to hang onto them.
Quick exercise: Go look at some of the teams you picked last year. Check out the players you drafted in Rounds 10-14. How many of them did you keep all season? If you didn't drop them, how would that have turned out for you?
The reason we wait so long to draft QBs is because we're essentially looking for our Week 1 QB. If you're hesitant about moving forward with the QB you drafted, you can drop him.
Reason No. 3: I targeted Winston, Prescott and Jackson because I felt they had a fair chance to be top-five QBs.
They each have either the passing or rushing or passing/rushing upside that is worth opening the season with.
Reason No. 4: The predictable week-to-week volatility of QB.
Matchup plays a huge part in a QB's projection that week. A good matchup can rank a QB inside the top-five while a bad matchup could pit that same QB outside my top 20.
Part of this is the projected range of outcomes associated with a QB's weekly rank.
For example, my QB1 in Week 1 was Deshaun Watson. After simulating Week 1 10,000 times, do you know how often he finished as a top-10 QB and therefore about the odds we should expect a top-10 finish from him? 52.5%. I have good reason to believe that if he ends the week as the QB11, people will doubt experts who ranked as the QB1 and/or wonder if Watson is overrated.
Guess where Watson will finish this week if he gets exactly my 20.7 point projection this week? Yep, you guessed it, QB11. That's why always keeping things in perspective is part of my brand/process.
Now let's put this to use by re-evaluating Winston.
To say that Winston played poorly in Week 1 is an understatement. Whether you watched the game or just checked the box score, you would reach the same conclusion.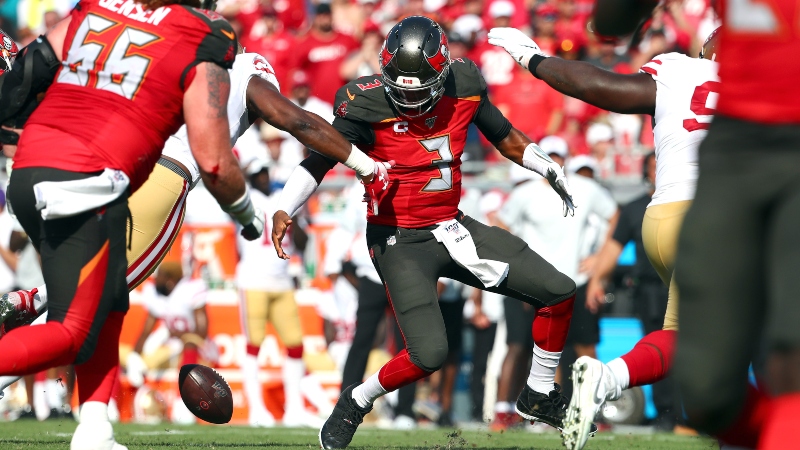 It was a brutal 194/1/3 passing line in what should have been a plus matchup against the 49ers. I had him ranked as the QB3 for the week, which was actually in line with his FantasyPros Expert Consensus Ranking as the QB3.
There were a couple underlying factors going against Winston not seen in the box score. Mike Evans was playing under the weather and looked it. Winston and Cam Brate had two (!) touchdowns called back. But at the end of the day, it was an underwhelming performance in a spot he should have crushed.
Should we expect 300 yards and three touchdowns from Winston every week? Absolutely not, and if we did, he would have been a top-five round pick. Winston is, unfortunately, going to have some extreme highs and lows but should put up top-10 numbers in the long run.
Without adjusting for anything other than matchup, Winston went from QB3 to QB13 in my models for Week 2. And with his Week 1 performance factored in, he's all the way down to my QB17. So he's out of play for Week 2.
Does this mean I'm abandoning Winston altogether? No. Reason 4 explains about 90% of his drop from Week 1.
So what do we do with Winston?
Well, there's no reason to feel like you're on a sinking ship.
Because of his matchup, the ideal scenario would be to drop Winston and add a QB like Allen (my Week 2 rankings will be available Tuesday). Winston likely struggles in a tough Thursday Night Football matchup against the Panthers, remains on waivers, and can then be picked up for a three-game stretch against the Giants, Rams and Saints.
Think of it this way: There's a perfectly good ship you can use for now (Allen) and the ship you're jumping (Winston) likely isn't sinking.
Winston will likely be ranked inside the top 10 in at least one of those three games after Week 2, and I would say has a better than 50/50 chance of having a top-five week in one of those contents.
This is the roller coaster you're on with Winston as your QB — if you can't stomach it, you can get off the ride. You'll also have to listen to people who chose to stay on and have a rewarding time.
There's a chance Week 3 will be the last time to hop on the Winston coaster for free.
How would you rate this article?