Why Didn't the Patriots Draft Lamar Jackson?
Credit:
Mitch Stringer-USA Today Sports. Pictured: Lamar Jackson
The Patriots and Ravens face off on Sunday night for the best game of Week 9.
The Patriots made a crucial mistake drafting Sony Michel ahead of Lamar Jackson.
This weekend, on Sunday Night Football, we will be treated to perhaps the best regular-season game of the year.
The 8-0 Patriots are visiting the upstart 5-2 Ravens.
Tom Brady vs. Lamar Jackson. Old school vs. new style. This is going to be a great game. Even my mom — a diehard Cowboys fan — is excited to watch it.
If a random 70-year-old woman in Texas is up for this game, you know it's gonna be good.
But here's the thing: This quarterbacking matchup between the 42-year-old Brady and 22-year-old Jackson should not be happening.
---
Odds as of Friday at 4 p.m. ET. Check out PointsBet, where Action Network users can access an exclusive promotion to get a 200% deposit match (deposit $50, bet with $150).
---
If rational thought had prevailed in the 2018 NFL Draft, Jackson would not be running all over the Patriots defense this weekend.
Instead, he'd be wearing a baseball hat, holding a clipboard, chewing gum, talking into a headset and doing his best 2015 Jimmy Garoppolo impersonation while standing on the Patriots sideline as Brady's backup.
Lamar Jackson should not be a Baltimore Raven.
He should be a New England Patriot.
And I say that as a Cowboys fan who has no stake in the matter. All I care about is watching good football and seeing people make good decisions.
And on April 26, 2018, the Patriots made a poor decision.
2018 NFL Draft: Two Big Needs
Entering the 2018 draft, the Patriots had two needs: a left tackle after losing longtime blindside protector Nate Solder in free agency and a backup quarterback to eventually replace Tom Brady. After value-seeking obsessive tendencies and triangulated-organizational tensions, both third-string quarterback Jacoby Brissett and presumed heir apparent Jimmy Garoppolo ended up on different teams.
Fortunately for the Patriots, they had two first-round picks with which to address their needs.
2018 NFL Draft: Pick No. 23
At pick No. 23, which they got from the Rams, the Pats selected Georgia offensive lineman Isaiah Wynn, a versatile and detail-focused technician who shifted between left guard and left tackle early in his career before settling at tackle in his senior season. (Here's his Pro Football Focus scouting report.)
Wynn missed his rookie campaign with a torn Achilles, and in Week 2 of this year he suffered a toe injury and hasn't played since. But he's expected to return from injured reserve in Week 11, and has looked good in limited action. In 45 pass blocks, he's allowed just one pressure.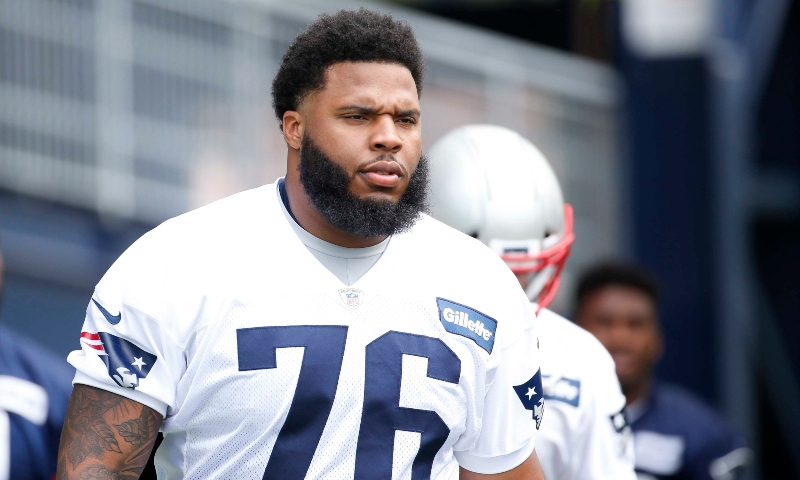 We're yet to see anything out of him to suggest that he wasn't worthy of the pick or that he won't return value in the future. And given that the Pats addressed a position of need, he was a reasonable investment.
Entering the league, Wynn was scouted more as a guard than a tackle because of his size (6-foot-3, 313 pounds). If he doesn't work out on the perimeter, he can probably shift to the interior and still be a serviceable player.
Wynn as a fine choice at pick No. 23.
2018 NFL Draft: Pick No. 31
At pick No. 31, the Pats made a surprisingly short-sighted decision that could have many long-tailed consequences.
They decided to pass on Lamar Jackson and select a running back.
Which running back?
It doesn't matter. Any running back —  even the generational Saquon Barkley — would have been the wrong pick at No. 31.
Why?
Running backs don't matter. Even running backs don't think running backs matter.
If 1957 Jim Brown himself on April 26, 2018, had shown up to Foxborough in a DeLorean with Dr. Emmett Brown and told Bill Belichick, "I've been to the future, I've seen Grays Sports Almanac and if you draft me, I'll carry the Patriots to another five Super Bowls," even then the Pats would have been right not to draft him.
Why?
It's because running backs do not matter.
Quarterbacks Matter: They Are Almost All That Matters
Do me a favor. Close your eyes. I want you to think of the truly great quarterbacks of the past 20 years. Guys with a high level of sustained success.
Who comes to mind?
Kurt Warner in 1999-2001. Peyton Manning in 2002-13. Drew Brees in 2006-16. Tom Brady in 2007-17. Aaron Rodgers in 2009-16.
What do these guys have in common? #SuperBowlWinz
Now think about their teammates.
Who comes to mind?
Lots of random players. Some wide receivers. Some offensive linemen. Some edge rushers and defensive backs. And yes, maybe a couple of running backs.
But if you look at the past two decades of the NFL, the heroes have been quarterbacks. Almost all of the other characters are just plot devices and vehicles for dialogue.
Quarterbacks are what matter. They are almost all that matters.
Now think of the really great backs of the past 20 years, some of whom are among my all-time favorite fantasy players.
Marshall Faulk in 1999-2001. Priest Holmes in 2001-04. Shaun Alexander in 2001-05. LaDainian Tomlinson in 2002-07. Adrian Peterson in 2008-15. Arian Foster in 2010-14. Jamaal Charles in 2010-14. LeSean McCoy in 2011-13. Le'Veon Bell in 2014-17. Ezekiel Elliott in 2016-19. Todd Gurley in 2017-18. Alvin Kamara and Christian McCaffrey in 2017-19.
Many of these backs have had multiple All-Pro campaigns.
Here's something else almost all of them have in common: #NoSuperBowlWinz
Only one of them — Faulk — won a championship, but that's almost certainly because he had Warner as his quarterback.
1999: Warner plays 16 games, Warner wins MVP, Rams win Super Bowl
2000: Warner plays 11 games, Faulk wins MVP, Rams lose in Wild Card Round
2001: Warner plays 16 games, Warner wins MVP, Rams barely lose Super Bowl
Which of these seasons is not like the other two?
Once upon a time, when men were men and boys strapped on leather helmets and dreamed of being the next Jim Thorpe or Steven Van Buren, maybe then running backs actually mattered.
But in today's NFL, quarterbacks — not running backs — are what matter.
2018 NFL Draft: 5 First-Round Quarterbacks
In 2018, despite having a quarterback who was almost 41 years old, the Pats opted not to draft a potential long-term replacement.
That was a horrible decision, and it was made all the worse by this fact: The 2018 quarterback class was historically good. In our final 2018 Round 1 mock, we had five quarterbacks going off the board. That's a huge number.
In our prospect profiles, we projected all five Day 1 quarterbacks — Baker Mayfield, Sam Darnold, Josh Allen, Josh Rosen and Lamar Jackson — to be selected within the first 32 picks.
Let's put this into context. Before 2018, only twice in NFL history had as many as five quarterbacks been chosen as first-rounders: 1983 and 1999.
In other words, the 2018 quarterback class was the kind of group that comes around only every 15-20 years.
The only first-round quarterback who was borderline for us was Jackson, not because we thought he didn't deserve to be a Round 1 selection, but because we suspected that the NFL's bias against running quarterbacks would potentially drop him into the second round.
And that's pretty much what happened.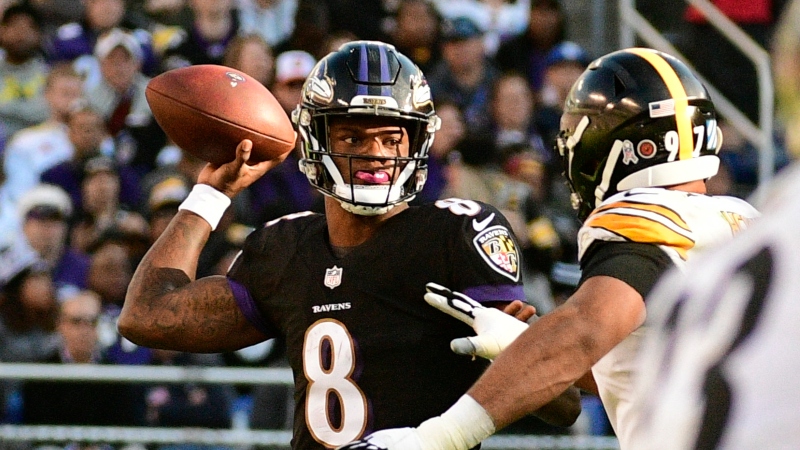 Jackson fell because of a longstanding bias against running quarterbacks and because there were four other Day 1 quarterbacks in the class. Most years, there are 2-3 quarterbacks worthy of first-round picks. In 2018, there were five.
In almost any other draft class, Jackson would have been snatched up quickly by a quarterback-needy team. But because of the random positional surplus in his year, he fell out of the top 10.
And then Jackson kept falling because — as bizarre as this sounds — almost every team outside of the top 10 felt relatively secure at quarterback entering the draft. Eight first-round quarterbacks entered the league in the three previous seasons, and lots of aging veterans who may have retired in a less passer-friendly era extended their careers. As a result, in 2018 there was a rare dearth of demand in the league-wide quarterback market.
That's why Jackson fell down the board.
Folding the Royal Flush
Bottom line: The Pats were lucky — incredibly lucky — that Jackson fell to them at No. 31.
To have a 21-year-old Heisman Trophy-winning quarterback with high-end talent fall to you at No. 31 — and have the luxury of developing him for years on the sideline as he watches and learns from a future Hall-of-Fame quarterback — that is a gift of the highest order.
When Jackson fell to them at No. 31, the Pats got a royal flush on the river. And everyone knew it.
If the Pats drafted L-Jax, the rest of the league would have been terrified of what he might become in the hands of Belichick and offensive coordinator Josh McDaniels.
And what did the Pats do with this all-time winner of a hand?
They folded by selecting running back Sony Michel, a player who doesn't matter.
2018 NFL Draft: Lamar Jackson vs. Sony Michel
Last week, almost as a joke, I put this poll on Twitter.
I honestly can't believe that 32% of the respondents answered "No." Do these people even watch football or look at football stats?
Here are some of the most common responses I've gotten from people who answered "No," as well as my rebuttals.
1. The Patriots Couldn't Afford to Spend a First-Round Pick on a Player Who Would Sit on the Sideline Because They Needed to Maximize Their Super Bowl Window With Brady
This response is so problematic. It's focused on the short term, not the long game. Winners walk the long road.
More than any other NFL franchise, the Pats have reaped the long-term benefits that come from careful planning. In 2000, the Patriots opened the season with four quarterbacks on their roster just to ensure that no other team would sign the first-year Brady away from them.
If they were thinking about maximizing then-starter Drew Bledsoe's Super Bowl window, they wouldn't have kept Brady on the active roster. Bledsoe had taken the Pats to the Super Bowl just four years earlier, and his team won the Super Bowl the very next year with a second-year backup game manager under center.
And as for Brady's Super Bowl window: Evidently the Pats could afford to draft a guy with a first round pick and then watch him sit on the sideline all year — because that's exactly what happened with Wynn, the guy they picked at No. 23 — and they still won a championship.
2. Michel Helped the Pats Win a Super Bowl Last Year
This response is too focused on the short term, and it's also too focused on results instead of process.
Lots of players helped the Pats win a Super Bowl last year. Most of them weren't selected on Day 1.
It's very likely that in Rounds 2-3, the Pats could have found a back capable of giving them the equivalent of Michel's production, especially since so much of what a back does on the field is the product of the matchup, the scheme, the ability of his quarterback to audible successfully into and out of the run and the effectiveness of his offensive linemen and downfield blockers.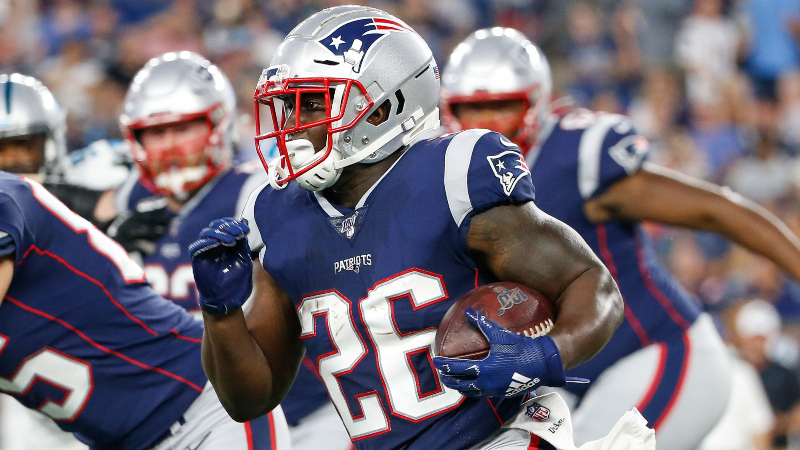 And really, the Pats probably could've found a veteran to serve as their lead back. They've won Super Bowls with fairly forgettable guys carrying the rock and had great success finding undervalued backs who can contribute.
To think that they wouldn't have been able to win a Super Bowl without Michel — or to think that his backfield production was the difference between winning and losing — is to misunderstand the Patriots and probably the game of football.
3. Michel Was Great in the Playoffs
You're right. He was great in the playoffs.
In three postseason games, he had 71 rushes for 336 yards and six touchdowns. He had just nine yards receiving on one reception and three targets, but I won't hold that against him.
If you want to judge a guy's draft worthiness based on what he does in a three-game sample, feel free to think like a moron.
Rotational slot receiver Danny Amendola was great in the 2017-18 postseason:  In three games, he had 26 receptions, 348 yards and two touchdowns on 33 targets. He also chipped in a three-yard rush and a 20-yard completion.
I suppose you think this undrafted postseason star would have been worth a first-round pick in 2008?
Of course you don't think that … because the Pats didn't beat the Eagles in the Super Bowl.
4. Michel Was Great in the Super Bowl
You're sort of right. He was good, not great. But I won't quibble with you on word choice. His 18-94-1 rushing performance almost certainly didn't disappoint Belichick despite zero receptions on two targets.
A player has rushed for at least 94 yards and a touchdown 18 times in Super Bowl history. Some of those performances were by fifth- and sixth-round and undrafted players.
Let's also ignore the five previous Super Bowls the Pats won without a 94-1 rusher.
One above-average performance doesn't justify a first-round selection.
5. Michel Scored the Game-Winning Touchdown in the Super Bowl
On the most important drive of the Super Bowl, Michel got two yards and was literally untouched on his game-winning run. What an all-time performance.
I could have run through that hole. You could have too.
6. The Pats Needed a Running Back Entering the 2018 Draft
In 2018 free agency, the Pats lost lead back Dion Lewis — a 2011 fifth-rounder — but they still had James White, Rex Burkhead, Mike Gillislee, Brandon Bolden and Jeremy Hill (a former first-round selection).
Most importantly, the Pats entered the 2018 draft with a rock-solid record of finding productive veterans on the cheap — guys like Lewis.
They absolutely did not need yet another running back.
7. Michel Was Simply Too Good of a Prospect Not to Draft at No. 31
Really? He clearly was not better than L-Jax, for instance.
And it's hard to make the argument that he's better than former college teammate Nick Chubb. In our 2018 pre-draft running back rankings, we had Chubb significantly ahead of Michel. (We also had Rashaad Penny No. 2, so maybe ignore our pre-draft rankings.)
Michel has plenty of talent. He entered college as the No. 2 high school back in the country, and as a senior at Georgia he averaged 7.9 yards per carry.
But he had just nine receptions in his final college season, and as a sophomore in high school he suffered a torn ACL, which caused some teams to worry that his career might be cut short by a bone-on-bond condition in his knee similar to the one afflicting Jay Ajayi and Todd Gurley.
And through his one-plus NFL seasons, the biggest issues with Michel have been his receiving inability and health.
On top of that, his rushing efficiency has notably declined this year relative to last year (including playoffs, per RotoViz Screener).
2019: 3.3 yards per carry, 46% rushing success rate
2018: 4.5 yards per carry, 53% rushing success rate
As of now, Michel has 4.0 yards per carry for his career.
Basically, to this point in his career, he's looked liked 2015-18 Blount, except smaller and with more injury concerns.
Most people probably wouldn't think that's worthy of a first-round pick.
8. Michel Has Been So Bad This Year Because of Injuries Along the Offensive Line
You're right. That's kind of the point.
For most of the season, the Pats have been without Wynn and center David Andrews (blood clots, IR). Right tackle Marcus Cannon missed Week 2, and right guard Shaq Mason missed Week 8.
With all of these injuries, the offensive line has dropped from No. 2 in run blocking last year to No. 16 this year (per Pro Football Focus).
With this decline in offensive line play, Michel certainly shouldn't get all of the blame for his diminished rushing average.
But by that same token, Michel probably shouldn't get all of the praise for his performance last year. The 2018 offensive line gave Michel a lot of big holes to run through.
If you blaming Michel's subpar 2019 efficiency on his offensive line, you're basically saying that he's a guy who gets what's blocked — a guy who isn't a difference maker.
In other words, you're saying he's not a first-round talent.
9. Michel Has Been So Bad This Year Because He's Running Against a Lot of Stacked Boxes
I award you half a point. Congratulations.
Michel indeed has run against a lot of stacked boxes. He's No. 8 in the league with a 27.9% run rate against fronts with at least eight men (per Next Gen Stats).
But here's the issue: Last year he had a similar 26.8% run rate against a stacked front. His year-over-year rushing decline has nothing to do with eight-man boxes.
And if he wants to run against lighter fronts, maybe he should work on becoming a better receiver. Opposing defenses know that when Michel is on the field, the Pats are relatively likely to run — because he's not out there to catch passes — so they stack the box.
10. Michel Hasn't Been That Bad This Year
In only one game has he rushed for at least four yards per carry.
Yes, Michel has been that bad this year.
11. Jackson Hasn't Been That Good This Year
You are wrong: He has played remarkably well this year. L-Jax is currently No. 5 in MVP odds at +700. Brady, meanwhile, is +2000.
Jackson has an outstanding 55% rushing success rate, and he leads the league with 6.9 yards per carry. On top of that, he's No. 9 among all players with 82.3 rushing yards per game. He's still developing as a passer, but he's No. 10 with 7.7 adjusted yards per attempt.
And fantasy sports aren't everything, but Jackson is the No. 1 fantasy quarterback with 27.5 DraftKings points per game. He has provided immense value with his +8.27 Plus/Minus. He has hit his salary-based expectations in every game but one (per our FantasyLabs Trends Tool).
He's on the path to becoming the first NFL player ever with 3,000 yards passing and 1,000 yards rushing in a season — and he's actually pacing to crush those thresholds. (Shoutout to Robert Mays for the insight.)
Which brings me to this: You're right — Jackson hasn't been that good this year. At least not as good as he's going to be next year. And the year after that.
Framed differently: Even without the expert tutelage of Belichick and McDaniels and before he's made even his 16th NFL start, Jackson has already become one of the league's most dangerous quarterbacks.
Imagine how much better he might be at the age of 25 if he had been able to sit behind Brady for 2-3 years.
12. Michel Is Worth More to the Patriots Than Jackson Would Be
False.
When a running back is declared out, the point spread almost never changes. The betting market knows that running backs are pretty much interchangeable.  If Michel were ruled out on Sunday, the line wouldn't move at all, because — everyone say it with me — running backs don't matter.
But when a quarterback is ruled out, the line often shifts, and the degree to which it shifts is determined by the relative difference between the starter and the backup. If Jackson were the backup quarterback on the Patriots and the market had a full awareness of his abilities, the line would move if Brady were ruled out, but the move wouldn't be drastic.
If Michel were lost for the season, the Pats could still win the Super Bowl. Pretty easily. If Brady were lost, the team's season would be over — but maybe not if Jackson were the backup. With Jackson, the team could probably still contend.
In fact, if Jackson had started all eight games for the Patriots this season, would they still be 8-0? I think they would be.
If both players were on the Pats right now, Jackson on the bench would easily be worth more than Michel on the field. And in the future — after Brady retired (or left to play for another team) — Jackson's value would be all the greater as the starter.
And then there's this: If Belichick could trade Michel straight up to the Ravens for Jackson just so that he wouldn't have to face him this week — and potentially in the playoffs — do you think he'd do it?
He'd be a fool not to.
13. Jackson Would Have Been a Wasted Pick Because the Pats Would Have Ended Up Needing to Trade Jackson
Seriously? I just covered this. Even if Jackson were never to start a meaningful game for the Pats, he would still provide immense value now as a top-tier backup and in the future as a desirable player in the trade market.
Plus, the Pats would never have to play against him.
14. Jackson Wouldn't Have Helped the Pats Win a Super Bowl Last Year
You're probably right. But Jackson almost certainly would have increased the team's odds of winning a Super Bowl in the post-Brady era. If the Pats win any championships after Brady, Michel will not be why.
15. Even if the Pats Had Drafted Jackson and He Were Starting for Them Now Because of an Injury to Brady, There's No Guarantee He'd Be as Good With the Pats as He Is With the Ravens 
Correct. No guarantees in life.
But even if Jackson were starting for the Pats now and were just the guy we saw last year — an incredibly unpolished but tough-as-a-diamond dynamo — he would still be worth quite a bit to the team, both in terms of his present production and his future potential.
And as much as I respect the work that HC John Harbaugh and OC Greg Roman have done for the Ravens, it's hard for me to imagine that Jackson wouldn't be as good with Belichick and McDaniels.
16. If the Pats Had Drafted Jackson After the Whole Garoppolo Fiasco, That Would Have Angered Brady, Which Could Have Negatively Impacted His Performance and Maybe Even Caused Him to Retire Early, and Belichick and/or Kraft Wanted to Avoid That Situation
Bingo. This has to be the answer.
The Pats didn't draft their quarterback of the future last year because they'd already been down that road before, and they knew from firsthand experience that their quarterback of the present would have been extremely displeased.
Brady's ego — or, rather, Belichick and Kraft's collective handling of and reaction to Brady's ego — may be why Jackson is on the Ravens and not the Patriots.
17. You Are Bitter About Jackson Not Going to the Pats Because That's Where You Had Him Mocked Before the 2018 Draft 
"Bitter" isn't the word I'd use, but you're not wrong. I did have Jackson mocked to the Pats, and I feel I was cheated from seeing what should have happened actually happen.
Cheated not as an analyst or a predictor.
Cheated as a football fan.
This was documented in real time.
I'm impressed with what Jackson has done with the Ravens and how the coaching staff has used him.
But Jackson with the Pats would have been perfect. Entertaining. Dramatic. It would have been a great story.
Plus, as a fan who cares about the development of the league, I wanted to see a smart team make an intelligent and analytics-informed decision.
The Pats never should have had the chance to draft Jackson in the first place. That they did was a minor miracle. And instead of drafting the potential future of their franchise, they drafted a player who doesn't matter.
But at least there's a silver lining: One pick later, at No. 32, the Ravens made the best pick of the entire draft. That's worth something.
18. Why Are You Singling Out the Pats, When Almost Every Other Franchise Also Made a Mistake By Passing on Jackson?
This is not a backward-looking take. Months before the 2018 draft, it was clear the Pats needed both a backup quarterback and also a potential long-term replacement to Brady.
It was clear they might actually have the good fortune to have a first-round quarterback fall to them.
And on the first night of the draft, almost all of the teams picking outside the top 10 were satisfied enough with their quarterback situations that it made relative sense — in the moment — for them not to address the position.
To say that every other team made a mistake would be to decontextualize the moment.
For instance, when the Dolphins drafted cornerback Minkah Fitzpatrick at No. 11, it would have been unreasonable for anyone at the time to say, "I can't believe they didn't take Lamar Jackson." They wanted to give quarterback Ryan Tannehill another season, and Fitzpatrick offered great value at that spot. The appropriate response at the time was, "Great pick, can't believe Fitz fell out of the top 10."
There were situations like that all throughout the first round: 1.5 years later, it's easy — way too easy — to question picks, but the nitpicking that lots of people will do now is based on outcome, not process, and that's unfair, because what matters most in the moment is the process — the logic of how picks were made based on what teams needed and what the market offered.
It would be ahistorically faulty to say right now — with a wealth of temporal distance from the event — that every team that didn't draft Jackson made a mistake.
But the night of the draft, even then, it was clear to almost everyone with an analytics-based perspective and sense of market value that the Pats made a big mistake that could have outsized and long-term negative repercussions.
I'm singling out the Pats now because it was so easy and right to single them out then.
19. When the Patriots Beat the Ravens on Sunday Night Football and Make Jackson Look Like a Football Neophyte, How Tilted Are You Going to Be?
Not very. I'm betting on the Pats this weekend.
You can follow me in The Action Network App to see what teams and props I'm betting this week.
Why I'm Betting on the Patriots to Cover Against the Ravens
If you look at our live odds page, you'll see that (as of writing) 28% of the bets but 43% of the money is on the Ravens to cover the spread. That ticket-to-money disparity suggests that the bigger bettors — the sharper bettors — are backing the Ravens.
I know fully that the Ravens are the sharp side.
The Pats opened as -6.5 favorites, but even though the Pats have gotten 57% of the money, the line has dropped to -3, which means that the sportsbooks are looking to take even more Patriots money. In other words, the books are actively betting against the Pats.
Again, the Ravens are the sharp side. Listen to Stuckey on the Week 9 podcast to hear why the sharps like the Ravens.
But I just can't bring myself to bet on them.
Too many people I know and follow — way too many people — people in the media, people on #GamblingTwitter and even people on local sports radio stations — are betting on the Ravens. Almost everyone I've heard talk about this game is backing  Baltimore.
It's fashionable to say that the Pats have played no one on their way to an 8-0 record and are primed for a loss, especially since the Ravens are at home and coming off the bye.
And sharps never need much of an excuse to begin with to bet against the Pats.
But as profitable and nuanced as the sharps are, when it comes to the Pats, the sharps almost certainly suffer from "fancy play syndrome."
In the entire history of the Bet Labs database (since 2003), Belichick is 159-97-8 against the spread, good for an A-graded 21.8% return on investment.
Whatever the sharps have to say, we have 15-plus years of data telling us that the sharps don't know what they're talking about when it comes to the Pats.
And I'm saying this as someone who has lots of respect for professional bettors, who studies their action and tries to learn from what they do and say.
But they — or their analytical methodologies — almost certainly have a blind spot when looking at the Pats. They are wrong far more often than they are right.
I know that some of the smartest analysts at The Action Network are on the Ravens. Fine. For years, I've had the reputation of being a contrarian among contrarian.
Whatever I am, I'm not betting on the Ravens. I'm backing the Pats, ultimately for one reason.
They're facing Lamar Jackson.
The Patriots Will Win the Battle, Jackson Will Win the War
Clearly, I love Jackson. But he's yet to start a full season's worth of games, and he's still developing as a passer.
The idea of Belichick and the Pats No. 1 pass defense going against an inexperienced quarterback with limited passing ability and maybe without No. 1 wide receiver Marquise Brown (ankle, did not practice on Friday) is just too much.
I expect Jackson to struggle significantly this weekend.
If I'm wrong, I win.
If I'm right, I win money.
Win-win.
But regardless of whatever happens in Week 9, I expect Jackson will continue to develop as a quarterback, and eventually, I predict he will hand the Pats significant, franchise-altering defeats.
Jackson seems likely to lose this battle, but he will win the war. Over time, the Pats will bitterly regret not drafting him, if only so they wouldn't have to face him in the playoffs.
I Might Be Wrong About Lamar Jackson
And what if I'm wrong about Jackson? Then I'm wrong. I'm wrong a lot. It's an occupational hazard.
He might never turn into a Super Bowl-winning quarterback with the Ravens. He might never wreck the Patriots with multiple devastating losses. He might never turn into the best possible version of Michael Vick.
But even if Jackson's career disappoints, the Pats will still have massively erred, because they will have foregone the opportunity to develop an immense talent with franchise-defining potential in order to get the short-term production of a Cadillac Williams equivalent.
It's often the small mistakes — those we don't recognize as mistakes — those that aren't immediately obvious — that cost us the most.
Even if Jackson never kills the Pats, he will still haunt them, not with what is, but with what might have been.
The ghosts who most haunt us are not the ones who scare us. They're not the ones who live in our house. They're the ones who live in our heads.
The ghosts we never see but only hear.
The ghosts we dream.
Win or lose, whatever comes, Lamar Jackson will haunt the Patriots for years.
How would you rate this article?