Our Favorite Week 13 NFL Betting Picks: Spreads & Over/Unders
Credit:
USA Today Sports. Pictured: Aaron Rodgers
Our experts reveal how they're betting the main NFL Week 13 slate.
Find their spread and over/under picks for most of Sunday's games.
What're the best Week 13 NFL value bets?
Our experts reveal how they're betting most of Sunday's main slate, with spread and over/under picks for the following games:
Titans at Colts: 1 p.m. ET
49ers at Ravens: 1 p.m. ET
Jets at Bengals: 1 p.m. ET
Browns at Steelers: 1 p.m. ET
Eagles at Dolphins: 1 p.m. ET
Packers at Giants: 1 p.m. ET
Buccaneers at Jaguars: 1 p.m. ET
Raiders at Chiefs: 4:25 p.m. ET
Now let's dig into their bets!
---
Mike Randle: Titans-Colts Under 43.5
The Colts offense will certainly struggle without their best running back (Marlon Mack), best wide receiver (T.Y. Hilton) and best tight end (Eric Ebron) against a Titans defense that's allowed fewer than 20 points per game this season.
Meanwhile, Colts defensive coordinator Matt Eberflus has been very effective at limiting top quarterbacks such as Patrick Mahomes at home (one touchdown) and Deshaun Watson (two interceptions).
Tennessee's offense has remained efficient despite Ryan Tannehill's low pass volume, but he'll be challenged by an Indianapolis defense that has allowed the 10th-fewest fantasy points to opposing quarterbacks.
The Colts' run defense has been strong all season, allowing the fourth-fewest rushing yards by opposing running backs. Even with Derrick Henry's historic success against Indianapolis (more than 200 total yards over his past two games against the Colts), this projects as a low-scoring game with both teams at 6-5 and battling for a playoff spot.
[In New Jersey? Bet now at PointsBet]
Stuckey: 49ers-Ravens Under 45
Given the weather and two excellent secondaries, I think this will be an extremely run-heavy game between two of the NFL's best teams.
After what the Ravens offense has done of late, the market is pricing this total, which is why I like the under. With the game script I assume for both teams, I expect the clock to be moving swiftly with two teams that don't play fast.
I bet this at 46.5, but like the under down to 45.
[In New Jersey? Bet now at PointsBet]
Ryan Finley has been benched for Andy Dalton this week. I'm not sure we've heard the exact reason for this move yet, but it's clear that Finley is not quite ready for NFL action.
I would speculate that the Bengals are simply trying to avoid going 0-16. They could then go back to Finley after they win a game and continue to tank for the top draft pick in 2020. This matchup, along with a Week 16 date at home against the Dolphins, are likely their only chances to avoid going 0-16, so I expect them to be more motivated this week as a result.
The Jets were getting more than 80% of the action before the QB change. I've been harping on them as buy-low candidates for the past few weeks, but it appears the public has finally caught up.
It's also worth pointing out that the Bengals have a +2.2 edge in Pythagorean expected win differential with the Jets. As soon as Cincinnati announced Dalton would start, I fired a bet on the Bengals at +4. It's only dropped to +3, which is very odd considering Dalton is worth more than a point over Finley. I have the drop-off closer to 2.5 to 3 points, which is why I have the Bengals as +2.5 now.
[In New Jersey? Bet now at PointsBet]
Stuckey: Steelers +1 vs. Browns
I circled this classic Mike Tomlin spot right after the Thursday night melee in Cleveland.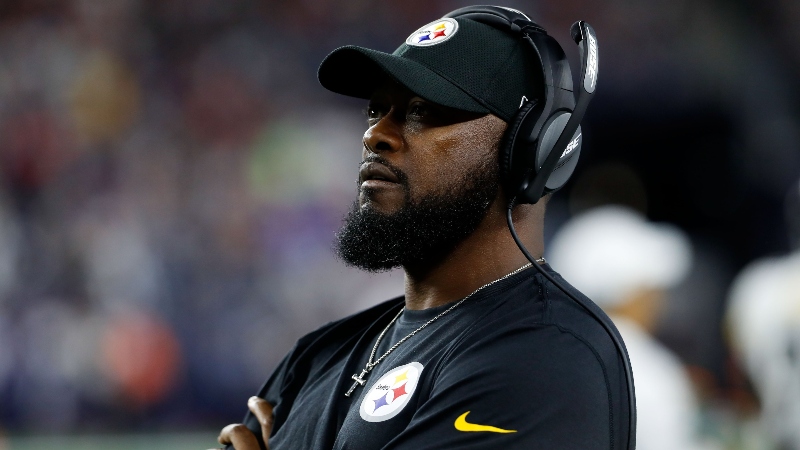 He's not the greatest X's and O's coach, but I consider Tomlin to be one of the best motivators in the league. His teams thrive when he can fire up the locker room and take an us-against-the-world mentality. And what better spot to fire up a locker room than at home against a hated division opponent that recently had their best defensive player attack your quarterback with his helmet?
I expect the Steelers to come out with their hair on fire — especially on defense — right from the jump. That could spell disaster for a very undisciplined Browns team playing in a game that should be refereed very tightly given what happened in the last meeting.
The Browns have covered for me three weeks in a row, but this is a spot to jump off the wagon. Wait to see if a 3 pops, but I like the Steelers at any dog number.
[In New Jersey? Bet now at PointsBet]
Stuckey: Eagles 1H -4/-10 at Dolphins
Time to go back to the well with a Dolphins fade.
Just like the past two weeks against the Bills and Browns, I'm fading Miami by taking Philly to cover the first half (anything under 5 is fine) and full game (anything 10 or better).
This Dolphins roster is historically bad and much worse than the team we saw earlier in the season.
I don't expect the Dolphins to do much on offense against an Eagles defense that has some of the best metrics over the best month, holding four straight opponents to fewer than 17 points for the first time in 10 years.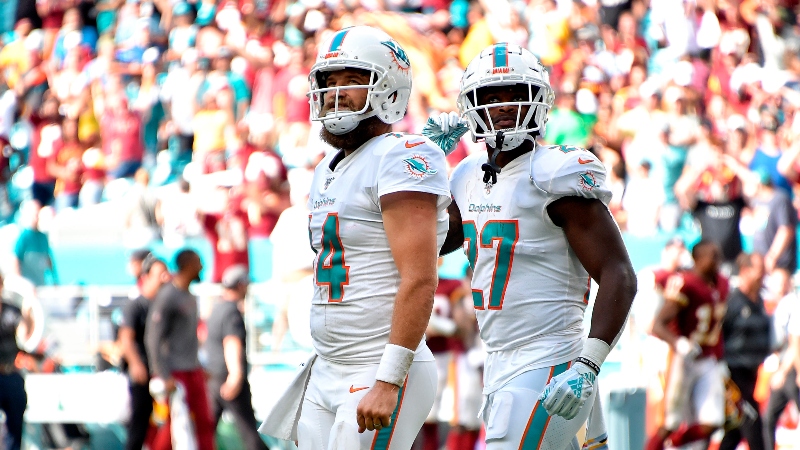 This is a get-right game for the Eagles, who should take out some of their recent frustrations against a reeling Miami team. I'm laying the points.
[In New Jersey? Bet now at PointsBet]
Koerner: Giants +6.5
The Packers are 6.5-point road favorites, getting more than 80% of the action (see live public betting data here) and have a -3.4 Pythagorean rating differential with the Giants.
But even with the significant action on the Packers, the line hasn't budged. It's very likely there's been some significant sharp action that's preventing books to move the line up to a key number like 7.
But this is a spot where we could see Saquon Barkley snap his recent slump. The Packers defense has been vulnerable against the run, coughing up 5.1 yards per carry since Week 7. And while they're certainly the better team, the Giants should be able to keep it close enough that the clear value lies with +6.5.
[In New Jersey? Bet now at PointsBet]
John Ewing: Buccaneers-Jaguars Under 47.5
The Buccaneers are third in scoring (28.4 points per game) and the over has gone 9-2 in their games this season, so we know why the public is cheering for points. But sharp bettors like the under due to the higher percentage of dollars than tickets on the under, forcing oddsmakers to adjust the total down to 47.5 from its 49-point opener.
One reason the pros are expecting a low-scoring game is the weather. The forecast is calling for 17 mph winds during the game. Wind can impact the passing and kicking games, which creates a low scoring environment.
Historically, it's been profitable to bet the under in windy games. A $100 bettor following this strategy has returned a profit of $8,058 since 2003.
Windy conditions, sharp action, all signs point to value on the under in Sunday's matchup.
[In New Jersey? Bet now at PointsBet]
Stuckey: Raiders +11 at Chiefs
I played under 52 and Raiders for a half-unit each as there's some correlation: If the Raiders are able to move the ball on the ground, they can burn the clock and stay in this while keeping the Chiefs offense off of the field.
Plus, the projected heavy winds will have much more of an impact on the Chiefs' deep passing game than it will on the Raiders' run-heavy offense and short playaction passes that Derek Carr fancies. Keep in mind that the Raiders are also a snail, ranking 29th in seconds per play. So when they're on the field sustaining drives, the clock is bleeding.
How would you rate this article?