NFL Coaches On the Hot Seat From Their Fans
At the halfway point of the NFL season, things are really beginning to take shape for Division and Conference winning hopefuls. The same can also be said for teams on the other end of the spectrum, already looking ahead to next year. For those bottom-dwellers, fans are putting NFL coaches on the hot seat. 
Matt Rhule (Carolina Panthers) and Frank Reich (Indianapolis Colts) have already been fired this season. We expect there could be more coaching movement to come. To that end, we've used Linkfluence to analyze social media sentiment among each team's fans to predict which coaches could be on the chopping block next. The data collected looks at fan sentiment over the last 12 months. 
NFL Coaches On the Hot Seat (Or Not) by Division
AFC East
The sentiment data for the AFC East has a pretty notable surprise. The coach of the Buffalo Bills, Sean McDermott, has the highest rate of negative social media sentiment over the last month (21.7%), and since the season began (17.6%). There has been significant frustration growing among fans since June (6.32%) despite a generally positive season. While many still see the Bills as a favorite to win go far in the postseason, the fans have expected more from the team that started the year with Super Bowl or bust aspirations.
Mike McDaniel has also been victim to an increasingly unsettled fanbase in the past year. The Miami Dolphins head coach has seen his negative sentiment score slowly rising each month from 7.8% to 17.5% between last November and now. The negative sentiment is still relatively low, but it appears to be trending in the wrong direction. A strong post season could cool his seat.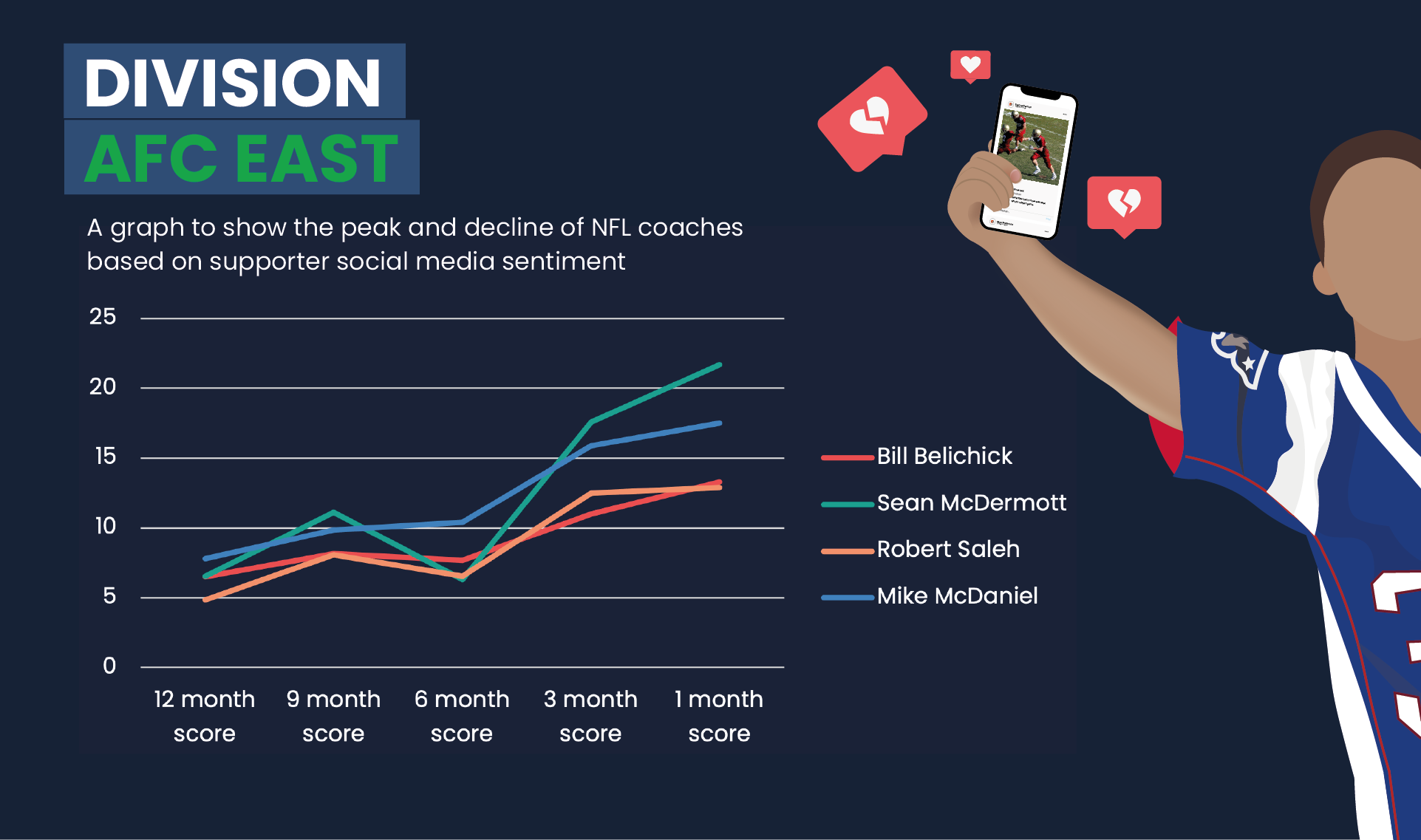 AFC North
Astonishingly, three of AFC North's head coaches rank among the most unpopular coaches from the past month. Roughly one in every four social media posts about Kevin Stefanski (24.9%), Zac Taylor (24%), and John Harbaugh (22.2%) can be considered negative. 
This is a far cry from 12 months ago when no AFC North representatives featured in the top five in terms of negative sentiment.  John Harbaugh's 8.65% negative sentiment score was the highest in the division. Things change fast in the NFL!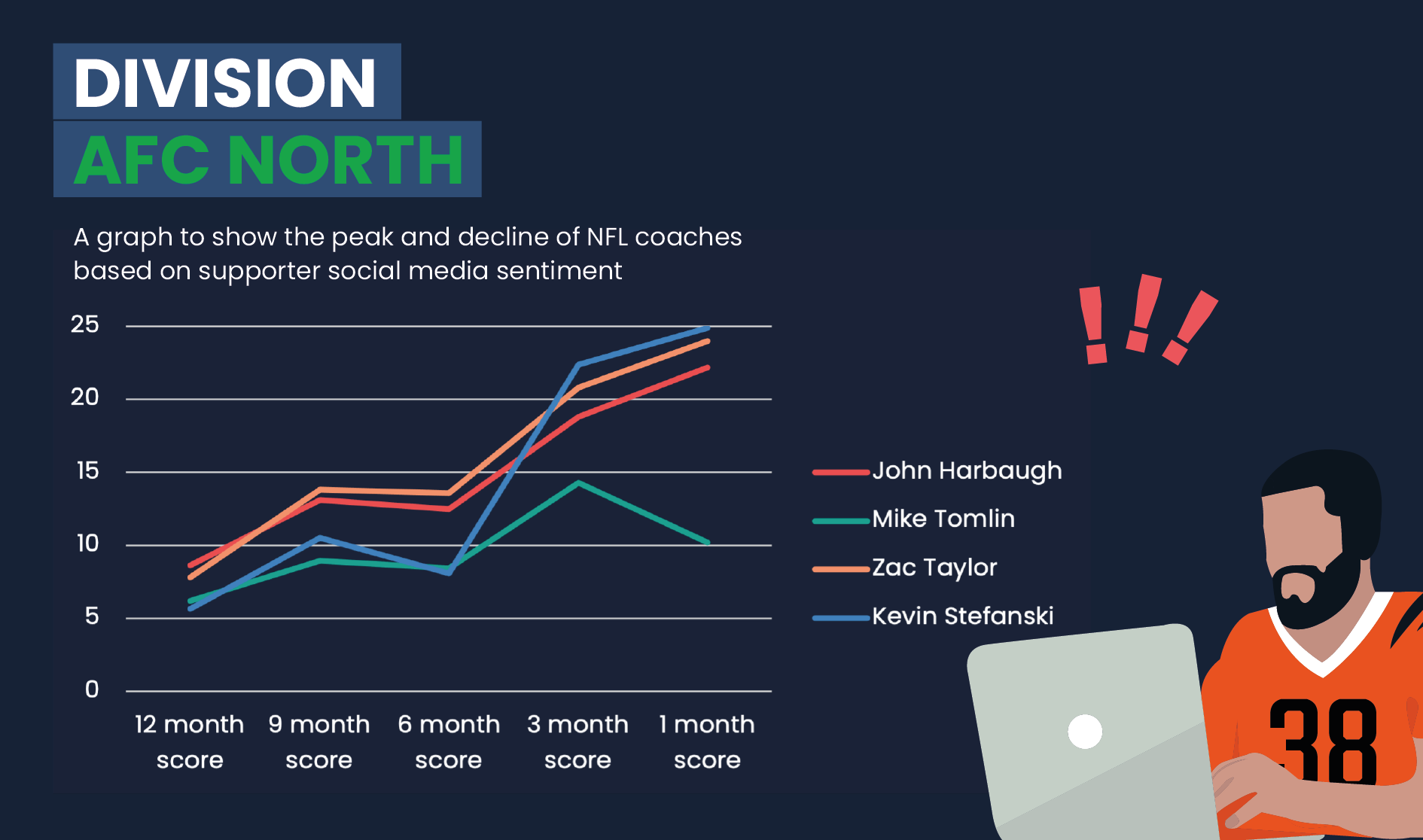 AFC South
Coaches in AFC South have generally been safe from excessive social media criticism. Mike Vrabel, Lovie Smith, and Doug Pederson consistently rank near the bottom of the negative sentiment table over the last 12 months. This is one of the only times it's good to rank near the bottom! The rate of social media backlash has been slowly rising over the course of the 2022-23 season, though, with 1-in-10 posts considered negative.
Of course, there's one name missing from the list: Frank Reich. The Colts fired Reich mid-season after his team drastically underperformed. Interestingly, though, Reich doesn't even place among the ten-most negatively-talked-about head coaches of the last month (18.8%).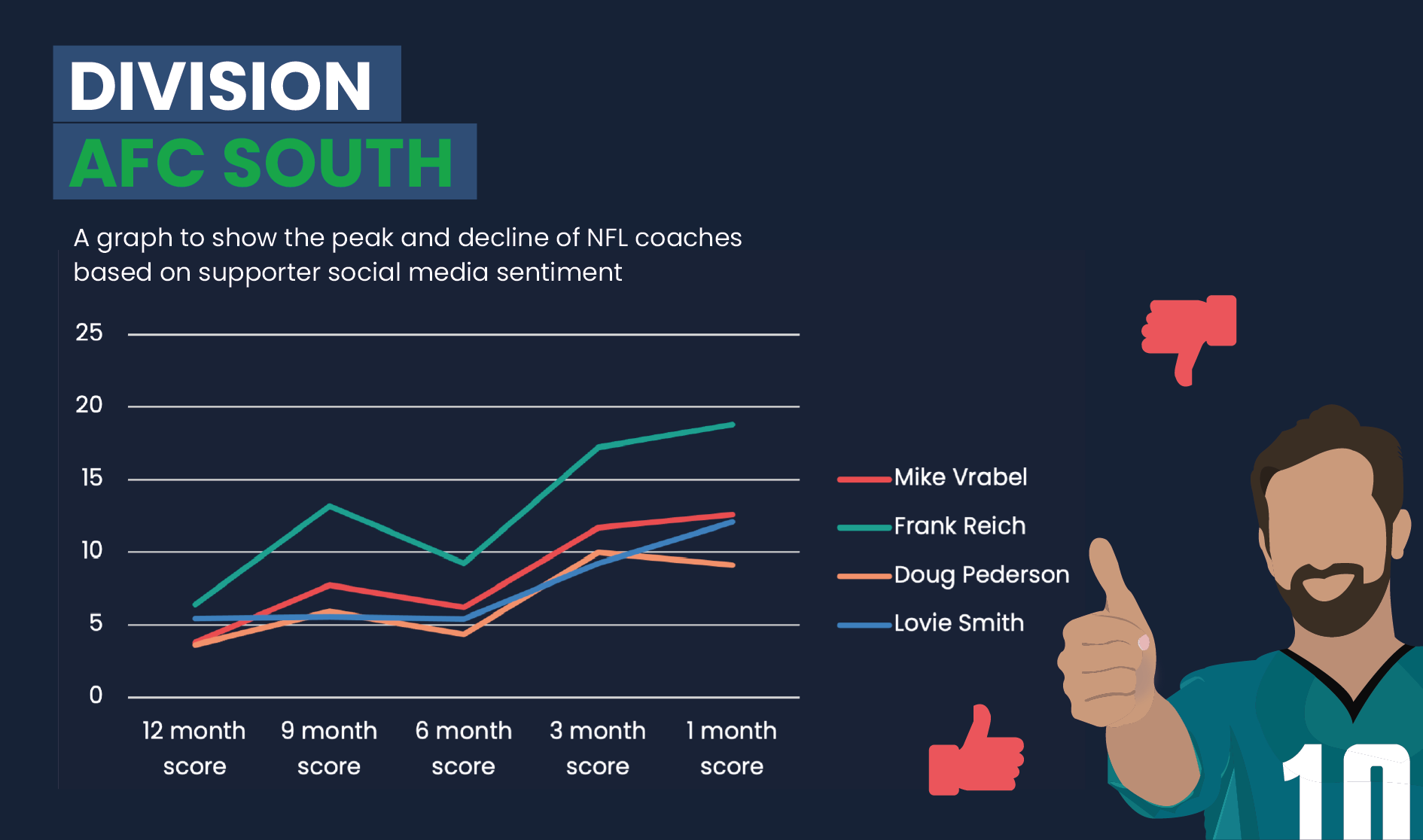 AFC West
The Los Angeles Chargers' Brandon Staley is on seriously thin ice among fans, and he has been for quite some time. Staley has received more social media negativity than any other coach since the start of the season. He has also ranked among the top five since November 2021. Currently, 25% of all social media posts about Staley are fueled by criticism.
The next highest placing AFC West head coach is the Denver Broncos' Nathaniel Hackett. Hackett consistently ranked among the five-most negatively perceived coaches until six months ago. He still has a negative sentiment score of 21.6% after a poor start to the season. So, he's still an NFL coach on the hot seat.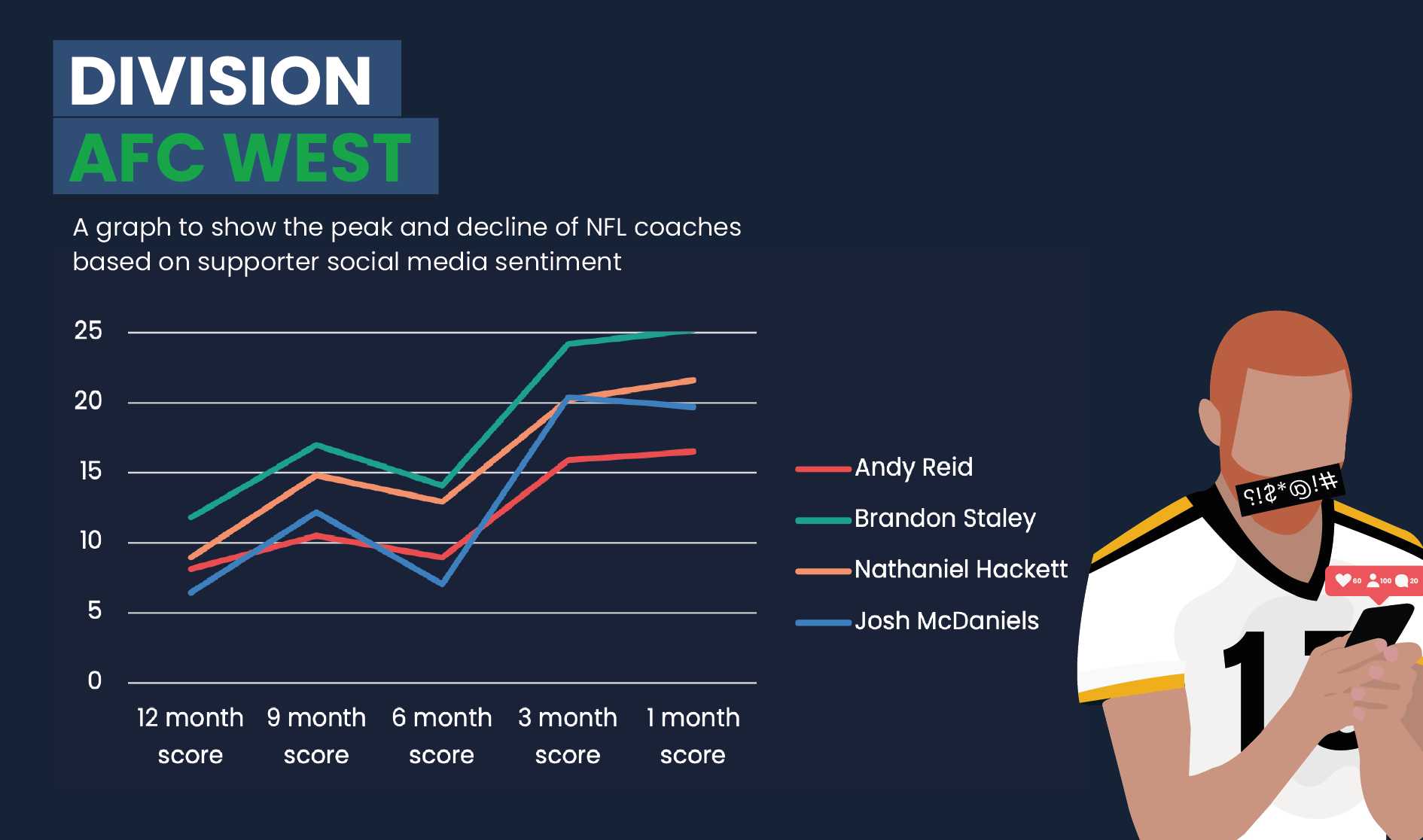 NFC East
Despite regularly ranking among the five most-negatively-talked-about head coaches, the Washington Commanders' recent uplift in form has seen Ron Rivera's rate of negative social media posts drop from 20.9% at the start of the season to 12.2% this month. 
Mike McCarthy and Nick Sirianni have also seen a drop in negativity, with Sirianni now harboring less criticism than any other NFL coach. New York Giants' Brian Daboll is the only NFC East coach who receives more criticism now (12.9%) than three months ago (10.9%).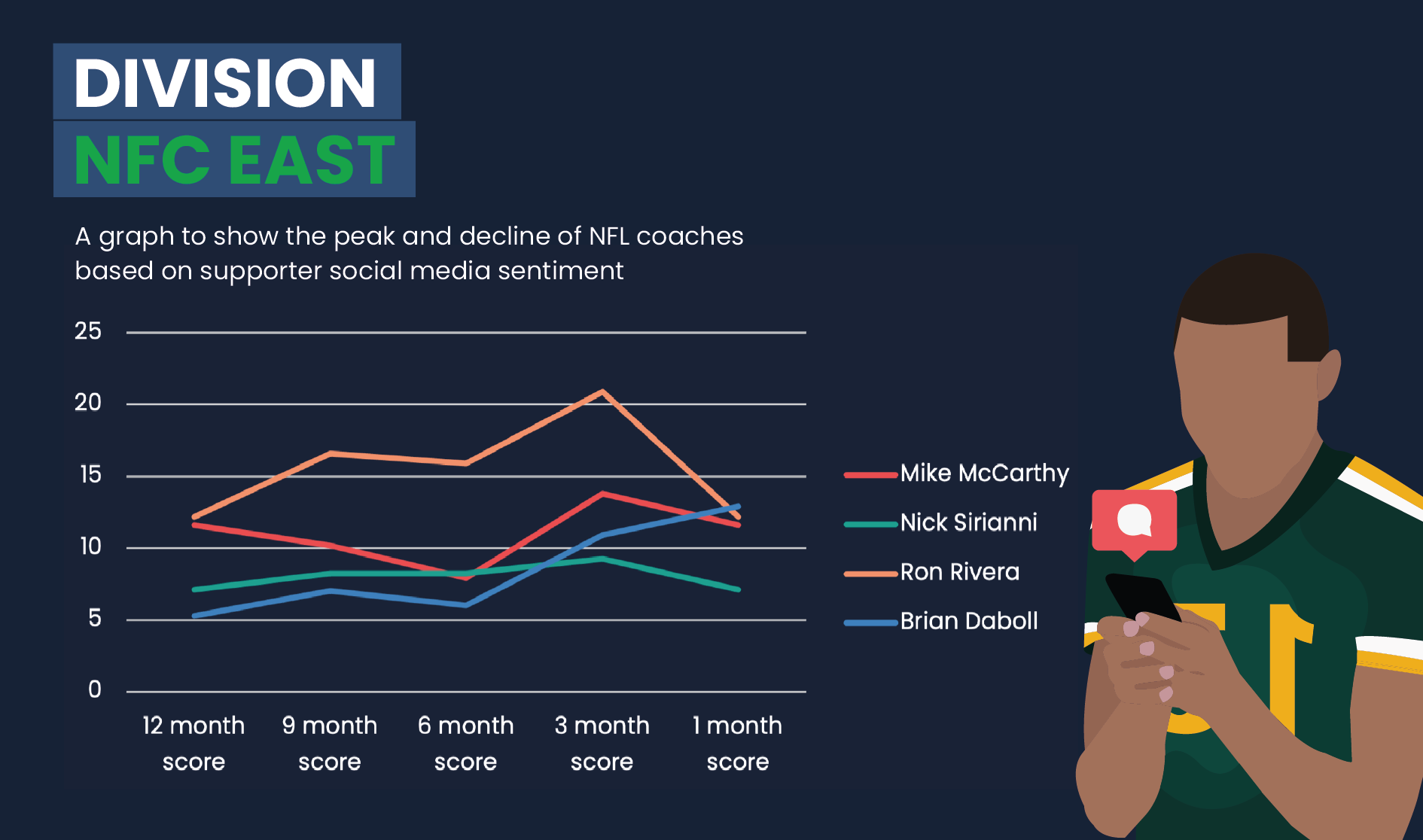 NFC North
NFC North head coaches generally escape overwhelming social media criticism. Just 1-in-10 posts this month about Matt LaFleur, Kevin O'Connell, and Matt Eberflus are considered negative.
The Detroit Lions' Dan Campbell is somewhat of an outlier, with a negative sentiment score of 17.6%. It is worth noting that Campbell and LaFleur have regularly traded places over the last 12 months as the coach facing the most fan criticism.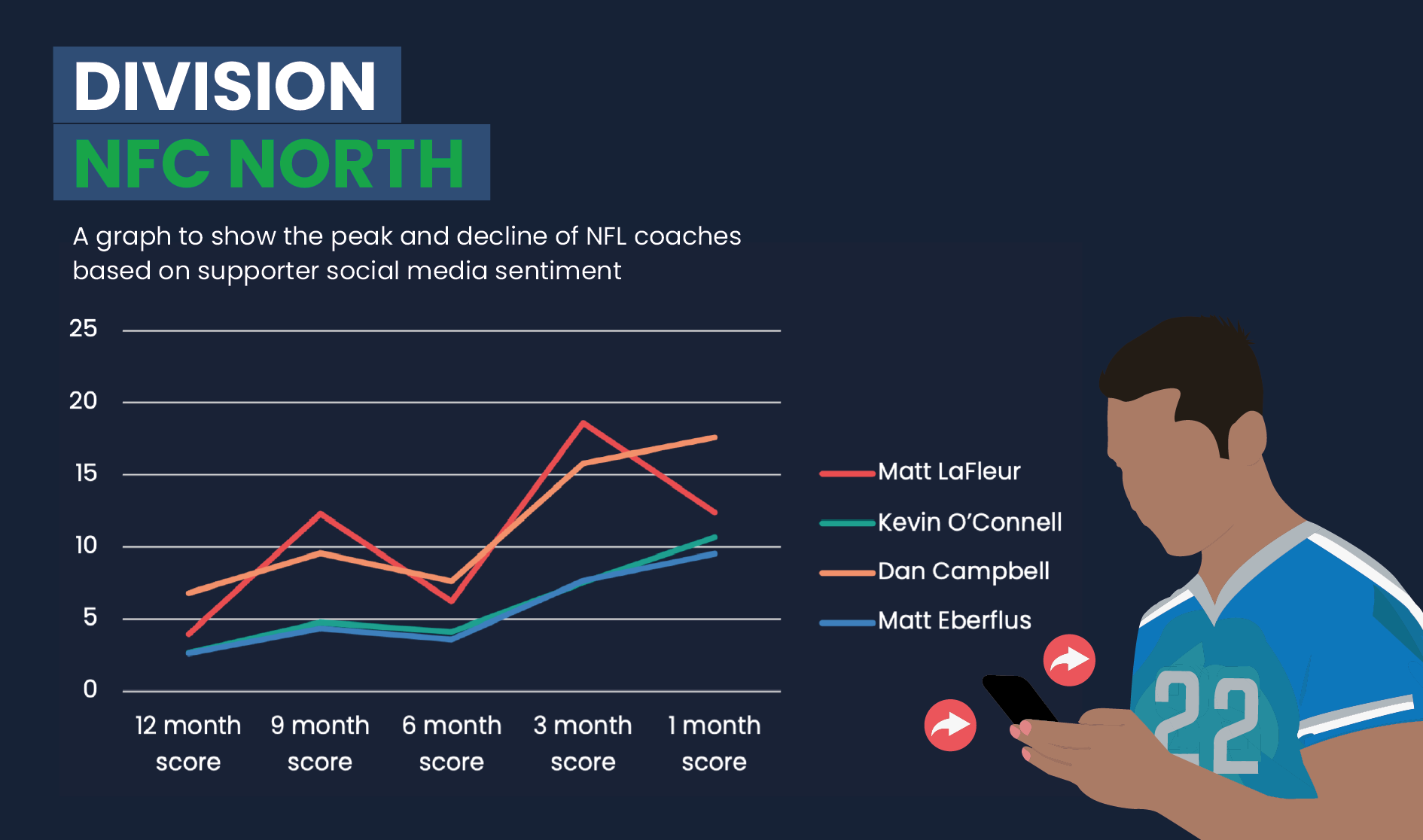 NFC South
Matt Rhule is the standout name from NFC South. His recent firing coincided with a negative social sentiment score of 23.8%, which was fueled by a steady run of poor form by his Panthers team. 
Rhule has ranked among the most negatively viewed coaches on social media for quite some time now. His rate of criticism had grown by 8.87% over the last nine months, so it was no surprise to fans when Carolina relieved him of his coaching duties.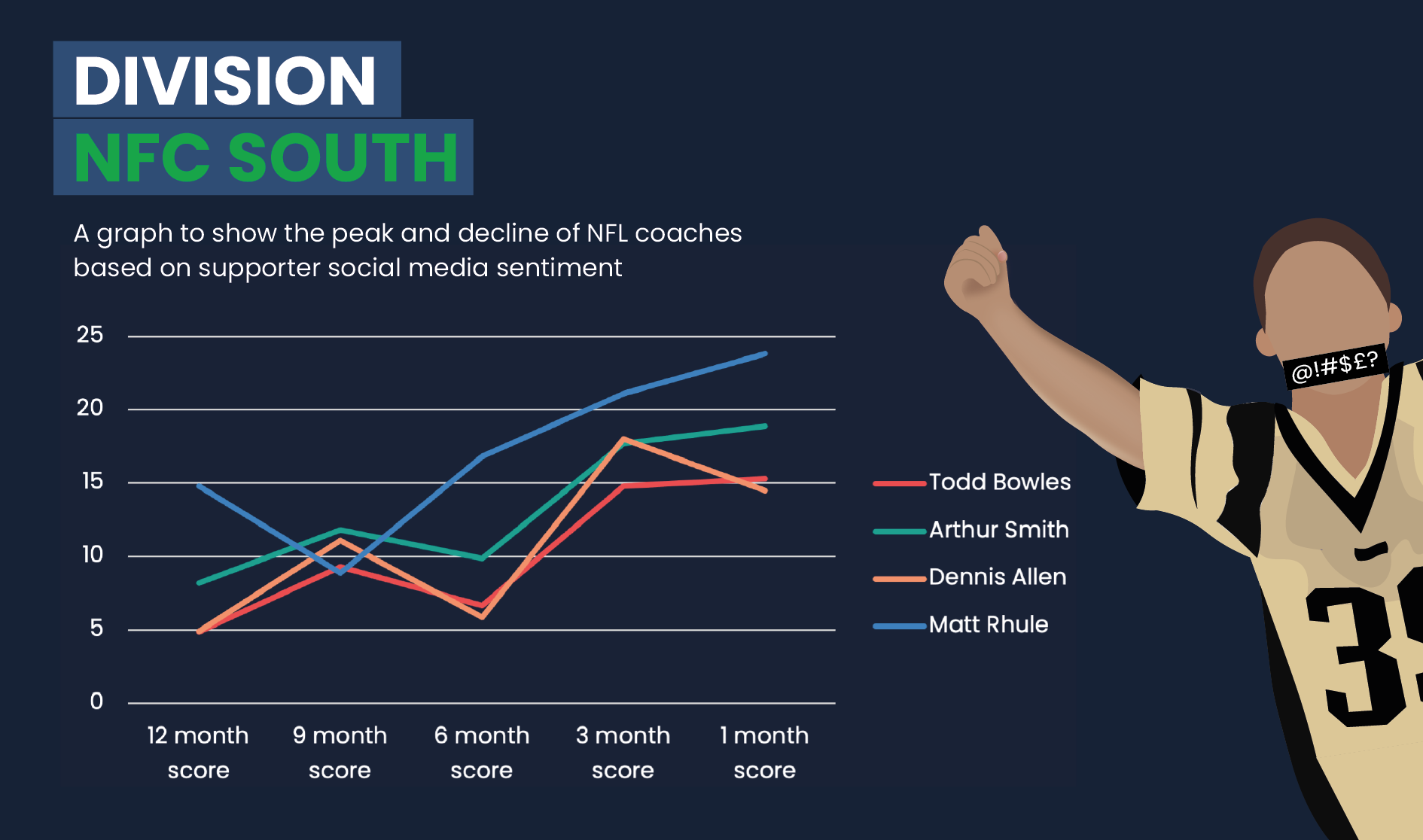 NFC West
The San Francisco 49ers' Kyle Shanahan (20.7%) and Seattle Seahawks' Pete Carroll (19.1%) each rank among the ten-most negatively perceived NFL head coaches. Both have seen a significant drop in public opinion since the start of the season. 
Meanwhile, Kliff Kingsbury (15%) and Sean McVay (12.1%) have each seen a small improvement when compared to three months ago – although both receive a higher rate of negative posts now vs every other period since last November.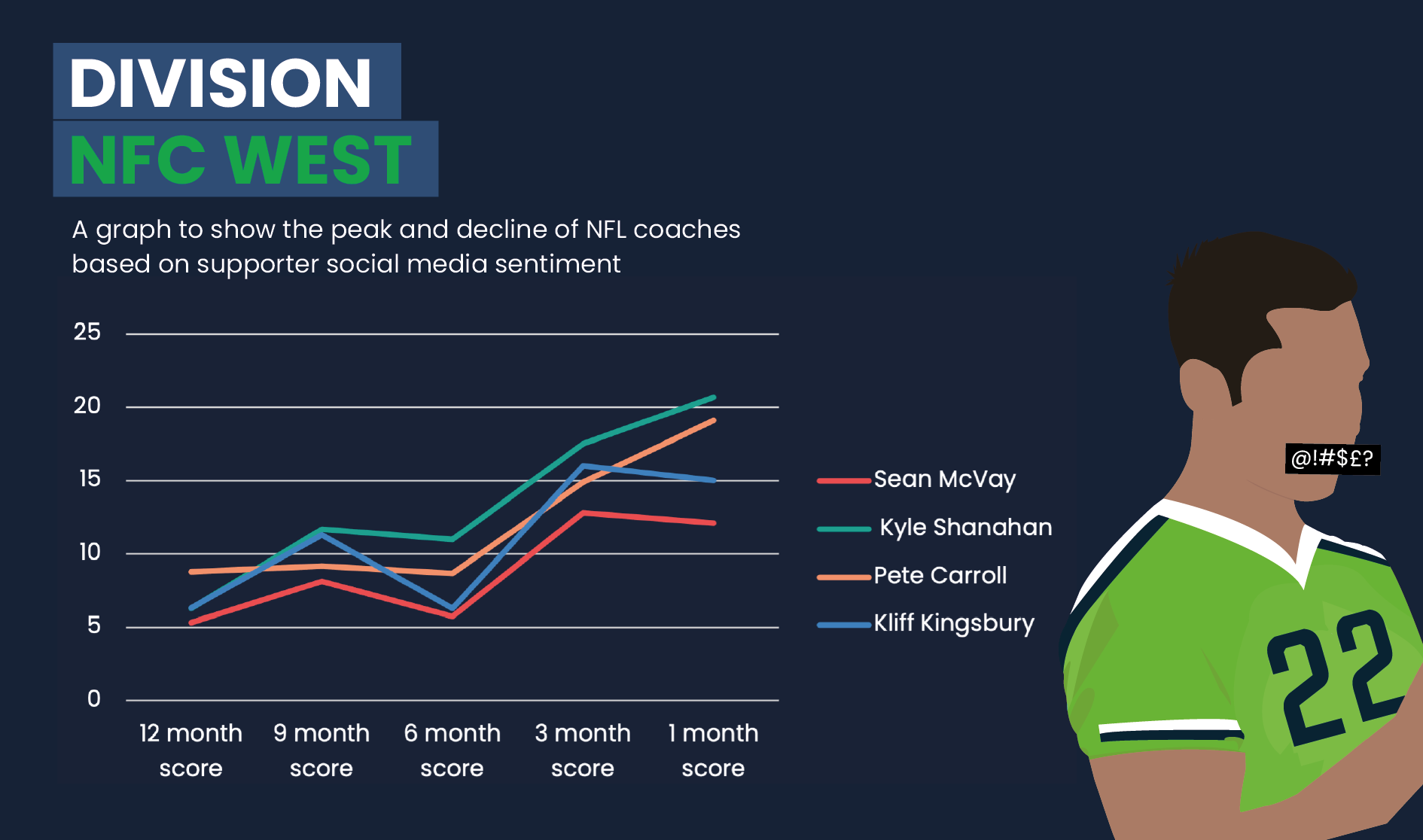 With the season at its midway point, it'll be interesting to see how fans feel about each NFL coach over the next few months as we get closer to the playoffs. For even more expert insight like this, check out all the latest NFL odds for your favorite team. Be sure to take advantage of great NFL average odds pricing from Caesars Sportsbook!
Methodology
To determine the NFL head coaches that are in the hot seat, we used social listening tool Linkfluence to measure positive and negative social media sentiment for each. We recorded the negative rate at regular intervals:
12 months ago

9 months ago

6 months ago

3 months ago

This month
Data was then analyzed to provide a visual analysis of fan opinion about each NFL head coach.
How would you rate this article?
This site contains commercial content. We may be compensated for the links provided on this page. The content on this page is for informational purposes only. Action Network makes no representation or warranty as to the accuracy of the information given or the outcome of any game or event.