Rams vs. Dolphins Odds & Picks: Fade Tua Tagovailoa In His First NFL Start
Credit:
Don Juan Moore/Getty Images. Pictured: Miami Dolphins quarterback Tua Tagovailoa.
Rams vs. Dolphins Odds
In an exciting twist, Tua Tagovailoa will make his first NFL start in Week 8 when the Dolphins host the Rams.
Coming into the season, this may not have seemed like a very controversial move, but Ryan Fitzpatrick guided the Dolphins to a 3-3 record and posted the sixth-best quarterback rating.
The high expectations that will come with Tagovailoa will be difficult to match against Los Angeles. The Rams currently rank second in the NFL in points per game allowed and third in yards per play allowed. One of the main causes of this success is defensive tackle Aaron Donald, who has eight sacks, the second-most in the NFL.
Great defense and an offense based around the running game has been the Rams' path to success all season. A Dolphins' team with a rookie quarterback making his first start and a defense that allows the third most yards per carry should be a matchup in the Rams' favor.
Let's dig into why the value is on L.A.
Los Angeles Rams
Donald and the Rams' defensive front will have their mouths watering against the Dolphins' offensive line. Miami ranks seventh-worst in yards before contact per rush attempt and second-worst in pocket time, which considers a team's time to throw or until pressure arrives at the quarterback per Pro-Football-Reference.com's advanced passing stats.
While Donald is the face of this defense, the Rams' secondary has also played at a high level. Led by former All-Pro Jalen Ramsey, the Rams have allowed the fewest yards per pass attempt and an opposing quarterback rating of 84.6.
Offensively, Los Angeles has built success around averaging 5.4 yards per carry on first down. Effective running on first down not only sets up second-and-manageable situations, but it also lays the groundwork for the Rams' passing attack. Facing a Dolphins' defense that allows 5.6 yards per carry on first down, the Rams should be set up to play their style of football comfortably.
Building off their running game, the Rams utilize play-action passing extremely well. Per Pro-Football-Reference.com, quarterback Jared Goff averages the most pass attempts on play action per game at 13.7. These plays have been a major reason why the Rams rank seventh in pass yards per attempt on play action at 8.6 compared to 7.6 on non-play action passes.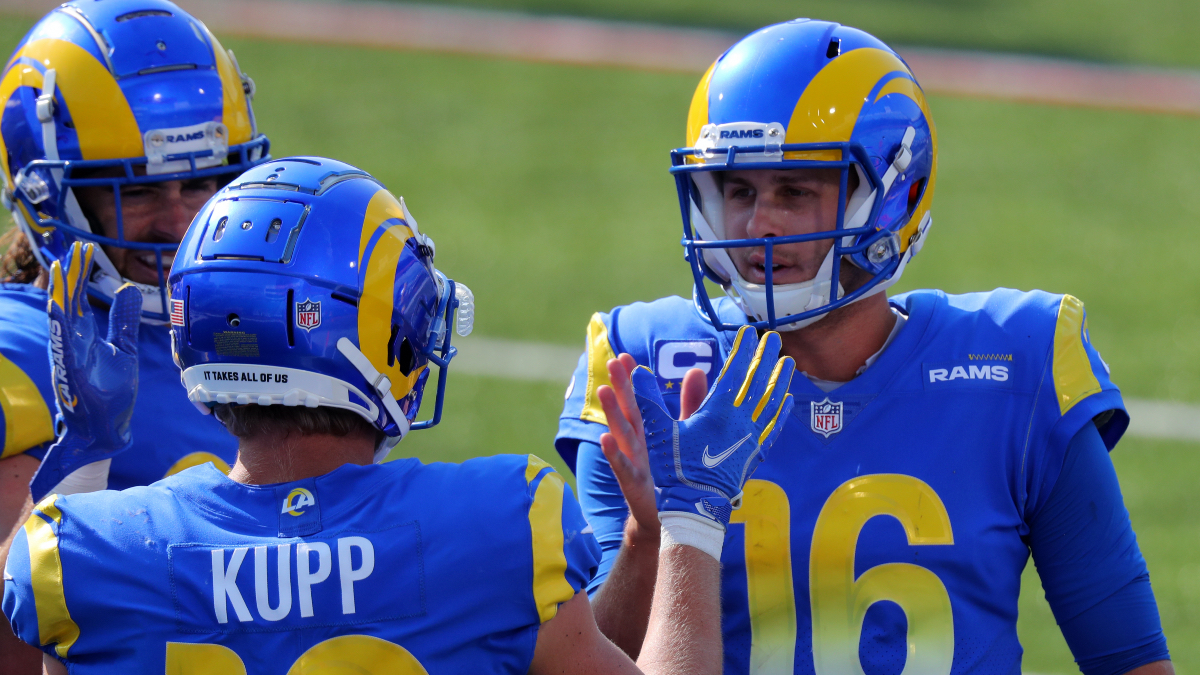 Miami Dolphins
After seeing the success of Joe Burrow and Justin Herbert as rookies, it seemed to be a matter of time before the Dolphins turned to Tagovailoa to see if they finally have their franchise quarterback.
Dolphins fans may be covering their eyes on Sunday given Tagovailoa's injury history, as the Dolphins' offensive line has a Pro Football Focus grade under 65. Fitzpatrick was able to compensate for this by getting the ball out of his hand quickly with the third-lowest time to throw, according to NFL's Next Gen stats. Tagovailoa will need to replicate that speed to neutralize Donald and the Rams' pass rush.
Unfortunately for Tagovailoa, relying on the run game to alleviate some pressure might not be an option. The Dolphins have the 28th-ranked rushing attack in yards per carry.
Defensively, the Dolphins' coverage unit has played well this season, allowing a passer rating of 86.3, which ranks ninth in the NFL. Cornerbacks Byron Jones and Xavien Howard have thrived this season, allowing passer ratings of 60.4 and 46.9, respectively. Jones and Howard will be in charge of limiting Cooper Kupp and Robert Woods, who account for 45% of the Rams' targets.
The Dolphins' defensive front has performed at a respectable level when rushing the passer, ranking 14th in pressure rate per Pro-Football-Reference.com's advanced defense stats. However, they have struggled to stop the run, allowing 5.0 yards per carry with 23 tackles for loss, which is tied for sixth-worst in the league. They will have their hands full this week on both fronts, as the Rams have allowed the fourth-lowest pressure rate on passes and run the ball the second most.
Rams-Dolphins Pick
While Tagovailoa getting his first start is a great story, his day may get very difficult with Donald matching up against the Dolphins' struggling offensive line. The matchup will be no easier for Miami on the defensive side of the ball, as their 30th-ranked rushing defense looks to stop the second-most run happy offense.
PICK: Rams -3.5
How would you rate this article?