NFL Odds & Picks: Chiefs, Seahawks & More Spreads To Bet For Week 15
Credit:
Getty Images. Pictured: Chiefs QB Patrick Mahomes
Our NFL betting analyst Raheem Palmer breaks down his favorite Week 15 spreads, featuring picks on Seahawks-Washington and Chiefs-Saints.

NFL Odds & Picks
Bills at Broncos
| | |
| --- | --- |
| Pick | Broncos +6 |
| Bet Now | |
| Kickoff | 4:30 p.m. ET on Sat. |
| TV | NFL Network |
Similar to the stock market, buying low and selling high is the key to success in sports betting.
You never want to buy a team at the peak of their value.
Well, after two primetime victories over the 49ers as 2.5-point road favorites and the Steelers as 2.5-point home favorites, the Bills now have the third-highest odds to win the AFC. We've seen their power rating jump substantially, and it's difficult to say it's not warranted — Josh Allen has played lights out, completing 56-of-83 passes for 613 yards with six touchdowns to just one interception with a 108.2 rating over the past two weeks.
Nonetheless, the Bills head to Denver, where they opened as 4.5-point road favorites before the market pushed this line to -6. I personally find this to be an overreaction as my projections make the Bills 4.5-point favorites.
Ironically, with the leap Allen has made this season, the Bills are the total opposite of what we thought they would be coming into this season: A dominant offense carrying a struggling defense. Although their defense is trending upward over the past three games after a dreadful start to the season, this unit ranks 29th in defensive success rate and 21st in defensive expected points added play. This is not a unit I'd feel comfortable laying seven points on the road with — especially at Mile High, where altitude creates home-field advantage even in the era in which we're seeing its impact diminished.
The Bills' inability to stop the run should be obvious in this matchup — they're dead last in rushing success rate, allowing 57% of rushing plays to grade out as successful at 4.6 yards per carry — fifth-worst among NFL teams. The Bills are also 29th in defensive explosive rush rate, allowing 14% of runs to go for 20 or more yards.
Phillip Lindsay and Melvin Gordon should have big games, which should take the pressure off Drew Lock, who has played solid football over the last three weeks and comes off a game against the Panthers in which he completed 21-of-27 passes for 280 yards with four touchdowns and zero interceptions. Given the struggles of Nick Mullens and Ben Roethlisberger recently, you could argue that Lock and this Broncos offense is actually a step up in class from what the Bills have faced over the past two weeks.
Lock has performed well throughout his career at home and he's 5-2 (71.4%) against the spread (ATS) throughout his career. He's 3-1 ATS at home with his only spread loss coming in a blowout against Patrick Mahomes and the Chiefs.

Vic Fangio is still one of the better defensive-minded head coaches in this league. Despite injuries that have decimated the unit, the Broncos have found a way to succeed — they rank eighth in total success rate, 12th in expected points added per play, seventh in sacks (36) and sixth in pressure rate (25.6%) while holding opposing passers to just 220.7 yards per game.
The Bills are red hot, winning six of their last seven games and covering five out of their last six, losing only to the Cardinals on a Hail Mary. It's tough to step in front of a train with this kind of momentum, but the Broncos have quietly played solid football, covering three out of their last four games with their only misstep coming in a 31-3 loss to the Saints in a game in which they literally didn't have any quarterbacks due to COVID-19.
All things considered, I like the Broncos to do just enough to keep this inside of the number. I would bet this down to +6, although it's not ideal losing the key of +7.
---
» Return to the table of contents «
---
Panthers at Packers
| | |
| --- | --- |
| Pick | Panthers +9 |
| Bet Now | |
| Kickoff | 8:15 p.m. ET on Sat. |
| TV | NFL Network |
Teddy Bridgewater has been historically great ATS throughout his six-year career. He's 33-13 (71.1%) ATS overall but 23-6 (79.3%) against the number as an underdog — a role he finds himself in this Saturday in Green Bay.


Digging deeper into the numbers, Bridgewater and the Panthers are 0-3 as a favorite this season, but 6-3 as underdogs. Two of those losses came at the hands of the Buccaneers, who have clearly had the Panthers' number. Otherwise they've covered as a 10-point road underdogs against the Chiefs, 7-point road underdogs against the Saints with Drew Brees at the helm, and as 6-point road underdogs against the Chargers.
Nevertheless, this role is perfect for the Panthers, who are expected to welcome the return of wide receiver D.J. Moore against a Packers team that ranks 20th in Football Outsiders' defensive DVOA.
The Packers are scoring a league-best 31.5 points per game and ranks first in offensive DVOA and red-zone touchdown percentage, scoring on 77.1% of trips inside the 20-yard line. The Packers are also second in expected points added per play and first in total success rate (54%), led by Aaron Rodgers, who is in the midst of an MVP-caliber season.
Still, this Packers team has had trouble putting away opponents.
The Packers barely escaped with a victory against the 1-12 Jaguars as 13.5-point home favorites in Week 10, were an Aaron Jones 77-yard breakaway in the final minutes from not covering against the struggling Eagles in Week 13, then failed to cover as 7.5-point favorites against the Lions in Week 14.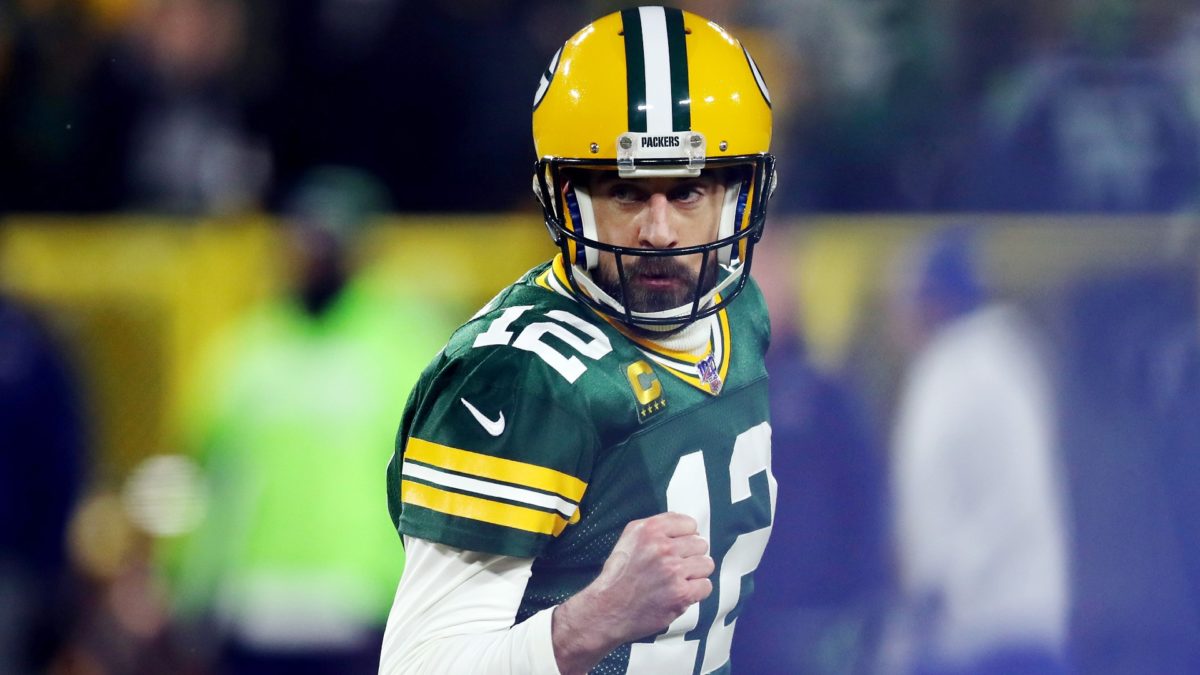 Despite a prolific offense, the Packers defense is giving up 24.8 points per game. They've particularly struggled to stop the run, ranking 23rd in defensive rushing success rate — allowing 52% of runs to grade out successfully — while giving up 4.6 yards per carry, sixth-worst in the NFL. While Mike Davis picks up yards on the ground, Bridgewater should have no problems throwing against this Packers defense that ranks 22nd in pressure rate (21.1%).
Overall, the Packers are the better team and looked poised to make a Super Bowl run as the first seed in the NFC. They should still win this game, however, my projections make them closer to 6.5-point favorites and I see this matchup finishing closer than the market indicates. It feels like we're getting a few extra points of value based on the Panthers' 32-27 home loss to the Broncos in Week 14.
At +8.5 (or better), I see this a positive expected value proposition on the Panthers.

---
» Return to the table of contents «
---
Seahawks at Washington
| | |
| --- | --- |
| Pick | Seahawks -5.5 |
| Bet Now | |
| Kickoff | 1 p.m. ET on Sun. |
| TV | FOX |
In their Week 14 win over the 49ers, the Washington Football Team was out-gained in yardage (344 to 193), yards per play (4.5 tp 3.1), passing yards (236 to 95), rushing yards (108 to 98), first downs (21 to 12), total plays (76 to 62) and time of possession. So how did they win?
They were the beneficiary of three 49ers turnovers, including a fumble return for a score and a pick-six. Washington's defensive line — led by Chase Young and Montez Sweat — was downright dominant, sacking Nick Mullens four times/ Washington's offense really didn't even have to show up.
Alex Smith was just 8-of-19 for 57 yards — that's three yards per attempt — and an interception with a 8.0 mark in ESPN's Total QBR before exiting the game at the end of the first half. Dwayne Haskins wasn't much better in Smith's place, completing 7-of-12 passes for 51 yards, 4.3 yards per attempt and a 30.9 mark in QBR.
It doesn't take a rocket scientist to recognize that this is not a sustainable way to win games in today's NFL.
Washington is on a four-win streak, but they were fortunate to win all of them. In their 20-9 victory over the Bengals, Joe Burrow moved the ball up and down the field, throwing for 203 yards and a touchdown to hold a 9-7 lead in the first half before tearing his ACL after halftime as the Bengals were unable to get anything going after his injury.
In Washington's Thanksgiving Day win over the Cowboys, the Football Team was the beneficiary of bad coaching decisions from Dallas head coach Mike McCarthy that gave Washington short fields after going for it and failing to convert in their own territory multiple times.
Or how about the previously 11-0 Steelers blowing a 14-0 lead, then not trusting backup kicker Matthew Wright to kick a potential game-winning field 45-yard goal on fourth down with four minutes to go in the fourth quarter of a 17-17 game?
Although Washington is fourth in Football Outsiders' defensive DVOA, they're just 29th in offensive efficiency, 32nd in passing efficiency and 13th in rushing efficiency. They're also 27th in total success rate (42.4%) and 24th in red-zone touchdown percentage, converting just 56.1% of drives inside the opponents' 20.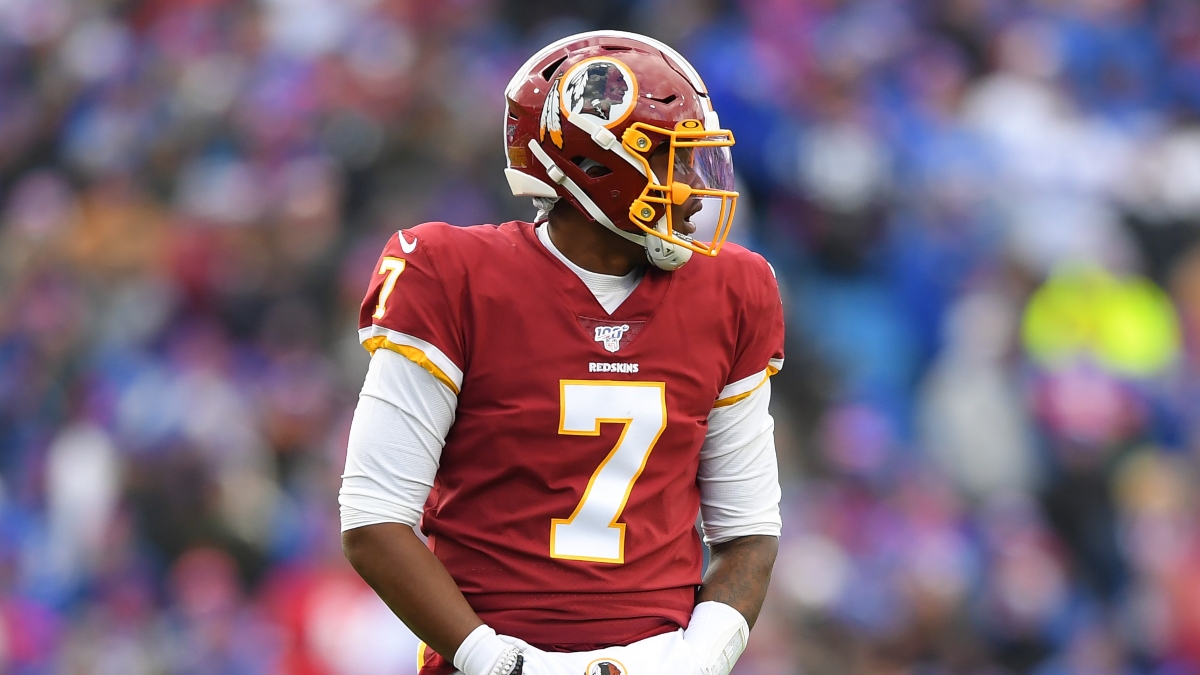 Now they could potentially find themselves starting a worse quarterback in Haskins, who has an QBR of 28.7 and passed for 198 yards per game with four touchdowns and three interceptions in five games this season. This isn't particularly encouraging for a team trying to pace with Russell Wilson and a Seahawks offense scoring 30.2 points per game and ranks fourth in offensive efficiency and total success rate.
Flying east has worked out well for the Seahawks during Wilson's tenure. With Wilson at the helm, the Seahawks have won 11 out of their last 12 games when flying to the Eastern time zone and are 22-7 straight-up and 18-9-2 ATS (66.7%) all time according to our Bet Labs database.

I'm projecting the Seahawks as close to 6-point favorites, and while this isn't a huge edge from a numbers perspective, Washington just won't be able to match score to score with Seattle's offense.
Washington's defensive line is a mismatch for this Seattle offensive line that ranks 30th in adjusted line yards (per Football Outsiders). Still, Wilson has proven he can overcome a bad offensive line throughout his career. At some point, Washington won't continue to win football games in which the Football Team struggles to move the ball.
I'll lay the 5.5 points, though I would bet this up to -6. I'll also add the Seahawks to 6-point teasers along with the Colts.
6-Point Teaser: Seahawks PK & Colts -1
The Colts and Texans are headed in completely different directions.
The Texans initially found a spark after firing Bill O'Brien, with defensive coordinator Romeo Crennel stepping in as interim head coach. With Deshaun Watson throwing for 3,761 yards with 25 touchdowns to just six interceptions with a 68.9% competition percentage and a 70.8 QBR, the Texans had a chance to win almost any game.
Then the wheels fell completely off with the losses of wide receivers Will Fuller (suspension), Randall Cobb (toe), cornerback Bradley Roby (suspension), team captain and safety Michael Thomas (torn pectoral) among others. Now they lose safety Justin Reid with a hand injury and defensive tackle Brandon Dunn with a pelvic fracture.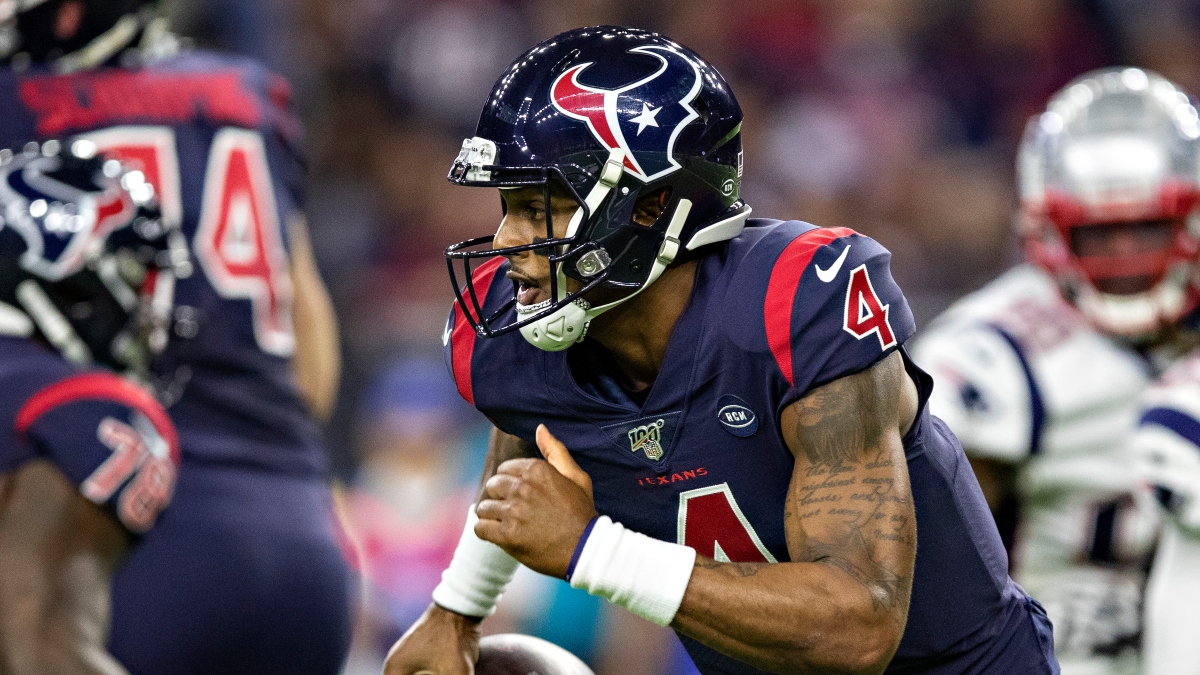 The Texans are already one of the worst defenses in the NFL, allowing 27.6 points and 406.6 total yards per game, the second-most this season. They're 30th in defensive efficiency, 26th against the pass and 29th against the run. Their defense also ranks 31st in run defense, giving up 5.0 yards per carry and 152.7 yards per game with a 54% success rate.
Colts running back Jonathan Taylor should be able to repeat his Week 13 performance in which he had 13 carries for 91 yards and three catches for 44 yards while Philip Rivers should be able to continue his solid and steady play. Watson could do enough to keep this close, but look for the Colts to get their third straight win as they hope to keep pace in the race for the AFC South.
---
» Return to the table of contents «
---
Chiefs at Saints
| | |
| --- | --- |
| Pick | Chiefs -3 |
| Bet Now | |
| Kickoff | 4:25 p.m. ET on Sun. |
| TV | CBS |
Bookmakers seem to be taking a position on the Saints. In some ways, it's understandable — their path to victory involves running the ball and keeping it away from Patrick Mahomes, which matches their strengths and the Chiefs' weaknesses in this matchup. New Orleans is second in rushing efficiency and fourth in rushing success rate against a Kansas City team that ranks 30th in defensive run efficiency and 29th in rushing success rate.
The Saints really haven't skipped a beat in the absence of Drew Brees, with Taysom Hill leading them to 4-1 record in Brees' absence.
The Saints defense has also played lights out, holding opponents to just 20.4 points per game while ranking second in defensive efficiency, fourth against the pass and first against the run. Opposing offenses are averaging just 3.7 yards per carry and 5.0 yards per play with just a 41.9% success rate, fourth-best among NFL teams.
On the surface, you could talk yourself into believing that this is a trap game for Kansas City. However, I'm not buying it.
The Saints have played the 49ers, Falcons (twice), Broncos and Eagles over the past five weeks, who rank 14th, 19th, 28th and 25th in DVOA. Those teams also have a combined record of 18-33 with a point differential of -158. The Saints were also gifted a win by playing a Broncos team that literally didn't have a quarterback, but instead practice squad wide receiver Kendall Hinton running the offense.
Although the Saints defense has played lights out, they've played just the 16th ranked schedule of opposing offenses this week.
They now step up in class to face Mahomes and the reigning Super Bowl champions, who are second in offensive DVOA while scoring 31.0 points per game with a league-leading 429.2 yards of offense per game. The Chiefs are also first in explosive play rate with 12% of their plays going for 20 or more yards.
Although the Saints are at home, they won't have their usual crowd to back them up. In some ways, they'll be at a disadvantage as they have to face Mahomes and this Chiefs offense on a fast track in a dome coming off one of their worst games in the season against the Dolphins. The Chiefs had four turnovers, including a Mecole Hardman red zone fumble as well as three Mahomes interceptions, more than he threw all season to that point.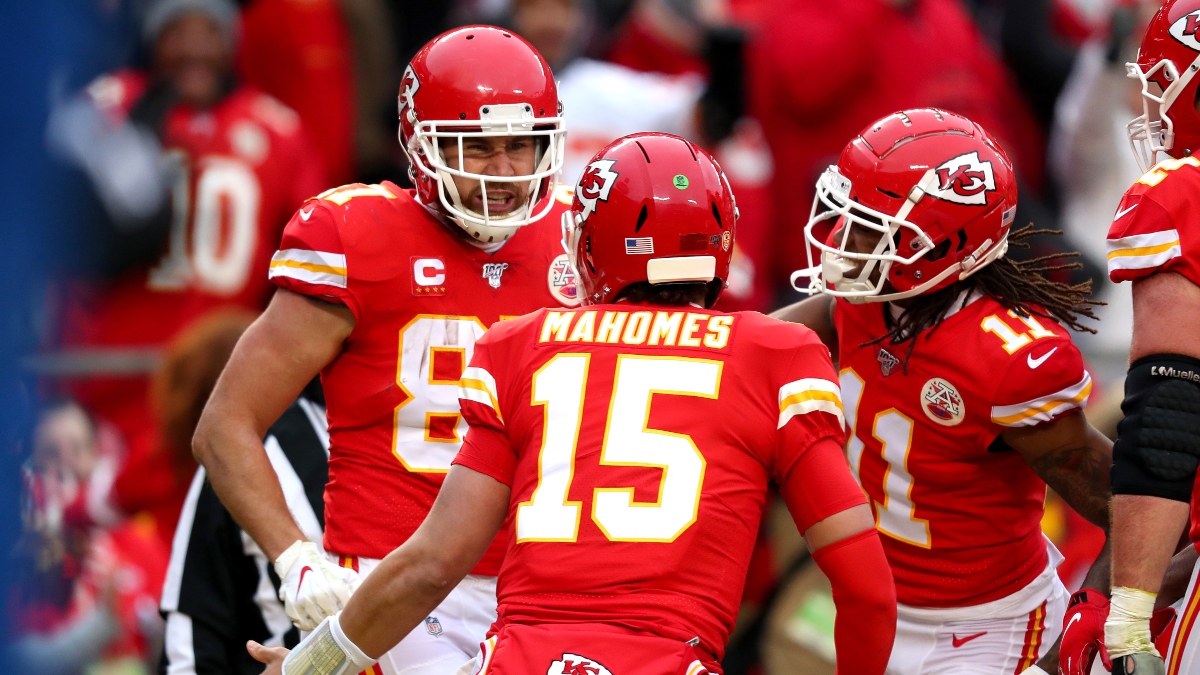 Interesting enough, this Chiefs offense defies conventional wisdom in that they still exploded and managed to take a 30-10 lead midway through the third quarter despite all their missteps. You have to expect a bounce back performance from this offense considering their uneven play last week.
We've seen this Saints defense give up 34, 37, 39, 27, 24 and 23 points against the Raiders, Packers, Lions, Chargers, Panthers and Bears before putting together a six-game streak against the Buccaneers, 49ers, Falcons (twice), Broncos, and Eagles in which they gave up just 11.3 points per game. This Saints defense may not be as bad as they were at the start of the season, but they're definitely not as good as they were during the last six weeks.
It's not a surprise that during Hill's time at quarterback, the Saints found themselves in a negative game script chasing points only once — last week against the Eagles. Hill wasn't able to throw the Saints back into that game, and as a betting man, I'll wager he won't be able to do it against the Chiefs either.
The Chiefs have won eight straight and haven't covered any of the last five, but I think that changes here. I'll lay -3 with the Chiefs as they look to cover the spread for the first time since the start of November.
I would only bet this to -3, so grab it while you can.

---
» Return to the table of contents «
---
How would you rate this article?