Steelers vs. Titans Odds & Picks: Betting On the Underdog In Battle of Unbeatens
Credit:
Al Bello/Getty Images
Win $500 in our Week 7 NFL betting contest, available only in The Action Network app.
Steelers vs. Titans Odds
Odds as of Sunday at 10:25 a.m. and via DraftKings. Get up to a $1,000 sign-up bonus at DraftKings today or see more offers and reviews for the best online sportsbooks.
---
We're in for a treat on Sunday when two of the three remaining unbeaten teams — the Tennessee Titans and  Pittsburgh Steelers — meet in Nashville.
While both 5-0 teams have played relatively easy schedules, they've gone about their business quite differently: Pittsburgh has rolled through its competition, going 4-1 against the spread. On the other side, Tennessee has fought tooth and nail for its 5-0 start.
This game will determine the No. 1 seed in the AFC as we hit the one-third mark of the 2020 season. That said, the stakes sure are high in a game in which the Titans are 1.5-point favorites.
So, who walks away in first place in the conference? Let's take a look.
Pittsburgh Steelers
The catalyst of the Steelers' great start to 2020 is their outstanding defense. The unit is at the top of the NFL in nearly every category, but the one that stands out is the fact they're third in yards per play allowed with 4.9.
The Steelers are relentless play after play, doing a fantastic job of getting into the backfield. With the league's highest blitz percentage (better than 47% per Pro Football Reference), Pittsburgh has the best mark in Football Outsiders' adjusted sack rate at an 11% clip.
Unsurprisingly, the team is also leading in quarterback hurry percentage at 17.7%.
What's clear is that the Steelers are an aggressive and successful defense. The efficient and physical unit has produced to a strong turnover rate, which does indicate a bit of luck, but also shows that pressure does work when the numbers are this staggering. Pittsburgh has eight interceptions as well as a fumble recovery this season.
Pittsburgh did lose second-year linebacker Devin Bush, who was a key cog to the defense, but the unit should not falter too much with its depth across the board, including Vince Williams, who already has 10 tackles for loss.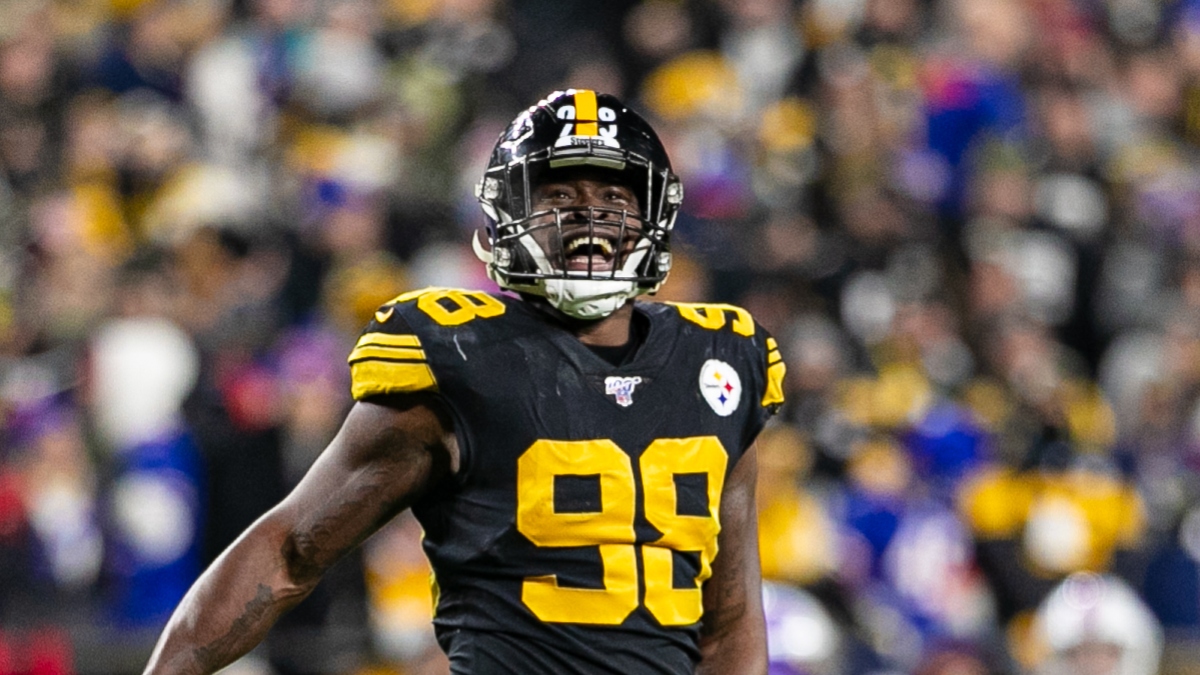 This turnover-generating defense is even more effective when you look at the other side of the ball. Ben Roethlisberger has the Steelers offense protecting the rock and moving methodically down the field.
This is not the high-flying Steelers offense of old — the play calling has been conservative. The team is averaging a pedestrian 5.3 yards per play, plus it's below the league average when it comes to explosive rushes and passes. However, the Steelers are still scoring more than 30 points per game.
Pittsburgh finds success by not turning the ball over — 5% of drives have ended in turnovers this season — and by converting third downs, which it's doing at a 53% clip.
Roethlisberger is coming off elbow surgery that essentially erased his 2019 season, so he may still be working his arm back into shape, and this Titans defense can be had through the air: Their defense is allowing a 55% success rate on passing plays this season, per Sharp Football Stats, which is the NFL's third-worst percentage. This could be where Roethlisberger finds his arm against a weak Titans secondary.
Tennessee Titans
The Titans have backed up their AFC Championship Game last season with an impressive 5-0 start. While the offense has impressed behind quarterback Ryan Tannehill, the defense remains exploitable and there may be some regression for this club.
For one, the Titans have trailed or been tied in the second half in all but one game this season. However, the offense has been strong enough that it's always had an answer. Mike Vrabel's team is scoring on 54% of its drives, which is an NFL best, and doing it without outlier explosiveness.
Tennessee is near league average in both explosive run and pass rate, according to Sharp Football Stats.
Tannehill and his teammates have found their way to success through incredible efficiency, averaging 6.2 yards per play and playing ahead of the sticks. Tennessee is third in passing success rate on first down and has done a fantastic job of protecting Tannehill, allowing the second-best adjusted sack rate of just 3% this season.
The offensive line is facing its strongest test, though, in a Pittsburgh defensive front that brings the blitz on nearly half of its defensive plays. On top of this big matchup in the trenches, the Titans are going to be without left tackle Taylor Lewan — their best offensive lineman — after he tore his ACL.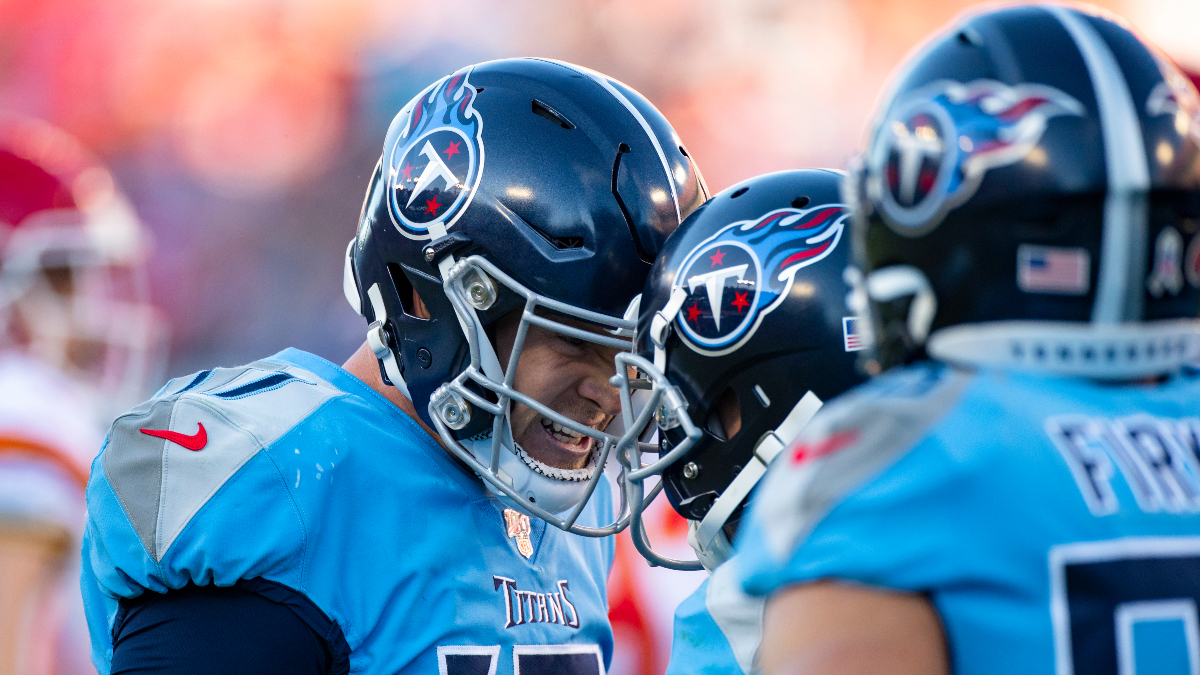 The Tennessee defense has been bailed out with its poor efficiency by collecting its fair share of turnovers. The Titans have six interceptions and three forced fumbles this season. However, the Titans may face that looming regression come Sunday: Tennessee is going against a Pittsburgh offense that protects the ball and has a strong line with a clean bill of health, with both guard David DeCastro and center Maurkice Pouncey active for the showdown.
Steelers-Titans pick
This was a rescheduled matchup from Week 4, when I looked to back Pittsburgh before the game was cancelled due to Tennessee's COVID-19 outbreak. Now, in Week 7, my thoughts have not changed.
I do not buy the perfect Titans, who need to come back down to Earth at some point, and I think the Steelers are in the right spot to pounce.
On top of that, this will be the Titans' third game in 12 days. That's tough on any team, but even tougher on one that was unable to use its practice facility for weeks before this stretch and finds itself down its most strongest offensive lineman against one of the best defenses in football.
The mid-week line move from Pittsburgh at -2 to +1.5 was interesting, considering there was nothing noteworthy for that change. Again, though, my thoughts remain unchanged.
I am backing the better team coming in with a ton of momentum, while the Titans had to stand on their heads to secure an overtime victory last week.
Take the free 1.5 points with Pittsburgh, who I like to be the outright winner.
PICK: Steelers +1.5 (up to -1)
[Bet now at DraftKings and get a $1,000 bonus, including a $500 risk-free bet]
How would you rate this article?