Stuckey: How I'm Betting Packers-Cowboys
Credit:
USA Today Sports. Pictured: Ezekiel Elliott
Stuckey highlights his four favorite NFL picks for Week 5 below.
Let's run through how he's betting the Packers-Cowboys and Patriots-Redskins over/unders as well as the Buccaneers-Saints spread and Titans-Bills moneyline.
---
Buccaneers +3.5 at Saints
Kickoff: 1 p.m. ET
I'm not sure anybody could've predicted the road warrior Bucs would be 2-2 with away wins over the Panthers and Rams and home losses to the Giants and 49ers, but here we are.
Yes, the Saints have won both of Teddy Bridgewater's starts, but they've done so with smoke and mirrors. Against Seattle, they were out-gained 515-265 (6.8-5.3 yards per play disadvantage) thanks to a special teams touchdown, key Seahawks fumble and some fourth-down luck. They really had no business winning that game.
They then followed up that game with a victory over the Cowboys despite not scoring a touchdown and once again losing the yards-per-play battle, 4.8 to 4.3. New Orleans benefited from two recovered fumbles in that game.
Let's just say they could have easily — and arguably should have — lost their last two games, and most would probably be singing a different tune about this game. They've been extremely fortunate so far with Bridgewater, who didn't throw for more than 200 yards in either game.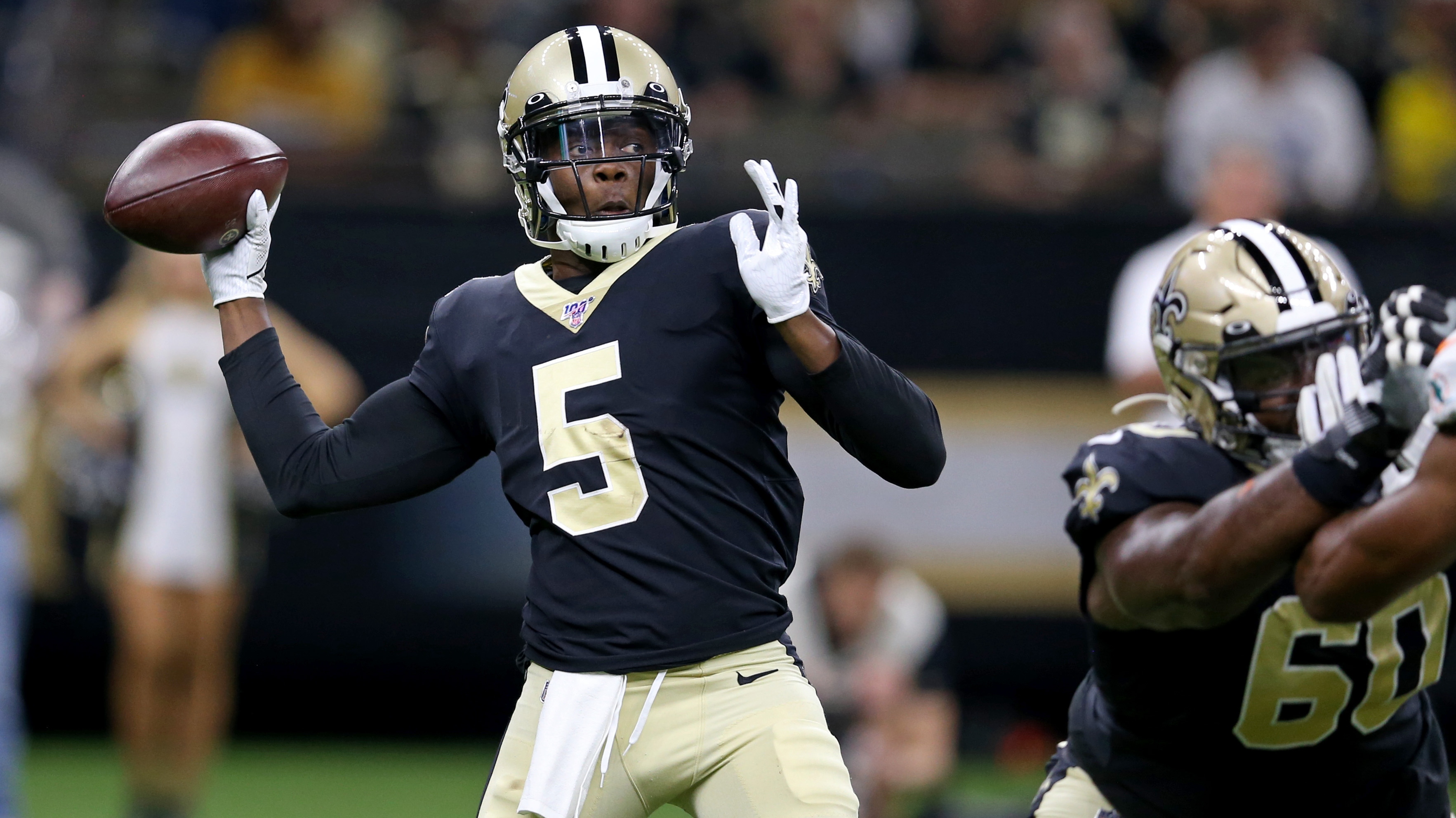 This Bucs defense is much improved under the guidance of Todd Bowles, who has implemented an aggressive 3-4 scheme. They will bring pressure from all over to not only get to opposing quarterbacks to create havoc but to mask some of the issues they have in their secondary — their clear weak link. Shaq Barrett has really benefited with Bowles, as the ex-Bronco leads the NFL with nine sacks. (The next closest is Myles Garrett with six.)
The Bucs' run defense is also leaps and bounds better. They actually lead the NFL in yards per rush at 2.9. Vita Vea, Ndamukong Suh and William Gholston are a load to deal with up front.
Tampa Bay: 2.9
Chicago: 3.0
Philadelphia: 3.2
San Francisco: 3.4
New England: 3.5
And if you want to dig deeper for confirmation, per Football Outsiders, Tampa Bay's defensive line ranks second overall in adjusted line yards and in the top five in almost every advanced metric that measures run defense.
The Tampa defense also should see the return of rookie linebacker Devin White, who will give them the speed that Bowles loves at the linebacker position.
Now, while the run defense and pressure are strengths, the pass defense is certainly not. However, I'm not as concerned about that against the very conservative offense we've seen in New Orleans since Bridgewater took over. The vertical passing game has been lacking, as Sean Payton is seemingly handling Teddy with kid gloves until Drew Brees gets back.
Bridgewater just doesn't seem sure of himself in the pocket and prefers to check it down to the safe option more times than not. That's not how you beat the Bucs, whose pressure should give Bridgewater problems.
The special teams battle does concern me, as the Saints have one of the best special teams units in the NFL, while Tampa's has been an absolute dumpster fire. Per Football Outsiders, the Saints have the No. 1 overall special teams this season compared to the Bucs' 29th-ranked unit. Getting Ryan Smith back will help Tampa's special teams, but this is still a major edge for the Saints.
Still, I think the Bucs actually find a way to win this game in New Orleans. This line has moved to 3, but I obviously feel more comfortable with the 3.5.
I think Jameis Winston will have some success through the air to Mike Evans and Chris Godwin against a very inconsistent Saints secondary. The Bucs offensive line has also been much better this year, which I think has a lot to do with coaching. Winston was hit only four times in 43 dropbacks against the Rams last week. In this particular matchup without Brees, the Bucs have the much more explosive offense.
You should be able to get or find a +3.5 at some point in the week, which is obviously important (more than 20% of NFL games have finished with a margin of three or fewer points since 2003).
Maybe you get a bad Winston game where he throws three picks, but I'm willing to ride with him here.
I also like the under at 47 or better, as I think Payton will continue to call a very conservative game, relying on his defense and special teams for as long as the Saints keep winning until Brees comes back.
---
Titans -160 vs. Bills
Kickoff: 1 p.m. ET
In a battle of two defenses I have ranked in the top 10, I'm siding with the home team for two primary reasons:
Turnovers
Field position
Field position will be critical in this game and the Titans have an enormous edge in this department because of their punting advantage. The Bills allowed a Patriots touchdown on a blocked punt last week, have been brutally bad in this area.
Bills punter Corey Bojorquez ranks last in the NFL with a putrid 31.7 net average. Meanwhile, the Titans will counter with one of the more reliable punters in the NFL, Brett Kern.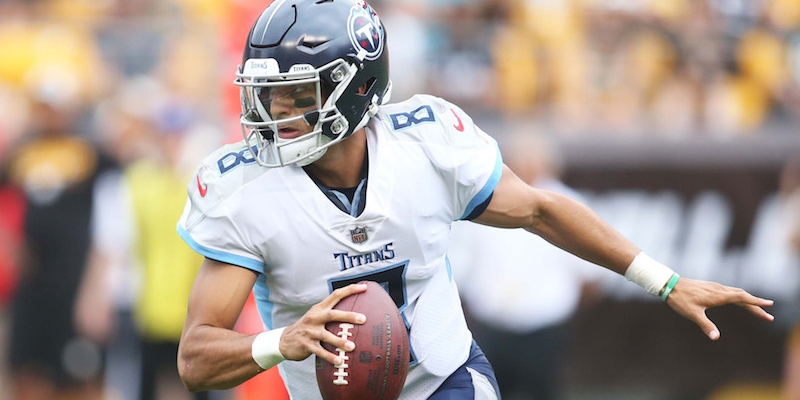 Marcus Mariota gets a lot of hate, but he's actually been pretty good this year.  He's the only quarterback with four starts and zero turnovers this season, and he has the sixth-best QB rating in the NFL.
For his career, Mariota has a 2.4% interception rate, much better than Josh Allen (4.0%).
The Titans haven't been great in protecting Mariota, but they get Taylor Lewan back from suspension, which should help in pass protection. Buffalo's superb safeties don't give up much deep, but I think Mariota can put together a few drives with his feet and in the short passing game.
In a game with such a low total, every point becomes much more valuable, so I would not recommend laying more than 3.5 here — I actually played the Titans in a moneyline parlay with the Chiefs myself.
The Bills could also be in for a potential letdown here after such an emotional, close loss against the Patriots, which would've given them sole possession of first place in the AFC East. That's not the reason I'm playing this game, but it's a factor that can only help the Tennessee side.
Ultimately, in a battle of two closely matched teams, I think this comes down to home field, turnovers and field position — all of which I have in favor of Tennessee.
---
Patriots-Redskins Under 42
Kickoff: 1 p.m. ET
I still don't think the totals market has fully adjusted to the Patriots, who have gone under in all four games (depending on what number you got against the Jets). The market is getting closer, as totals consistently drop each week, but it's not quite there yet in my opinion.
The Patriots offense put up a lot of points over the first few weeks, but it was healthy and against horrible competition in the Jets, Dolphins and Steelers, who have one combined win.
As I've said all season, this Pats team is much more like the early 2000 teams that were led by a dominant defense. This might be the best defense in the NFL and it all starts with their secondary, which allows them to do so much from a scheme perspective up front. It's also one of the reasons they rank second in adjusted sack rate.
And the offense is just not the same explosive unit as years past. They suffered numerous impactful injuries along the offensive line and to fullback James Develin. They released Antonio Brown, and two of their best current receivers are banged up (Josh Gordon and Julian Edelman). Tight end has also been a disaster, although getting Ben Watson back will help. Regardless, this offense is just not as great as many seem to think and the Bills defense took advantage last week in Orchard Park.
My colleague Matthew Freedman thoroughly covered the mismatch between the three elite New England corners and subpar Washington wideouts in our betting guide, but don't forget about the rock solid Patriots safety group. I'm just not sure how this pathetic Washington passing attack will get anything through the air. And when you realize the Skins also can't run the ball, it could be a long day for an offense that just put up three points against a terrible Giants defense. (Washington and Cincinnati are the only teams averaging fewer than 3.0 yards per carry.)
Washington's best player right now might be punter Tress Way, who's averaging 48.5 net yards per punt to lead the NFL. And an elite punter will always be an under bettor's best friend. When the Skins do punt, which should be early and often, he will at least punt it deep, which at worst will make the Pats have to eat up more yards and clock on their drives.
The Patriots also have a solid punter in Jake Bailey, who can make life even more difficult on Washington. It's also worth noting that New England's kicking situation is up in the air after Stephen Gostkowski hit IR.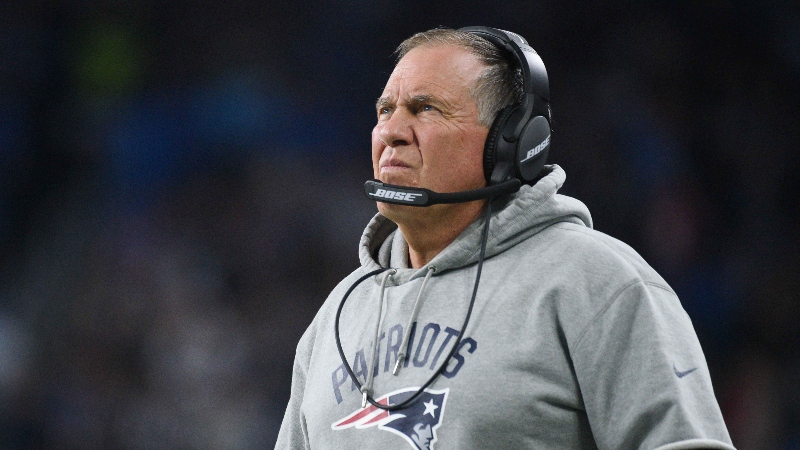 I almost broke my rule of thumb of betting double-digit road favorites in the NFL here by playing the Patriots, but it would go against everything I stand for.
You might hear this week that road favs of 14 or more points are 6-1 against the spread since 2003. And as you might've guessed, the Patriots are responsible for four of those seven games and have gone 3-1 ATS over that span. However, that's a super small sample size and likely more random than anything. If you focus only on double-digit road favorites since 2003, they've gone just 36-47 (43.4%) ATS, and that includes two non-covers by the lowly Dolphins at home this season.
It's very difficult to cover that large of a number in the NFL, especially on the road. That said, I can't play the Redskins here. Without flukes, I don't know how they score more than 10, but I feel more comfortable with the under here.
I played the under at 43.5. It's important to note that 43 is such a key number in the totals market post-new 2-point conversion rule, but I'd still play this at 42 or better.
---
Packers-Cowboys Under 47
Kickoff: 4:25 p.m. ET
I like the under between two teams with above-average coverage units and pass rushes. Tyron Smith being out (and a potentially hampered La'el Collins) will really hurt the overall efficiency of the Cowboys' offense, which starts with their offensive line, which for my money is the best in the business.
With the Packers' propensity for getting to the QB and with three corners all ranked inside the top 25 in coverage grades by Pro Football Focus, I think you'll see an even heavier than normal use of Ezekiel Elliott to try to exploit the Green Bay run defense.
I also think we (including myself) prematurely overrated this Cowboys offense after wins over the Giants, Redskins and Dolphins — three of the NFL's worst defenses.
Meanwhile, the Packers are averaging only 3.5 yards per rush — 26th in the NFL, so I don't think they can really exploit the run defense of Dallas, which has struggled at times. And the offense in general is still working out some kinks in a new system.
I think the total is a few points too high. The first team to 24 should get this done. I'd play the under down to 46.
How would you rate this article?