Stuckey: My Favorite Week 8 NFL Bets
Credit:
Ken Blaze-USA TODAY Sports. Pictured: Baker Mayfield
Stuckey highlights his three favorite NFL picks for Week 8 below.
Let's run through how he's betting Chargers-Bears, Giants-Lions, Eagles-Bills, Panthers-49ers and Browns-Patriots.
---
Odds as of Sunday morning and via PointsBet, where Action Network users can access an exclusive promotion to get a 200% deposit match (deposit $50, bet with $150).
---
Chargers-Bears Under 41
I think the Bears defensive front will dominate the line of scrimmage when the Chargers have the ball. And when the Bears have the ball, I don't expect much from their offense, which has struggled mightily all season. Chicago is averaging only 4.6 yards per play, which ranks in the bottom three.
Mitch Trubisky seems to regress every week and the Chargers have an elite corner in Casey Hayward who can neutralize Chicago's only scary deep threat Allen Robinson, who is rotting in this offense. But the problem isn't only Trubisky — he's lacking weapons and has nonexistent tight end production, plus the offensive line is a mess. Per Football Outsiders, their O-line ranks 29th in adjusted line yards, a measure of the effectiveness of a team's run blocking.
The Bears backs also haven't provided any help as they rank dead last in open field and second level years. This offensive line is simply getting no push and its backs are not breaking anything downfield. Mix that with one of the worst aerial attacks in the NFL, and you have a completely inept offense.
That said, right or wrong, I do think Matt Nagy will come with a heavy rushing attack based on his comments to the media. The Bears have to run it more than their seven carries for 17 yards last week, when Trubisky threw it 54 times — some of which obviously came late when the game was out of hand.
Coming out of the second half against the Saints, the Bears went with two tight ends and handed it off to David Montgomery, who fumbled, then Nagy went away from the run the rest of the way. I expect him to go back to it against a Chargers defense that's soft against the run in the middle.
These teams are also snails. From a pace perspective, both rank in the bottom 10 in neutral situations (which focuses on non-blowout scenarios).
I expect a game with plenty of punts and running clock. As long as we can avoid a number of special teams flukes and turnovers, I think this one stays under 41. I like the under down to 40. [In New Jersey? Bet now at PointsBet]
Giants-Lions Over 49.5
This is my favorite over of the week.
With Kerryon Johnson out, I think the Lions will go to an even heavier pass-based offense, especially against a Giants secondary that's been abused all season. New York is allowing 8.3 yards per pass, which ranks 29th in the NFL, and 27th in Football Outsiders' pass defense DVOA (compared to middle of the pack against the run). And it's not like the Lions were running it well even with Johnson, averaging only 3.8 yards per carry as a team.
The Lions have the weapons on the outside to exploit a vulnerable trio of corners who have been as bad as any in the league. Out of 80 cornerbacks with at least 250 coverage snaps, here are the Pro Football Focus coverage grades for the three Giants corners:
DeAndre Baker: 78th
Grant Haley: 74th
Janoris Jenkins: 48th
The Giants' safeties have also struggled in coverage. This matchup should be a buffet for Matthew Stafford and Co. as they even have a solid interior offensive line to handle a stout New York pass rush.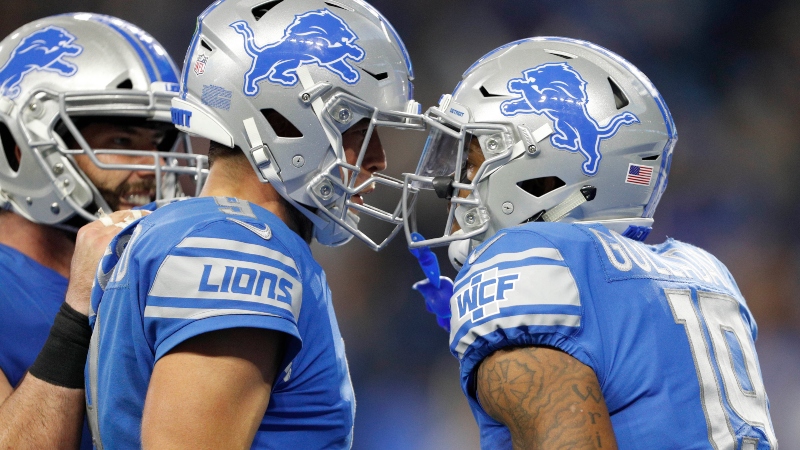 And on the other side of the ball, the Giants are as healthy as they've been on offense all season.
I had a lot of hope for this Lions defense — and it's had its moments — but injuries and a recent trade of safety Quandre Diggs have decimated its depth. The strength of the Lions defense was its interior defensive line (which is now banged up) and its coverage abilities in the secondary. But with Diggs now in Seattle and Darius Slay out, this defense is just not as scary.
They're also weak against the run (4.9 yards per carry allowed; 28th in NFL) as a unit and struggle to get pressure (27th in adjusted sack rate). Saquon Barkley should have a big day and Daniel Jones should have time to exploit a lagging Detroit secondary.
This has all of the makings of a shootout. [In New Jersey? Bet now at PointsBet]
Eagles +2 at Bills
This is a classic buy-low, sell-high spot.
I'm buying low on the Eagles after two straight embarrassing losses — the 37-10 final against the Cowboys was fairly misleading — and sticking with my theme of selling teams that have benefited from extremely soft schedules.
The Bills are 5-1 with their one loss coming at home to New England, but the five teams they've beat have a combined 6-27 record. They won those games by a combined 36 points — a little more than a touchdown per game.
That would be bad enough, but the five quarterbacks they beat have three (!) combined wins and two of them (Marcus Mariota and Eli Manning) are now backups riding the pine.
Things have just bounced the Bills' way all season. From four missed Titans field goals to a few fortunate fourth-quarter comebacks against the Jets and Bengals, the Bills have enjoyed some breaks, which I think is driving some inflation.
It's worth noting that the Eagles will be playing their third straight road game, which doesn't happen often. However, in this day and age, teams are much smarter about travel, so it no longer has as much of an adverse effect as it once did. Plus, teams playing their third straight road game are 29-29 against the spread over the past 15 seasons — that includes an Eagles victory over the Giants in this exact situation in 2017.
Despite some key injuries — particularly along the interior of the defensive line and at left tackle with Jason Peters — the Eagles still have superior talent on the offensive and defensive lines. The Eagles should stymie the Bills' rushing attack while providing Carson Wentz with enough time to make plays in what should be a lower-scoring game.
Bills linebacker Matt Milano (questionable) may also miss another game, which could open things up for Zach Ertz and Dallas Goedert, which I expect Philly to heavily utilize once again.
But most importantly, I don't think Josh Allen can exploit Philadelphia's biggest weakness: its secondary, specifically downfield throws. Per PFF, Allen has the second-worst passing grade on passes 10 or more yards downfield. He has only four big-time throws to his name — fewer than the amount of turnover-worthy plays (5).
The Eagles' corner situation is a mess but it should be the best it's been on Sunday with Ronald Darby back in the lineup with Mills. The Bills are also really lacking on the outside at the No. 2 receiver after the departure of Zay Jones and a few injuries, so the Eagles can really focus their resources on John Brown.
I also expect Jim Schwartz to bring a ton of his patented pressure against a vulnerable Bills offensive line that ranks 26th in adjusted sack rate, so Allen should trip up and make a key mistake or two.
I think Philly wins the battle of the trenches and escapes Buffalo with a much needed victory to avoid dropping to 3-5. Wait to see if a +3 pops, but if not, anything at +1.5 or better will suffice. [In New Jersey? Bet now at PointsBet]
Panthers +5 at 49ers
The 49ers are a legit contender, but this is the perfect time to sell high on the NFC's lone remaining undefeated team.
Their 6-0 record is impressive, but who have the 49ers really beat? Their .282 strength of schedule is by far the worst in the conference; the Packers have the next lowest at .404.
More importantly, San Fran may once again be without its starting tackles in addition to fullback Kyle Juszczyk, who is uber-critical in Kyle Shanahan's heavy zone-running scheme.
The 49ers average a league-leading 39.0 rush attempts per game and rank second with 172.7 yards on the ground per contest. However, injuries have had a negative impact over the past two weeks. Even if you throw out the mediocre rushing output in Washington as a result of the monsoon-like conditions, they were held to fewer than 100 yards on 43 carries (2.3 yards per attempt) the week before against the Rams.
Carolina's defense has been vulnerable against the run, allowing 4.7 yards per carry allowed (23rd in the NFL), but I don't think San Fran can truly take advantage with its undermanned offense.
The Panthers' pass defense, meanwhile, has been one of the most underrated units this season. They're allowing only 5.6 yards per pass (fourth in NFL) and rank third in pass defense DVOA (compared to 30th against the run).
They've been rock-solid at safety. They have two outstanding linebackers underneath in Shaq Thompson and Luke Kuechly, who have been two of the better coverage linebackers this season. And with Donte Jackson back, they have an excellent trio of corners. Jackson, James Bradberry and Ross Cockrell all rank inside the top 15 in passer rating allowed among 85 corners with at least 125 coverage snaps, and have collectively allowed only three touchdowns while picking off seven passes.
I don't expect the 49ers to get much through the air on the outside as their deep passing attack has been one of their weakest areas — it's one reason they traded for Emmanuel Sanders.
The Panthers come in hot, having won four straight since Kyle Allen took over at quarterback. They've also had no issues winning on the road, boasting a perfect 3-0 road record with wins at Houston and Arizona and in London against Tampa.
This one could go either way, so I'll happily take the five points.
Both defensive fronts, the top two units in adjusted sack rate, should get plenty of pressure, but Allen should make just enough plays downfield to go along with Christian McCaffrey's reliable production to keep Carolina close with a chance to pull out a fifth straight win. [In New Jersey? Bet now at PointsBet]
Browns +10.5 at Patriots
The Patriots have had one of the easiest schedules en route to their perfect 7-0 record. I had to do a double take at their .273 Strength of Schedule, which is the lowest in the league. And to be honest, that paltry number may actually undersell how easy this season has been for New England so far.
New England's seven wins have come against teams with a combined 11 wins, five of which are accounted for by the Bills, who have also had one of the easiest schedules and almost took out the Patriots in Orchard Park.
The seven quarterbacks who have finished games against New England have a combined three wins. And Daniel Jones, who is responsible for two of those three, had to play in Foxborough on a short week with almost all of his skill position players out with injuries.
The Patriots defensive numbers are extremely inflated.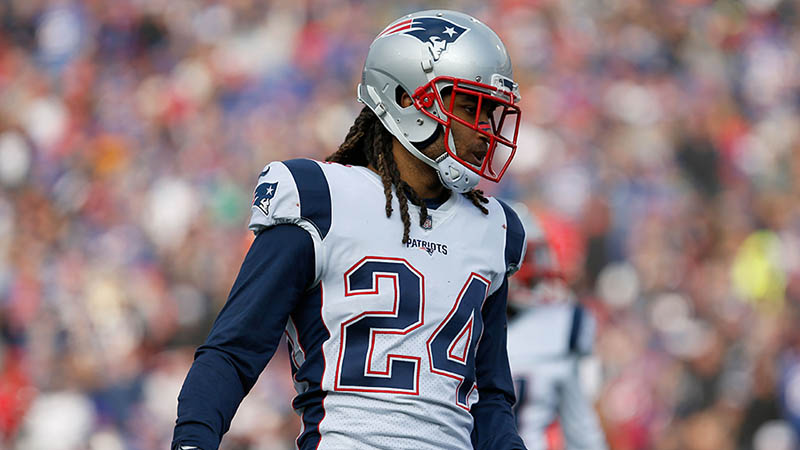 Look, I've been screaming since Week 1 that this is the best defense in the NFL, but it isn't historically great. Once they start playing real offenses with real quarterbacks, we should see regression across the board.
Turnovers: The Patriots lead the NFL with a +14 turnover margin, one of the 25 best marks in league history through seven weeks.
Red Zone: Opponents are scoring touchdowns on only 16.67% of drives inside the New England 20. Last season, that number was 63.46% and no defense has finished with a percentage lower than 30% over the past 15 seasons.
The Patriots certainly deserve credit for those numbers, but they've also benefited from facing extremely poor offenses (and quarterbacks) and luck, which will always play a major part in turnovers and red-zone performance.
The Browns rank 28th with a -6 turnover differential and 26th with an opponent red-zone touchdown percentage of 65%, but it's fair to expect positive regression in both — in fact, I think this Browns offense will present this Patriots defense with its toughest test yet.
The Patriots have been running a ton of man on the outside, but with frequent Cover 0 blitzes (no safety help over top). It's worked like a charm, but they haven't had to shut down any receiving groups on par with the Browns.
The Patriots have also jumped out to big leads in almost every game in large part due to turnovers, which has forced teams into throwing the ball, playing right into Bill Belichick's hands. But don't forget this defense was very vulnerable against the run last season. If Cleveland can avoid any random or stupid mistakes early, Nick Chubb should have some success on the ground.
The Patriots don't have the same explosive offense we've seen in recent years. Some of the struggles are a result of injuries, as they've lost a number of offensive linemen (starting guard Shaq Mason is also banged up this week) in addition to Pro Bowl fullback James Develin.
There's also been a constant carousel of new characters at wideout and tight end. It's one reason they traded a second-round draft pick for Sanu, who should help, but may take a week or two to get assimilated.
The return of Denzel Ward and Greedy Williams, meanwhile, should be enough to keep Tom Brady from having an enormous day. Ranking fifth in adjusted sack rate, the Browns are also capable of getting pressure on him, which is necessary to have a shot at slowing down the future first-ballot Hall of Famer.
The Patriots should win, but this is too many points for me to pass on backing a desperate Browns team off a bye looking to avoid falling to three games out of first place in the AFC North.
Baker Mayfield should makes enough plays to keep this within two touchdowns. [In New Jersey? Bet now at PointsBet]
How would you rate this article?