NFL Playoff Odds & Picks For Buccaneers vs. Washington: Don't Overthink This Spread
Credit:
Getty Images. Pictured: Chase Young, Tom Brady
NFL Odds: Bucs vs. Washington
Buccaneers Odds

-8

Washington Odds

+8

Total

44.5

Time

8:15 p.m. ET

Day

Sunday

Odds as of Wednesday and via BetMGM, where you can bet $1 on the Bucs or WFT moneyline to win $100.
Well, we made it. Against all odds, the NFC East managed to complete 16 games for each team and even sent one to the playoffs.
Washington hired a new coach, changed its team name (kind of), and brought a quarterback all the way back. Now the Football Team is in the playoffs.
Only four teams with losing records have made the playoffs in the Super Bowl era, and two of them had 4-5 records in the strike-shortened 1982 season. The other two, like Washington, were division winners.
The 2010 Seahawks went 2-7 down the stretch after a 5-2 start, but snuck into the playoffs anyway and upset the Saints on a Marshawn Lynch #Beastquake before losing in the Divisional Round. And the 2014 Panthers started 3-8-1 but ended on a four-win streak, then upset the Cardinals before also losing in the Divisional Round.
That's two sub-.500 division winners that won playoff games over the past decade. Can Washington make it a perfect 3-for-3? I'm not betting on it.
Tampa Bay Buccaneers
The Bucs look invincible at times. They thrashed the Packers to the tune of 38-10 in Week 6, then put up 45 more points on a Raiders team that looked like a playoff contender the next week. And in Week 16, the Bucs dominated the Lions so badly that Tom Brady and the gang rested the entire second half.
Six times this season, the Bucs have scored 38 or more points. They average 30.8 points per game, third best in the NFL.
While the Bucs are a wild-card team, they rank second in the NFL in Football Outsiders' DVOA — they just happen to play in the same division with the team that ranks first (New Orleans) and beat them twice this season. Without the Saints, the Bucs might as well be sitting at home with a bye this week.
Sure, the Bucs lost five times this season, and all five against playoff teams. (That vaunted Packers win was their only win over a playoff team.) But the Bucs also lost three of those five games in heartbreaking fashion, and by no more than three points. You could argue they've been great in 14 games this season — they just sucked against the Saints.
Mike Evans hurt his knee in Week 17 and is listed as questionable — we're tracking his practice participation here — but even if he can't go, the Bucs still have Chris Godwin, Antonio Brown and Rob Gronkowski to catch passes. And while they'll be missing linebacker Devin White (reserve/COVID-19 list), Shaq Barrett has been cleared to play.
The Bucs are loaded and have prepared all season specifically for this playoff run. This is what they went out and got Brady for. They're 10-0 against sub-.500 teams, with seven wins by 12 or more points. And remember, Washington is sub-.500, playoff team or not.
Brady had four games this season with multiple interceptions. All four led to Tampa Bay losses. But the Bucs have only one turnover over the last four weeks and the offense has looked more comfortable since that late bye.
The Bucs are really good. If they do not win this game, it will not be because Washington beat them. It will be because Tampa Bay beat itself.
Washington Football Team
Washington, on the other hand, is not as good.
The Football Team went 1-4 against playoff teams, with three of those losses by 14 or more points, and the one win came against a reeling Steelers team that led 14-0 until the last play before halftime.
Washington ranks 16th in overall DVOA, right in the middle of the NFL and close to the Falcons, for reference (Atlanta finished 4-12). The Football Team has a superb defense but an abysmal offense, ranking third in defensive DVOA but dead last in offensive DVOA.
They've played four quarterbacks this season, none of them particularly good. It looks like Alex Smith is likely to play on Saturday, but he was still limited in practice on Wednesday (find latest updates here). Even if he starts, he's an absolute statue in the pocket. He can make pre-snap reads and accurate throws when given time, but he doesn't have a ton of it and just doesn't make this passing attack dynamic.
Running back Antonio Gibson and wide receiver Terry McLaurin are also dealing with injuries. Even the few low-grade weapons on the worst offense in the NFL aren't healthy or particularly dangerous. The offensive line is banged up, too.
Washington has scored 20 or fewer points 10 times in 16 games, topping 27 points only once all year. Just last week it scored only 20 points against an Eagles team that hadn't played defense in a month and was resting players.
This offense is really bad. But Washington is here because of its defense.
Washington wins games with its pass rush — it's fierce and relentless, and it's very clearly the biggest threat to Tampa Bay. Brady has struggled under pressure, with his adjusted completion percentage falling from 79.3% when kept clean to 57.9% when under pressure (per Pro Football Focus).
Montez Sweat and Chase Young get after the quarterback all game — they're the heart of this team. And they'll need to get home to Brady early and often because they could also be missing both safeties.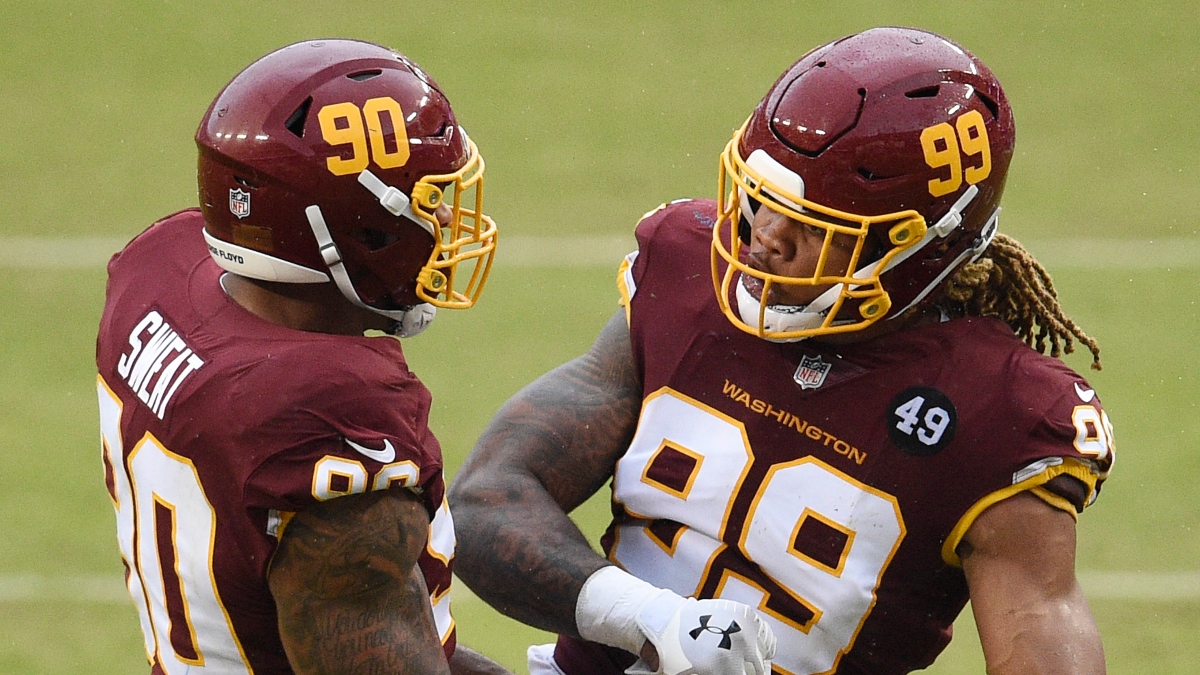 Bucs-Washington Pick
If Tampa Bay protects Brady, it will win this game with ease. It really is that simple. Unless Sweat and Young play like the best players on the field on Saturday, the Bucs should roll and put this game out of reach quickly.
So what does a winning Washington formula look like?
It's three or more sacks and repeated pressure from Young and Sweat. It's pressure that makes Brady look his age with multiple turnovers, maybe a pick-six. It's McLaurin hurting a beatable secondary on third downs and in the red zone. It's Brady melting down in potentially his last game ever, the Buccaneers offense disappearing (as it has at times this season), and the Football Team winning 16-13 with a defensive touchdown.
That's certainly a conceivable scenario. But it's also the only real scenario Washington has here.
Heck, we could even see that play out for two or three quarters, but Tampa is good enough to wake up late and win anyway. If Washington doesn't pressure Brady all game, it loses. If Washington doesn't force multiple turnovers, it loses. Even if Washington's defense plays well, Tamp's defense might be just as fierce against an anemic offense.
I honestly wouldn't be surprised to see Taylor Heinicke take snaps if Smith is ineffective or can't escape an always aggressive Todd Bowles' pass rush.
It's reasonable to expect a low-scoring game.
If you like Washington, I would recommend playing the under, too. If the Football Team keeps this even close, the under 45 is a lock. Their last five games have seen an average of 36 points, with none of them over 40 — it's really easy to see them scoring only 10 or 13 points, so even if the Bucs get a blow out win, they might need to score 35 to hit an over here.
But while I lean under, in the end, I'm playing the Bucs to win and cover.
If the spread hits double digits, I would skip or wait to play the Bucs live after a slow start (or pivot to the under), but I have to bank on the far better team here.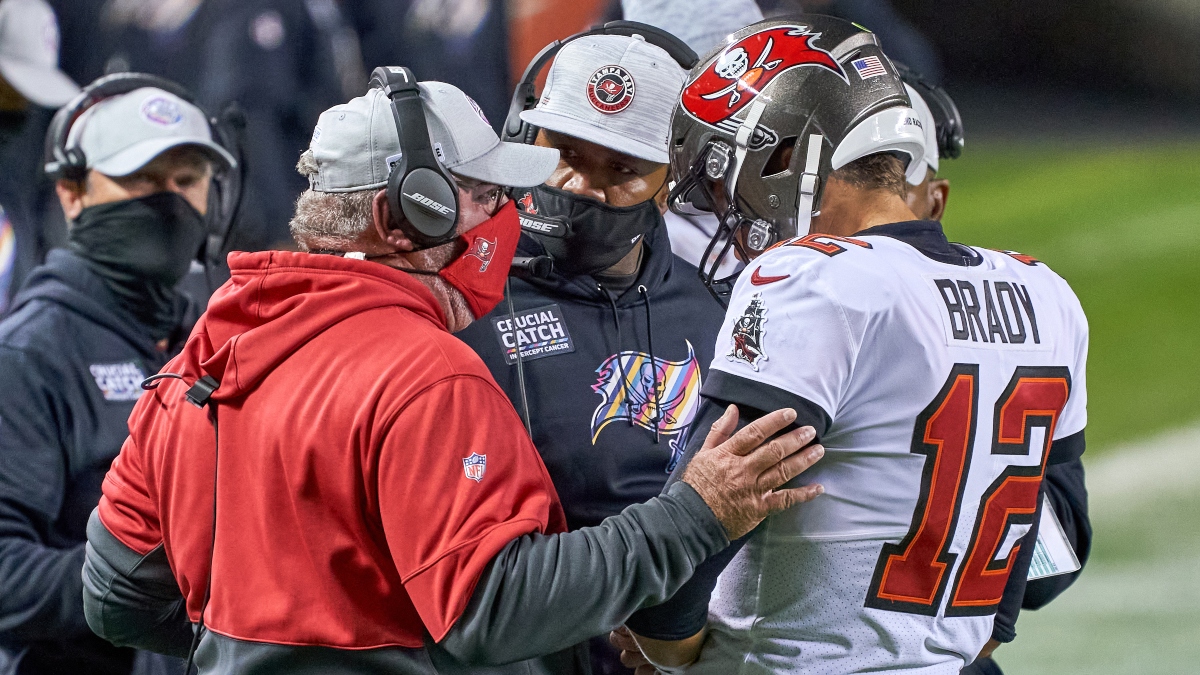 I'm not worried about the tiny sample size of sub-.500 playoff teams, especially since home-field advantage is not a factor this season. And I'm not worried about a Brady meltdown — not in this round, at least — or a cold weather nightmare.
Washington shouldn't be here while Tampa Bay is one of the best teams in the league and has dominated bad teams all year. Even if the Football Team keeps things close for much of the game, I trust the Bucs to be aggressive and force big plays and mistakes late to win and cover a high line.
I don't have any fear of a backdoor cover.
Pick: Bucs -8
How would you rate this article?