NFL Playoff Odds, Picks, Predictions: Bet Chiefs-Steelers Spread, Leans For Bills-Patriots and Bengals-Raiders
Credit:
Getty Images. Pictured: Chiefs TE Travis Kelce, Patriots RB Damien Harris
Betting analyst Brandon Anderson makes his instant reaction picks for the Wild Card Round of the 2022 NFL playoffs below.
Find out why he's already targeting the Chiefs-Steelers spread below, plus his leans on the other two AFC spreads.
NFL Playoffs Odds, Picks, Predictions
---
Raiders vs. Bengals Odds
Odds
Bengals -6
Over/Under
49.5
Kickoff
4:30 p.m. ET on Saturday
Odds via DraftKings
When these teams met in November, the Bengals closed as 1.5-point favorites. They won 32-13, but I didn't have any big takeaways after. The problem is that these are both really average teams, either of which could have easily missed the playoffs.
The Bengals had nine one-score games. They rank in the bottom-half of the league in Football Outsiders' overall DVOA, including on offense and defense. They benefited from a bad division and a Charmin-soft schedule, easiest in the league against opposing offenses.
The Raiders also played in nine one-score games, going 7-2 (including 4-0 in overtime), winning four straight of such games to sneak into the playoffs. They also rank in the bottom half of overall, offensive and defensive DVOA.
The Bengals have struggled to run efficiently all season. Joe Mixon piled up big yardage but had blah metrics and the Bengals stayed far too run-heavy  —  until Weeks 16 and 17, when they opened the offense up and Joe Burrow threw for almost 1000 yards.
The Raiders have a stout run defense, but are bad against the pass. If the Bengals play it safe and try to run a lot, it won't go well. If Burrow is rested and healthy and they Bengals let him fire it all over the field, they should score.
The Bengals also don't have a good pass defense, so the Raiders should be able to pass on them, too. Darren Waller was big in the first meeting between these teams, with seven catches for 116 yards, so his return is huge, as is the emergence of Zay Jones. The Bengals ranked in the bottom-quarter of the league in DVOA against tight ends and WR2s, so those two could have big games.
I won't take much else away from that first matchup. That one was 13=6 heading into the fourth quarter, before a few untimely Raiders turnovers blew the game open for the Bengals. The Raiders couldn't sustain any drives, going just 1-of-7 on third down, but they held Ja'Marr Chase and Tee Higgins to only five catches for 47 yards combined. Neither offense hit 300 yards, but I expect better from both this week.
The Bengals are the better team, but not by a huge margin, and the Raiders have managed to stay in contention against all odds. Cincinnati hasn't won a playoff game since Jan. 1991, and that was against the Houston Oilers, if that tells you anything.
These reads never come easy. And this line is inflated because of the margin of the Bengas' November win. But the Raiders rank top-five offensively in Expected Points Added (EPA) in the fourth quarter (per RBSDM), Derek Carr has always been strong late, and this team believes after so many close wins. Even if the Bengals take a nice lead, I don't trust their pass defense to slam the door shut, so the Raiders could backdoor cover late.
This is too many points for an untested playoff favorite when these teams are relatively even. Home favorites of seven or fewer points are just 14-28-1 (33%) against the spread (ATS) in the Wild Card Round since 2003, per our Action Labs data.
I'm not enthralled with either team — and am most interested to see which future opponent is lucky enough to get to play one of these two for a spot in the AFC Championship Game — but I'll take the points.
THE PICK: Leans Raiders +6.5 (to 6)
---
Patriots vs. Bills Odds
Odds
Bills -4
Over/Under
43
Kickoff
8:15 p.m. ET on Saturday
Odds via DraftKings
New England came into the weekend with a shot at the AFC's 1-seed. Instead, the Patriots lost the first-round bye, lost the division, and lost to the Dolphins, falling all the way to the 6-seed — a costly loss, since it means a trip back to Buffalo against a rival Bills team that's looked better in both heads-up games this season.
The first meeting between these teams was a windstorm. The Patriots won, but the Bills were the better team outside of one long Pats run. The Bills were one break away on maybe 10 plays —  a Dawson Knox drop, a misplaced Josh Allen throw, a missed kick  – from taking that one.
The Bills dominated the rematch, winning 33–21 and out-gaining the Pats 428 to 288 in yardage. The Bills were just 4-of-7 in the red zone while the Patriots were 5-of-6 on fourth down, or it might have been worse.
Allen was the difference, and he's why Buffalo is the better team. Mac Jones has faltered down the stretch, with five interceptions over his final four games and under 60% completions, while Allen played his best game of the season in that win. He threw 47 times for 314 yards and three touchdowns, and his legs were the difference. Allen ran for 64 yards and constantly made plays as a runner, his running threat opening up passing lanes he took advantage of.
The Bills' 11 wins were all by 12+ points  — that Patriots win was their closest victory  – but they went 0-5 in one-score games. We know those games tend to be luck of the draw. But how differently would we think of the Bills if they went 2-3 in those games and were sitting atop the NFL at 13-4?
Still, Buffalo is letting teams hang around. Even in Week 18, the Jets literally had 53 yards on 46 plays, yet were down only 13-10 in the fourth quarter. The Bills tend to pull away late, but it's dangerous letting a Bill Belichick team hang around. Belichick is 30-15-2 ATS as a regular-season underdog, covering 67% of the time by almost six points per game. Few are better as a dog, pinpointing an opponent's strength and forcing them to win another way.
Belichick knows Buffalo's weak spot its its run defense — Damien Harris ran for 103 yards and three scores in defeat last time and had the winning run in the first meeting. Expect a heavy dose of Pats running to shorten the game and keep Allen on the sidelines. And when Allen is on the field, look for the Pats to spy him to limit his legs and try to force the Bills to run.
Any weather helps New England, too.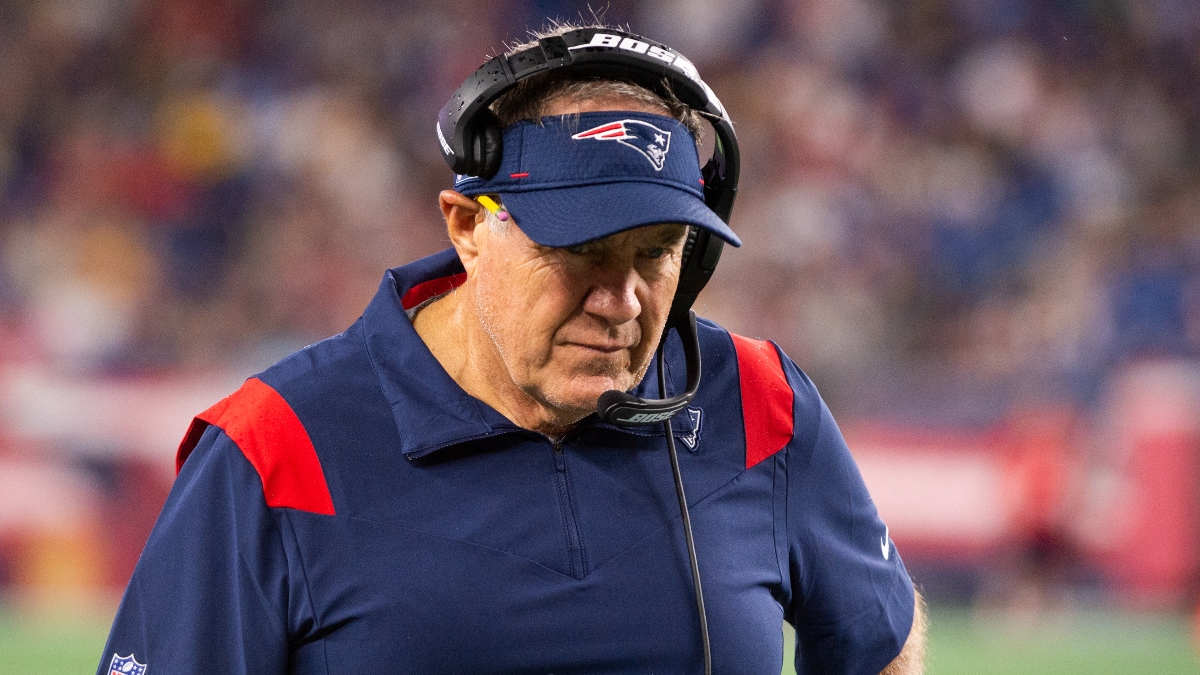 The Bills have struggled to win these close games all season, and Allen is 1-3 ATS in the postseason, while the Patriots are a good and balanced team built to win a variety of ways — they're the only NFL team that ranks top 10 in passing and rushing DVOA on both offense and defense.
Both of these teams are terrific, and this matchup is the AFC kingmaker. Both have games suited well for the playoffs, and both match-up well with the Chiefs.
I see value on New England futures — a Pats win probably sends them to face an overrated 1-seed Titans ripe for the picking, then one more win from the Super Bowl. That ticket is +1000 to win the AFC. The winner of this game becomes my co-favorite in the AFC with the Chiefs, and I like how both match-up.
Belichick is 32-11 against the Bills with the Pats, including 22-14-2 ATS (61%). And remember, road underdogs of seven or fewer points are 28-14-1 ATS (67%) in the Wild Card Round since 2003. I have to take Belichick as more than a field goal underdog in a game that will likely lack possessions and stay close all the way.
THE PICK: Lean Patriots +4.5 (to +3.5)
---
Steelers vs. Chiefs Odds
Odds
Chiefs -12.5
Over/Under
46
Kickoff
8:15 p.m. ET on Sunday
Odds via DraftKings
What a ride for Big Ben.
After 18 seasons and 268 starts, including 22 in the postseason, Roethlisberger gets one more shot in the playoffs. The Steelers needed to win both of their final regular-season games and get huge help from the Jaguars, but the skies opened up, now Pittsburgh is dancing and Steelers fans are feeling great.
They might want to store up all these good feelings and keep them forever — because this one could be ugly.
Big Ben and Mike Tomlin have been underdog darlings their entire careers. Nobody loves a rah-rah underdog spot like Pittsburgh. We made a lot of money betting on those two as dogs this season, but remember, they're not undefeated in that spot. The numbers say Pittsburgh is much better as a home underdog, and better as dogs of a touchdown or less. Neither applies here, and that means we shouldn't just auto-bet the underdog Steelers.
We probably shouldn't bet them at all.
The Steelers been a live dog against a few opponents, but the Chiefs aren't just any opponent. Their defense improved greatly as the year went on and their offense is humming again.
What exactly is Pittsburgh good at? The pass defense has been good when healthy, but the run D is bad and the offense is nonexistent. Najee Harris may be hurt now, too. Pittsburgh eked into the playoffs on checkdown passes, coaching and lots of help.
These teams aren't just in two different weight classes; they're playing two different sports.
Remember, they just played in Arrowhead the last Sunday of December. Kansas City rolled, 36–10, and it wasn't even that close. The Chiefs were up 30-0 halfway through the third quarter. At that point, they had out-gained the Steelers 380-to-123 yards. It could have been 50-0.
Remember the ignominious ending to Drew Brees' career last year? Remember the 62-7 drubbing Dan Marino took in his final NFL game? We might get that sort of game from Big Ben. The Chiefs defense is good now, and Big Ben can't move or get it downfield. The Steelers are in the playoffs in spite of Ben, not because of him.
Home double-digit favorites are a perfect 5-0 ATS in the Wild Card Round since 2003, covering by 5.6 points per game. When bad teams sneak into the playoffs, it's usually not pretty or close. Kansas City will do what Cleveland and Baltimore were too mediocre and banged-up to do. The Chiefs are about to put Ben Roethlisberger in mothballs for good.
THE PICK: Bet Chiefs -11.5 to 13
How would you rate this article?
This site contains commercial content. We may be compensated for the links provided on this page. The content on this page is for informational purposes only. Action Network makes no representation or warranty as to the accuracy of the information given or the outcome of any game or event.