NFL Preseason Week 2 Betting Guide: Picks for Browns-Colts, 4 Other Saturday Games
Credit:
USA Today Sports. Pictured: Jacoby Brissett, Sean McVay, Mason Rudolph
Ian Hartitz breaks down the betting odds for Saturday's NFL Preseason Week 2 matchups.
See his analysis and picks for Browns-Colts, Cowboys-Rams and the other three games.
We get a five-game slate of preseason football on Saturday. It's only Week 2, so don't expect to see many starters play for more than a quarter or two in most cases. Either way, offenses and defenses will largely rely on simplified schemes.
Let's take a look at key storylines and actionable betting takeaways for all 10 teams in action.
---
Spread: Colts -3
Over/Under: 43
Kickoff: 4 p.m. ET
Cleveland Browns
Much of the Browns' offseason hype has centered around their acquisition of stud wide receiver Odell Beckham Jr. This has perhaps overshadowed their additional offseason decision to reload their defensive line.
2013 first-round pick Sheldon Richardson has fallen on tough times as of late, failing to secure a long-term contract with any of the three teams he's played with since 2016. He's ranked outside of Pro Football Focus' top-50 interior defenders in each of the past three seasons, but now finds himself on the most talented overall defensive line he's seen since the best years of his career with the Jets.
Former Dolphins and Giants defensive end Olivier Vernon was arguably the best defensive player for the latter team before the Browns traded for him this past offseason. Vernon has missed nine combined games over the past two seasons, but still managed to earn PFF's No. 32 and No. 14 highest grades among edge defenders in 2017 and 2018, respectively.
Of course, Myles Garrett remains an absolute monster who only seems to be getting better…
…and then there's Larry Ogunjobi, who burst onto the scene last season and ultimately finished with the 21st-most total pressures among all interior defenders.
The Browns will need to prove their offensive line is even half as capable as their defensive line to reach the types of goals they have this season, but general manager Josh Dorsey has certainly positioned them for success on both sides of the ball.
Indianapolis Colts
This season's version of the training camp Andrew Luck injury cycle is just as confusing as ever. Our most recent update was from Colts general manager Chris Ballard, who said that Luck's calf strain has turned into a high-ankle issue.
The good news for the 2019 Colts is their defense appears to be in a better position to carry their offense in the early parts of the season if needed. This is mostly thanks to stud linebacker Darius Leonard, who managed to make a handful of game-changing plays on a near-weekly basis as a rookie in 2018.
The Colts also added veteran pass rusher Justin Houston as well as cornerback Rock Ya-Sin. The latter, in addition to having an A-plus name, has reportedly had himself an exceptional training camp.
The Colts and Browns both figure to boast improved defenses in 2019. And the potential for their starting quarterbacks to combine for less than a quarter's worth of action has me siding with those defenses in this one.
PICK: Under 43
Spread: Patriots -1
Over/Under: 41
Kickoff: 7 p.m. ET
New England Patriots
Tom Brady hasn't been quite the same monster without Rob Gronkowski since the Patriots drafted the tight end 42nd overall in 2010.
Brady with Gronk (112 games): 25.2 PPR | 2.2 TDs | 0.5 INTs | 8.01 Y/A | 66% cmp | 289 yards per game
Brady Without Gronk (28 games): 21.4 PPR | 1.8 TDs | 0.6 INTs | 6.89 Y/A | 60% cmp | 260 yards per game
The good news is that four (!!!) viable contributors have already emerged as potential regular-season options after just one week of preseason action.
First-round pick N'Keal Harry continues to battle various lower-body injuries and has missed a boatload of practice time to start the season. Still, Harry has already demonstrated the type of elite contested-catch ability that will be needed more than ever in an offense that just lost its No. 1 year-to-year red-zone weapon.
Undrafted rookie Jakobi Meyers has been the star of training camp, catching nearly every target thrown his way and earning snaps with the first-team offense. He continued to impress last week by reeling in six-of-eight targets for 69 yards and a pair of touchdowns.
Maurice Harris flashed with the Redskins over the years and has reportedly had a nice camp. He battled some drops in the preseason opener, but did ultimately come away with a solid 3-27-1 receiving line.
Braxton Berrios is your token Patriots' slot receiver who is somehow impossible to keep track of in man and zone coverage alike. He's already looking like a young-version of Danny Amendola and could be forced into action sooner than later if Julian Edelman's thumb injury proves to be more problematic than initially thought.
Tennessee Titans
This is a make-or-break season for Marcus Mariota, but the whole team could benefit from an improved defensive effort.
Continued progression from former first-round picks Rashaan Evans and Harold Landry, along with solid play from newly-signed 37-year-old pass-rushing specialist Cameron Wake, would go a long way toward helping the unit's overall success.
Still, they'll need Adoree' Jackson to start to play like the No. 1 cornerback he was drafted to be in order to become a shut-down unit as long as Malcolm Butler continues to occupy the other side of the field.
I see Bill Belichick's preseason revenge tour over his former assistant coaches again going his way Saturday night.
LEAN: Patriots -1
---
Spread: Chiefs -2.5
Over/Under: 46.5
Kickoff: 7:30 p.m. ET
Kansas City Chiefs
Andy Reid told media that  starters will play the first half — "or there about" — on Saturday night.
This means the same offense that just became the fourth in the Super Bowl era to average 35 points per game in a season is poised to play up to 30 minutes of football.
Don't mistake the Chiefs' firepower for a lack of depth; rookies Mecole Hardman and Darwin Thompson each proved more than capable of making an early impact during the Chiefs' preseason win over the Bengals last week.
It'd be a lot easier to expect some regression from Patrick Mahomes' historically efficient efforts in 2018 if the offense wasn't so loaded with talent at pretty much every position.
Pittsburgh Steelers
Mike Tomlin confirmed Mason Rudolph will start in place of Ben Roethlisberger on Saturday, although Tomlin also noted that he expects to use more starters this week.
The key position battle to watch will be at wide receiver. Donte Moncrief has reportedly separated himself from the pack in practice, but continued preseason excellence from James Washington could potentially change that.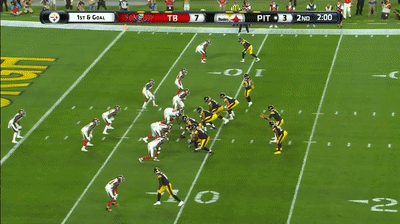 Ultimately, I'm riding with the team that's expected to play its starters for a significantly longer span.
PICK: Chiefs -2.5
---
Spread: Texans -4.5
Over/Under: 42.5
Kickoff: 8 p.m. ET
Detroit Lions
The 2019 outlook for Kerryon Johnson didn't seem particularly bright a few months ago. Sure, Johnson looked the part of a three-down stud as a rookie…
…but it seemed unlikely that the Lions would feed him a fantasy-friendly workload. Theo Riddick was available to soak up targets and newly-signed C.J. Anderson was a threat to steal early-down and goal-line work.
Fast forward to present day: Riddick is a member of the Broncos, and Anderson was last seen leaving Thursday's practice with an undisclosed injury.
Johnson played at least 50% of the offense's snaps during his final five games of 2018 and is poised to receive additional work as a receiver without both Riddick and Golden Tate involved. An improvement from the league's 20th-ranked offensive line in adjusted line yards per rush could help Johnson reach magnificent fantasy football heights in 2019.
Houston Texans
Keke Coutee is expected to miss the remainder of the preseason after spraining his MCL last week.
This means Will Fuller is ingrained as Deshaun Watson's No. 2 receiver — a role that he's absolutely balled out in during the past two seasons.
Fuller's ability to consistently take the top off of opposing defenses has only meant good things for Watson's passing efficiency.
Watson's numbers with Fuller are notable because we haven't seen Watson play nearly as well without his ace field-stretcher:
Watson without Fuller (13 games): 21.9 points per game, 7.19 yards per attempt, 225 pass yards per game, 16 pass touchdowns
With Fuller (11 games): 30.8 PPG, 9.03 Y/A, 288 pass yards per game, 30 pass TDs
It's unclear how much time either team's starters will get on Saturday. I lean toward riding with the Texans purely based on their better overall team depth.
LEAN: Texans -4.5
Spread: Cowboys -2.5
Over/Under: 40
Kickoff: 10 p.m. ET
TV: NFL Network
Dallas Cowboys
The Ezekiel Elliott holdout is still going. This means that Tony Pollard looks like the next-man-up in what figures has always been a fantasy-friendly offense for running backs during the Jason Garrett era.
Pollard deserves credit for being a solid running back prospect in his own right. The Alvin Kamara comparisons are a bit extreme, but there's no reason to think Pollard can't at least add some juice to the Cowboys offense.
Pollard has theoretical three-down ability thanks to his size (6-foot and 210 pounds) and speed (4.52-second 40-yard dash).
He spent plenty of time as a pure wide receiver at Memphis, racking up 104 receptions for 1,292 yards and nine touchdowns through the air during his three-year career.
Pollard averaged a beastly 6.8 yards per rush on his 139 collegiate carries.
The presence of All-Pro center Travis Frederick, combined with the potential for an improved scheme from new offensive coordinator Kellen Moore, makes tracking Pollard's preseason performance imperative ahead of Week 1.
Los Angeles Rams
The Rams opened as 4-point favorites, but have since flipped all the way to 2.5-point underdogs. (Note that this game will be played in Hawaii, so the Rams won't have any sort of homefield advantage.)
Also complicating matters is the fact that head coach Sean McVay hasn't asked Jared Goff to take a preseason snap since 2017. Todd Gurley also won't be around, which means we shouldn't expect to see the first-team offensive line or wide receivers for all that long either.
I'm also intrigued by how rookie running back Darrell Henderson will perform, but this is ultimately a stay away on the spread with so much movement in favor of the league's single-worst preseason head coach against the spread.
LEAN: Rams +2.5
How would you rate this article?