NFL Week 1 Overreactions for Every Team (And How Real They Are)
Credit:
Photo by Joe Sargent/Getty Images. Pictured: Brock Purdy celebrates in the 49ers' win vs the Steelers, as we break down NFL Week 1 for every team and the overreactions to each game.
Our first NFL Sunday of the new 2023 season is in the books, and NFL Week 1 felt like Christmas Day with 14 games and 28 new presents of team data to unwrap and enjoy.
There's nothing like the time-honored tradition of overreacting to everything we saw on Opening Day, so let's overreact to one thing from each team, then come to an early verdict on whether that overreaction is a real or not real takeaway from Week 1.
NFL Week 1 Overreactions for Every Team (And How Real They Are)
---
---
---
Arizona Cardinals
Overreaction: Hey, maybe Arizona won't lose by 20 every game after all!!
The Cardinals were kind of … not terrible?! The Cards even led 16-10 in the fourth quarter, and had the ball late with a chance to win.
They didn't win, though — Survivor pools everywhere, exhale — and the offense had only 210 yards, with the one Cardinals touchdown off a fumble return. Josh Dobbs had three fumbles and three sacks.
The Cardinals certainly didn't look good. Still, Week 1 is a reminder that teams tank, not players. The guys on the field are still gonna try, and seven points was too long a spread against an unproven Washington squad. We might have to keep betting on Arizona and taking the points.
Overreaction Verdict: REAL
---
Atlanta Falcons
Overreaction: Brandon, you genius, all that Falcons hype was merited!!
On one hand, the Falcons won by 14, hit our cover and two alt lines, and coasted to victory with a stout defensive performance. On the other hand, much of that Falcons hype was based on the offense being great and Arthur Smith getting something out of Desmond Ridder. And that part … yikes.
The Falcons had just 221 total yards and 13 first downs. Kyle Pitts had two catches, and that was two more than Drake London. Bijan Robinson had a few nifty jukes, but finished with five fewer carries than Tyler Allgeier.
Atlanta's offense did precious little outside of converting short fields off turnovers into 17 points before a late touchdown to ice the game, and Ridder had a very short leash. His 3.5 Average Depth of Target (ADOT) is troubling, and he was under pressure all game and not given the opportunity to do much.
No victory lap just yet. The Falcons have work to do.
Overreaction Verdict: NOT REAL
Baltimore Ravens
Overreaction: This Todd Monken offense could take some time.
The scoreboard says the Ravens dispatched of the Texans with ease, but if you looked at just the stats, you'd think this was a field goal game.
Baltimore's offense did not play well. The Ravens had just a 35% Success Rate on early downs and needed late downs — usually less stable — to win this. For all the hype surrounding Lamar Jackson, he had a shocking 2.8 ADOT in the first half and finished at just 5.0. Rookie Zay Flowers was great, but the rest of the offense simmered, finishing with 3.7 yards per play for 268 yards.
Worse, the team lost dynamic starting running back J.K. Dobbins for the season with a torn Achilles, so it's all on this Todd Monken passing offense now. Monken's offenses are 10-18-1 ATS (36%) in September and October. It usually takes time for things to gel, and that's how it looked, even in a win.
Overreaction Verdict: REAL
---
Buffalo Bills
Overreaction: Josh Allen just cost the Bills a golden opportunity in the AFC!!
There's no sugarcoating it — Allen was awful on Monday night.
He turned the ball over four times, all on inexcusable plays trying too hard to play Superman when just Clark Kent would've gotten the job done as poor as the Jets looked with Zach Wilson. Allen actually finished with worse EPA per play than Wilson, and he also ate five sacks. He was directly responsible for New York even having a chance late, and it's a costly loss.
This was a golden opportunity for Buffalo to coast to a gifted win with Aaron Rodgers injured on the first drive. It was a chance to get a freebie and go to 1-0 in the conference on the same weekend Kansas City and Cincinnati fell to 0-1, an immediate leg up in the AFC 1-seed race.
Instead it's one of the worst losses of opening weekend in a conference where every win will matter for playoff positioning and a possible Super Bowl run. It's also damaging for Allen's potential MVP candidacy, already almost halfway to the average interception total of 8.3 picks for the last 15 QB MVPs.
Buffalo can and will recover, but this L and those bad Allen stats will linger like a stale fart all season.
Overreaction Verdict: REAL
---
Carolina Panthers
Overreaction: Bryce Young is already a bust!!
It certainly wasn't a great debut, as quarterbacks taken No. 1 overall fell to 1-14 ATS and winless since David Carr in 2002. But it's a good reminder that this is usually hard for rookies in Week 1.
Young threw two bad picks to safety Jessie Bates on nearly identical plays. Again, not great. You want to see your rookie learn from mistakes, not repeat them, and 3.8 Yards Per Attempt (YPA) is rough.
Give it time, though. It's a rookie quarterback and coaching staff, the team was tied heading into the fourth quarter, and got a great defensive performance. This result might end up looking decent in time.
Overreaction Verdict: NOT REAL
---
Chicago Bears
Overreaction: All that offseason hype for Justin Fields and the Bears was just that — hype!!
It turns out the Packers still own the Bears, with or without Rodgers. Green Bay has won nine in a row against Chicago along with 24 of the last 27, and Sunday could have only gone worse for Chicago fans if Jordan Love had run toward the camera and yelled "I own you!" like his predecessor.
It was a miserable start to Chicago's season, and it's hard to find many positives. The line struggled to protect Fields on pass plays just like usual, leading to four sacks, and Fields threw a terrible interception, like usual, while star acquisition D.J. Moore had just two targets. The defense had zero answers for Green Bay and might not have given this team a chance even if the offense had shown up.
I never understood the Bears hype, nor why they were Week 1 favorites, and it might be a while before this team is favored again.
Overreaction Verdict: REAL
Cincinnati Bengals
Overreaction: It's time to panic with Joe Burrow and that calf!!
It was an ugly opener for the Bengals in what's becoming a worrying trend, with Cincinnati now 1-4 straight up in its last five Week 1 games. Burrow didn't play in the preseason after shaking off that calf injury, and whether it was rust or injury or something else, the Bengals offense was awful. There's simply no excuse for three points or six first downs — not with this much talent on the roster.
It was a defensive start to the season around the league though, and only one quarterback in the early games even had positive EPA. Burrow was awful at -0.48 EPA per play, but the Browns defense is talented and this was a tough environment.
Bengals fans shouldn't panic yet, but if Burrow and all those receivers can't produce against Baltimore's backup corners next week and the team falls into an 0-2 division hole, let's talk.
Overreaction Verdict: NOT REAL
---
Cleveland Browns
Overreaction: Oh baby, Super Bowl Browns, here we come!!
Cleveland didn't have Week 1's biggest upset — the popular upset closed near a pick 'em — but the Browns had the most shocking result, demolishing the chic Super Bowl pick Bengals, 24-3.
New defensive coordinator Jim Schwartz's defense did work, holding Joe Burrow to 14-of-31 for 82 yards in one of the worst games of his career. Let's not crown the Browns just yet, though.
Deshaun Watson didn't look great. He had -8.9 EPA as a passer, looking more like the guy Cleveland got last season than the Houston quarterback the team is hoping to recapture. And sure, it was a rainy, ugly game, but either the Browns defense was great against Burrow or Watson was bad — you can't have it both ways.
Cleveland also got bad news with RT Jack Conklin leaving with what looks like a serious injury. The strength of the Browns team is its trenches. The offensive line is elite but thin, and Watson struggles under pressure and eats sacks. Let's see how this team looks Monday night in Pittsburgh against one of the league's best pass rushes before we get too excited.
Overreaction Verdict: NOT REAL
---
Denver Broncos
Overreaction: Sean Payton is still Sean Payton… but Russell Wilson is still Russell Wilson!!
The Broncos kicked off the season, quite literally, with a surprise onside kick calling back to Payton's gutsy decision to open second half of the Super Bowl years ago. Denver recovered — illegally, it turns out, but the tone was set from the jump, and Payton made it clear he had a plan.
That plan looks consistent with Denver's offseason, which focused on adding a ton of blocking and making moves to protect Russell Wilson. Payton and new offensive coordinator Joe Lombardi treated Wilson with kid gloves, and he finished the game efficient enough at 27-of-34 but with a pathetic 4.1 ADOT.
The Broncos lost by one because they missed an extra point and a field goal. They basically played the Raiders even and probably should've won but got unlucky. The question is whether that really counts as success in a home opener.
Overreaction Verdict: REAL
Dallas Cowboys
Overreaction: Holy cow, the Cowboys are the best team in football!!
Well, that was certainly an impressive performance. Any time you can go on the road and whoop up on a division rival playoff opponent on national television, that's a heck of a way to start the season. But one lopsided Week 1 result doesn't necessarily mean much.
Just ask last year's Cowboys.
Dallas opened on Sunday night a year ago, too. Remember how that one went? The Cowboys lost to Tampa Bay 19-3 in an ugly performance that, it turns out, didn't tell us a single thing about either team. Dallas went 12-4 the rest of the way and demolished the Bucs in the playoff rematch as Tampa finished 7-9 the rest of the way and backed into the playoffs.
Dallas looked great, but let's not draw too many conclusions about a game that got away quickly with two defense and special teams TDs in the first quarter.
Overreaction Verdict: NOT REAL
---
Detroit Lions
Overreaction: The Lions won the first game of the season, and they're gonna win the last game, too!!
Detroit did the impossible, coming into Kansas City on opening night and stealing a victory on Banner Night as the Lions sat atop the NFL standings for literally the first time since the 1950s.
There were real moments. Aidan Hutchinson and the Lions pass rush were a problem all game. The rookies popped, with that game-changing Brian Branch pick-6 and some zip from Jahmyr Gibbs.
Let's not go crazy, though. The Chiefs were missing their second- and third-best players. The Lions barely won and never looked particularly great, especially the ballyhooed offense.
But credit where it's due. The Lions used to be the team you schedule for homecoming, not the national TV opener. To go into Kansas City and win, even when you're not playing at your best, is a real accomplishment and the exact sort of win Detroit needed to prove it could get.
Overreaction Verdict: NOT REAL
---
Green Bay Packers
Overreaction: Brett Favre… Aaron Rodgers… JORDAN LOVE!!
It was a pretty pristine day for Jordan Love making his debut as the official Packers starter. Love threw three touchdowns, despite missing his top wideout Christian Watson, and he took only one sack and did not turn it over. Love's 0.55 EPA per play was one of the best QB performances of the day.
Love attacked downfield and looked confident, and it's certainly hard to poke holes in this performance. But can we see it against a real defense? One of Love's TDs came on a breakaway short pass to Aaron Jones, and another came after Love fumbled the ball then chucked it deep to a wide open Luke Musgrave.
It's nothing against Love, who was great and did everything needed. Let's just not put him into the Packers Hall of Fame until we see it against real competition.
Overreaction Verdict: NOT REAL
Houston Texans
Overreaction: Brandon, you idiot, the Texans are still as irrelevant as ever!!
The Texans were my long shot worst-to-first division winner at +1100 entering the season, and they were one of my favorite Week 1 picks, too. It was looking good at 7-6 entering halftime but fell apart soon after as Baltimore coasted to a 25-9 win.
Still, I come away pretty encouraged. The defense in particular was very impressive, and I like rookie head coach DeMeco Ryans' aggressiveness going for it on fourth down four times. Houston's offense was not up to the task, and the line struggled and gave up five sacks, but the underlying numbers say the Texans played Baltimore even but lost on fourth down and red zone efficiency, which typically prove random.
I'll take the L, but this was a nice debut and I like what I saw. The Texans aren't going anywhere, and I'll be betting them again in Week 2.
Overreaction Verdict: NOT REAL
---
Indianapolis Colts
Overreaction: Anthony Richardson is going to win Rookie of the Year!!
The Colts led division-favorite Jacksonville late, and Richardson had his first career TDs, both by air and on foot. He looks like a nice fantasy pickup and seems to be doing everything for the Colts. That may not be good, though. Indianapolis was down to its third-string back, and Deon Jackson was horrendous with 13 carries for 14 yards and two fumbles.
Richardson was utilized similarly to how Shane Steichen used Jalen Hurts. The problem is he's not Hurts, and the Colts o-line and run game isn't Philly. Richardson was stopped on a Tush Push and sacked four times. He had negative EPA and 33% Success Rate on runs, the one thing he's supposed to be ready for.
Sometimes being the guy doing everything isn't great. Come back soon, Jonathan Taylor.
Overreaction Verdict: NOT REAL
---
Jacksonville Jaguars
Overreaction: Calvin Ridley is real, and he is spectacular!!
It didn't take long for Jacksonville to find out what it had in Ridley. He scored the first Jaguars TD of the season, his fourth catch on the drive, and he had seven catches for 92 yards at the half.
Ridley didn't do much after that, and Trevor Lawrence actually had a pretty pedestrian game outside of targeting Ridley, but that's all the more reason to lock in Ridley as WR1. He looks like a possible fantasy league winner and a real threat to lead the league in any of the three receiving season leader categories.
Overreaction Verdict: REAL
---
Kansas City Chiefs
Overreaction: Relax, Travis Kelce and Chris Jones were out, the Chiefs are fine!!
The Chiefs lost by one, and they probably win if even one of their receivers ever make a play. It's a long season, Mahomes is still Mahomes, and the sky is not falling. Still, this is not nothing.
The AFC looks like a bloodbath, and you're supposed to win the home Super Bowl opener. The Chiefs were around -250 on the moneyline before a late push, meaning this is effectively 0.7 expected wins that just evaporated from Kansas City's schedule. That could be important for the division, it's definitely meaningful for the 1-seed, and that means it impacts Mahomes' MVP odds, too.
All Chiefs futures are worth a little less now than they were four days ago, in a non-trivial way.
These are not just random issues. The new offensive tackles could take some time. Jones may not be back anytime soon. Kelce will be back, but the lack of even remotely decent receiving options around a guy who turns 34 in October is alarming. These were the issues we knew coming into the season, and it's not nothing that they already reared their head in a loss.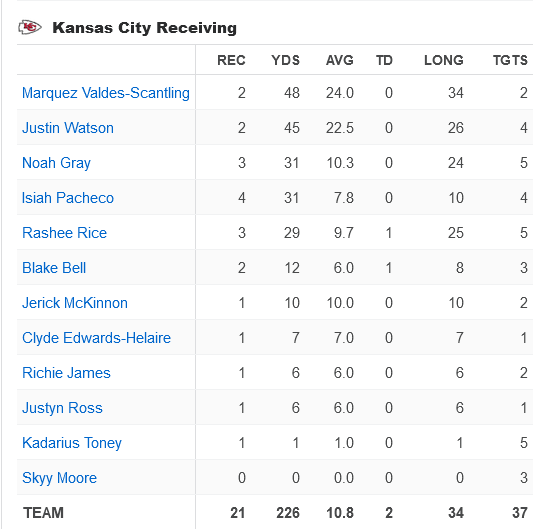 Overreaction Verdict: NOT REAL
---
Las Vegas Raiders
Overreaction: Jimmy Garoppolo… kinda good!!
The Raiders moved on from Derek Carr and opted into the Jimmy G experience, and would you look at that! The Raiders are leading the AFC West, alone at the top after one game.
Garoppolo led the Raiders on an opening drive touchdown, then completed four passes on the winning fourth quarter TD drive. He had a 53% Success rate on pass plays and showed good chemistry with Jakobi Meyers, and the underlying metrics look pretty good, much like they did in San Francisco!
You'll notice the Raiders scored only three points between those two TD drives, but an opening day win in Denver is nothing to sneeze at.
Overreaction Verdict: REAL
---
Los Angeles Chargers
Overreaction: Same old Chargers, fireworks early and blown leads late!!
Stop me if you've heard this one before — the Chargers look good, pile up 34 points, but blow two second-half leads, bumble the last-chance drive, and give away a winnable game.
This was not the same old Chargers, though. The offense looked very different, starting with an unleashed Kellen Moore run game. LA ran 40 times for 234 yards, with a huge dual effort from Austin Ekeler and Joshua Kelley, and the Chargers added three scores on the ground. Chargers series that started with a rush had an awesome 94.7% Success Rate.
That may not seem notable in a loss, but the Chargers have struggled to run, and Moore's offense is built around a successful rushing attack. If he can force opponents to respect LA's run game, that opens things up for Justin Herbert, who is already seeing an uptick in his ADOT looking downfield.
The Chargers D is another story, but this was not the same old team. This offense took a big step forward.
Overreaction Verdict: NOT REAL
Los Angeles Rams
Overreaction: Sean McVay is up to his old devil magic again!!
The Rams pulled off the biggest surprise of the afternoon slate, dominating the division rival Seahawks 30-13 with a shocking performance that reminded us why McVay decided not to retire after all.
With Cooper Kupp sidelined, McVay coaxed dueling 119-yard performances out of Tutu Atwell and Puka Nacua at receiver, then added two rushing TDs from Kyren Williams. These are apparently real NFL players, and so are the collection of defenders that held Seattle's offense to 180 yards.
Outside of Matt Stafford and Aaron Donald, most fans couldn't name more than a few other Rams. But if the team keeps playing like this, anything's possible in the wide open NFC.
Overreaction Verdict: REAL
---
Miami Dolphins
Overreaction: The Tua-Tyreek connection is back and deadly as ever!!
There's no Week 1 MVP award, but if there were, Tua Tagovailoa and Tyreek Hill would have to argue over whose names goes first on the plaque.
The Dolphins offense looked special early last season under Mike McDaniel, but things fell apart late. It was tough to know whether that was injuries adding up, defenses figuring things out, cold weather, or some combination thereof. Whatever the answer, the elite offense is back.
Tagovailoa was spectacular, nearly setting an opening day record with 466 passing yards on 10.4 YPA, with almost half of them to Hill, who had 11 catches for 215 yards and two scores. These are video game numbers, and they show that Miami is playing a different sport than anyone else when it's humming.
This was an excellent Chargers pass defense last year, one that completely shut down this attack as Tagovailoa started 3-of-17, and they simply had no answers today for Tua or Tyreek.
Overreaction Verdict: REAL
---
Minnesota Vikings
Overreaction: Regression is here — this Minnesota season is over before it even got started!!
The Vikings were the better team Sunday. They had over 100 yards more offense than Tampa Bay and lost because of turnovers — two in scoring position and one that gifted the Bucs what turned out to be a winning field goal. It happens; it's a long season, and this stuff tends to even out.
But Minnesota fans know better than anyone after a miracle season that only the win-loss column counts, and an L is an L. Now, the Vikings have a short week before a Thursday trip to Philadelphia, where they were embarrassed last fall, then the Chiefs and Chargers within the month, ahead of a daunting schedule.
Goodbye 11-0 record in one-score games; hello regression. Minnesota just gave away the easiest win on its schedule. The Vikings are already facing an uphill battle just to compete for the playoffs.
Overreaction Verdict: REAL
New England Patriots
Overreaction: New England's defenses looks as good as ever!!
Holding the Eagles to 25 points on 14 drives is a win in any context, but the two touchdowns the Patriots allowed came on a pick-6 and following an early short field after a first-play fumble. That leaves 12 points on 12 other drives, and the Patriots defense looked the part.
Bill Belichick's defense was ready, totally stymieing the vaunted Eagles rushing attack at -0.49 EPA per early down play and ransacking Jalen Hurts on late down passes at -0.73 EPA per play. The Patriots repeatedly held the Eagles to field goals and added a huge fourth down stop late near midfield that gave the team a chance to win.
A big early hole and poor Mac Jones play left New England short of the win, but the defense was brilliant.
Overreaction Verdict: REAL
---
New Orleans Saints
Overreaction: The Derek Carr free agent signing is already a success!!
Carr's debut numbers look good. He threw for 303 yards and got great games from Chris Olave, Michael Thomas, and Rashid Shaheed. Carr was super aggressive at 11.5 ADOT and 9.2 YPA — big, splashy numbers.
But he was also sacked four times and was under pressure all game from a dominant Titans defensive front, and his interception was ugly and in scoring position. The highs were high, but the lows were low, and Carr has a history of struggling to adjust to a new offense.
The Saints need a steady hand, and that's not what Carr offered today. This was a defensive win.
Overreaction Verdict: NOT REAL
---
New York Giants
Overreaction: Well, that's about that for New York's Cinderella season!!
It's never fun to lose an opener, and even worse to get embarrassed in front of a Sunday night national TV audience. To do so against a hated division rival, and coming off a dream season that included a playoff win? Unimaginable.
Look, there aren't a ton of silver linings here, but this game was over in the first 13 minutes and just got away from there. Blocked kick TDs are pretty fluky, and the pick-6 was the first of Daniel Jones' career, against a great defense that led the league in takeaways each of the past two seasons.
Sometimes teams let go of the rope after a start like that, and it felt like that's what we got from the Giants against a far more talented team. New York will see better days.
Overreaction Verdict: NOT REAL
---
New York Jets
Overreaction: The Jets defense and special teams just saved the season!!
Early Monday night, it felt like the sort of game Jets fans would remember forever. By the end of the night, Xavier Gipson ensured that was true — but for a very different reason, reversing a surefire loss when Aaron Rodgers went out early with what looks like a potentially severe injury.
New York's defense was brilliant, forcing four Allen turnovers and stopping him in overtime to set up the game-winning punt return TD. The offense? Not so much under Zach Wilson, with the scores coming after big Breece Hall plays or short fields, or thanks to a wild Garrett Wilson TD catch late.
It was an inspiring and memorable win but all too reminiscent of last year's Jets season, which ended with six straight losses and a 7-10 record, well short of the playoffs. New York can't win with smoke and mirrors every week. Zach Wilson will have to show up at some point, and there's little reason to believe he can.
New York's defense and special teams redeemed an otherwise devastating night, but the Jets are still in big trouble if Rodgers is out long term.
Overreaction Verdict: NOT REAL
Philadelphia Eagles
Overreaction: The Eagles won, but they were not the better team on Sunday!!
For a few minutes, it looked like Philadelphia's game would be similar to Dallas' win over the Giants. The Eagles kicked an opening drive field goal, then forced turnovers on back-to-back New England plays to cruise to a quick 16-0 lead, and it felt like the rout was on.
But Philadelphia was outscored 20-9 the rest of the way. The offense had two yards on 13 plays the rest of the half and never found the end zone again, and the Eagles were outgained by 131 yards and struggled to find the big play or get much going on the ground.
The first 10 minutes felt like last year's Eagles season all over again, but there were some troubling signs here for a top contender.
Overreaction Verdict: REAL
---
Pittsburgh Steelers
Overreaction: Offensive coordinator Matt Canada is past expiration.
The Steelers were a popular upset pick in Week 1 (including yours truly) but never got off the runway. Their first five drives netted -9 yards on 15 plays as Pittsburgh fell behind 20-0, and that was all she wrote.
It's starting to feel like the guy calling the plays is to blame. Canada's offense has no direction. He hasn't picked a RB, and the Steelers ran 10 times all game while Kenny Pickett aired it out 46 times with a blah 5.0 YPA. That's just not the formula for this team's success, and it led to quick drives that stranded the defense back on the field.
The Steelers offense finished bottom 10 in yards, points, and efficiency in both of Canada's years. It's time to find some answers or get someone who can.
Overreaction Verdict: REAL
---
San Francisco 49ers
Overreaction: Joe Montana… Steve Young… BROCK PURDY!!
Purdy led the first scoring drive of the NFL RedZone season, punctuated by a touchdown pass to Brandon Aiyuk, and he repeated the feat a quarter later as the Niners jumped out to a 20-0 lead and rolled.
Purdy has thrown at least two TDs in every regular season game of his career, and he had an awesome 0.69 EPA per play at halftime and was making me feel pretty good about our +5000 long shot MVP ticket.
Of course, we've already seen Purdy roll as a front runner, so I'm not sure we learned much there, and his play was poor after the half with -0.43 EPA per play, finishing with three sacks and two fumbles.
The story for San Francisco was a ridiculous defensive performance again despite the coordinator change. Purdy was good enough, too, but the jury remains out big picture.
Overreaction Verdict: NOT REAL
Seattle Seahawks
Overreaction: This Seahawks performance is the most troubling for any playoff contender in Week 1!!
That was a paddlin'.
The Rams ran 32 more plays than Seattle, had the ball almost twice as long, and finished with 246 more yards. The Seahawks offense gained just 180 yards against one of the league's least talented defenses on paper, and the team completely folded in the second half, shut out 23-0 in front of the home fans.
It's hard to decide which side of the ball was more troubling. The offense managed to gain two yards on 17 plays in the second half, and the defense allowed the Rams to get into scoring position on all but one drive for the game. The Rams settled for three field goals and missed two more, or this could've been far worse.
This should've been one of the easiest games on Seattle's schedule. Very worrying start, especially for the young line and secondary that struggled to finish last season.
Overreaction Verdict: REAL
---
Tampa Bay Buccaneers
Overreaction: Hey, the Bucs might be in this weak NFC South!!
Tampa Bay got the win, but the Bucs were badly outplayed.
The offense averaged just 3.6 yards per play while the defense allowed 5.9 YPP, and the team had 242 yards against what might end up one of the league's worst defenses. The Bucs won the game because they won the turnover margin, three-nil.
A win is a win, but this was a bad (and unlucky) Vikings loss, not a good Bucs win.
Overreaction Verdict: NOT REAL
---
Tennessee Titans
Overreaction: Ryan Tannehill might be a pumpkin again!!
It's officially time to worry about the 35-year-old Tannehill, who had three interceptions and three sacks with a 28.8 QB Rating. The metrics say Tannehill was elite for two years under OC Arthur Smith, with an EPA short of only Mahomes, but he's dropped off since Smith left.
In fairness, the Titans have the worst offensive line in the league and Tannehill was under pressure, but the Saints also replaced three of four defensive linemen and if Tanny gets credit when he's in a favorable setting, then he gets blame in a bad one, too.
The Titans defense was up to the task, but the offense let them down. Tennessee got the ball on the 24 after forcing a turnover on the opening kickoff but settled for a field goal, then got to the 9, 13, 27, and 11 and did so again before losing by a point. If you can't protect or trust your QB, it could be a long season.
Overreaction Verdict: REAL
---
Washington Commanders
Overreaction: Uhhh, we needed a 4th quarter comeback to beat the Cardinals? Yikes!!
Washington is all vibes after dispatching its owner and ending Baltimore's preseason winning streak, and a 1-0 start counts however you get there — but this was ugly.
The Commanders were sloppy. They had a fumble in the red zone and allowed a strip-6 in the opponent red zone. Sam Howell and the offense did very little against a wretched defense.
Washington entered the fourth trailing the 3.5-win total Cards 16-10 and won only thanks to 10 late points on short fields after turnovers. Washington's defense played well, but this is a win that leaves many more questions than answers.
Overreaction Verdict: REAL
How would you rate this article?
This site contains commercial content. We may be compensated for the links provided on this page. The content on this page is for informational purposes only. Action Network makes no representation or warranty as to the accuracy of the information given or the outcome of any game or event.