NFL Week 1 Power Rankings | Win Totals, Futures Best Bets & Previews for All 32 Teams
Credit:
Getty Images/ Matt Roebke of Action Network.
The 2023 NFL season is finally here, and it's time to kickoff the new season with our first Power Rankings.
Note that these are power rankings not power ratings. Today we're ranking teams on expected playoff and Super Bowl upside heading into the season.
Below you'll find a mini preview of all 32 NFL teams with their ranking on offense, defense, and coaching. You'll also see a decision on each team's win total with my usual Bet, Lean, or Pass setup, plus my favorite futures best bet for each team.
---
---
---
Tier 10 — Openly Tanking
Season Outlook
Just look at the team heading again — the Cardinals rank 32nd on offense, defense, and coaching. There are 32 NFL teams. Seems bad.
Let's list off Arizona players who are definitely good. There's safety Budda Baker … and I'm out. Zach Ertz? D.J. Humpries? Uhh, how long til Kyler Murray comes back?!
I'm skeptical we see Murray at all for a team that appears to be outright tanking and hasn't even announced a Week 1 starting quarterback yet. That will either be fifth-round rookie Clayton Tune, or a guy that wasn't on the roster two weeks ago, Josh Dobbs. Yeah, it's dire.
The Cardinals are desperately lacking in talent, one of those teams everyone will write October think pieces about wondering whether they would lose to Georgia (they wouldn't).
Biggest Questions
Is there some untapped upside in the unknowns at QB and Jonathan Gannon's new coaching staff?
How often will bettors be compelled to lay double-digit points against this terrible team?
Win Total: Under 4.5 -120 (Lean)
The juice has moved too far down to leave much value on betting even alternate unders or fewest wins.
Futures Best Bet: Clayton Tune to lead all rookie QBs in passing yards +2800 (Bet365)
It's possible Tune plays most of the season at QB, and Arizona will spend much of the year trailing. If he starts Week 1 or comes in quickly for Dobbs in relief, this number is just far too long.
Editor's note: Written before Dobbs was announced as Week 1 starter.

---
Click below to return to all 32 Teams
---
Tier 9 — Could Be a Long Season
Season Outlook
The Buccaneers staggered into the playoffs as 8-9 division winners but stripped the roster for parts after Tom Brady retired.
The two-year talent drain on this roster is wild. Brady is gone along with Rob Gronkowski, Leonard Fournette, and most of the receiver depth. Bruce Arians and Byron Leftwich no longer lead the offense, and the defensive front is missing stars like Jason Pierre-Paul, Akiem Hicks, and Ndamukong Suh.
The offense is particularly worrisome. Second-round investment Kyle Trask can't beat out Baker Mayfield, and the run game has gone MIA behind a cratering line that starts new players at all five positions. Mike Evans and Chris Godwin are great but an injury to either would be devastating to this attack.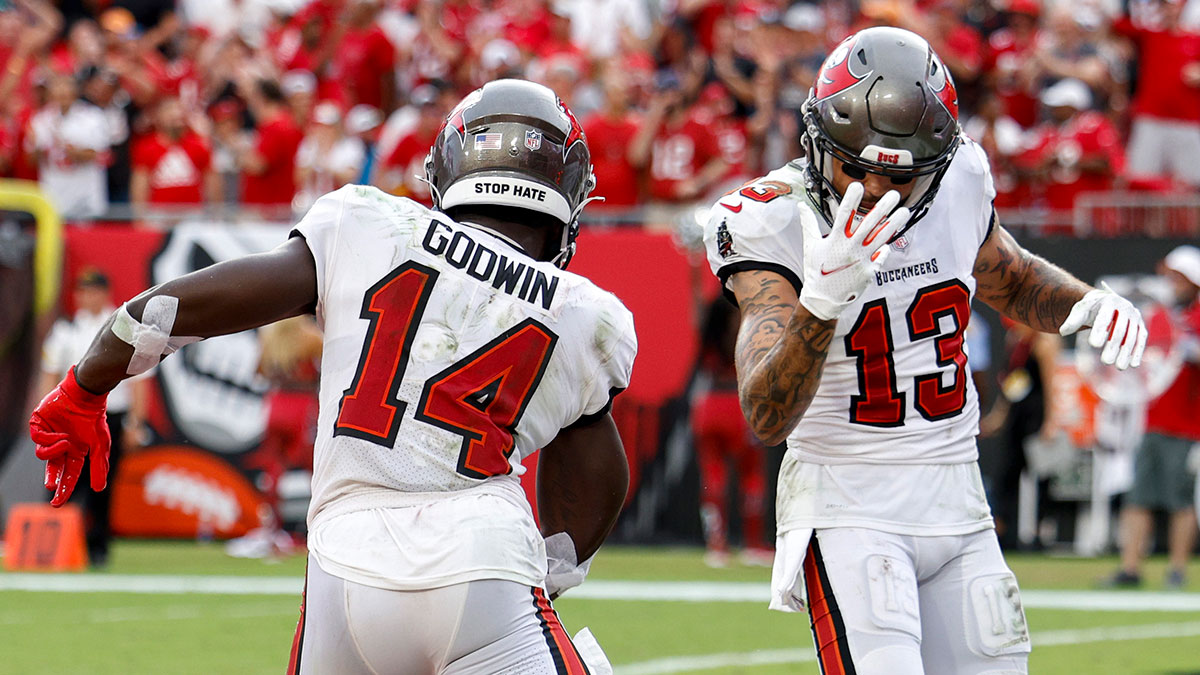 This roster is perilously thin, finally paying the price for an expensive roster. Todd Bowles' defense has enough talent to give this team a decent floor, but the offense could make that difficult and so could a special teams unit that's finished bottom seven in six of seven years.
Tampa is an obvious regression candidate after escaping with a handful of late Brady miracles last season. And Tom Brady ain't walkin' through that door in 2023.
Biggest Questions
Tristan Wirfs has played like a future Hall of Famer at right tackle but is reportedly struggling with the move to LT. Can he make the transition and anchor a line badly in need of stability?
How good can the remnant of this Bowles defense be, and how much does that lift the team's floor?
Win Total: Under 6.5 -140 (Lean)
The number feels about right, leaving little value at the juice. I'd prefer last in the NFC South (+100, Bet365), which feels like more of a head-to-head bet against Carolina at better juice.
Futures Best Bet: Mike Evans over 5.5 receiving TDs (Caesars)
Evans has a career 11.9% TD rate, absurd for a guy with 683 catches. He's gone over this number in five straight and seven of nine years, and he could actually benefit from the switch from Brady to Mayfield with Baker more willing to throw it up and give his 6-foot-5 target a chance. I'll nibble +6000 (BetRivers) for Evans to lead the league in receiving TDs too since he has four seasons of 12-plus TDs.
---
Click below to return to all 32 Teams
---
Season Outlook
It's hard to find much reason to get excited about the Raiders.
The defense has great edge rushers in Maxx Crosby, Chandler Jones, and rookie Tyree Wilson, but that's about it. The unit finished 31st in DVOA and has ranked bottom five in four of the past five years. Perhaps a reworked secondary will help.
The offense has stars in Davante Adams and Josh Jacobs, but downgraded from Derek Carr and Darren Waller to Jimmy Garoppolo and Austin Hooper. It's hard to imagine Garoppolo's passive unwilling style fitting Josh McDaniels' aggressive downfield attack that just gave Carr the worst season of his career.
McDaniels is supposed to be an offensive wizard, but he's only finished above average in Offensive DVOA twice in seven seasons without Tom Brady. It would be surprising if this were a third.
Biggest Questions
Can an offensive line that overachieved last season and returns all five starters continue to open up lanes for defending rushing champion Josh Jacobs, and will he be fit and ready after the holdout?
Will Garoppolo be anything more than a stopgap QB for McDaniels, or will the marriage go awry?
Win Total: Under 6.5 (Pass)
The Chargers and Broncos are too volatile. If you're out on the Raiders, play something more aggressive.
Futures Best Bet: Most losses +1300 (DraftKings)
If the Raiders can't beat the Broncos in Week 1, it could get ugly quickly against a tough opening schedule. Drop to 0-5 against the Packers in front of the home fans on Monday night in Week 5, and the bottom could fall out quickly on McDaniels. If the Garoppolo fit is bad, this team will have every reason to tank and position itself to draft a franchise quarterback.
---
Click below to return to all 32 Teams
---
Season Outlook
The Super Bowl win the Rams celebrated feels like a lifetime ago at this point.
A once-proud defense has been burned to the ground. Aaron Donald is still Aaron Donald, but how many other Rams defenders can you name? Jalen Ramsey and the rest of the cornerback room are gone along with Bobby Wagner, Leonard Floyd, A'Shawn Robinson, and anyone else of note. Outside of Donald, this is the least-talented defense in the NFL. Defensive coordinator Raheem Morris has his work cut out for him.
The offense is in similar shape. Matt Stafford and Cooper Kupp — hamstring pending — return from injury as headliners, but there's not much else of note. The offensive line cratered last fall, besieged by injuries of their own, and a once-elite and reliable run game has faded badly.
There are some reasons for optimism with positive injury luck regression and an easier schedule, and it's hard to imagine Sean McVay came back from the brink of retirement for a rebuilding tank year, but the Rams feel one Stafford or Donald injury away from a season that's over before it even gets started.
Biggest Questions
Can the Rams get Cam Akers going early after a late resurgence? He's healthy two years removed from an Achilles tear. Sean McVay's run game is the core identity everything else is built around.
How will McVay's offense evolve with the addition of OC Mike LaFleur, coming over from the Shanahan tree?
Why did McVay decide not to retire? No, seriously, why did he come back to this roster disaster?
Win Total: Under 6.5 (Pass)
Too low a line to feel great about for a team that's definitely not worst in its own division.
Futures Best Bet: Keep an eye on Cooper Kupp season leader bets
Kupp had 72 catches for 813 yards and six scores in eight healthy games, a 17-game pace of 153/1728/13, not far off his historic 2021 season. He's good enough to lead the league in yards, receptions, and/or TDs even if he misses a game or two. Kupp would've been my favorite in all three categories if healthy. Watch for a long in-season number if that hamstring looks okay.
---
Click below to return to all 32 Teams
---
Tier 8 — Can Your QB Actually Play QB?
Season Outlook
Many are expecting a big season from the Bears, but I'm not on board.
Chicago is an easy pick for positive regression. The Bears went 1-6 in one-score games and won two fewer than expectation. They led the league in cap space and spent big to add talent to a barren roster. Naturally, almost every team with the worst record is better the following season. But better is not good.
I don't love how Chicago spent its capital. The Bears moved on from Roquan Smith, only to spend big on replacement linebackers, T.J. Edwards and Tremaine Edmunds. Chicago traded down from No. 1, failing to take another shot at a franchise quarterback, then passed on a potential No. 1 talent in Jalen Carter to take a project in RT Darnell Wright. The Bears made a smart decision adding D.J. Moore, but only after trading what turned out to be the 32nd pick in the draft for Chase Claypool.
Chicago's defense ranked dead last both against the pass and overall by DVOA, and I don't see much reason for improvement. You don't win many games with a defense this bad, and the offense ranked dead last at 15.5 PPG outside of one good four-game stretch midseason.
The hope for improvement lies mostly in misplaced belief in Justin Fields. He's an electric runner, but virtually every passing metric disparages Fields as a passer. He's below 60% completion with a 3.6% interception rate, a 13.4% sack rate, and 24% of his passes uncatchable. There's talk of Fields making a Josh Allen leap, but the truth is he'd need a near-unprecedented leap just to be an average passer.
The offensive line has improved in run blocking but still rates terribly at pass blocking, so that won't help Fields. One D.J. Moore can only do so much. There's a far worse chance of Fields magically becoming Allen than there is losing his job entirely by season's end.
Biggest Questions
Even if Justin Fields doesn't magically become a great QB overnight, what simple steps can he take to improve step by step?
How much can Matt Eberflus and this coaching staff elevate a lack of talent on defense to make life easier on Fields and the offense?.
Win Total: Under 7.5 +110 (Lean)
The Bears have only gone over their win total once in 10 seasons (1-8-1), averaging 6.4 wins that stretch. If you want to fade Chicago more aggressively, you can play alt under 6.5 (+190, FanDuel) or 5.5 (+290).
Futures Best Bet: Last in the NFC North +220 (DraftKings)
The Bears are favored to finish last, but +220 implies 31.3%. Chicago has the worst offense in the division by a wide margin and might have the worst defense again too. This is my favorite way to fade Justin Fields and a team I just don't believe in.
---
Click below to return to all 32 Teams
---
Season Outlook
The Colts hit the reset button and finally have a path forward under new head coach Shane Steichen and rookie QB Anthony Richardson.
Richardson will start Opening Day, an eighth consecutive different starting Week 1 QB for the Colts, who have failed to cover any of those games. Richardson's athleticism is off the charts after effectively breaking the Combine, but it will be a steep learning curve as he learns to play quarterback at an NFL level.
Steichen's success with Jalen Hurts provides a long-term road map but it may take awhile. A prolonged Jonathan Taylor absence means tough sledding offensively for a team that already ranked bottom two both passing and rushing by DVOA.
The defense lost key veterans Stephon Gilmore, Bobby Okereke, and Yannick Ngakoue from was decent but may no longer be. The Colts have little pass rush and the worst cornerback room in the league, so this shapes up as a terrible pass defense. Add in the tempo we saw from Indianapolis in the preseason and the Colts look like a threat to allow the most points in the NFL (+2500 FanDuel).
Indianapolis has a roadmap forward now, but the destination is far off.
Biggest Questions
Can Tony Sparano help resurrect a once great offensive line, reigniting Quenton Nelson off the worst year of his career with a run-first scheme that makes blocking easier on everyone?
How much can DC Gus Bradley's zone-heavy scheme protect these young cornerbacks?
Win Total: Over 6.5 (Pass)
A terrible division and some scheduling quirks along with a stout rushing attack and great coaching leave just enough in doubt to stay away and play the division another way.
Futures Best Bet: Anthony Richardson most QB rushing yards +700 (Bet365)
Steichen should make life easy on his rookie with plenty of designed runs, and Richardson will be lethal as a scrambler with a great chance to hit 1,000 yards. Justin Fields was the only QB to hit 800 in 2022, so this could end up a head-to-head bet with the bigger Richardson less likely to get injured or benched.
---
Click below to return to all 32 Teams
---
Tier 7 — Are You Coming or Going?
Season Outlook
The Commanders already won their Super Bowl twice over, ousting Daniel Snyder from ownership and beating the local rival Ravens to end their decade-long win streak. It might be all downhill from here.
Washington has ranked bottom five in Offensive DVOA in four of the past five years, and they've been bottom five in Passing DVOA five straight. It's hard to see that changing under sophomore fifth-round QB Sam Howell, who has just one professional start to his name. The Commanders have a bottom-five offensive line with no continuity and very little run game, so there are no easy buttons for Howell.
The defense is in better shape with a supremely talented line, especially if Chase Young can get healthy and contribute. If first-round CB Emmanuel Forbes hits, this could be one of the better defenses in the league, but he's struggled in camp and that could leave the secondary a bit undermanned.
Ron Rivera's eams have finished .500 or worse in nine of 12 NFL seasons. Must be coming up to an election year, because it feels like a year in transition with a lame duck leader in Washington.
Biggest Questions
Will the Commanders play loose and free with the ownership change, or will the team feel the year in transition with a new team name and likely coach coming around the corner?
What can OC Eric Bieniemy bring to this offense, and how much can he make Sam Howell look like a very poor man's Pat Mahomes?
Win Total: Over 6.5 (Pass)
The number feels a touch low, especially at +115, but I don't need it and don't want to be sweating out a final win or two against a final stretch featuring the Cowboys, Dolphins, Rams, Jets, 49ers, and Cowboys.
Futures Best Bet: Third place in the NFC East +250 (Bet365)
I project Washington a half win behind the Giants but over four wins behind both Philadelphia and Dallas. That effectively makes this a head-to-head bet between two teams I have close to even, so I'll take the +250 and implied 29% odds.
---
Click below to return to all 32 Teams
---
Season Outlook
The Titans are a trendy bounce-back team in the AFC South, but I can't get there. This looks like a team in transition after losing a ton of names in recent years. Veterans Taylor Lewan, Robert Woods, and Austin Hooper depart along with the entire linebacker crew, joining A.J. Brown, Julio Jones, Roger Saffold, Janoris Jenkins, and others from a 1-seed two years ago.
This is not that team anymore. The offensive line is worst in the NFL in every ranking, making life difficult on Derrick Henry, bound to slow down sometime with his age and workload profile. Ryan Tannehill's numbers have dropped dramatically since Arthur Smith left, and DeAndre Hopkins has seen better days.
The defense was elite against the run but got demolished by the pass, not exactly a winning formula in 2023. A talented line was ravaged by injuries late as the team fell apart, so Tennessee should get some positive injury regression but it may not be enough if these corners are not up to the task.
The Titans feel like the AFC's answer to the Vikings or Bucs, with recognizable names at just enough positions to cover a past-expiration core that might need a full reset.
Biggest Questions
Can Mike Vrabel's excellent game management continue to help this team win toss-up games and stay ahead of the curve?
How good can DC Shane Bowen's defense be if everyone stays healthy?
Win Total: Under 7.5 +110 (Lean)
The Titans went under in last year's disaster of a season for the first time since 2015 (5-1-1 since).
Futures Best Bet: Alternate under 5.5 +300 (DraftKings)
The Titans start against the Saints, Chargers, Browns, Bengals, Colts, and Ravens. That could easily leave them 2-4 or worse heading into the bye week, and an injury to either Tannehill or Henry could bury this team much like it did a year ago. A second straight bottoming out could mean time to tank.
---
Click below to return to all 32 Teams
---
Season Outlook
The Giants made the playoffs and even won a game but don't feel particularly interesting.
New York is a clear regression candidate after living with a horseshoe up its rear all season, though the regression already kicked in late. The Giants started 6-1 with all six wins by one score but finished 2-5-1, winning only one of five one-score games. New York won by more than one possession once all season and finished with a negative point differential. They also had the worst defense in the league by EPA on early downs, a more stable metric, but got outlier great performances on late downs and in the red zone.
It's possible all those close wins and late stops are outstanding coaching, and voters thought so when they named Brian Daboll Coach of the Year. But history says those numbers are unsustainable outside of the Hall of Fame QBs, and as much as Daniel Jones has improved, he's far from that.
Jones cut his turnovers to become a suitable game manager, but he's playing with training wheels on. His minuscule aDOT shows how little Daboll trusts Jones. Daboll raised the floor of this offense, but a shoddy offensive line and lack of upside and belief in Jones give them a glass ceiling.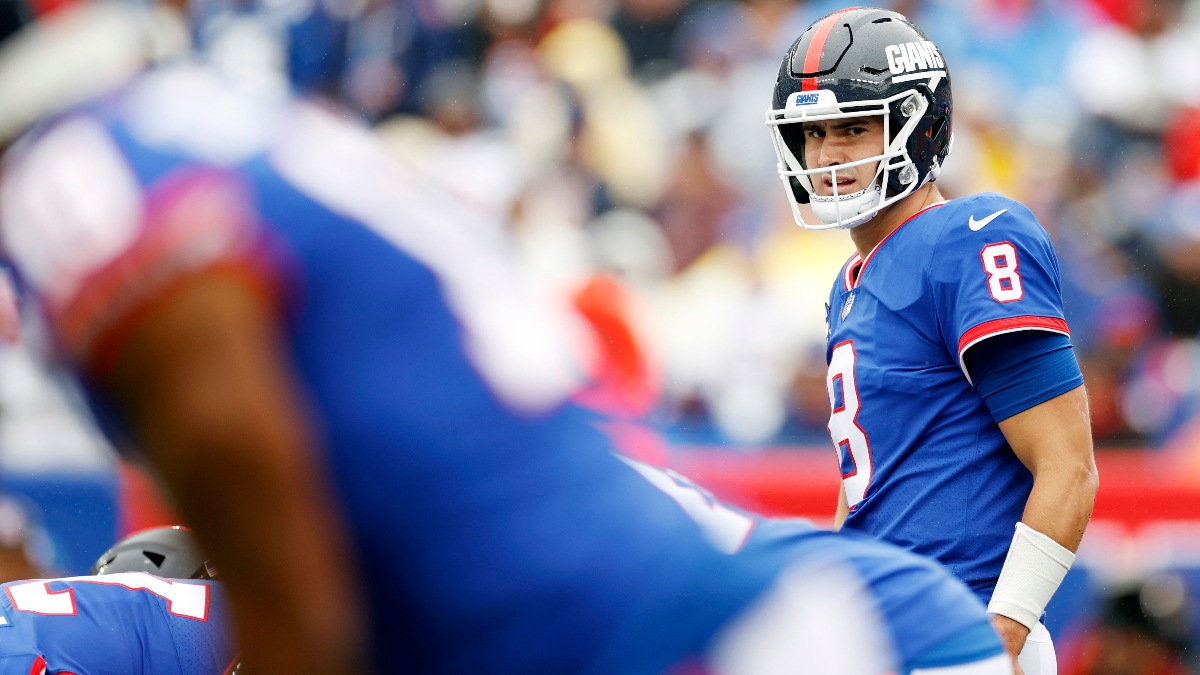 For the Giants to match last season's success, they'll need a big year from Wink Martindale's defense. New York will start a pair of rookie corners in an aggressive scheme that gets after the quarterbacks and relies on the secondary to hold up if the rush doesn't get home, so that could make for a boom-or-bust defense.
Biggest Questions
Can Kayvon Thibodeaux and Azeez Ojulari thrive as edge rushers and unlock Martindale's defensive scheme? Wink's blitz-heavy man-heavy scheme is fearsome when it works but has ranked bottom five in DVOA the last two seasons with poor personnel.
How much of last year's success was competent coaching taking low-hanging fruit from departed coaches Joe Judge and Jason Garrett? Have the Giants already maxed out?
Win Total: Under 7.5 (Pass)
Last year was only the second Giants over in 12 seasons (2-9-1). I'd go under if I had to play, but this looks like the right number.
Futures Best Bet: DAL-PHI-WAS-NYG exact NFC East division order +800 (Bet365)
Consider this an escalator on the Washington bet. The NFC East is two pairs of two teams. Washington is good enough to pass New York but neither of these teams is sniffing the top two, so all we're adding here is Dallas over Philly as a creative division play.
---
Click below to return to all 32 Teams
---
Season Outlook
The Broncos are a positive regression candidate. They led the league in adjusted games lost to injury per Football Outsiders and won two fewer games than expectation, and that's not even accounting for all the obvious low-hanging fruit left on the vine by an awful coaching staff.
Sean Payton has been out of football for a year and hasn't had success apart from Drew Brees in decades. He has a heck of a reclamation project in Russell Wilson. The Broncos offense ranked in the bottom quarter of the league both running and passing, and Wilson's trajectory is troubling to say the least.
Denver spent a heap of money adding blockers, a move that screams run-heavy attack designed to protect Russ, but Javonte Williams is still recovering from multiple knee ligament tears and the receivers are already besieged by injuries. Wilson had led a top-eight passing offense four straight years and eight of 10 before last season. Does he have any magic left?
The defense was great but lost DC Ejiro Evero. Patrick Surtain Jr. and Justin Simmons lead a talented secondary, but the defense had been on a steady decline before Evero arrived. Add in a special teams that's finished bottom 10 seven straight seasons and it's just hard to find much to get excited about.
Denver should be better, but don't confuse better for good.
Biggest Questions
Can Russell Wilson still cook? Can he even find the kitchen?
Can Denver take advantage of a soft spot on its schedule over the first five games, or will the Broncos be doomed by a slow start followed by the Chiefs twice in three weeks and a brutal back half?
Win Total & Futures Best Bet: Under 8.5 -110 (FanDuel) (BET)
Wilson went 6-8 and 4-11 the last two seasons. Denver might be the 12th or 13th best team in the AFC, so .500 ball is simply too big an ask. Denver has failed to hit its over in seven straight seasons (0-6-1). This is my favorite under on the board.
---
Click below to return to all 32 Teams
---
Tier 6 — The NFC… It's Grrreat!!
Season Outlook
I like a lot about the Panthers in theory, but it might all be a half a season or more too early.
The belief starts with Frank Reich and the All-Star coaching staff he's surrounded himself with. OC Thomas Brown is a hot name but has never called plays and may split duties in Carolina. DC Ejiro Evero built a nasty defense in Denver and inherits a bunch of fun weapons. Other assistants like Chris Tabor (ST), Josh McCown (QBs), and Parks Frazier (passing coordinator) will likely get promotions soon.
The coaches don't actually get to play, though, and the talent on this team may be a work in progress.
The offensive line is young and wildly inconsistent, and it was glaringly bad in preseason. That plus a lack of explosive weapons could make life difficult on No. 1 overall pick Bryce Young. Reich has never led a top-10 DVOA offense, and he has his work cut out for him. Carolina spent big on Miles Sanders, D.J. Chark, Adam Thielen, and Hayden Hurst, but it's hard to feel like those names really move the needle.
If Carolina is successful in 2023, it will be because Ejero elevated all the talent on this defense. Brian Burns is a long shot DPOY candidate, and Jaycee Horn, Shaq Thompson, Frankie Luvu, and Derrick Brown have flashed star potential at times.
I'm getting Jaguars and Giants vibes from this team the way those teams had such obvious low-hanging fruit after a terrible previous coaching regime, but it feels early.
Biggest Questions
Can Young step in and win right away? The past decade has not been kind to rookie No. 1 QBs: Trevor Lawrence (3-14), Joe Burrow (2-8-1), Kyler Murray (3-7), Baker Mayfield (6-7), Jared Goff (0-7), and Jameis Winston (6-10), an ugly average of 3.3 wins per QB.
Who calls plays for this offense, and will the attack be as tepid as it looked in the preseason?
Win Total: Under 7.5 +100 (Lean)
This feels like a potential middle target, grabbing an under early while a young team finds itself but thinking about a reduced over later if it looks like the coaches are starting to figure things out.
Futures Best Bet: Brian Burns DPOY +4000 (BetRivers)
Burns had 12.5 sacks in 2022 and has equaled or surpassed his sack total all four seasons. This is just a nibble as DPOY typically goes to one of the favorites, but if Ejero does help this Panthers defense break out, Burns could be a breakout star at age 25.
---
Click below to return to all 32 Teams
---
Season Outlook
The 2023 Vikings might be the most obvious regression candidate in recent history.
Minnesota went 13-4 with a negative point differential. The Vikings were 11-0 in one-score games, most in league history. They were +4.6 in Pythagorean wins, most since 1989, and +6.7 above Football Outsiders' estimated wins metric. Minnesota finished 27th in DVOA between the Raiders and Panthers. Every available measure said the Vikings were a below average team in 2023 — except the one that counts.
Regression is coming for a team the metrics thought was a .500 club that now plays a first-place schedule including the Eagles, 49ers, Chiefs, Chargers, and Bengals. Even the books are telling us regression is coming, setting a win total of 8.5 for a team that returns of its roster. Not everyone is back, though.
The Vikings lost key veterans in Dalvin Cook, Adam Thielen, Eric Kendricks, Za'Darius Smith, Dalvin Tomlinson, and Patrick Peterson. The additions were more minor, signaling a team in transition. The most important addition might be DC Brian Flores, a great defensive mind but a huge transition from a safe, defensive shell to a super aggressive scheme Flores may not yet have the bodies for. That could lead to quick scores both directions and high-scoring Vikings games.
Minnesota ranked below average on both offense and defense by DVOA, despite the gaudy win total. The Vikings could have a lower ceiling and lower floor than expected.
Biggest Questions
Can Kevin O'Connell help Minnesota rediscover its run game?  O'Connell failed to establish a run threat, and injuries to LT Christian Darrisaw didn't help. This offense has top-10 potential on paper but it can't be only Justin Jefferson.
Does Flores have the right pieces on defense, or will his aggressive schemes leave an unproven secondary exposed and vulnerable?
Win Total: Under 8.5 +110 (Lean)
All four Minnesota losses came by double digits. Since 2000, 21 teams had at least four such losses despite winning 10+ games, and over half of them dropped at least wins the following season with an average decline of 4.8 wins per VSIN.
Futures Best Bet: T.J. Hockenson over 76.5 receptions (BetRivers)
In nine full games with the Vikings, Hockenson saw 85 targets for 59 catches and 503 yards, with at least eight targets in seven of the nine. That paces to 161 targets for 111 catches over 17 games. Hockenson looks like a fantasy bargain with a chance to push for 100 catches.
---
Click below to return to all 32 Teams
---
Season Outlook
The Packers might be the NFC's highest variance team.
The Packers will start their first QB not named Brett Favre or Aaron Rodgers since 1991 (!!), and Jordan Love is an unknown with one professional start to his name and shaky, turnover-ridden college metrics. He'll throw to the league's youngest receivers, with all top eight wideouts and tight ends either rookies or sophomores. Add in an underperforming defense and it would be easy to write Green Bay off.
But a defense can only underperform if there's underlying talent, and the Packers may rank top-10 in talent alone. Rashan Gary returns after missing half a season, and the secondary is loaded. The run D remains a major problem, ranked second to last in DVOA, and DC Joe Barry may be one of the worst coordinators in the league the way this unit consistently disappoints.
The talent is there though, especially if Love steps in as a competent or even good starter. He'll be buoyed by a strong run game and a great offensive line now that David Bahktiari and Elgton Jenkins are healthy. If Love can be average, that's probably enough to contend in a weak division. If he's good, both he and the Green Bay offense could be top-10 candidates and the Packers could win 12 in the NFC.
Biggest Questions
Can Love and this young receiving corps be good right away? Green Bay has a very winnable opening eight games. The Packers are +4000 (DraftKings) to be the NFL's last unbeaten team if things click.
Will a talented defense finally live up to billing? Can Rashan Gary get into the DPOY conversation?
Win Total: Over 7.5 (Pass)
I'm not in a big believer in Love or this defense, but it's undeniable that this team has a high number of paths for positive outcomes. The Packers have long tails in each direction, so trust your gut on a read and play an outlier outcome angle instead of the median win total.
Futures Best Bet: Packers to win the NFC North +400 (DraftKings)
The NFC North is my weakest division. Do the Packers have at least a 20% chance to win it? That feels low, especially with the soft opening schedule and a tough early stretch for the favored Lions. If Green Bay breaks through for 12 wins, Matt LaFleur could be a Coach of the Year candidate too (+1400, FanDuel).
---
Click below to return to all 32 Teams
---
Season Outlook
Everyone's penciling the Seahawks in as the fourth good NFC team, but I'm not convinced.
Seattle lost five of six down the stretch as its young line cratered, backdooring into the playoffs thanks to late wins against Mike White and Baker Mayfield and some help from Detroit the final game of the season. Seattle went 2-5 against playoff teams and consistently struggled against more talented teams.
I'm worried about that young line, especially because Most Improved Player Geno Smith still struggled mightily under pressure and may have turned back into a pumpkin late in the season with eight interceptions over his final eight games. Seattle plays eight games against my top-12 pass rushes this season, not even counting two games against a 49ers team that swept them three times by 46 points.
Seattle's passing game slipped late, and the run game was inconsistent. Seahawks special teams are always great under Larry Izzo, but for this team to hold its ground in 2023, it will take a leap on defense for a unit that often forgot how to tackle last fall. The return of Bobby Wagner should help there, but a lot falls on first-round CB Devon Witherspoon and this talented but young secondary.
Growth isn't always linear. Seattle has young talent on both lines and in the secondary, but how often will the Seahawks get everything humming at once and can they do it against top competition?
Biggest Questions
Can Seattle survive a brutal schedule against consistent top pass pressure, including survive consecutive games against the 49ers, Cowboys, 49ers again, and Eagles starting on Thanksgiving?
How quickly can first-round WR Jaxon Smith-Njigba return to complement D.K. Metcalf and Tyler Lockett, and can this passing game continue to barely skip a beat without Russell Wilson?
Win Total: Under 8.5 +140 DraftKings (Lean)
I don't love anyone in this division but can't get past all those pass rushes on the schedule. Seattle could make the playoffs even at 8-9 in the NFC, and at +140 to the under, the juice is worth considering here.
Futures Best Bet: Geno Smith most interceptions thrown +2500 (BetUS)
Smith led the league in Turnover-Worthy Passes with 29, per PFF, and he still has a career 3.0% interception rate even after last year's renaissance leading the league in completion rate. If he struggles against consistent pass rush all season, the mistakes could start to pile up.
---
Click below to return to all 32 Teams
---
Tier 5 — High Floor But What's the Ceiling?
Season Outlook
The 2023 Patriots are a bet on how much you still believe in Bill Belichick.
The defense should be great again. A talented young secondary adds first-round corner Christian Gonzalez, and tantalizing third-rounder Marte Mapu is already being used all over the field much like Kyle Dugger. New England has finished top four in Defensive DVOA in three of the past four seasons, remarkably consistency for the side of the ball that's typically not very sticky from one year to the next.
But for as much as Belichick's defenses are constantly evolving to keep up with and even stay ahead of modern offenses, we saw last year that he was not up to the task offensively when the team played without an offensive coordinator and saw sophomore Mac Jones take a massive step backwards.
This year Belichick reunites with OC Bill O'Brien, a great play caller who should improve this run game and get Jones on the right track. The ceiling of the offense could depend on a young offensive line. Belichick's team had ranked in the top nine in run blocking a remarkable 15 straight seasons at Football Outsiders before dropping to 19th last fall, and reports out of camp have been ugly.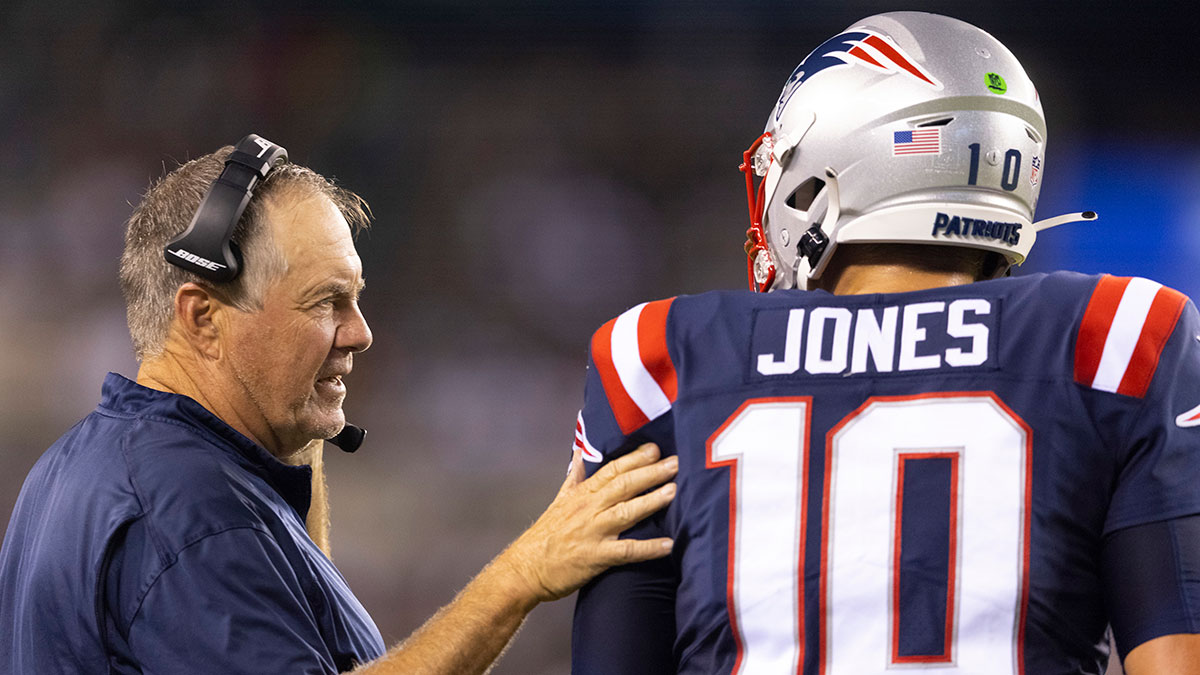 A stable line and quality play-calling might keep the Patriots in the playoff race, but anything short of that might leave the Patriots outgunned in the difficult AFC East.
Biggest Questions
Can the Patriots survive a brutal opening month schedule against the Eagles, Dolphins, Jets, and Cowboys or will the new season be dead on arrival?
The Patriots had finished top half of the league in special teams 21 straight seasons before dropping to 18th and then 32nd last season. Belichick prioritized this unit by investing draft picks into both a kicker and a punter. Can they rebound with the help of Joe Judge?
Win Total & Futures Best Bet: Over 6.5 -140 (BetMGM) (BET)
This number is downright insulting. Since Belichick's 5-11 debut season in 2000, he's gone over this line 22 of 22 seasons. Belichick has only had single-digit wins three times during that stretch. Belichick did not go under the posted win total in any of Brady's final 10 seasons, though he's 2-1 to the under since with a 25-25 record. If you play win totals in-season, you may to wait til after a rough opening month.
---
Click below to return to all 32 Teams
---
Season Outlook
The Saints add Derek Carr to good defense, bringing significant stability to a QB depth chart that's been a merry-go-round since Drew Brees retired. The Saints won 1.4 fewer games than expected by underlying metrics, and they have the softest schedule in the league in an NFC South there for the taking.
Is that all a little too easy, though? New Orleans has seen an incredible talent drain over the past three seasons now including Sean Payton, Drew Brees, Terron Armstead, Michael Jenkins, Trey Hendrickson, Sheldon Rankins, David Onyemata, Marcus Davenport, and others.
The defense lost three starters from a line that's kept this unit top eight in DVOA six consecutive seasons. The D shifts to a new look under DC Joe Woods, who struggled to maximize talent in Cleveland. The secondary still looks great, but everything gets harder if that front line of attack can't get the job done.
Carr steps into a potentially great marriage with OC Pete Carmichael, ready to hit those short, accurate Brees passes. But Carr is coming off the worst year of his career, and his worst four seasons have all come in new systems. The weapons at Carr's disposal could be great, if they can stay healthy and on the field.
If Carr hits the ground running, this team could win 12 games in a weak NFC. If he doesn't, the defense will need to stave off regression and hope .500 ball is enough in a soft division.
Biggest Questions
How will the defense adjust with Woods a stark contrast to Dennis Allen schematically? The defense, not the faltering offense is what's kept this team winning games in recent years.
Is Allen just a placeholder for a team that refuses to enter rebuilding mode once and for all?
Win Total: Under 9.5 (Pass)
I want to fade a Saints team I don't believe in, but the schedule and division are so soft and the defense gives New Orleans a real floor. The low-end tail may not be there, but the high-end outcomes are worth investing in if you believe.
Futures Best Bet: Chris Olave to lead the NFC South in receiving yards +150 (FanDuel)
Olave put up elite metrics as a rookie despite playing with three different QBs. He looks like a perfect match with Carr, who loves to throw the seam route Olave excels at and has a reputation for locking onto his WR1. Atlanta and Carolina shouldn't be a threat to this bet, so we just need Olave to out-produce Tampa's duo. I'll also nibble on Olave leading the league in receiving yards (+3000, BetMGM) or winning Offensive Player of the Year (+6500, Caesar's).
---
Click below to return to all 32 Teams
---
Season Outlook
The Steelers somehow battled back from a 2-6 start to keep Mike Tomlin's .500 or better streak alive, but the streak is in jeopardy again in a loaded AFC North.
The Steelers defense is always ready to go. T.J. Watt is a perennial contender for DPOY (+850, FanDuel) and leads the league's deepest, most ferocious pass rush. Minkah Fitzpatrick might be the best safety in the NFL too, though he and the pass rush will have to cover up a suspect cornerback room and underwhelming linebackers.
The young offense is led by uninspiring OC Matt Canada with relative underperformers in Najee Harris and Diontae Johnson, but there's great upside in sophomores Kenny Pickett and George Pickens. This unit surprisingly finished around league average both running and passing despite starting a rookie QB much of the season, but they're due significant turnover regression after last year's hot finish.
In another world, the Steelers might be everyone's favorite sleeper. Heck, they'd be my division pick in three other divisions, and I'd consider them for the 2-seed in the NFC. Alas, life in the AFC isn't fair.
Biggest Questions
Just how good can this Steel Curtain defense be? Pittsburgh's defense has finished top 15 in DVOA in 14 of 16 Tomlin seasons but only five times in the top eight. This unit might need to be elite to keep the Steelers in contention in the AFC.
Can great defense and coaching keep the Steelers in just enough games to give them a shot late?
Win Total: Over 8.5 (Pass)
I genuinely like the Steelers, but not enough to pay -150 for the worst team in the division going over .500. Pittsburgh is 7-2 to the over since 2013, but I think I'd rather play this team game to game.
Futures Best Bet: George Pickens over 4.5 receiving TDs +110 (BetRivers)
Pickens was clearly Pickett's favorite target, and his numbers in games with his fellow rookie paced to 60/885/5.7. Pickett isn't the most accurate QB but shows a willingness to throw it up there and give his athletic 6-foot-3 receiver a chance to put his huge catch radius to use.
---
Click below to return to all 32 Teams
---
Tier 4 — I Just Don't Believe
Season Outlook
Everyone might be getting a bit ahead of themselves on the Jaguars. This is a team that was 4-8 before beating Zach Wilson, Davis Mills, and the corpse of the Titans to sneak past Josh Dobbs into the playoffs on a late defensive TD, only to immediately fall behind 27-0 before the Chargers Chargers'd.
Trevor Lawrence looks like a franchise QB, but the truth is that the rest of this roster still isn't very good. The offensive line is one of the worst in the league and missing its best blocker the first four games of the season. The weapons are mostly fine unless Calvin Ridley plays like a star again. The defense was third worst in Passing DVOA and has finished bottom seven overall in four straight seasons
That defense didn't add a single notable name, relying on youth and internal development. The case for Jacksonville is almost entirely on another leap from Trevor Lawrence, but even star QBs need help from teammates and Lawrence might not get much. He didn't get any help from the schedule maker either.
Jacksonville plays consecutive early games in England, but a presumed Week 5 London rest advantage is wasted against a far better Buffalo team. Then, instead of a bye week to readjust after two weeks overseas, the Jags immediately play the Colts then, staggeringly, Thursday night in New Orleans — as close to a schedule loss as I've ever seen in the NFL. Then, still one more game for this ragged squad in Pittsburgh before a bye at last, with the 49ers, Bengals, Browns, and Ravens are all looming after the break.
It's honestly one of the worst schedule setup quirks I can remember for any NFL team. Everyone's penciling Jacksonville in for the AFC South, but Trevor Lawrence may have to be superhuman to do it.
Biggest Questions
How many potential wins will the brutal post-London stretch steal from Jacksonville?
Does Lawrence make an MVP leap, and will it be enough even if he does? If you like Jacksonville this season, the best way to bet them is by investing in Lawrence, the Jaguars' only route to success.
Win Total & Futures Best Bet: Under 9.5 +130 (DraftKings) (BET)
Jacksonville has gone under its win total in nine of 11 seasons (82%), averaging 4.7 wins with only two seasons over six wins. Only two of 32 teams since 2006 that improved by at least six wins improved again the following season, with an average drop of 3.1 wins, per VSIN. Stick with under 9.5 rather than no playoffs (+175) since a bad division could mean sneaking into the playoffs even at eight or nine wins.
---
Click below to return to all 32 Teams
---
Season Outlook
The Lions came a tiebreaker away from the playoffs, but growth isn't always linear.
The best thing that happened to Detroit this offseason was a move that never happened. The Lions kept OC Ben Johnson, who improved this offense from 29th to 5th in DVOA with a career year from Jared Goff. Goff didn't turn it over the final nine games as Detroit finished 8-2 after a 1-6 start.
The strength of the offense lies in the play calling and a top-three offensive line. Johnson makes things easy on Goff and keeps the chains moving, and Amon-Ra St. Brown has become one of the league's finest receivers, an elite route runner and outstanding blocker. It's no coincidence that Detroit struggled early with St. Brown hobbled, but the team is still looking to add explosive plays to attack downfield.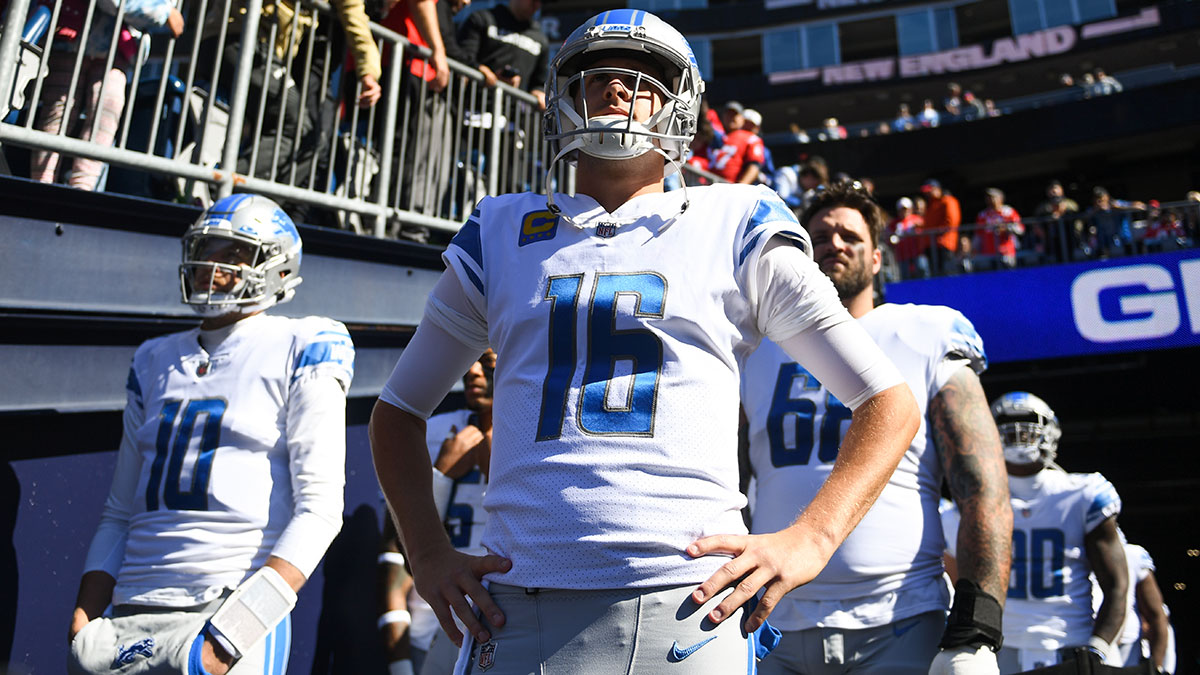 The Lions effectively add three first-round picks since Jameson Williams barely played, but they blew those picks on luxuries. Williams is a straight-line speed threat. Jahmyr Gibbs was a surprise pick so high, though he could be used as a receiver as much as a runner. The other pick was used on ILB Jack Campbell, a sleeper I like for DROY (+2000, FanDuel) but another odd allocation of resources on a fungible position.
One area Detroit didn't invest much was its defense, a unit that ranked bottom five in DVOA despite the breakout season. The Lions overhauled the corners but still field a weak secondary and don't have a clear good starter on the defense outside of last year's No. 2 overall pick, Aidan Hutchinson.
A bad defense could leave Detroit in weekly shootouts, and the lack of explosion on offense could prevent the team from pulling away with regularity, a combination that could limit the Lions' ceiling and prevent the team from taking that next step forward.
Biggest Questions
Can the offense take another step forward with the additions of Gibbs, Williams, and David Montgomery, or was last year the peak for Ben Johnson's unit as the league adjusts going forward?
Are the Lions ready for a daunting early stretch? Detroit is in Kansas City Thursday night for the opener, followed by games against the Seahawks, Falcons, Packers, Panthers, Bucs, and Ravens, and the finish the year with two Vikings games bookending a tough one against the Cowboys.
Win Total & Futures Best Bet: Under 9.5 +110 (PointsBet) (BET)
The Lions have gone over 9.5 wins only twice since 1995. Just two of 32 teams since 2006 that improved by at least six wins also went on to improve the following season, with an average drop of 3.1 wins. The Lions are +150 to miss the playoffs (PointsBet), but that's not enough margin considering Detroit could go under this number with eight or nine wins and still make the postseason in the NFC.
---
Click below to return to all 32 Teams
---
Season Outlook
Everyone's excited for the Jets after a rousing season of HBO's Hard Knocks, but I'm not convinced we'll be getting a second season for this team in January. New York paid up for Aaron Rodgers after a long saga, and that alone is reason for excitement for a team that suffered through Zach Wilson the last few years.
But Rodgers came at a cost, more than just draft capital and cap room. He brought his buddies with him, which means Allen Lazard and Randall Cobb as the second and third options of a receiving room light on talent after Garrett Wilson. It also means Nathaniel Hackett calling the plays (or watching as Rodgers does) and spending big on Dalvin Cook rather than investing in the troubling offensive line.
Rodgers has been backed by terrific blocking and a great run game for much of his career, but the Jets don't know who's starting at either tackle position. He turns 40 in December, and his metrics have been mediocre in six of the past eight years. Does the four-time MVP still have greatness left in the tank, and can he elevate an offense that ranks bottom 10 outside of QB?
There aren't many questions about a nasty defense led by Sauce Gardner and Quinnen Williams. These Jets play with attitude and set the tone, and they have a deep front seven that comes in waves all game. I'm a bit concerned about over reliance on the outstanding cornerback play, but the Jets have a terrific defense — even though it might also be the worst in a loaded AFC East.
Biggest Questions
Was this a Super Bowl roster in need of just a QB? The Jets better hope so because Rodgers was the only significant addition made this offseason. Rodgers has led a top-eight DVOA offense in 10 of 13 healthy seasons and top 11 in all. That would be good enough for a playoff berth with this defense.
Will Rodgers elevate the bad O-line, or will the line frustrate him and hold the Jets back? Rodgers has elite pocket presence and gets the ball out quickly, so he can cover some of New York's warts.
Win Total: Under 9.5 (Lean)
Can New York survive a brutal division and schedule? We'll find out quickly because the Jets open against the Bills, Cowboys, Patriots, Chief, Broncos, and Eagles. They could be 2-4 or worse heading into the bye and the schedule never really gets easy. This Rodgers experiment needs to take quickly. It's under or pass on a win total that will surely drop over these first six weeks.
Futures Best Bet: Jets to miss the playoffs +120 (Caesars)
There are just too many ways for this circus to go wrong. My projections place the Jets as the AFC 10-seed, and lest you forgot, only seven teams make the postseason. I'm worried about the pieces around Rodgers and potential regression on defense, and I wonder how this team will do with the New York media frenzy. At the very least, we should have several opportunities to hedge out and lock in a profit with that difficult early season schedule.
---
Click below to return to all 32 Teams
---
Tier 3 — Planting My Flag
Season Outlook
I'm all-in on the Texans.
Houston added floor raisers across the roster. Sheldon Rankins and Jimmie Ward are difference makers in defense, and Shaq Mason and Josh Jones help on the line. Robert Woods is an elite blocking receiver, and Dalton Schultz is a sure-handed target for a rookie QB.
The rookies are significant floor raisers too, at two of the highest-impact positions. Life is never easy on a rookie QB, but C.J. Stroud was the most pro-ready QB in the draft and he's a massive upgrade over Davis Mills. Will Anderson was the draft's best defender, so important Houston traded multiple firsts to move up for him as the heart of DeMeco Ryans' defense. He's my favorite awards bet of the preseason at +500 (FanDuel) to win Defensive Rookie of the Year.
The Texans quietly ranked 10th in Defensive DVOA over the back half of the season, including No. 2 against the pass. Now they add Anderson plus Ryans' defensive prowess and return potential lock-down corner Derek Stingley Jr. This defense has top-10 potential. The special teams also wisely retained coach Frank Ross, whose unit ranked second last year and consistently finishes top 10.
Can Stroud and the offense do enough? That's a bet on new OC Bobby Slowik, who comes over from the Kyle Shanahan tree. He'll rework a young and talented offensive line and that could unlock Dameon Pierce and a run game with huge upside, making life easier on Stroud and an underrated set of receivers. Houston's offense doesn't have to be good, and probably won't be. But it can be good enough.
The Texans have the best defense, the best special teams, and the best offensive line in the division. I'm willing to bet on that spine in a soft division with a very winnable schedule. All-in, Texans.
Biggest Questions
The toughest part of Houston's schedule comes early. Can the Texans grind out a couple low-scoring wins against teams like the Ravens, Jaguars, and Steelers to stay afloat early?
Can the offensive line withstand multiple early injuries and improve its anemic run blocking?
Win Total: Over 6.5 +125 Caesars (BET)
The Texans don't own their 2024 first-round pick, so even minor improvements should push them past this number with ease in a terrible division. I project the Texans several wins above this number, so I'm betting multiple units to fund my Texans long shots. Pass on alternate overs to play division odds or Coach of the Year (+2500). Houston is +700 (DraftKings) to be this season's most improved team.
Futures Best Bet: AFC South division winner +1100 (BetMGM)
At least one team has gone worst-to-first in the division in 18 of the past 20 NFL seasons (90%). The Texans are my pick to do it this year in a division where the Jaguars are a one-man team, the Titans are in transition, and the Colts are rebuilding. If you like Houston but aren't ready to go all-in, you can play the Texans head-to-head against the Cardinals (-220, DraftKings), Colts (+115), and Bucs (-114, FanDuel).
---
Click below to return to all 32 Teams
---
Season Outlook
No one finished the season hotter than the 49ers, winners of 12 straight by an average of 15.5 PPG until the team literally ran out of healthy QBs in the NFC Championship. The question is whether San Francisco is back for another run or whether this team caught lightning in a bottle against a soft schedule.
The 49ers enter the season with red flags on all three units.
The defense returns most of its key names but maybe not the two most important. DPOY Nick Bosa is still holding out, and he's the only great edge rusher so his absence could expose the beatable corners. The defense also lost mastermind DeMeco Ryans, who helped elevate guys like Fred Warner and Talanoa Hufanga from middling draft picks to studs. Will those guys live up to their elite level of play without Ryans, and how will the identity of this unit change under DC Steve Wilks?
I also have significant questions about the two most important parts of the offense. The weapons are undoubtedly great when healthy, but the offensive line is faltering badly, and any injury to Trent Williams could leave them in perilous shape. And then there's Brock Purdy, who looked so good late but never really faced that big test and is now coming off a major elbow injury with no proven depth behind him.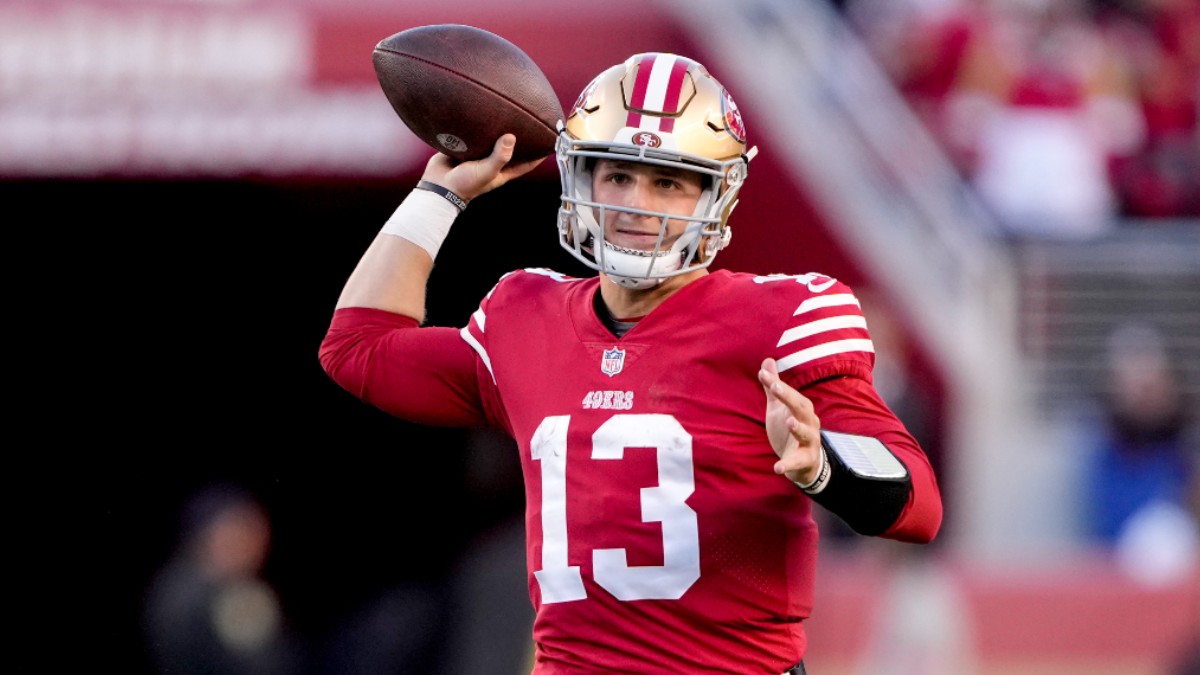 Kyle Shanahan's run game is always above average, but his offense goes as the pass game goes. That puts an awful lot on the shoulders — and elbow — of young, unproven Purdy, whose aggression is often inches away from turning into mistakes. Even the special teams has a serious question mark at kicker with Robbie Gould replaced by rookie Jake Moody, who struggled in camp.
The star names on this roster are dazzling, and now Javon Hargrave adds to the embarrassment of riches in defense. No opponent has the personnel to defend Christian McCaffrey, Deebo Samuel, George Kittle, and Brandon Aiyuk. Maybe it really doesn't matter who plays QB for Kyle Shanahan. But maybe it does.
If this works, we already know the San Francisco formula has at least final four upside. But I fear the floor could be much lower it seems with both the offense and defense in danger of finishing outside the top 10.
Biggest Questions
Will the 49ers stars stay healthy? San Francisco got relatively healthy years from Williams, Bosa, Kittle, Samuel, and McCaffrey, but the 49ers rank 20th or worse in Adjusted Injured Games Lost an unbelievable 10 straight seasons, per Football Outsiders.
How much will the brain drain add up for this coaching staff with Ryans and Bobby Slowik adding to the list of recently departed names?
Win Total: Under 10.5 +140 Caesars (Lean)
Zero of 36 teams the last three decades that won 13+ games but didn't make the Super Bowl improved the following season, with the average team declining by 3.8 wins. Only one of 31 teams since 1998 with nine double-digit wins improved, with an average decline of 4.0 wins. Just six of 45 teams with five wins by 20+ improved, with an average decline of 3.8 wins, all per VSIN. The 49ers went 13-4 last season.
Futures Best Bet: 49ers alternate under 7.5 +650 (FanDuel)
In six seasons under Shanahan, the 49ers made the NFC Championship Game three times but won six or fewer games the other three years. When Shanahan's formula doesn't work, it can go very sideways. San Francisco could still make the playoffs in a bad NFC with eight or nine wins so I'll pass on Miss Playoffs (+375, BetMGM) for the more aggressive alt under. You may like to wait past a soft opening four weeks before Week 5 kicks off a stretch against the Cowboys, Browns, Vikings, Bengals, and Jaguars.
---
Click below to return to all 32 Teams
---
Season Outlook
I'm planting my flag on the Falcons. Atlanta is my team in 2023, and I expect them to make the playoffs, possibly as high as the 2-seed.
It starts on offense, where there's too much focus on Desmond Ridder and not enough on Arthur Smith. Smith led a top-six DVOA offense twice in Tennessee and helped Atlanta jump from 28th to 13th despite playing with one of the league's worst QB situations all year.
The offense adds my Offensive Rookie of the Year (+300, FanDuel) Bijan Robinson to Kyle Pitts and Drake London, giving Atlanta a trio of dynamic playmakers all taken top eight in the draft. The Falcons feature an elite line that leads the league's run-heaviest offense, and that makes life so much easier on the QB, opening up the playaction. Atlanta's offense won't have an elite ceiling unless Ridder breaks out, but the floor is extremely high and even competent QB play is enough for Smith's unit to shine.
The defense finished bottom three DVOA both of Smith's years but there's real reason for optimism. The unit added an influx of veteran floor raisers in Jessie Bates, Calais Campbell, David Onyemata, and Bud Dupree. Overnight, the Falcons go from one of the league's worst defensive lines to calling that a strength, with this team now built to win in the trenches on both sides of the ball.
If Atlanta's defense can improve to even league-average, making life even easier on Ridder and the offense, the Falcons have a chance to put together a really special season. Atlanta has the second softest schedule in the league, a winnable division, and a path to a serious win total.
Biggest Questions
How far can Arthur Smith elevate Desmond Ridder? Ryan Tannehill had a career 0.027 EPA per play before Smith arrived in Tennessee, leapt to 0.291 with Smith (2nd in the NFL), then dropped back to 0.109 (14th) since Smith left. What can Smith do for Ridder?
How much will the defense improve? From 30th to 22nd could be enough to make the playoffs. League-average could mean a division title, and better could push Atlanta over 11.5 wins (+475) or to a shock Conference Finals berth (+1000).
Win Total: Over 8.5 -120 (Lean)
The Falcons lost eight games by one score in 2023. Since 1998, 30 of 34 teams to lose at least eight one-possession games improved the following season, by an average of 3.6 wins. The only reason I won't bet more on this over is because I'd rather play more aggressively.
Futures Best Bet: Falcons to make the playoffs +110 and win the NFC South +220 (Bet365)
If Atlanta does win at least nine that should put the Falcons safely into the playoffs in the weak NFC, where one or two teams could get in with a losing record. Nine wins should also put Atlanta in the mix in the soft NFC South, which looks like a two-team race. If you like the Saints, stick with the playoff angle to give yourself a wildcard out. I like Atlanta to go worst-to-first in its division at +220.
---
Click below to return to all 32 Teams
---
Season Outlook
I'm not really out on the Bengals — I just find myself liking other contenders just as much or more.
We know the offense will be good. Joe Burrow has established himself among the elites, and Cincinnati has a good line and the league's best trio of WRs in Ja'Marr Chase, Tee Higgins, and Tyler Boyd. OC Bill Callahan's offense isn't always the most creative, but it's become monotonously efficient, taking what's available from outmatched opponents that simply cannot cover the whole field.
That does seem to put a slight cap on the ceiling of this offense though, and it makes it susceptible to star injuries, so that's a concern with Burrow still nursing a calf injury into the season.
The defense has more question marks, notably at safety where the Bengals will replace both starters at a very important position in DC Lou Anarumo's scheme. This team has been terrific against the run, but a suspect pass defense could be problematic against so many good QBs in a loaded AFC. The special teams also adds some questions with a new punter and new kick returners.
These aren't major concerns, but they're reason for caution in what might be the NFL's toughest division with a brutal schedule on the docket. The Bengals start against the Browns and Ravens, meaning a possible early hole if Burrow isn't totally ready. They face a midseason stretch against the 49ers, Bills, Texans, Ravens, Steelers, and Jaguars, then close against the Chiefs and Browns.
Biggest Questions
Is the calf still bothering Burrow, and how much trouble will the Bengals be in if they can't build an early-season lead before that daunting late stretch?
If the offense is more like seventh-best instead of top three, can the defense and special teams make up enough ground to stay ahead of the division?
Win Total: Under 11.5 -130 (DraftKings) (BET)
The Bengals have gone over their win total twice in a row after five consecutive unders, but teams with 10+ win totals have gone 28-16-3 to the under (64%) since 2015.
Futures Best Bet: Bengals to miss the playoffs +275 (Caesars)
My projections have the entire AFC within half a win of each other with Cincinnati in third, a quarter of a win ahead of the final Wild Card spot. I've got 10 AFC teams at nine or more wins. If the Bengals give away an early game or lose a couple during that brutal stretch, the margin is very thin. At +275, that's an implied 73% to make the playoffs, too high for a team that doesn't stand out enough in a crowded AFC.
---
Click below to return to all 32 Teams
---
Tier 2 — The Super Bowl Upside Wildcards
Season Outlook
The Browns are a team no one wants to talk about because of Deshaun Watson, but this team looks like a genuine sleeper.
The Browns won seven games by deserved 9.4 by estimated wins, and that was despite playing most of the year with a backup QB and then getting worse when the starter finally played. They went 2-5 in one-score games and had the second worst fumble luck in the league and perennially terrible special teams, which should be helped by the arrival of Bubba Ventrone (ST). This team is due significant positive regression.
The defense has huge upside under new DC Jim Schwartz, whose wide-nine technique could unleash hell off the edge from Myles Garrett and Za'Darius Smith. Add in terrific corners and the Browns have the personnel for an elite pass defense. The run defense should be massively improved too with the addition of Dalvin Tomlinson and Shelby Harris on the line, so that could address a perennial weakness.
The offense is setup for success too, with an elite line and the best pure runner in the game in Nick Chubb. This unit actually finished 8th in DVOA. The Browns have coaching, an elite run game, and a potentially great defense. Like the Eagles a year ago, they might be one QB away from contention — and they might also have him already on their roster.
Watson was a top-five quarterback has last full season on the field, the sort of guy who would be an MVP contender on a roster like this, but he played like a bottom-five QB last fall. If Watson remains subpar, the Browns can still contend for the playoffs. If he's fringe top 10, they can compete for the division. And if he actually returns to his 2020 status, these Cleveland Browns have the talent to win the whole thing.
Biggest Questions
Deshaun Watson ranked No. 2 in PFF grades his last full season in 2020. How much of that QB is still in there, and does he even fit Cleveland's run-centric offense?
Can the Browns win tough division games? Cleveland has yet to finish top two in the division in all three Kevin Stefanski seasons.
Win Total: Over 9.5 +115 (Lean)
So much of this is at Deshaun Watson's feet that it's tough to invest too much, when the better play is likely the long tails for Cleveland. The Browns won't be the 8th best team. If Watson is great, they could be in that top tier. If he's bad, they could win six games and move on from Stefanski.
Futures Best Bet: Browns to win the AFC North +400 (DraftKings)
The Browns are my slight favorite in a division with four teams separated by half a win in my projections. We'll find out quickly with games against the entire division over the first four weeks, though a home Week 1 matchup against an ailing Burrow could portend some luck. The AFC North will likely see wild odds swings as the season progresses, so I'll gladly take the +400 (implied 20%) on my projected winner.
---
Click below to return to all 32 Teams
---
Season Outlook
The Ravens are one of the most difficult teams to get a handle on, a stark change from a team that has been one of the most consistent regular season teams in recent years.
Baltimore has long had one of the NFL's most unique offenses around Lamar Jackson, but that scheme will change dramatically under new OC Todd Monken. Expect a spread, pass-heavy attack with a remade WR corps featuring Odell Beckham Jr., first-round rookie Zay Flowers, and a returning Rashod Bateman.
Lamar Jackson's passing has been up and down since his MVP season, with his running providing much of his value and his EPA on pass plays ranking just 13th the past three years. He's consistently struggled against the blitz, and the underlying metrics suggest he may not match the play of other elite QBs in a pass-heavy system. Baltimore may also be sacrificing an elite rushing attack in the name of passing.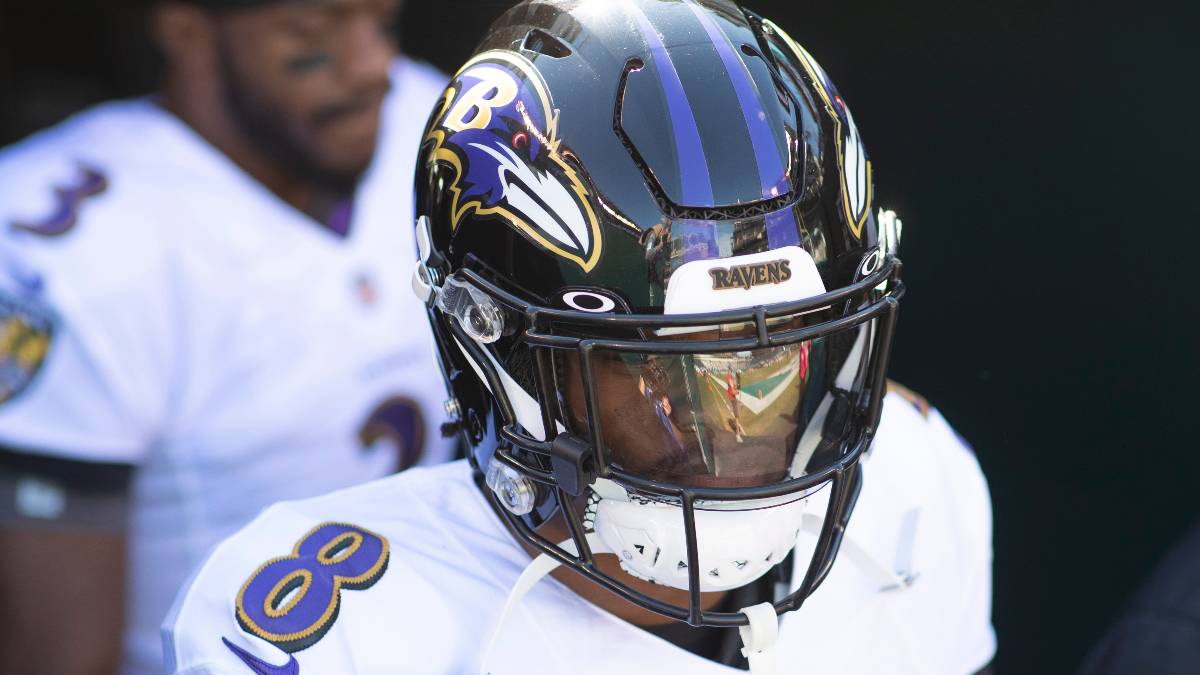 Of course, the Ravens could also be adding an explosive, even more valuable passing attack and open even more room for the run. We just don't know yet.
We don't know about the defense either. Baltimore leapt to third in Defensive DVOA with Roquan Smith from Week 11 forward, but the Ravens are already experiencing cluster injuries at corner with Marlon Humphrey out indefinitely, Marcus Peters, and several others hurts. DC Mike MacDonald's unit took half a season to find its rhythm last fall, but the team might not have that luxury if the offense struggles.
At least we know the special teams will be good, now top nine in 10 straight years under John Harbaugh.
The Ravens strike me as a team that will start slow but look like a totally different animal by November. I'm tiptoeing in cautiously, but if everything clicks, this team has Super Bowl upside.
Biggest Questions
Is Lamar Jackson up to the task of playing elite ball as a passer and not just as a runner? What in the world will this Monken offense look like, and does it have the weapons to succeed in the NFL?
Can the Ravens stay healthy? It's been two consecutive years of major injuries, with last season missing Ronnie Stanley (6 games), Marcus Williams (7), Tyus Bowser (8), J.K. Dobbins (9), and of course Lamar Jackson (5). Baltimore needs its stars healthy.
Could a good offensive line lose efficacy with the switch from a friendly run-heavy scheme?
Win Total: Under 10.5 (Pass)
The Ravens have gone under three consecutive seasons under Harbaugh with a double-digit win total and haven't gone over with a 10+ win total since 2010. The many questions on both sides of the ball make Baltimore too volatile for me to invest in now, so I'll wait and make a decision in season.
Futures Best Bet: JK Dobbins over 725.5 rushing yards (Caesars)
Dobbins has the highest YPC of any RB in league history at 5.9 and ranked second in Explosive Run Rate at 10%. He finally looked healthy late last season after his 2021 ACL tear, and he's lethal enough to hit this number with ease even if he ends up getting limited touches in the new attack. I'm eyeing Dobbins at +4000 (DraftKings) to lead the league in rushing too.
---
Click below to return to all 32 Teams
---
Season Outlook
They fell apart down the stretch, but the Dolphins were one of the stories of the season in 2023.
Rookie head coach Mike McDaniel's offense looked revolutionary at times, scoring from anywhere on the field at any time with a dazzling array of speed led by wideouts Tyreek Hill and Jaylen Waddle. Tua Tagovailoa was among the MVP and EPA leaders midway through the season and the Dolphins offense looked like a speed attack not seen before in the NFL.
Then injuries took hold as both Tagovailoa and stud LT Terron Armstead missed time and Miami's offense stumbled through second- and third-string quarterbacks and couldn't find its offensive mojo or explosive plays at times. Now the question is what that offense will look like in Year 2.
But this year it's not just the offense. Miami's defense looks just as intriguing after bringing in DC Vic Fangio to lead the unit and adding Jalen Ramsey, David Long, and Bradley Chubb to an already talented unit. This defense is built to stop the very thing the offense excels at, taking away the explosive play. Ramsey will miss much of the season, but star names dot the roster and give this unit tremendous upside.
At its best, Miami feels like a team that can hang and beat with any opponent. The question this season is how often the Dolphins can get to that level and if the defense can match the offense.
Biggest Questions
McDaniel has shown this offense's upside, but can he find consistency? Will there be counters when the defense has answers, and can Miami establish a running game and fall back plan when the explosive plays aren't there?
Can the offense stay healthy? Miami's unique attack is heavily reliant on Tagovailoa, Hill, Waddle, and Armstead. An injury to even one of those four key guys could be significant, and Armstead played only 65% of the snaps last season while Tagovailoa missed most or all of six games.
Win Total: Over 9.5 +103 (Lean)
Miami has not gone under in five seasons (4-0-1). The talent on both sides of the ball gives the Dolphins a chance in every game, but the injuries and reliance on explosive plays also makes this team volatile. This is another team to play high-end outcomes on if you believe, like MVP, OPOY, or Super Bowl odds.
Futures Best Bet: Tyreek Hill Offensive Player of the Year +2000 (FanDuel)
OPOY seems to be trending toward receivers, and Hill had seven 100-yard games last fall and four with 160, on pace for 146 catches and 2,085 yards through nine games. He led all players in yards per route run by a mile, and he did all that with three different quarterbacks and an injury of his own. It's hard to repeat outlier performances, but last year might not have even been Hill's best.
---
Click below to return to all 32 Teams
---
Season Outlook
The Chargers are mostly running back an expensive, top-heavy roster with one key change: out with OC Joe Lombardi and in with Kellen Moore.
This offense has been wildly frustrating with its inability and, frankly, unwillingness to use Justin Herbert's strengths to attack downfield, and the run game has been uneven and sporadic. An attack with this many weapons should be devastating. Instead it has been tepid and inconsistent. It's Moore's job to change that, and there's real hope that he will unlock Herbert and unleash a top-five offense.
A little health would go a long ways.
The Chargers lost at least three games from eight of their top 10 players last season. Free agent addition CB J.C. Jackson played only five games and was never healthy, and star pass rusher Joey Bosa played five as well. Stud LT Rashawn Slater played three. Los Angeles also lost games from WRs Keenan Allen (7) and Mike Williams (4), Corey Linsley (3), and Derwin James (3), and don't forget about Herbert playing with cracked ribs for a chunk of the season.
On paper, the Chargers are a top-five talented team in the league, with an offense as good as any and a defense with top-10 potential under Brandon Staley. The team even fixed its typically horrendous special teams with the addition of coach Ryan Ficken. On paper, this team has genuine Super Bowl upside.
But Chargers seasons never seem to happen on paper.
Biggest Questions
Can the run defense stop anyone? The Chargers rank bottom 10 in Rushing Defensive DVOA four straight seasons and simply cannot get off the field at times.
How much will Moore unleash Herbert with a more aggressive aDOT, and can rookie WR Quentin Johnston help give the team the downfield weapon its lacked stretching the defense?
Can the stars on this team actually stay healthy for once? No, seriously.
Win Total: Over 9.5 (Pass)
The porous run defense leaves the Chargers vulnerable against subpar opponents. I give them 13 relative toss-up games, by far the most of any team. LA is a team to bet outlier outcomes, not median. The Chargers are unpredictable, but if it works, it has a real chance to work great.
Futures Best Bet: Austin Ekeler over 7.5 rushing TDs -118 (FanDuel)
Ekeler had 12 and 13 rushing TDs the last two seasons. Moore leans run-heavy and brings a significantly increased goal-line run rate. Dallas ranked second in rushing TDs last season and Ezekiel Elliott averaged 9.5 rushing TDs per season under Moore. I also like Ekeler for most rushing TDs at +1700 (BetRivers).
---
Click below to return to all 32 Teams
---
Tier 1 — Let's Win This Thing
Season Outlook
What's left to say about Patrick Mahomes and the Chiefs? If you surround a healthy Mahomes with a competent roster, you're a Super Bowl contender — them's the rules.
The Chiefs have finished top three in Offensive DVOA all five Mahomes seasons and made the AFC Championship Game in each. Kansas City ranks best at five key spots — QB, TE Travis Kelce, C Creed Humphrey, DT Chris Jones, and HC Andy Reid — including arguably the two most important.
Still, the Chiefs are such an easy analysis that we may be overlooking some red flags.
Chris Jones was as good as any defender, but he could hold out as late as Week 8. The Chiefs will acquit new bookend tackles in Donovan Smith and Jawaan Taylor, and that takes time. The cadre of weapons is mostly unproven outside of Kelce, who enters the season hurt and turns 34 in October. Kansas City's usually elite special teams were below its standard, though a healthy Harrison Butker should help.
These sort of things would be real warning signs for most, perhaps more risk than many are admitting. Or perhaps Mahomes will just solve everything again, like usual.
Biggest Questions
How long will it take the new offensive line to gel, and will a soft early schedule help the transition on the line and a scheme without longtime OC Eric Bieniemy?
Can Steve Spagnuolo's defense round into form before a brutal late-season stretch against the Eagles, Bills, Bengals, and Chargers? Will the D hold up early without Jones?
Win Total: Over 11.5 -130 (Lean)
Andy Reid is 9-1 to the over with the Chiefs with a 12.4-win pace. Kansas City has won at least 12 games all five seasons with Mahomes as starter.
Futures Best Bet: Travis Kelce over 1,075.5 receiving yards (FanDuel)
Kelce set career highs in receptions and TDs and cleared this line with three games left. He had six 100-yard receiving games and has topped this mark all five Mahomes seasons, averaging a 1,369-yard pace.
Editor's note: Written before Kelce was injured and listed OUT for Week 1.
---
Click below to return to all 32 Teams
---
Season Outlook
The Eagles were the story of the season, starting 14-1 and coming eight seconds from a Super Bowl victory, but sometimes yesterday's story is just that — history.
Philadelphia went 6-1 in one score games and piled up wins with great health and the league's softest schedule. But the offseason was costly, with both coordinators leaving along with the spine of the defense in Javon Hargrave plus a pair of linebackers and safeties. Only eight Super Bowl losers have returned the following season, and only one since 1993. Still, Philadelphia has a very high floor.
The Eagles return the best offensive line in the league, which opens everything up for a dominant run game. If Jalen Hurts can continue to develop as a passer, this offense could get even better with a pair of stud receivers in A.J. Brown and DeVonta Smith. Philadelphia loses Shane Steichen's creativity but may not see much drop-off in OC Brian Johnson, and Nick Sirianni does a great job using analytics and aggression to maximize edges in his team's favor.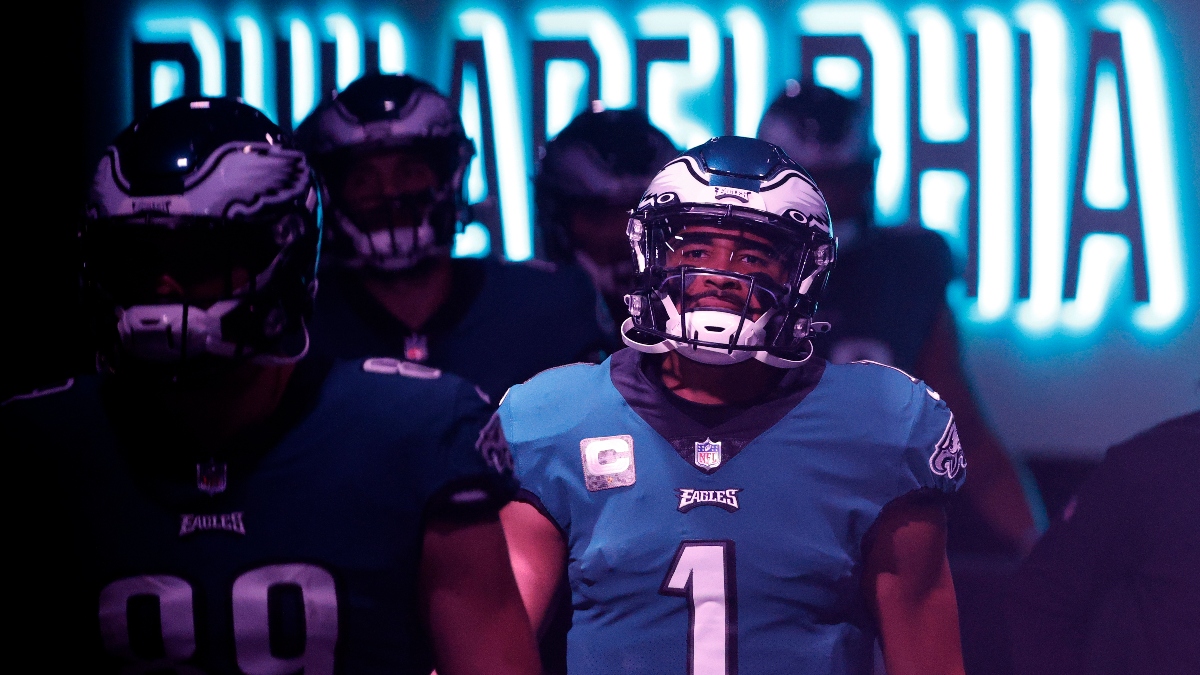 The defense could be more of a work in progress with five new starters, including remade linebacker and safety units. New DC Sean Desai is something of an unknown, and it'll be hard for the Eagles to match last year's elite pass rush which came two sacks short of the all-time NFL record. Philadelphia's run defense was also problematic at times and cost them on the biggest stage.
Philadelphia is still really good, but it's always a lot harder to repeat everything the second time around.
Biggest Questions
Philadelphia played most of last season on the front foot against a soft schedule. They'll face a daunting stretch late against the Cowboys, Chiefs, Bills, 49ers, then Cowboys again — the finale in Dallas in what might be the most important game in the NFC. How does the identity of this team change if the defense takes a step back and the Eagles trail more often this season?
Hurts looked like an MVP passer in the Super Bowl and he's improved every season in the league. Does he have another step to take with these elite receivers?
Win Total: Under 11.5 -110 (Lean)
The Eagles are 5-0 to the under since 2010 after a season with double-digit wins. Super Bowl losers are 13-6 to the under since 2003. The NFC East has not had a repeat division winner since 2003 either. It's really hard to keep winning so much.
Futures Best Bet: DAL-PHI 1-2 division finish +270 (Bet365)
Even Eagles regression could leave them in the mix for a top-two NFC seed. The most direct way to fade this team is by betting on the division rival who was almost as good already last year. Philadelphia is about dead even with Dallas in my win projections, with neither Washington nor New York a threat, so this is a great head-to-head opportunity since Philly's high floor should keep them safely in second at worst.
---
Click below to return to all 32 Teams
---
Season Outlook
It feels like everyone has moved on from the Bills, but this might still be the most talented team in football.
It obviously starts with Josh Allen, who has shown he's as good and as valauble as anyone on the planet not named Mahomes — and sometimes even that part is up for question. Buffalo could have a more dynamic attack with James Cook and rookie TE Dalton Kincaid featured, though the offensive line remains an oddly low priority for such a complete roster otherwise.
The defense returns a ton of key games from its most important players. Star safeties Micah Hyde (15 games) and Jordan Poyer (5) missed most of last season, and CB Tre'Davious missed 11 too. That trio is all ready to start the season, and they'll get midseason help once stud pass rusher Von Miller returns too. Buffalo has the pieces to have as good a defense as any in the league, though it will be interesting to see how things change with DC Leslie Frazier departed and Sean McDermott calling the defensive plays.
Last fall started out promising for Buffalo but went sideways quickly with all the defensive injuries, a significant elbow injury Allen played through, and of course the terrible Damar Hamlin scare late and all of the emotional fallout therein.
This year is a fresh start with a Buffalo unit that — despite all that — finished top four in DVOA on offense, defense, and special teams and really only lost one significant starter. The AFC is loaded and the East is particularly tough, but the Bills look like the best team in the NFL from top to bottom.
Biggest Questions
Can a supbar offensive line keep Allen healthy, and can Buffalo spread out the offensive load enough so their Superman has something left in the tank at the end of the season?
How will Buffalo survive a murderer's row from Week 9 forward against the Bengals, Broncos, Jets, Eagles, Chiefs, Cowboys, Chargers, Patriots, and Dolphins? Don't be shocked if Allen and Buffalo are MVP and Super Bowl favorites heading into November, but it'll be a bumpy ride from there.
Win Total: Over 10.5 (Pass)
If you're the sort of bettor who plays win totals in-season too, Buffalo's schedule sets up nicely to buy the over now, then look to middle with a lofty under after the soft start before that closing stretch. Buffalo has gone over its win total in five of six seasons.
Futures Best Bet: Buffalo over Dallas exact Super Bowl outcome +7000 (DraftKings)
What fun is gambling if you can't call your shot every now and then?
---
Click below to return to all 32 Teams
---
Season Outlook
Yes, the Cowboys really are No. 1 in my Power Rankings heading into the new season. Dallas was already quite good each of the past two seasons, then had a perfect offseason that addressed every need.
The team badly needed a second receiver next to CeeDee Lamb and added the underrated Brandin Cooks. They needed help at corner and got former DPOY Stephon Gilmore. An inconsistent run defense adds first-round nose tackle Mazi Smith. On top of all that, Dallas returns arguably its two most important players in Dak Prescott and Tyron Smith, who missed 18 games combined.
The Cowboys could also see addition by subtraction without Ezekiel Elliott, too often a crutch limiting this offense with early-down runs. Tony Pollard has been more dynamic anyway, and the absence of Zeke could push Dallas more pass-heavy, matching Mike McCarthy's history as play caller. Even less efficient passing could mean a more efficient offense with a better run-pass split.
And then there's the near unanimous best defense, led by my DPOY favorite Micah Parsons and a nasty, aggressive Dan Quinn scheme that's helped the Cowboys lead the league in takeaways two consecutive seasons, constantly setting this team up for short fields and easy success. The defense ranked No. 2 in DVOA each of the past two seasons and looks even better in 2023, a scary proposition.
Biggest Questions
It's been awhile since Mike McCarthy called plays. That hasn't always gone very well, and the quotes about running the football are scary. Is McCarthy ready to lead a modern offense?
Can Tyron Smith stay healthy? He's played only 17 games the last three seasons combined, and Dak Prescott's passing numbers are night and day with his star left tackle protecting his blind side.
Win Total: Over 10.5 +118 BetRivers (Lean)
The 9.5 line posted at some books is juiced crazily to the over, and -165 just isn't worth playing for a straight bet this far out. I prefer the 10.5 with better juice since I still have Dallas clearing that line with ease, but I'd rather play Dallas more aggressively. You can bet over 12.5 instead at +525.
Futures Best Bet: Most wins +1400 (Bet365)
I'm betting against the rest of the NFC as much as I'm betting on Dallas, and the combination of the two compels me to bet the Cowboys aggressively and in multiple ways.
I don't believe in the 49ers and I like Dallas better than the Eagles, so that gives the Cowboys a great shot at the NFC 1-seed (+650, Bet365). But the NFC is far softer than the AFC, so if Dallas has the best record in the NFC, we should bet them for most overall wins too (+1400).
If Dallas is the 1-seed, that +1500 Super Bowl ticket (BetMGM) has value, whether you believe in McCarthy or not. A 1-seed America's Team would also put Dak Prescott into the MVP conversation, my MVP bet at +2500 (Caesar's). You can also play Dallas to win the NFC with at least 30 Prescott TDs at +1400 (BetRivers), and we've already hit several ways to play the division.
If we're right about the Cowboys being great in a weak NFC, we'll want multiple outs. These tickets give us a shot at Dallas greatness both individually and team, regular and postseason. Think last year's Eagles, who had long shot candidates for MVP, DPOY, and Coach of the Year and cashed tickets for division, 1-seed, most wins, and nearly Super Bowl.
The Cowboys are this year's Eagles. Giddyup.
How would you rate this article?
This site contains commercial content. We may be compensated for the links provided on this page. The content on this page is for informational purposes only. Action Network makes no representation or warranty as to the accuracy of the information given or the outcome of any game or event.