NFL Week 2 Survivor Pool Analysis, Pick: Who Can Be Trusted?
Credit:
Pictured: Matt Ryan. (Photo by Bob Levey/Getty Images)
Whew, what a wild Week 1 that was. If you count a tie as a loss, five of the six most popular survivor picks lost and roughly 60% of entries were eliminated.
So, if you lost last week, at least take solace in the fact that you are not alone.
In last week's article I stated that Week 1 is when we know the least and advised everyone to spread out entries across multiple teams. Hopefully you were able to do that and still have some hope left.
My only entries remaining used the Ravens. I was hesitant to use them because I think they are (and will be) one of the best teams in the league this year. However, using Baltimore works in the exact scenario that played out.
When a huge chunk of players get knocked out, that's when it is fine to take a team with good future value to be part of the minority that sneaks through.
With my Baltimore picks unscathed and 40% of my readership from last week ready to go, let's move on to Week 2.
Here are the projected win probabilities for the rest of the season.
You'll notice my model has a lot of teams within a few percentage points of win probability this week.
That means ownership and future value will be the main drivers of decision making for the week. While last week's picks were spread out, the Rams have become the public's favorite survivor pool pick for Week 2.
I'm higher than the market on the Falcons' chances this week and would like to go against the public anyway.
Once again, using the Expected Value tool from TeamRankings, I'll plug in my projected win percentages and we can see the top plays for Week 2: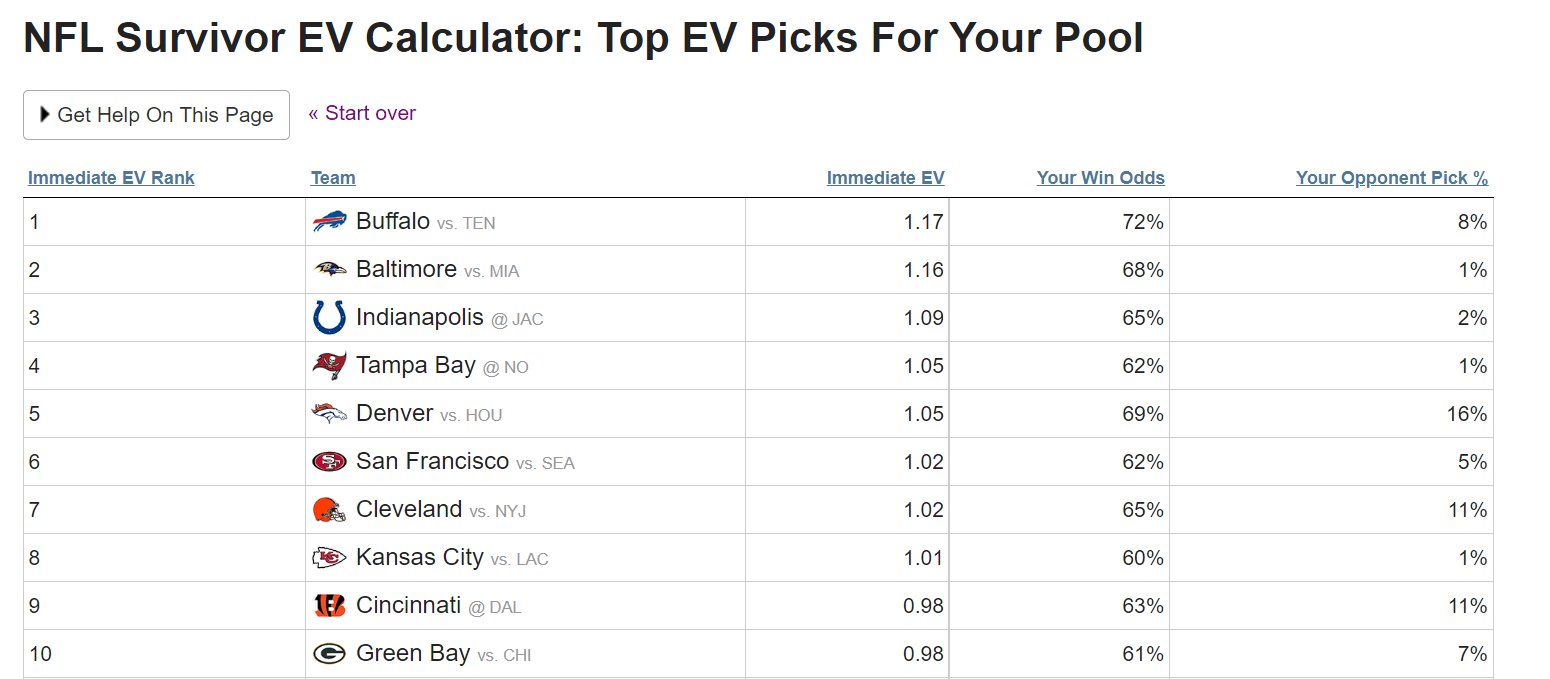 The Bills are the top play this week, but burning them this early is a big risk. My model (and everyone else's) has the Bills as the top team in the league, so it's hard to justify using them in the second week of the season.
The Ravens are another top option, but I'm guessing most of you reading this also used them in Week 1.
While I like taking a good team at 1% ownership, I think I would pass on playing the Buccaneers this week. They have so much future value that I don't want to use them in a tough game on the road against the Saints.
That leads me to three teams: Browns, Colts and Broncos. This is honestly a tough call because they all have merits and downsides.
The Broncos are the biggest favorites at -10, but are also the second most popular pick this week (16%).
The Browns have almost zero future value so taking them now against the Jets would be the best way to save better teams for later.
The Colts are offering the most expected value, but are a short road favorite in a place they have historically struggled.
My Pick: Indianapolis Colts (at Jacksonville Jaguars)
In the end, I'm using an expected value calculator and it is showing me the Colts are a better value than the other teams and I'm going to follow the math.
It is not the most comfortable survivor pick I've ever made, but after watching the aftermath of last week … are any of them ever truly comfortable?
How would you rate this article?