Russell Wilson Is Primed For Another Super Bowl Run
Credit:
Dougal Brownlie/Getty Images. Pictured: Russell Wilson
Russell Wilson has never received an MVP vote.
That's right up there with "not handing the ball to Marshawn Lynch at the goal line in the Super Bowl" as one of the most ridiculously absurd things to ever happen in NFL history.
My goal is to show you why — given the players (and coaches) around him — Wilson deserved not only a few MVP votes, but a few MVP awards … and why he still may be the league's most valuable player in 2020. It's a follow-up to my take on a preseason edition of The Favorites Podcast, when I argued that the current iteration of the Seahawks is one of the NFL's most dangerous teams and has the most undervalued upside in the betting market.
Just to give you a quick teaser: Among passers with as many career attempts as Wilson (3,777), only Aaron Rodgers has a better passer rating, but that does't even tell the whole story.
Wilson averages nearly double the amount of rushing yards per game (31.2) that Rodgers does (17.4) and has led five more fourth-quarter comebacks and game-winning drives in 44 fewer starts. Even in Rodgers' bread-and-butter stat — passing touchdown percentage — Wilson equals his rate of 6.0%. And unlike Rodgers, Wilson has been getting better of late: Since 2017, Wilson has posted a 103.6 rating while Rodgers' mark has slipped to 96.6.
But this isn't a "Russ vs. Quarterback A" article — that's for another day. That was just to give you an idea how he stacks up against the most efficient passer of all-time.
This is about Russ vs. those lack of MVP votes, Russ vs. the NFL, Russ vs. his team's shortcomings and Russ vs. the narrative that the 2020 Seahawks don't have a good enough offensive line or pass rush and are merely destined to regress toward the 8.2 wins their point differential implied last season.
---
Check out our free NFL odds page, which automatically surfaces the best line for every game.
---
Offensive Lines Don't Matter When You're Russell Wilson
Offensive lines matter. A lot. Allowing pressure is a surefire way to decrease passing efficiency, and being able to correctly evaluate the impact of offensive line play is one of the best ways to get an edge in NFL betting.
But they haven't mattered for Russ. Throughout his career, he has consistently performed despite a sub-par offensive line. And by consistently, I mean every single time, because he has never had one that was even good enough to be considered even league average.
According to Pro Football Focus' pass-blocking grades, Wilson's best offensive line ranked 18th in the league, and he's had six that ranked bottom-seven. Despite that, Wilson has never led the Seahawks to a below-average finish in Football Outsiders passing DVOA — a metric that measures schedule-adjusted efficiency in terms of points added per play — and has finished in the top-eight on six occasions.
That is insane. Just nuts.
For an idea of just how good Wilson has been despite shoddy O-line play, let's look at how the five quarterbacks who have posted a higher passer rating since Wilson came into the league stack up.
The other top-six quarterbacks have enjoyed above-average offensive lines in 22-of-24 seasons, with an average ranking of 7.8 — nearly 20 spots better than Russ' average O-line.
So the recap: Russ has posted top-tier quarterback play with about as much protection as the pull-out method. Officially, Wilson had his first son on July 23, when Win Harrison Wilson was born. Unofficially, though, Win was his 32nd son — he's been sonning the other 31 defenses since 2012.
Russ Makes His Coaches Look Good
Coaching is another key factor that can swing games and make or break careers.
Most of the most successful teams this era — Patriots, Chiefs, Saints — have either an established offensive guru running the show … or Bill Belichick. Andy Reid or Sean Payton can switch out offensive coordinators and no one would blink (it's still "their" offense), while Belichick has employed Josh McDaniels for parts of nearly two decades.
But in Seattle, Pete Carroll is known as a defensive coach, so his offensive coordinators take on more importance and leave a bigger imprint in their offense. And if not for Russ, their track records would be … not great.
Russ hasn't just had an effect on his OCs; let's look at Pete Carroll himself:
Pete Carroll with Russ: 86-42 (.672), 9-6 postseason (.600),
Pete Carroll without Russ: 48-48 (.500), 2-3 postseason (.400)
Before Wilson, Carroll had the track record of an average head coach. Pre-Wilson, Carroll led his team to a winning record in two of six seasons. Since Wilson came on board in 2012, Carroll hasn't had a losing season since.
Carroll-coached teams made the playoffs in three of six seasons without Wilson, then seven of eight with him.
Since we're on coaching, I guess this is the point where we have to tackle #LetRussCook.
The following table compares Seattle's passing DVOA to its passing play rate, its offensive line's raking in run-blocking efficiency (as measured by Football Outsiders' Adjusted Line Yards) and, finally, Seattle's yards per carry ranking by running backs.
Wilson has clearly made his coaches look better, but with that being said, it's not as if they're egregiously selling him short by not letting him "cook" — at least not to the degree some would have you think.
It's more nuanced than that.
Wilson's two least efficient passing seasons happened to be the two in which he had the least support from his run game. They were also the two in which he threw most frequently.
Meanwhile, the same offensive lines that ranked 27th in pass blocking averaged a 13.3 ranking in Adjusted Line Yards, with Seattle's running backs ranking similarly in per-carry efficiency. This tells us that there is some value in taking the apron off Russ at times.
The argument against running is that it's less efficient on a per-play basis and thus puts an offense in more obvious passing situations, where efficiency decreases. But the more a team were to pass on early downs, that would in effect make them obvious passing situations, and thus it stands to reason the efficiency would eventually decrease.
In other words, there's hidden value in running that keeps defenses honest.
Rush volume tends to be the most misleading — teams generally run because they're ahead, not to get ahead — but with Seattle, efficiency has been important, especially of late.
Including the postseason, Seattle went 3-3 when averaging fewer than 4.2 yards per carry last season compared to 9-3 when averaging 4.2 or better. Through Week 15 of last season, the Seahawks averaged 26.0 points per game, but when Chris Carson went down for the season after only eight carries in Week 16 against Arizona's sixth-ranked defense in rushing DVOA, Seattle ended up scoring only 13 points in the game, then went on to average 20.3 points over their final three regular-season and postseason games without Carson (and Rashaad Penny, who went down a couple of weeks earlier).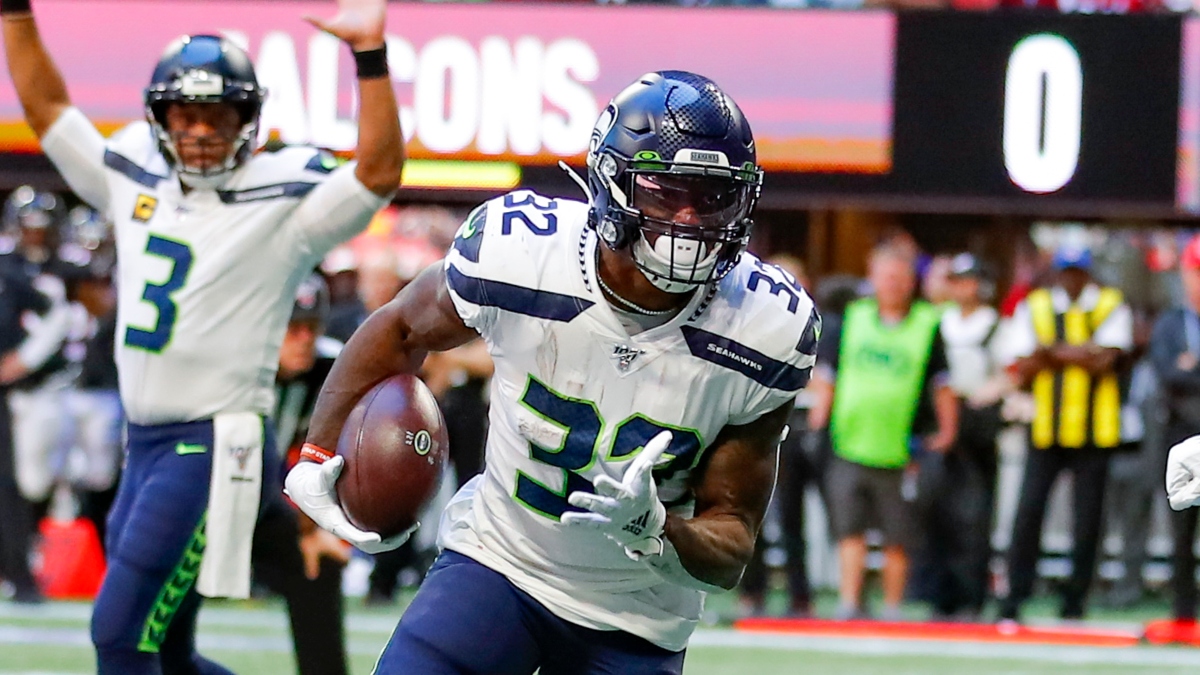 There's also the issue of durability.
As I've discussed in regard to Cam Newton, the track record of mobile quarterbacks above age-30 is alarming from both a productivity and durability standpoint. Wilson seems primed to buck the trend, though, having yet to miss a game as he enters his age-32 season.
By employing a run-heavy attack, Seattle is playing to the strength of its offensive line personnel and limiting Russ' exposure to injury. The key for Seattle is not to go completely pass-happy, but to vary the approach as the situation dictates — stubbornly sticking with the run in games when it's not working or failing to be aggressive against a weak pass defense is nonsensical. T
hat's why it was promising to see Russ' attempts rise by 89 in Year 2 under Brian Schottenheimer, and to see Seattle come out throwing in Week 1 against Atlanta's perennially-AWOL pass defense.
Of course, Seattle could invest more into its line so that it's better at pass-blocking and go the route of spreading defenses out, but that's easier said than done when you're paying your quarterback $35 million per year, and there's not necessarily a guarantee that would work better than the (fully-optimized version of the) current formula.
With Wilson able to mitigate poor pass-blocking, resources are better invested in the defense. Speaking of which…
The Seahawks Have Built Quite the Secondary
By acquiring safety Quandre Diggs at the trade deadline last season then cornerback Quinton Dunbar and safety Jamal Adams over the offseason, Seattle has finally assembled a secondary that wouldn't embarrass itself next to the Legion of Boom.
Here are the PFF ranks for Seattle's top two safeties and corners:
CB Quinton Dunbar: 3rd
CB Shaquill Griffin: 11th
S Jamal Adams: 4th
S Quandre Diggs: 18th
The average rank of 9.0 equals the same rank of the Legion of Boom in the Super Bowl-winning 2013 season, when cornerbacks Richard Sherman and Byron Maxwell ranked third and seventh, respectively, and safeties Earl Thomas III and Kam Chancellor ranked 11th and 15th, respectively. It also compares favorably to the 2014 version, when the Seahawks got back to the Super Bowl but lost to the Patriots — Sherman ranked seventh, Maxwell 66th, Thomas III second and Chancellor 24th.
… But What About the Pass Rush?
Of course, the 2013 Seahawks ranked first in PFF pass rush grade, while the 2014 squad ranked third. The 2019 Seahawks were a far cry from those elite units, clocking in at a lowly 30th.
After losing Jadeveon Clowney, massive improvement is likely not in the cards.
But the lack of a pass rush shouldn't be viewed as an issue that caps Seattle's ceiling, but rather one that lowers its floor — a floor that we know will go only so low with Wilson behind center.
Why should Seattle's lack of a pass rush not be looked at as a ceiling capper? Look no further than the team that finished one spot below Seattle in 2019: The Super Bowl Champion Kansas City Chiefs. The year before, the Patriots won while ranking 19th.
While pass rush and coverage work hand-in-hand, even the best defenses will still allow a quarterback to throw from a clean pocket on 60-70% of dropbacks, so coverage casts a wider net as far as impacting pass plays.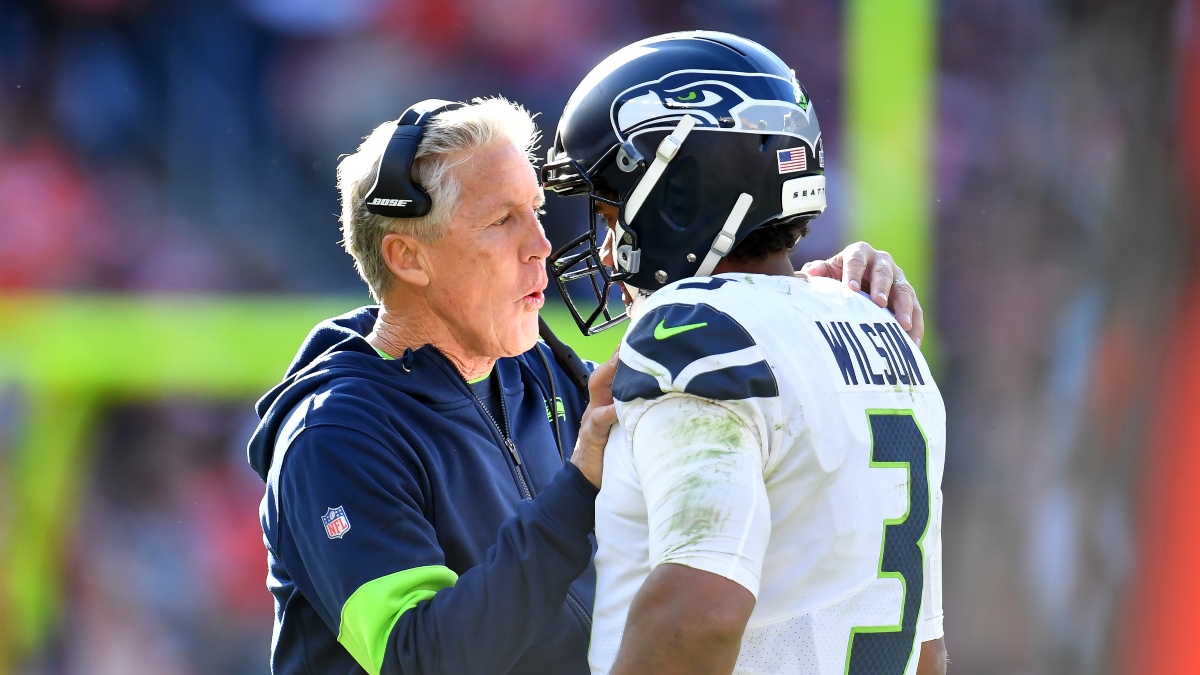 Bet Against the Seahawks At Your Own Risk
One of my main reasons for doing this research was to uncover whether Seattle should be getting some sort of "Wilson boost" in betting power ratings due to a consistent ability to defy the odds win one-score games at a rate above expectation. (If you're not in the know, records in one-score games have proven to be largely the product of luck and tend to regress to .500 over time.)
Wilson is no stranger to benefitting from luck, but just how lucky has he truly been over the course of his career?
Last season, the answer was "very": Seattle went 9-2 in one-score games, which, again, tend to produce an expected win rate of .500. But prior to that, Wilson had been relatively average, with Seattle compiling a 30-31-1 record in one-score contests.
Given Seattle's success over the years, and how good Wilson seemingly is in the clutch, this is somewhat surprising.
But perhaps we should be looking at it another way: It's pretty impressive that Wilson compiled a 67.6% wining percentage straight up and a 57.5% winning percentage against the spread (ATS) prior to 2019 without the help of one-score luck.
The bottom line is that Russell Wilson doesn't need luck. With a working right arm and two legs, he's a lock to produce a winning record. Give him some semblance of a run game and a secondary that can cover, and he might mess around and win you a Super Bowl.
Since Russ became the starter, the Seahawks have been one of the most profitable teams in the NFL ATS, and the winningest team in the league this side of New England.
Speaking of New England — the reason all those straight-up (SU) ranks are 2s instead of 1s — Wilson is 2-0 SU and ATS against the Patriots in the regular season, and he's a Marshawn Lynch-handoff away from being 3-0 including postseason. But, you know, game-ending Malcolm Butler picks at the goal line happen.
It's also notable that the Seahawks' success on the road flies in the face of the narrative that they will be one of the teams most adversely impacted by the lack of fans in the stands this season.
According to our Bet Labs database, Wilson has been the fourth-most profitable quarterback since he entered the league. Blindly betting $100 on the Seahawks spread in every game since 2012 would have netted a profit of $1,391, trailing only Tom Brady ($2,456), Teddy Bridgewater (!) ($1,889) and Aaron Rodgers ($1,436).
On the moneyline, Russ has been even more profitable relative to his peers. Blindly backing the Seahawks on the moneyline in the Russ era would have netted a $100 bettor $1,224, behind only Andrew Luck ($2,362) and Alex Smith ($1,388).
Truth is, the Seahawks' 8.2 Pythagorean win total doesn't lie (they rarely do); this team is more or less average — on paper, at least. But with Russ at quarterback, it's not about whether the team is average, it's how we're arriving at that average.
If Seattle's deficiencies are in the secondary or the run game, then we're talking about more of a high-floor, low-ceiling team. But in this case, it's the O-line and the pass rush (and the offensive coordinator?) contributing to the below-average categories, which aren't going to be fatal flaws with Russ at the helm.
Meanwhile, the improvements in the secondary over the past 10 months with the additions of Diggs, Dunbar and Adams — plus the emergence of second-year Round 2 slot corner Marquise Blair — coupled with a run game that has added depth behind Carson this season with Carlos Hyde, promising rookie DeeJay Dallas and the potential midseason return of Penny has proven to be type of recipe that unlocks peak-Seahawks in the Wilson era.
Average team or not, another key is that when it comes to correlating with point differential, the various measures of passing efficiency blows every other metric out of the water — save for turnovers, which are largely unpredictable but heavily influenced by quarterbacks.
The best of those metrics tends to be Adjusted Net Yards per Attempt, which accounts for sack yardage lost in addition to touchdowns and interceptions, and Wilson (7.45) ranks fourth in that metric behind only Patrick Mahomes (8.64), Drew Brees (8.34) and Lamar Jackson (7.70) since Schottenheimer took over in 2018 (min. 500 attempts). Wilson also ranks third in interception rate (1.23%) and has lost only four fumbles over that span.
And while the Seahawks cannot consistently be counted on to win one-score games, they have consistently beaten their Pythagorean win total, doing so in six of the past seven seasons, which does suggest there is some hidden X-factor at play.
His name is Russell Wilson, and he is most valuable.
How would you rate this article?