Super Bowl 54 MVP Odds: Drafting the 16 Best Picks for Chiefs vs. 49ers
Credit:
Getty Images. Pictured: Raheem Mostert, Patrick Mahomes, Nick Bosa
Who are the best Super Bowl 54 MVP bets? Our experts drafted 16 Chiefs and 49ers players based on the value of their odds.
Spoiler: Patrick Mahomes might be the favorite, but the first pick in our draft was not a quarterback.
Of the 16 players who made the cut, four were defensive players. (And yes, Nick Bosa was the first.)
Our NFL experts did a snake draft of the best Super Bowl 54 MVP bets based on the value of players' odds to win. See how they ranked the odds of 16 Chiefs and 49ers players taking home the additional hardware.
The panel included Evan Abrams, Matthew Freedman, Chad Millman, Mike Randle, Chris Raybon, Sean Koerner, Stuckey and PJ Walsh.
---
Odds as of Friday and via FanDuel, where Action Network users get a risk-free bet up to $500.
---
Super Bowl 54 MVP Odds Draft
1. Raybon: Deebo Samuel +2400
While only seven of the 53 (13.2%) Super Bowl MVP winners have been wide receivers — eight if you count Packers WR/KR Desmond Howard in Super Bowl XXXI — four have come in the past 15 years (26.7%).
Over the past three games, Samuel accounted for 38.5% of San Francisco's passing yardage. The rookie also has 20-plus rushing yards in five of the past seven games and has scored three touchdowns on the ground this season.
Samuel is a dual-purpose weapon who could easily lead the 49ers in receiving without a huge day from Jimmy Garoppolo, while his involvement in the ground game could allow him to steal production — and the MVP award — that would otherwise go to Raheem Mostert if the Niners win.
Here's to hoping I can nail the winner for the second year in a row by taking a WR with longer than 20/1 odds!
[Bet now at FanDuel. NJ, PA, IN and WV only.]
2. Randle: Raheem Mostert +850
It's been 22 years since a running back has won Super Bowl MVP, with Denver's Terrell Davis last earning that title in Super Bowl XXXII. Certainly, the run-heavy 49ers present the best chance to end that drought, with the most likely candidate being Mostert.
The fifth-year running back, who was cut by six different NFL teams over his career, has exploded for the 49ers this season — he tallied 229 rushing yards and four touchdowns in their NFC Championship Game victory.
---
>> Find out which longshots our experts are actually betting to win Super Bowl 54 MVP
---
Kansas City's run-funnel defense should provide ample opportunities for the NFL's second-best rushing attack, with Mostert as the direct beneficiary. He's also active in the passing game with two or more receptions in seven of their past nine games.
I'm taking Mostert, with his 12 total touchdowns over the 49ers' past eight games, as my top pick for Super Bowl 54 MVP.
[Bet now at FanDuel. NJ, PA, IN and WV only.]
3. Koerner: Tyreek Hill +1700
You could argue that Hill has the highest ceiling of any pass-catcher in the NFL, which gives him an edge in a market like this one.
He has either 150 yards and/or two-plus touchdowns in eight of his 31 games over the past two seasons (25.8% rate). Those are thresholds a WR/TE would likely need to hit to be considered for MVP.
Hill even has the potential for a jet sweep-type rush play in which he could take it to the house. Such a play would give him a significant boost in odds of winning this market while effectively hurting Patrick Mahomes.
[Bet now at FanDuel. NJ, PA, IN and WV only.]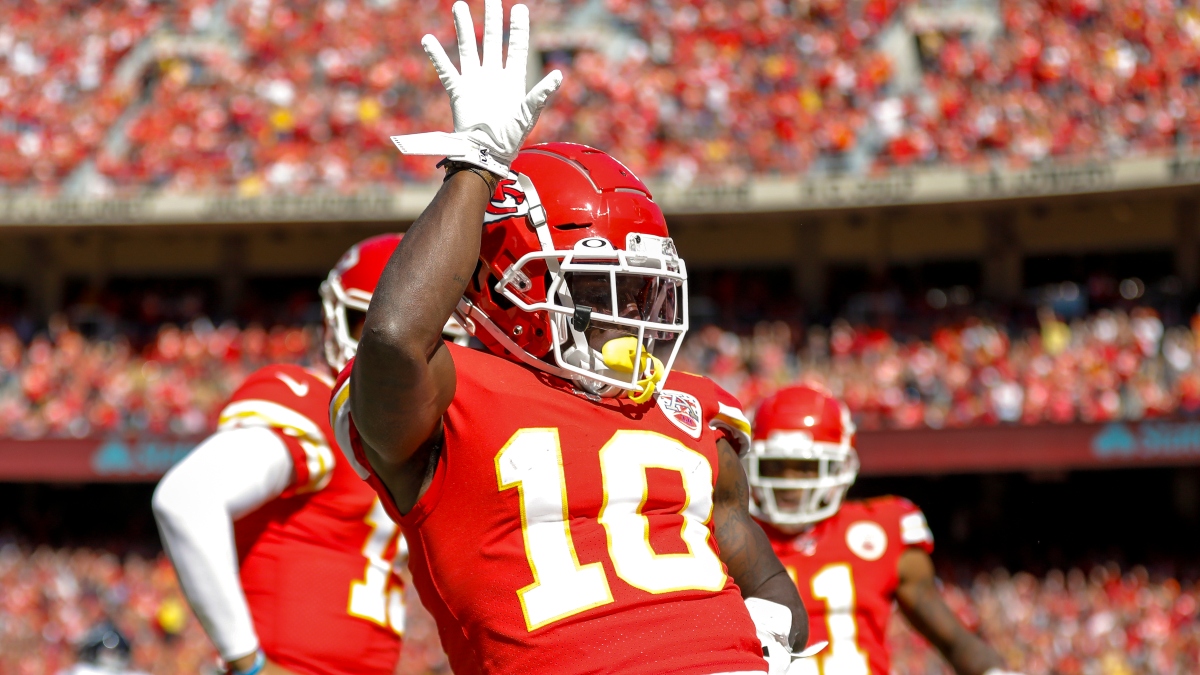 4. Millman: Damien Williams +2400
Admittedly, I backed into this one. I've been planning to unload on Super Bowl props for several days, reading everything the holy trinity of Chris Raybon, Matthew Freedman and Sean Koerner have posted, peppering them on calls and slacking them incessantly.
The same theme kept coming up (other than their avowed love for the Demarcus Robinson under receiving yards prop): Williams over his total rushes (12.5) and Williams over his total receptions (3.5). To me 1+1 is equalling MVP.
With the Niners focusing on Hill and Travis Kelce, Williams has golden opportunities as a receiver out of the backfield, especially when Kelce and Hill are clearing out debris just beyond the line of scrimmage.
I was also intrigued by Freedman's take on Williams' odds to score multiple TDs. If you're not inclined to do advanced math, multiply Williams' high expected usage in the game by the number of times he's scored multiple TDs in games when reaching even two-thirds of that usage by the implied odds of this bet, and you get a winner!
[Bet now at FanDuel. NJ, PA, IN and WV only.]
5. Walsh: Jimmy Garoppolo +250
From a high level, the Super Bowl MVP is a quarterback's award and we're getting Jimmy G at +250 in a high-total game (meaning the betting market is expecting plenty of points) that's essentially a pick 'em.
In addition, recency bias is likely in effect here as Garoppolo threw only eight passes in the NFC Championship Game against Green Bay. However, according to Football Outsiders' DVOA, San Francisco's passing offense ranked eighth this season compared to a 13th-ranked rushing game, so this team can and will throw effectively.
And subjectively, it's reasonable to assume that the Chiefs will sell out to stop the Niners' running attack, giving Garoppolo plenty of chances to connect on big plays through the air.
[Bet now at FanDuel. NJ, PA, IN and WV only.]
6. Abrams: Patrick Mahomes +110
For the record, I had the sixth pick in this Super Bowl 54 MVP Draft. The sixth pick! So, yes, I have no issue taking Mahomes here.
I understand at +110 odds, he's the favorite and there are other value plays on the board. But quarterbacks have won the award 29 times in history, and as we all know, this is a storyline and even a legacy award, and this has legacy game written all over it for Mahomes.
What is the strength of the 49ers? Defense. If the Chiefs win and throw for success, it will be Mahomes' award in the end.
[Bet now at FanDuel. NJ, PA, IN and WV only.]
7. Freedman: Nick Bosa +2400
If the 49ers win, their defense is likely to be a primary reason for their victory, and if that's the case, there's a reasonable chance that Bosa will have a good  — maybe even great — game.
An electric playmaker, Bosa has excelled as a rookie, catapulting himself into the ranks of the league's top pass-rushers. Not only does he have the skill to have an MVP-caliber performance, but he also has the name recognition and narrative as the No. 2 pick in the 2019 draft and one of the key players to help the 49ers revamp their defense this year.
This late in the draft, it's hard to find value, but I like what Bosa offers.
[Bet now at FanDuel. NJ, PA, IN and WV only.]
8. Stuckey: George Kittle +1800
Since 1998, Eli Manning has won two more MVPs than all running backs and tight ends combined. In fact, a tight end has never won the award. That said, you can basically look at both of these tight ends as receivers as they are two of the better pass-catchers in the NFL at any position.
So, if we were going to see our first tight end MVP, this Super Bowl would make sense.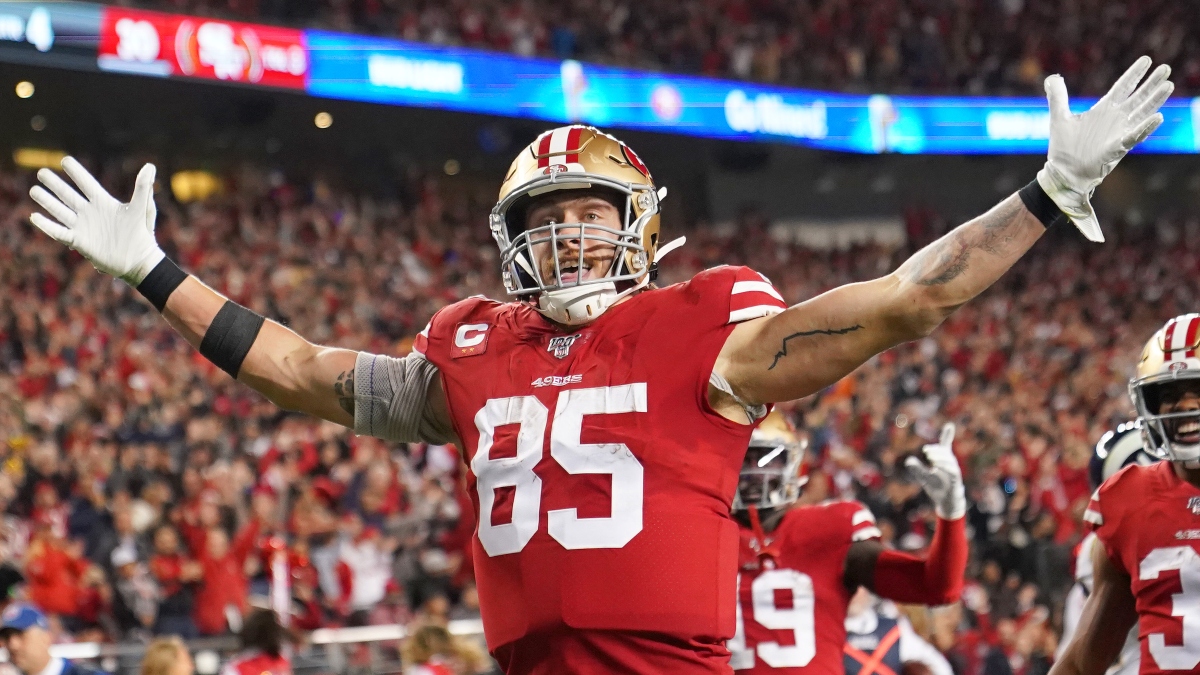 But how can a tight end (or receiver) win the MVP? Well, they first would have to win while putting up big numbers while their quarterback generally has an underwhelming day overall (think a turnover or two and an under-type game). I think Jimmy G is much more likely to fit into that bill, partly because of how much Mahomes spreads the ball around in Andy Reid's offense, but also because the 49ers should have plenty of success running the ball, which means Kittle could be the guy to go off for them.
Kittle also has an ideal matchup against a Chiefs defense that doesn't feature anyone who can really contain him. I'm sure Steve Spagnuolo will try to bracket Kittle on passing downs, but he might draw saliva-worthy matchups on early downs if Kyle Shanahan elects to throw against a Chiefs defense that has slow linebackers and will likely be selling out to stop the run.
[Bet now at FanDuel. NJ, PA, IN and WV only.]
9. Stuckey: Tyrann Mathieu +6500
Believe it or not, 20% of all prior Super Bowl MVP awards have gone to non-offensive players. And four defenders have won it since 2000 (Ray Lewis, Dexter Jackson, Malcolm Smith and Von Miller).
So how can a defender win MVP? It would likely take a defensive struggle in which no offensive player really stands out while one defender on the winning team shines with a few huge plays (think strip sack and pick-six).
If you want to guess who the next defender might be to win Super Bowl MVP, you might just want to take a very long shot with a player who will be on the field for a majority of snaps (think Fred Warner) as turnovers can be quite random and flukey. But Honey Badger has a such a knack for always being around the ball, and he'll be facing an offense that loves to run the ball and throw over the middle of the field, which is where he'll be.
Jimmy G has been known to be a little careless with the ball at times, and who better to take advantage than Mathieu?
[Bet now at FanDuel. NJ, PA, IN and WV only.]
10. Freedman: Mecole Hardman +7000
If the Chiefs win the Super Bowl and Patrick Mahomes isn't the MVP, then the award will likely go to someone who managed not to be outshined by the quarterback — maybe someone who was able to put up numbers without relying on Mahomes for all of his production. And while that logic would seemingly lead me to a defensive player, I just don't see a Chiefs defender winning this award, so I'm going with Hardman.
In the regular season, Hardman led the team with seven touchdowns, and he's explosive enough to turn any touch into a long score. Perhaps most importantly, he can contribute as a kick and punt returner and a runner.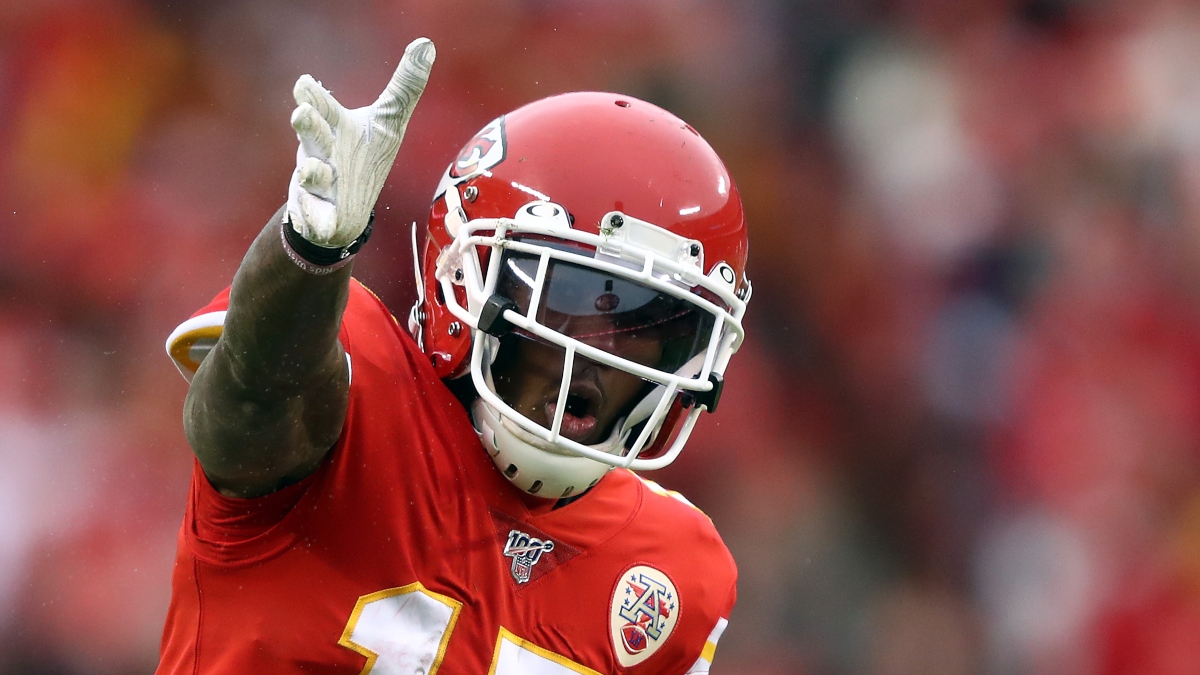 What if Mahomes has a mediocre game, but Hardman excels as a returner, breaks off a long run on jet sweep, has five to six receptions for significant yardage and scores two touchdowns on his various opportunities? He could have a real shot at winning MVP, especially if some of his big plays come in key moments.
[Bet now at FanDuel. NJ, PA, IN and WV only.]
11. Abrams: Kendrick Bourne +10000
On the way back from my pick of Mahomes at No. 6, I was looking for some serious longshot value. For me, it was between Bourne or Kelce, and I think the correlation between Kelce and Mahomes will make it extremely difficult for Kelce to win the award, even if he catches two or more touchdowns as Mahomes would still get it.
On the 49ers side, Bourne will have the slot most likely, which could have favorable matchups in Kansas City's secondary. The Chiefs defense will be focused on Samuel, Kittle and the run, potentially leaving the door for Bourne.
I will be on Bourne to score the first touchdown, too, at 20-1.
[Bet now at FanDuel. NJ, PA, IN and WV only.]
12. Walsh: Arik Armstead +10000
The key to slowing down Kansas City's explosive offense will be pressuring Mahomes, something the 49ers can do with their front four. And while Bosa likely comes to mind as the defensive player to back for MVP, Armstead actually led the team in sacks this season, not Bosa.
This is obviously a longshot, but is also one worth taking at this point in the draft with so many players off the board.
[Bet now at FanDuel. NJ, PA, IN and WV only.]
13. Millman: Travis Kelce +2200
Why Kelce with my second pick? Well, for one, he was available. For two, why wouldn't I choose the second-most potent weapon on an offense that will go down as generationally excellent?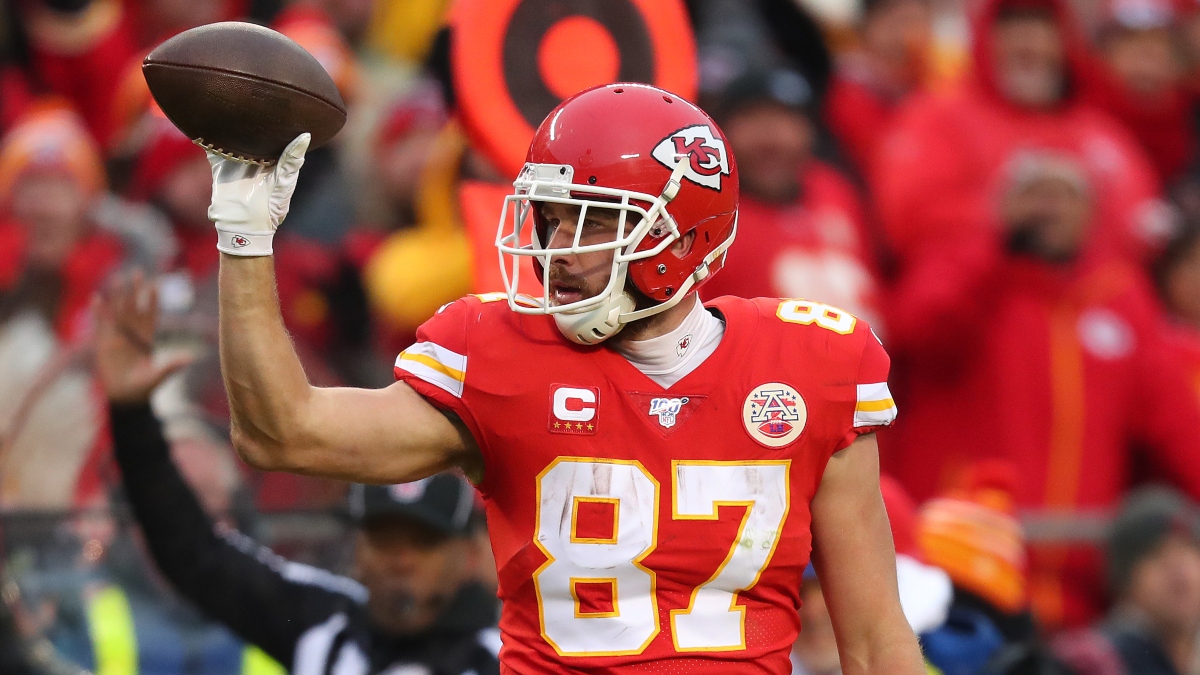 Also one tip I know I picked up while roaming around Miami this week is that the Chiefs are aiming to get him the ball. And tips gleaned at the Super Bowl are always 100% accurate!
[Bet now at FanDuel. NJ, PA, IN and WV only.]
14. Koerner: Emmanuel Sanders +4500
The MVP market is a bit tricky to handicap as there are a few data points we can use to come up with some rough odds. However, taking an underdog in this market requires a bit of game theory and thinking outside of the box.
We've seen four wide receivers win Super Bowl MVP over the past 20 years. And you could argue that the six WRs and TEs have a realistic shot at an MVP-like performance between the 49ers and Chiefs. That comes out to roughly 30-1 odds for an average WR/TE in this matchup. I would say Tyreek Hill, Deebo Samuel, George Kittle and Travis Kelce are more likely to have big games. However, Sanders has the upside and a unique path to an MVP performance.
Sanders threw a 35-yard touchdown pass to Raheem Mostert in Week 14. We saw Sanders throw a 28-yard touchdown last year, too. And it's typical to see a higher rate of trick plays in the Super Bowl — teams have two weeks to game plan, and there's no reason to hold back any plays for fear of tipping off a future opponent.
All that to say, I think we could see Kyle Shanahan dial up a trick play involving Sanders in which he attempts a pass for a big gain and/or a touchdown. In that scenario, he would be taking away from Jimmy Garoppolo's odds in a sense as it's a unique way for a WR to have a big game while not helping out his QB.
I admit this scenario is much less likely than a 45-1 chance, but it's at least realistic enough with Sanders to give him sneaky value.
He also has the upside in the traditional sense as he had a 7/157/1 receiving game for the 49ers earlier this season. They traded a third- and fourth-round pick to get Sanders in order to win now. Don't be surprised if they design a few explosive plays that make him worth the 45-1 price.
[Bet now at FanDuel. NJ, PA, IN and WV only.]
15. Randle: Frank Clark +7000
With two defensive players winning MVP over the past six Super Bowls, I'm taking a chance with Kansas City defensive end Frank Clark who came over from Seattle in the off-season. Clark battled a pinched nerve in his stomach followed by the flu, and finished the regular-season with a respectable eight sacks. But in the postseason he has been dominant, leading all players with four sacks and four tackles for loss.
In a game where offensive output is expected to dominate, the value pivot is to a defensive player that could dominate. Clark brings the best chance of a defensive disruption and has certainly talked a good game leading up to Sunday.
At 7 to 1 odds, he is Kansas City's best defensive player value on the board to bring home Super Bowl 54 MVP honors.
[Bet now at FanDuel. NJ, PA, IN and WV only.]
16. Raybon: Fred Warner +15000
With the 49ers potentially employing a low-volume passing attack and perhaps also featuring a committee backfield, I think that targeting players on their defense for value is sharp. Even though bigger names like Nick Bosa and Richard Sherman have shorter odds, I think Warner has the best chance of any Niners defender to win MVP.
During the regular season, Warner led the team in tackles (118), finished second in passes defensed (9) and tied for the most sacks among non-front four defenders (3.0). He also forced three fumbles and took his only interception of the season 46 yards to the house. And he never comes off the field: Over the last seven games, he's missed a grand total of two snaps.
Whereas players like Bosa and Sherman are confined to affecting the game via sacks or interceptions, respectively, Warner is always around the ball and has the ability to make impact plays in every facet.
How would you rate this article?