Stuckey's Super Bowl Picks: How I'm Betting Chiefs vs. 49ers Prop Bets, First Quarter, More
Credit:
Jamie Squire/Getty Images. Pictured: Patrick Mahomes
Resident NFL expert Stuckey outlines all the ways he's betting Super Bowl 54 between the Chiefs and 49ers.
Find his favorite Super Bowl prop bets below, featuring 49ers RB Kyle Juszczyk and Chiefs RB Damien Williams.
You'll also find how he's betting the first quarter, his live betting strategy and two game props with entertainment value.
Stuckey's Super Bowl Picks
Spread: Chiefs -1.5
Over/Under: 53.5
Kickoff: 6:30 p.m. ET on Sunday
Location: Miami, FL
TV: FOX
---
Odds as of Friday and via FanDuel, where Action Network users get a risk-free bet up to $500.
---
The spread and over/under are pretty spot on.
I make the Chiefs 1.5-point favorites, so I don't see any reason to get involved in the spread pregame (unless it somehow reaches 3, which I can't envision). And while the over/under is a tad higher than my line of 52, it's not like I'm rushing to bet under 53.5 — though if it eventually touches the key number of 55 (or higher), I'll end up betting the pregame under.
As for the rest of the game, though, there are plenty of ways I'm betting it.
I've highlighted my first-quarter investment, my five favorite player props as well as two props I bet for fun because, well, it's the Super Bowl. I've also included my live betting strategy ahead of the big game.
How I'm Betting the First Quarter
Most are familiar with the Chiefs' sluggish starts against Tennessee and Houston in the playoffs, but for whatever reason, unusually slow starts have plagued them all season. (They've trailed by a cumulative score of 38-7 after the first quarter of their past three playoff games.)
The 49ers offense ranks third in first-quarter points per game while the Chiefs rank 10th. That discrepancy is even wider on the defensive end — Kansas City ranks 28th in first-quarter points allowed per game compared to San Francisco's rank of 11th.
The Chiefs have scored three or fewer first-quarter points nine times and were shutout six times. Those numbers for the 49ers are six and four, respectively.
Kansas City has led after the first quarter in only eight of their 18 games while San Francisco has trailed after the first quarter in only four of their 18. I think there's a good chance that continues on Sunday.
Andy Reid has been lights out after a bye week — he's 23-5 straight-up and 19-9 against the spread (including the postseason). And that edge has historically shown in the first quarter, when his teams have outscored opponents 159-99 (+60).
That said, Reid's squads have actually been outscored after a bye in the playoffs (41-38). They've also had three scoreless first quarters in eight games off a postseason bye. That includes his one previous Super Bowl appearance with Philadelphia back in 2005.
Add in the fact that the 49ers excel in the scripted portion of games, when Kyle Shanahan's meticulous preparation and scheming really shines, and I don't see the typical Reid post-bye edge for this particular game.
Additionally, the 49ers defense is much more capable of coming out with exotic looks early on to confuse Patrick Mahomes while the Chiefs will be more focused on slowing down the 49ers ground game. I expect Shanahan to zag early on with some well-scripted, easy throws on early downs that should be effective against an over-aggressive Kansas City defense.
Mahomes will be the best player on the field, and he tends to figure out most defenses as games progress, so it wouldn't shock me if he has more success after the first few drives. But I think the 49ers will have the advantage early.
Here's what I played:
49ers 1Q ML (+105)
49ers 1Q +0.5 (-150)
They're high-variance bets, but I like my chances based on what I've seen this season and, more importantly, how I see this game playing out over the first few drives.
My Favorite Player Prop Bets
I find Super Bowl player props are generally inflated for some of the same reasons as the game over/under. Most recreational bettors aren't rushing to bet unders on Mahomes or George Kittle yardage props. As a result, I usually like to have some broad exposure to the "no" and "unders" on player props across the board.
However, that's a more diversified approach. My biggest player prop bets tend to be on the "yes" and "overs" based on the matchup and how I think the game will play out.
For this matchup, there are two specific players I'm looking to back: Kyle Juszczyk and Damien Williams.
Let's start with Williams, who I think will be a weapon in the passing game. The San Francisco defense generates pressure as well as any team in the NFL, which forces opposing quarterbacks to get the rid of the ball quickly.
That pressure combined with a disciplined, heavy zone-based coverage scheme (especially on first and second down) are a major reason the 49ers defense ranked No. 2 in explosive pass plays allowed. They allowed only 34 completions of more than 20 yards on the season, which tied with Buffalo for the fewest in the league. And only the Bills (four) allowed fewer completions of 40 or more yards than the five allowed by the 49ers.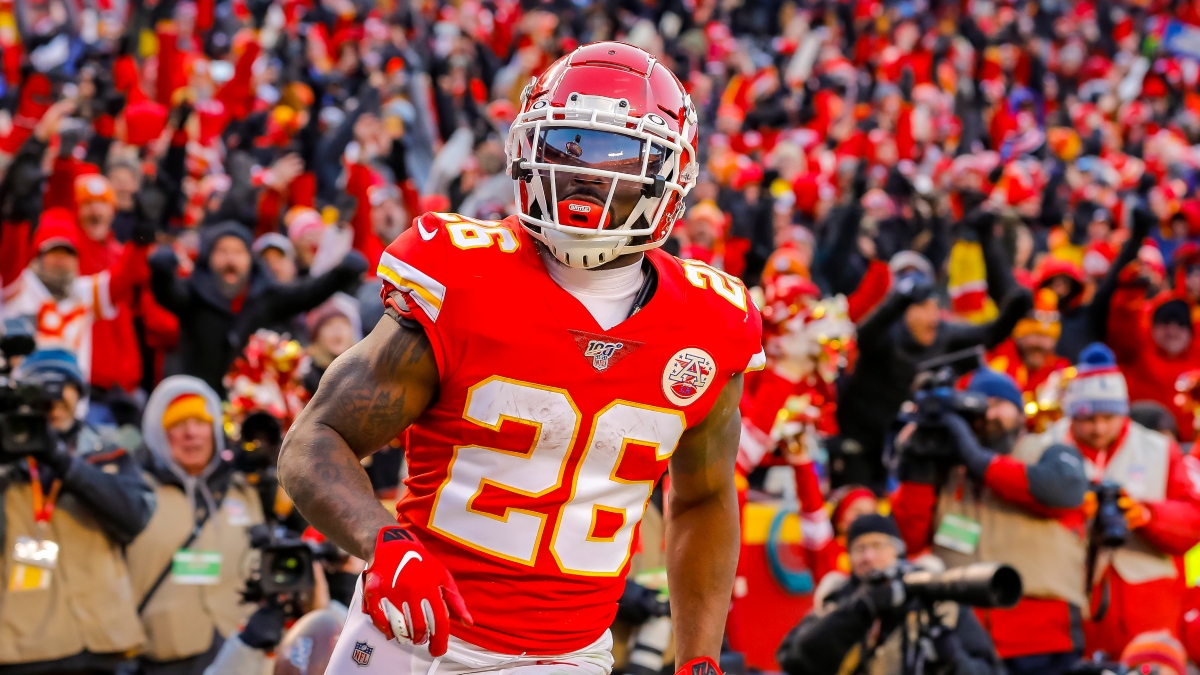 I think that will result in Williams getting a lot of usage out of the backfield when Mahomes drops back to throw. I expect quite a few dump downs to the former Oklahoma Sooner as well as one or two patented Andy Reid screens.
The other benefit of backing Williams here is knowing his high usage rate. Unlike San Francisco, there really isn't a question as to who will get the lion's share of snaps in Kansas City's backfield — I expect Williams to get close to 90% of the running back snaps in this game.
Here are my three favorite props for Williams:
*also played some Over 4.5 (+160)
Okay, now turning to Juszczyk.
It might sound crazy on the surface to back a guy who got zero targets in two playoff games and caught only 20 passes over 14 games this season, but I think he could play a minor role in the 49ers' passing attack.
Hear me out.
The full-season reception numbers for the Harvard product are skewed downward as a result of how a majority of the 49ers games played out this season: They were able to simply rely on their rushing attack to put teams away early most week. And that's exactly what happened in their first two postseason wins, which is why Jimmy Garoppolo's numbers look so pedestrian.
But if you focus only on the subset of games in which San Fran had to throw more, Juszczyk had much more receiving production.
After removing the games Juszczyk missed due to injury, the 49ers played in eight that featured at least 40 points and were within one possession in the fourth quarter — both reasonable expectations for the Super Bowl. And in those games, Juszczyk had 17 catches for 214 yards.
That's an average of 2.1 catches and 26.8 yards per game.
He did go without a catch in two of the games, but one came against Tampa Bay (No. 1 in the NFL at defending backs) in the season opener, and the other was his first game back from injury against Seattle. In five of the other six, he had at least 22 reception yards and at least one catch of 15 or more yards. He also had three explosive receptions for 27, 23 and 49 yards.
I don't think this will be a matchup in which the 49ers can simply run the ball en route to an easy, blowout victory as we saw in their first two playoff games. I expect this game to be close throughout, and for Jimmy G to throw quite a bit.
Plus, with the Chiefs likely selling out to stop the run, I expect Shanahan to throw even more on early downs — especially early in the game. And that could bode well for Juszczyk against a group of slow-footed Kansas City linebackers, especially the group I expect to see on early downs.
With all of the attention Kittle should garner, Juszczyk may be able to slip up the seam or down the sidelines undetected for a big gain through the air against a Chiefs pass defense that ranked 20th in the NFL in defending running backs.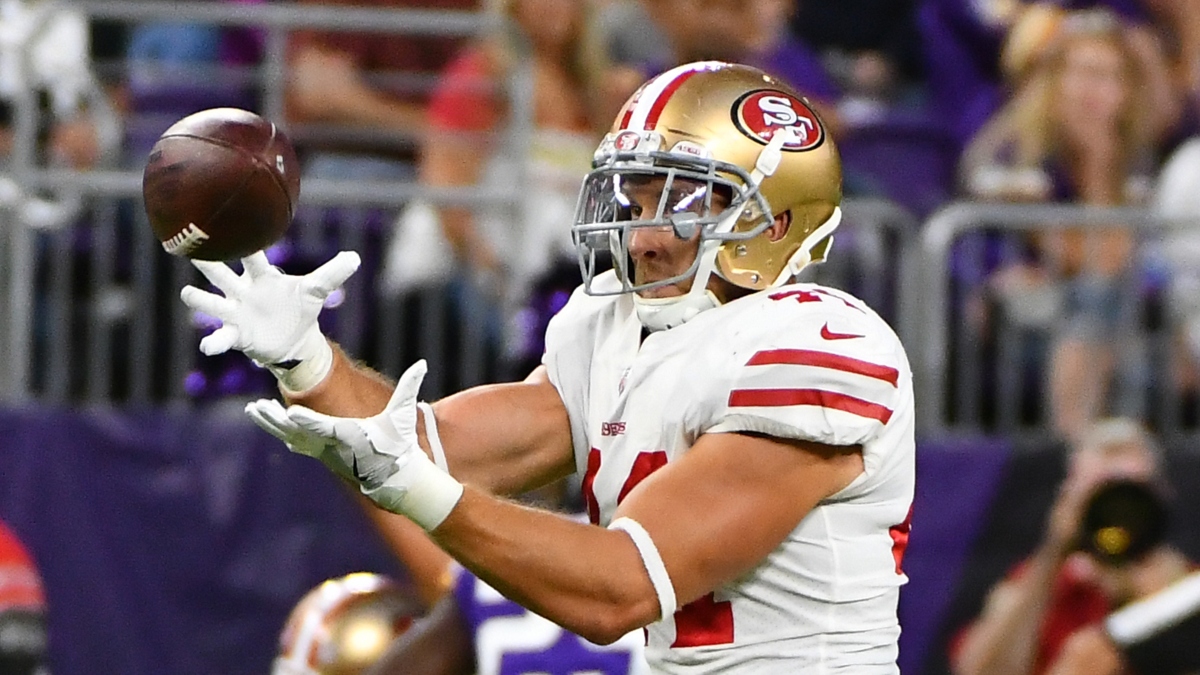 Here are my favorite Juszczyk over props:
This is the Super Bowl, so I did throw in a few props for pure entertainment.
I refuse to lose any money before the game even starts with a bet on the national anthem, but did bite on these two:
I've said all year that Gould is approaching washed territory, and his 6-12 clip from 40 or more yards backs up that sentiment.
I'm simply putting my money where my mouth is on this dart throw.
As for the other prop, since the start of challenges in 1999, only 38% were overturned in the regular season (excluding new pass interference challenges from this season), when coaches are much more liberal with the use of the red flag. However, given the magnitude of the Super Bowl, coaches have been more reluctant to burn a potential timeout for a borderline challenge. As a result, 56% of Super Bowl challenges have been reversed over that span.
I expect both coaches, who sit right around 50% in combined challenge success rate, to use the challenge flag only when fairly confident a play will get reversed. Let's just hope neither falls into the trap of challenging PI — or maybe the NFL will decide to finally overturn an incorrect PI call with the whole world watching.
My Live Betting Strategy
As I've stated previously, I expect the 49ers to have the edge early on against the slow-starting Chiefs. Kansas City has trailed by double digits in the first quarter multiple times this season, including both games this postseason.
But while the Chiefs are no strangers to falling behind early, they also have no issues erasing early deficits. They haven't trailed by more than seven points all season in the second half of games. Mahomes seems to get stronger as games go on as he begins to get a feel for opposing defenses.
If the Chiefs again fall behind early, I'll look for them as a live dog — another 10-0 deficit would set up the ideal spot to get in and likely provide an opportunity to also come back the other way on the 49ers at some point.
That's my only live betting strategy heading into the game, but things could change quickly based on what I see early on. With two weeks to prepare for the final game of the season for all of the marbles, we could see some exotic looks from both teams (ex. 49ers go with heavy man coverage on early downs). That could drastically change how I see this playing out and where I want to invest in the live market.
---
Stuckey is 328-288-9 (53.2%) overall betting on the NFL. Follow his picks in our free app.
How would you rate this article?
This site contains commercial content. We may be compensated for the links provided on this page. The content on this page is for informational purposes only. Action Network makes no representation or warranty as to the accuracy of the information given or the outcome of any game or event.