NFL Week 1 Weather: Winds Whipping in Cleveland
Credit:
Scott R. Galvin-USA TODAY Sports
Three games are currently projected to have average winds over 10 MPH, with the Pittsburgh Steelers-Cleveland Browns game at a whopping 19 MPH.
The Titans-Dolphins and Chiefs-Chargers games are both expected to see temperatures between 85-90 degrees, which has historically favored the under.
The NFL season is upon us…cue the music!
This time of year, anything can happen weather-wise: 100-degree heat, thunderstorms, hurricanes … you name it. It was even snowing up in Wyoming and Montana a couple weeks back, too. I wonder why they don't have any NFL teams out there…
All the weather data below is as of 3 p.m. ET and takes from Sports Insights' live odds dashboard.
---
>> Sign up for The Action Network's daily newsletter to get the smartest conversation delivered into your inbox each morning.
---
Something's a-bluster
Steelers at Browns
Over/Under: 46
There appears to be no wait for wild weather this season, as the forecast in Cleveland is looking as poor as the Browns' record the past two seasons.
PJ Walsh said it best:
Woof. Woof indeed.
The winds are pushing nearly 20 MPH on average, which is quite an anomaly. This would be the 50th time in our database with winds of at least 19 MPH on average out of almost 4,000 games.
This game also has Le'Veon Bell's status looming over it scenario, which gives bettors another reason to keep a close eye on this total.
Bell would be wise to return in time to play this week, as running backs have historically crushed in games with winds of more than 15 MPH.
If news drops that he is not going to play, I would expect a market overreaction and the total to fall perhaps more than it should.
Hell, 70% of bettors are already on the under. Combine that with the crazy wind, and I wouldn't be surprised to see the total drop from 45.5/46 to the 44 range.
Jaguars at Giants
Over/Under: 43.5
Nothing else compares to that Browns game right now, but the Giants game will be featuring winds in the 12 MPH range as it currently stands.
No precipitation is currently expected and the temperatures in the upper 60s will make for a nice, seasonal fall day.
Sixty-five percent of bettors are already on the under, likely due to the Jags' elite defense.
The total hasn't budged from 43.5 since it opened.
Bills at Ravens
Over/Under: 40.5
This game boasts the lowest total of the week. I think I know why.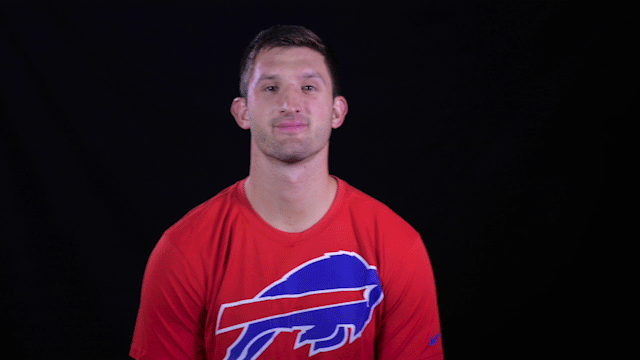 (That is Nathan Peterman. Not exactly a household face.)
The conditions in Baltimore are like a poor man's Cleveland, which is the first time anything has been a poor man's Cleveland. The winds are forecasted to be in the 13-14 MPH range and there is a shot at some rain. And yes, the market loves the under, as it's getting a slate-high 80% of bets.
I think the total could fall to about 30 and bettors would still like the under with these two offenses going at it.
Mercury Rising
Titans at Dolphins
Over/Under: 45
The Miami weather will be warm, but not too warm. Probably a bit cooler than some would expect for a Week 1 game in Miami, to be honest.
The temperatures are projected to be in the 85-87 degree range right now, which, as I mentioned in the piece below, has historically favored the under.
Chiefs at Chargers
Over/Under: 48
The forecast in L.A. is calling for this game to be the hottest of the week at 87-88 degrees. A slight change could bump this up to 90-degree territory, which would make for some seriously sweaty players.
Hydrate, hydrate, hydrate.
At 48, this total is one of the higher ones of the week, and over/under bets are essentially split 50/50.