Which NFL Fans Are the Moodiest?
Credit:
NFL Moodiest Fans Icon
The NFL is a goliath in the sporting world. Each franchise boasts millions of dedicated fans. With the new NFL season just around the corner, supporters have that preseason optimism that their team can deliver wins on the field. But, as we all know, preseason hopefulness often does not last long. Many teams fail to perform or do not live up to expectations. Weekly results can have a huge impact on NFL fans and their moods. But which team's fans are the moodiest about wins and losses?
Analyzing social media sentiment data for each NFL team, we've been able to determine the franchises who put their fans in the worst moods after both defeat and victory. Read on to find out where your team ranks.
The Moodiest NFL Fans After a Loss
Comparing social media sentiment data of each NFL team, we can reveal that the Las Vegas Raiders have the moodiest supporters after a loss, with over a quarter of fan posts (26.8%) considered negative. And analyzing post-game mood throughout the last season, the worst response to defeat came after the 20-9 loss to the Chicago Bears, with just under a third of all social media posts (30.2%) deemed negative.  
Next up, the Tampa Bay Buccaneers have the second moodiest fan base following defeat, with 22.8% of social media posts after a loss considered negative. However, peculiarly, the worst example of their frustration was exhibited after a close victory over the New York Jets in January 2022 (32.4%). Many were unhappy that their team was not able to beat this bottom-dwelling team more convincingly.
Washington Commanders supporters rank third among the moodiest fans after a loss, with an average of 21.2% of posts following defeat considered negative. Not surprisingly, the worst social media sentiment came following an ugly 21-10 loss to longtime division rival Dallas Cowboys in December 2021. 34.2% of the posts after that game were considered to be negative.
Meanwhile, the Chicago Bears trail closely behind (20.8%), with Bears fans considered the fourth moodiest after defeat. Despite being fourth overall in this evaluation, the Bears recorded the worst single-game response of any fan base last season (35.4%). This flurry of negativity came following a 29-27 defeat to the Pittsburgh Steelers in November 2021.
Finally, rounding out the five moodiest NFL fan bases after defeat, we have supporters of the Seattle Seahawks, with 19.4% of social media activity following a loss considered negative in nature. The Seahawks' worst social media response (28.1%) came after a 20-10 loss to the LA Rams in December 2021.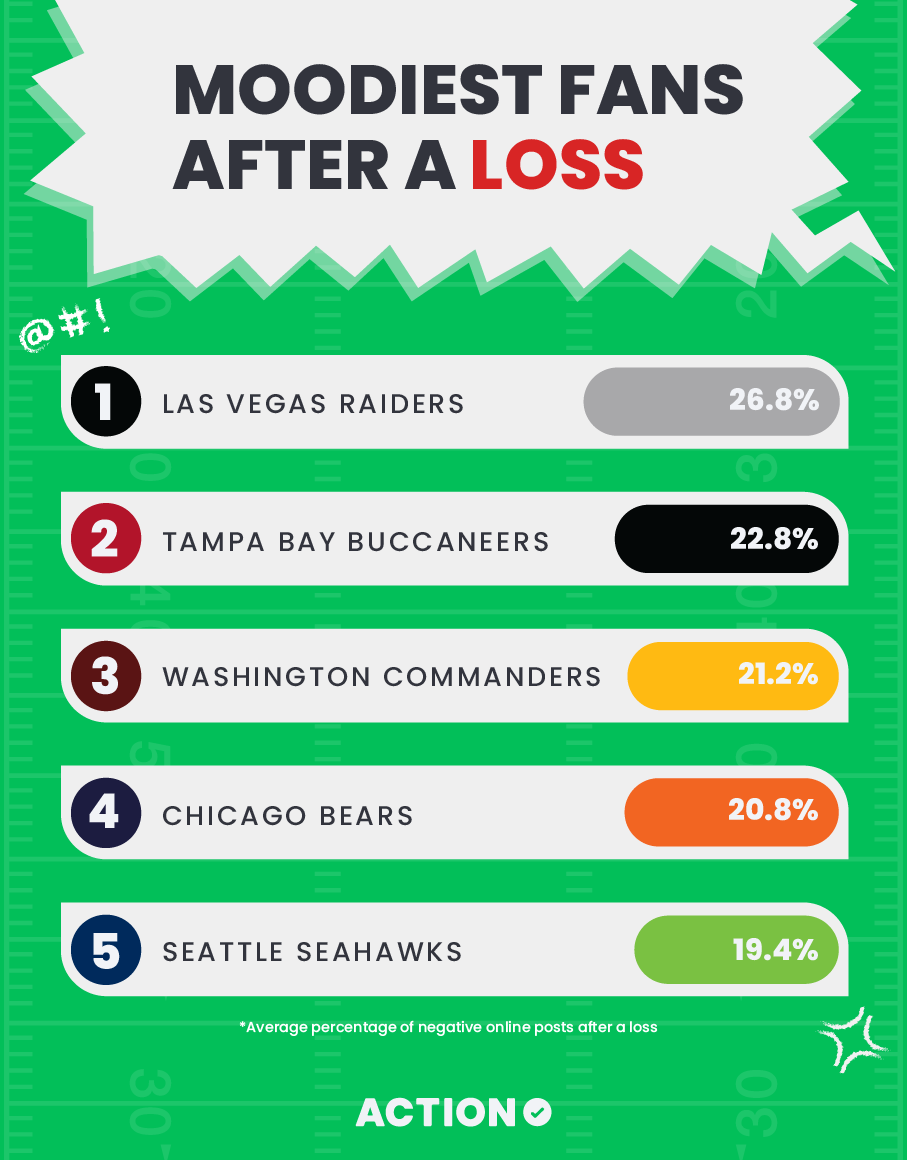 The Moodiest NFL Fans After a Win
It's not always a defeat that brings out the negativity in NFL fans. Some supporters turned to social media even after victory to complain about one thing or another. 
The Tampa Bay Buccaneers fans feature once again as moodiest fans, even in victory! 15% of social posts after a win were considered negative. The arrival of Tom Brady to the team has surely upped the standards in Florida.
Placing second, Las Vegas Raiders fans also rank among the moodiest, no matter the result. In fact, even after victory, an average of 14.7% of supporter social media activity is considered negative. Their 36-33 win over the Dallas Cowboys on November 25th accrued negative social media posts at 18.6% of the total. 
Washington Commanders fans are once again among the moodiest. 13.1% of their fans' social media posts after victory were considered negative. The Commanders close 17-15 win over the Las Vegas Raiders received the most negative posts at 17.9%.
Meanwhile, Pittsburgh Steelersand Chicago Bears fans also place among the moodiest NFL supporters, with negativity creeping in even after victory (both 12.3%). Steelers fans recorded a larger negative sentiment score of 18.4% after victory against the Chicago Bears in November 2021. The Bears supporters recorded their highest score of 15.1% after beating the Detroit Lions in November 2021.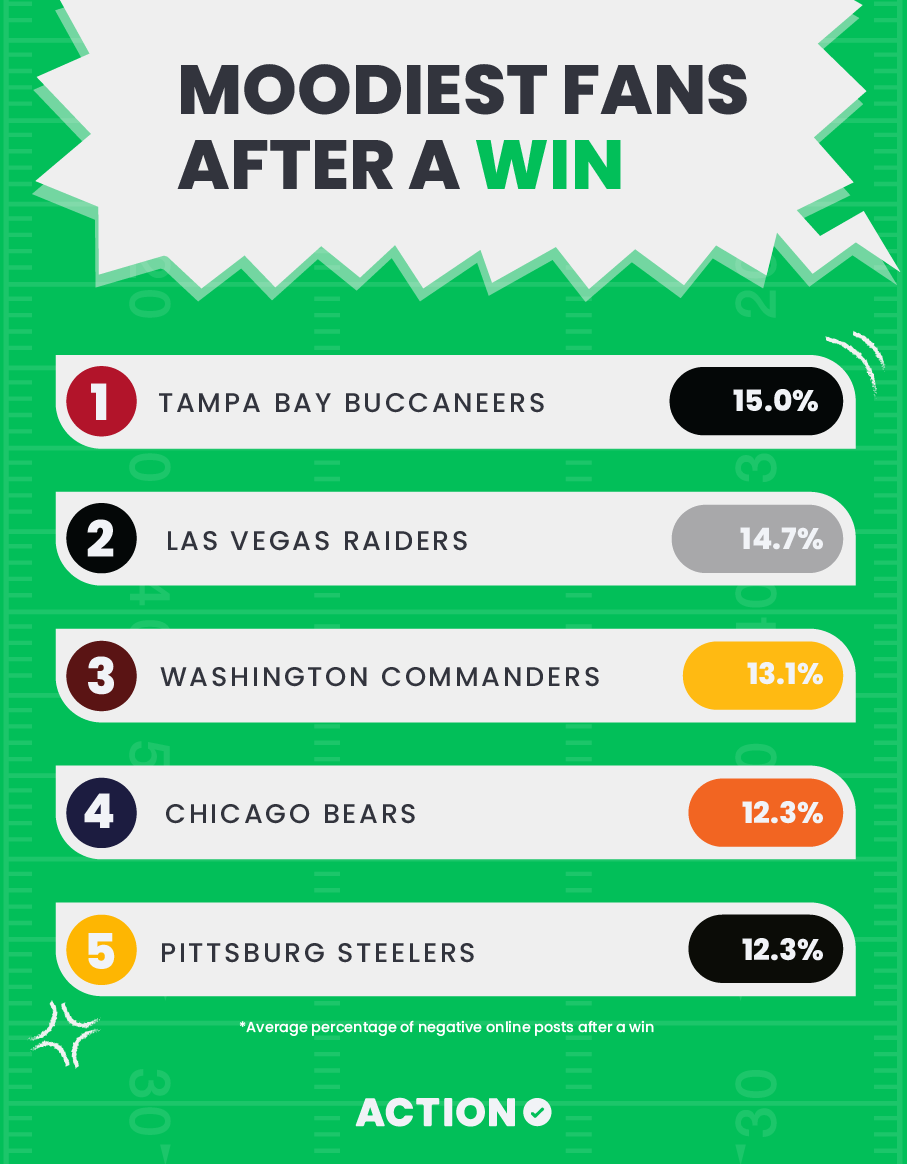 Which teams will make their fans the moodiest in 2022-23? Be sure to stay up to date with the latest odds and picks for your favorite team all season long, and take advantage of offers and upside with the Action Network's unique Caesars Sportsbook promo code.
Methodology
We scraped Twitter and Reddit posts over the course of the 2021-22 NFL season to collect data. Sentiment data was collected for each team after every game. We used the tool Linkfluence to collect this data. 
Posts are negative depending on words, phrases, hashtags, and emojis that have a known negative connotation.
We averaged sentiment data to calculate which NFL teams had the highest percentage of negative posts after each game. These were then ranked. Data collected 18th July 2022.
How would you rate this article?
This site contains commercial content. We may be compensated for the links provided on this page. The content on this page is for informational purposes only. Action Network makes no representation or warranty as to the accuracy of the information given or the outcome of any game or event.