NFL Week 5 WR/CB Matchups: Mike Evans Will Take Marshon Lattimore Deep
Credit:
Scott Clause/The Daily Advertiser via USA TODAY NETWORK. Pictured: Mike Evans, Marshon Lattimore
Matthew Freedman breaks down the most important WR/CB matchups of Week 5, highlighted by Buccaneers WR Mike Evans and Saints CB Marshon Lattimore.
Football is a team sport comprised of individual matchups, the most important of which might be those between wide receivers and cornerbacks.
In this piece, I leverage snap data from Pro Football Focus to project NFL Week 5 WR/CB matchups.
For more, see the FantasyLabs Matchups page, where we provide all sorts of basic and advanced data — including fantasy and red-zone performance — for each offensive skill-position player based on his matchup.
Also consult our Week 5 injury report for status updates on receivers and corners.
I will update this piece for Sunday morning based on the week's practice reports.
Let's start with this week's featured matchup then run through all the potential shadow matchups and sort through my matrix featuring every matchup.
Skip To: Shadow Matchups | WR/CB Matrix
WR/CB Matchup of the Week: Mike Evans vs. Marshon Lattimore
For the second week in a row, Lattimore is the corner in our featured matchup.
Although he was the 2017 Defensive Rookie of the Year, he entered his Week 4 matchup with Amari Cooper on the stinkiest of streaks.
Week 1 (vs. Texans): 5-47-1 receiving on eight targets
Week 2 (at Rams): 5-142-1 receiving on six targets
Week 3 (at Seahawks): 10-152-0 receiving on 13 targets
In Week 4, though, he manned up against Cooper for almost every defensive snap, and Lattimore easily got the better of the Cowboys No. 1 receiver, holding him to just four receptions and 39 scoreless yards on seven targets.
In a game the Saints won by only two points, Lattimore was a true difference maker.
He might have to be even better this week in his matchup against Evans.
The Bucs have essentially two No. 1 receivers in Evans and Chris Godwin, so the Saints will really need Lattimore to lock down his man if they are to defend both receivers sufficiently.
Last year, Lattimore shadowed Evans in their two divisional matchups with mixed results.
Week 1 (2018, at NO): 4-115-1 receiving on four targets
Week 14 (2018, at TB): 2-48-0 receiving on three targets
Despite Lattimore's bounceback performance last week, Evans probably has the edge in this matchup.
Evans has to compete with Godwin for targets, but even so, he is tied for the league lead with four touchdowns receiving, and he's No. 1 outright with 581 air yards and No. 6 with 368 yards receiving.
He's one of just three players in NFL history — along with Randy Moss and A.J. Green — to open his career with five straight 1,000-yard receiving campaigns.
As for Lattimore, he's allowed league-worst marks with 24 receptions and 380 yards receiving. Of any corner to play at least 100 coverage snaps, he has been the third-least efficient, yielding 2.41 yards per snap.
Unsurprisingly, he has a career-low 63.5 PFF coverage grade.
Evans has averaged 139.5 yards and two touchdowns over his past two games. If Lattimore doesn't play his best, Evans could have numbers approaching those in Week 5.

Edge: Evans
NFL Week 5 Potential Shadow Matchups
Here are the other shadow matchups I'm projecting, listed by time of kickoff.
Vikings WR Adam Thielen vs. Giants CB Janoris Jenkins: The Giants tend to use the 2016 Pro-Bowler to shadow big-bodied No. 1 receivers — DeAndre Hopkins, Michael Thomas, Amari Cooper — so I expect Jenkins will defend Thielen more than teammate Stefon Diggs. This year, Jenkins has already allowed 297 yards and three touchdowns in his coverage. Edge: Thielen
Redskins WRs Terry McLaurin, Trey Quinn & Paul Richardson vs. Patriots CBs Stephon Gilmore, Jonathan Jones & Jason McCourty: McLaurin (hamstring) has opened his career with three straight touchdown-scoring games, but he missed Week 4 with an injury and is uncertain for Week 5. The Pats are a shadow-heavy team with an NFL-best zero receiving touchdowns allowed and 10 interceptions. Edge: Pats CBs
Patriots WR Josh Gordon vs. Redskins CB Josh Norman: The Redskins kept Norman at left corner in Weeks 3-4, but for much of the past year they have used him in shadow coverage. Gordon has been inconsistent, but Norman has allowed a league-high four touchdowns receiving this year. Edge: Gordon
Jaguars WR D.J. Chark Jr. vs. Panthers CB James Bradberry: Chark has broken out in his second season, leading the league with his 157.1 WR Rating (per PFF). Meanwhile, Bradberry held Hopkins in check last week, and the Panthers lead the league with 3.9 net yards per attempt allowed. Edge: Push
Chargers WR Keenan Allen vs. Broncos CB Chris Harris Jr.: Allen and Harris have matched up for years as AFC West rivals. Although Allen has had success against other Broncos corners, Harris has limited him to 96 yards (albeit with two touchdowns) on 13 targets in three games since 2017. A 2016 All-Pro slot defender who now plays outside, Harris might follow Allen all over the field. Edge: Push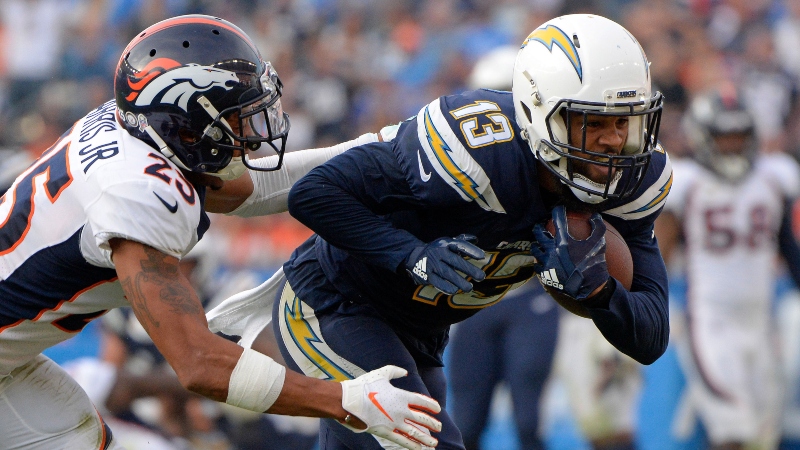 Broncos WR Courtland Sutton vs. Chargers CB Casey Hayward Jr.: Sutton has flashed in his second season with 22-309-2 receiving, but last year Hayward limited him to three receptions and 94 scoreless yards in two shadow matchups. Since joining the Chargers in 2016, Hayward has held opposing receiving to a 53.2% catch rate. Edge: Hayward
Cowboys WR Amari Cooper vs. Packers CB Jaire Alexander: The Packers used the 2018 first-rounder in shadow coverage in Weeks 3-4, and he and Amari tend to line up on the same side anyway, so this matchup is happening. In the midst of a breakout year, Alexander has allowed a catch rate of just 40.7%. Edge: Slightly Cooper

49ers WR Marquise Goodwin vs. Browns CB Denzel Ward: The Browns were without Ward (hamstring) for Weeks 3-4, and he's not certain to play this week. Ward and Goodwin usually line up on the same side, so shadow matchup or otherwise, they will see a lot of each other. When healthy, Ward has the speed and skills to stick with the Olympian Goodwin — but Ward is literally hamstrung right now. Edge: Slightly Goodwin UPDATE: Ward (hamstring) is projected OUT
NFL Week 5 WR/CB Matchups
Weekend Injury Updates
Arizona Cardinals
LWR Damiere Byrd OUT
SWR Christian Kirk OUT
LWR Trent Sherfield IN
SWR Pharoh Cooper IN
SCB Tramaine Brock OUT
SCB Kevin Peterson IN
Takeaway: Upgrade for SWR Larry Fitzgerald, big upgrade for Bengals SWR Tyler Boyd
Carolina Panthers
LCB Donte Jackson OUT
SCB Ross Cockrell MOVE to LCB
SCB Javien Elliott IN
Takeaway: Big upgrade for Jaguars SWR Dede Westbrook, upgrade for Jaguars LWR Chris Conley
Chicago Bears
RWR Taylor Gabriel OUT
RWR Javon Wims IN
Takeaway: No big deal
Cincinnati Bengals
LWR John Ross OUT
LWR Damion Willis IN
Takeaway: Big upgrade for SWR Tyler Boyd and RWR Auden Tate
Cleveland Browns
LCB Denzel Ward OUT
RCB Greedy Williams OUT
SCB T.J. Carrie MOVE to RCB
LCB Terrance Mitchell IN
SCB Eric Murray IN
Takeaway: Big upgrade for 49ers RWR Marquise Goodwin, moderate upgrades for other 49ers WRs
Green Bay Packers
RWR Davante Adams OUT
RWR Jake Kumerow IN
RCB Kevin King OUT
RCB Tony Brown IN
Takeaway: Moderate upgrades for LWR Marquez Valdes-Scantling and SWR Geronimo Allison, moderate upgrade for Cowboys LWR Devin Smith
Indianapolis Colts
RCB Rock-Ya Sin OUT
RCB Quincy Wilson IN
Takeaway: Upgrade for Chiefs LWR Demarcus Robinson
Jacksonville Jaguars
LCB Jalen Ramsey OUT
LCB Tre Herndon IN
Takeaway: Big upgrade for Panthers RWR Curtis Samuel
Minnesota Vikings
SCB Mackensie Alexander OUT
SCB Mike Hughes IN
Takeaway: Upgrade for Giants SWR Golden Tate
New Orleans Saints
SWR Tre'Quan Smith IN
SWR Austin Carr OUT
Takeaway: Slight downgrade for RWR Ted Ginn Jr.
New York Jets
RWR Demaryius Thomas IN
RWR Jamison Crowder MOVES to SWR
SWR Braxton Berrios OUT
Takeaway: Upgrade for SWR Jamison Crowder
Oakland Raiders
LWR Tyrell Williams OUT (Projection)
LWR Keelan Doss IN
Takeaway: Upgrade for TE Darren Waller, slight upgrades for RWR Trevor Davis and SWR Hunter Renfrow
Philadelphia Eagles
LCB Ronald Darby OUT
SCB Avonte Maddox OUT
LCB Sidney Jones IN
SCB Craig James IN
Takeaway: Big upgrade for Jets SWR Jamison Crowder, upgrade for Jets RWR Demaryius Thomas
San Francisco 49ers
RCB Ahkello Witherspoon OUT
RCB Emmanuel Moseley IN
Takeaway: Big upgrade for Browns LWR Odell Beckham Jr.
Tampa Bay Buccaneers
LWR Breshad Perriman OUT
LWR Bobo Wilson IN
Takeaway: Downgrade for WR Justin Watson dynasty owners
Thanks to Scott Barrett for providing me with some of PFF's historical data.
How would you rate this article?