2021 NHL Season Preview: Best Bets to Win the Vezina Trophy
Credit:
Andy Devlin/NHLI via Getty Images. Pictured: Juuse Saros.
You'll often hear hockey bettors, pundits, writers and fans lament about goaltending. It is one of the most important positions in all of sports, but it is also one of the hardest to project. It's not unheard of for goalies to come out of nowhere to put together season-changing runs. It's also not all that rare that star netminders struggle for an entire season.
The volatility of the position makes the market for the Vezina Trophy one of the most interesting to bet on ahead of a new season. Seven different goalies have won the award over the past seven seasons, and we haven't had a back-to-back winner since Martin Brodeur in 2007 and 2008.
Here are our favorite bets to win the 2021 Vezina Trophy:
Michael Leboff: Juuse Saros (+5000)
Odds available at DraftKings [Bet Now]
Long the heir apparent to the blue paint in Nashville, Juuse Saros endured a roller coaster 2019-20 season. The first half of the season was a bit of a trainwreck as the 25-year-old Finn posted a -11.99 Goals Saved Above Expectation (GSAx) in his first 20 games.
However, something seemed to click for Saros in the new year: The yellow-padded stopper led the NHL with a +13.19 GSAx over his next 20 contests. That form seems to have gone unnoticed by the market, as Saros is listed as the biggest longshot for the Vezina at DraftKings. At 50/1 Saros has longer odds than Malcolm Subban, Martin Jones, Thomas Greiss, Antti Raanta and Matt Murray. None of those goaltenders play for contenders, and some of them have some very suspect numbers over the past few seasons.
While Pekka Rinne is still the more notable name in Nashville's goaltending circle, Saros is clearly on his way to taking over as the starter. In a season where goalies will be rotated heavily, I think Saros stands a decent chance to shine.
Pete Truszkowski: Cam Talbot (+2100)
Odds available at DraftKings [Bet Now]
The Minnesota Wild were the best defensive team in the NHL last season. That might seem crazy to say about a team that gave up the eighth-most goals per game and finished second-to-last in its division. But according to Natural Stat Trick, no team gave up fewer expected goals per 60 minutes at 5-on-5 than the Wild's 1.95.
Minnesota's defensive excellence never came to fruition because of poor goaltending. Devan Dubnyk posted an .890 save percentage and eventually lost the crease to longtime backup Alex Stalock, who was average at best posting a .910 save percentage. Dubnyk has since been traded to the San Jose Sharks, and Alex Stalock is out indefinitely with an upper-body injury.
Enter Cam Talbot, whom the Wild signed to a three-year contract this offseason. Talbot was very good for Calgary last year, posting a .919 save percentage during the regular season and then a .924 save percentage in the playoffs. Talbot is entering his eighth season as an NHL goalie, and he has posted at least a .917 save percentage in five of his seven professional seasons.
Minnesota will play in the NHL's West Division, which means the Wild will play eight games apiece against Los Angeles, Anaheim, San Jose and Arizona. Those teams ranked 30th, 29th, 28th and 23rd in goals per game in 2019-20. This relatively easy division also gives Minnesota a good chance of making the playoffs, which obviously improves his prospects to win the award.
Considering Talbot's successful NHL track record, the Wild's relatively easy schedule, Minnesota's prowess in limiting chances against, and the potential for a successful season, this number has some serious value.
Most analytically-minded people would agree that Minnesota is a decent team that was sunk by poor goaltending last year. With Talbot, there's hope that things turn around.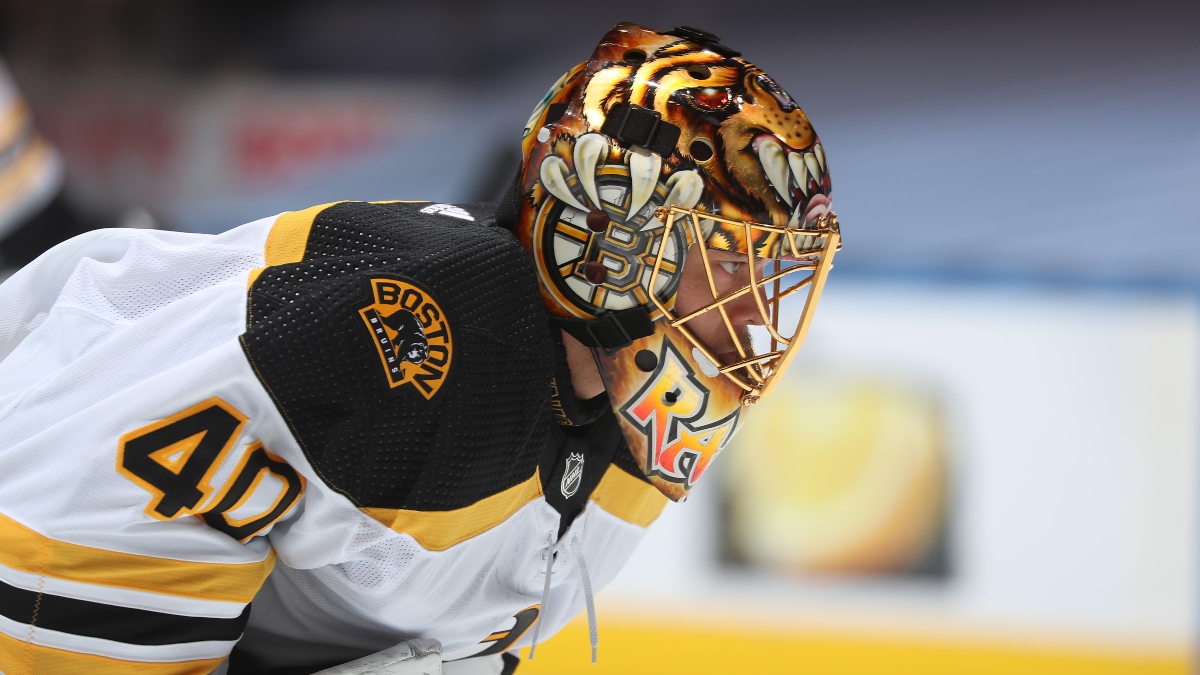 Sam Hitchcock: Tuukka Rask (+1200)
Odds available at DraftKings [Bet Now]
All good things must come to an end, as the saying goes. At some point in the near future, the Boston Bruins are going to stumble. In hockey, as in bankruptcy, a player declines gradually and then suddenly. The B's core is ossifying, and goaltender Tuukka Rask is part of that aging band of players, as he turns 34 in March.
But, don't send notes of sympathy just yet! Rask finished second in the Vezina Trophy voting last year. He had a 7.31 Goals Saved Above Expected (GSAx), good for third in the NHL among goaltenders who played 30 or more games. When Rask opted out of the postseason, the Bruins withered with Jaroslav Halak in net.
Boston enters the abridged season with a revamped defensive corps and top-heavy forward group. Nonetheless, I expect them to vie for supremacy in the newfangled East division. The Bruins might struggle to score, but the smart money is on a Bruce Cassidy-coached squad to defend like piranhas. And that starts with keeping their opponents out of the scoring areas.
During the 2019-20 regular season, Rask finished second in the NHL at 5-on-5 in average shot distance at 39.23, and Halak was nipping at his heels at 38.26. The Bruins had the second-lowest expected goals against per hour, and if they can come close to that elite level again, Rask will be in the conversation for the Vezina hardware.
The value here is that Rask should be at +1000, the third-lowest odds behind Andrei Vasilevskiy and Connor Hellebuyck. On DraftKings, Anaheim Ducks goaltender John Gibson is at +1000, and that is because his numbers in 2017-18 and 2018-19 in GSAx were elite. But, the Ducks should be dreadful again, and Gibson had a -9.92 GSAx last season.
Maybe last season was an outlier for Gibson, but the Ducks' coach is still Dallas Eakins, and their roster has not improved. As for the Philadelphia Flyers: Yes, Carter Hart was spectacular last season; but, a goaltender 22 years old or younger has not won the Vezina Trophy since Jim Carey in 1995-96.
Rask is old, but he has the personnel in front of him and pedigree (he won the Vezina in 2013-14) to be competitive. At +1200, one can take comfort positing that, if the Bruins are to earn a playoff spot in the deepest division, it will come with Rask excelling in net.
How would you rate this article?