NHL Daily Odds & Picks (Thursday, April 29): Our Best Bets for Islanders vs. Rangers, Hurricanes vs. Red Wings, Panthers vs. Blackhawks & More
Credit:
Eliot J. Schechter/NHLI via Getty Images.
The Stanley Cup Playoffs may not start for a few more weeks but Thursday night should definitely have a postseason feel to it as eight of the 11 games on the docket have serious implications for the playoff picture.
Here are our favorite bets for what should be a scintillating night of NHL action:
Michael Leboff: Detroit Red Wings (+325) vs. Carolina Hurricanes
Puck Drop: 7 p.m. ET
NHL Favorites have absolutely crushed in 2021. According to our Bet Labs database, the Chalk has gone 468-280 for a 62.6% win rate this season and it seems like a foregone conclusion that this will be the best season (at least by win rate) for NHL Favorites since we started tracking this data back in 2005-06. To give that number a little more perspective consider that since 2005-06 favorites have won 58.7% of NHL games and the only other season that comes close to this one is the lockout-shortened 2013 campaign when favorites won 61% of contests.
That said, I'll go ahead and back the biggest underdog on Thursday night.
There's not really much we need to get into for this one. The Carolina Hurricanes are a much better team than the Detroit Red Wings. Carolina ranks second in the NHL in points percentage, fourth in 5-on-5 goal differential and fourth in expected goals rate. The Hurricanes tick every box you look for in a Stanley Cup contender.
Carolina isn't really slowing down, either. The Canes have skated to a 59.6% goal share and 57.4% expected goals rate over their last 16 games and their 1.68 goals allowed per 60 minutes at 5-on-5 is the best mark in the NHL over that span.
---
Expected goals (also known as xG) is a predictive statistic that gives an indication of whether results are based on sustainable factors like a steady creation of scoring chances, or whether it is down to aspects such as shooting luck or outstanding goaltending.
Simply put, an expected goals rate (xGF%) above 50% is considered good because it means a team is creating the majority of the scoring chances. Anything below 50% is usually a sign that a team is struggling to control play.
xG numbers and advanced stats cited from Evolving Hockey, MoneyPuck and Natural Stat Trick.
---
Despite all of these sparkling metrics the Hurricanes seem to struggle with the Detroit Red Wings for some reason. The Wings have won four of the six meetings between these two clubs in 2021 and while I don't put too much stock into results like that, it does show you that there still is some underdog magic left in the NHL.
The numbers on the season aren't good for Detroit, but they are getting better. The Wings have skated to a 46.6% expected goals rate on the season, but over the last month that number has ticked up to 49.9%. The big-picture view of the 2021 Red Wings may be ugly, but they've looked closer to mediocre than bad of late and that's really all you're asking for at a price like this.
And while you do want to tread lightly betting teams that are out of the playoff picture at this time of year, the Wings have not really shown any signs of letting up — even if they are without two of their best forwards (Dylan Larkin, Tyler Bertuzzi) for the rest of the season.
Everything in betting comes down to price and at +325 you're only asking the Red Wings to win this game about 24% of the time. So as horrifying and painful as this sounds, I think the Red Wings are worth a bet at +300 or higher on Thursday night.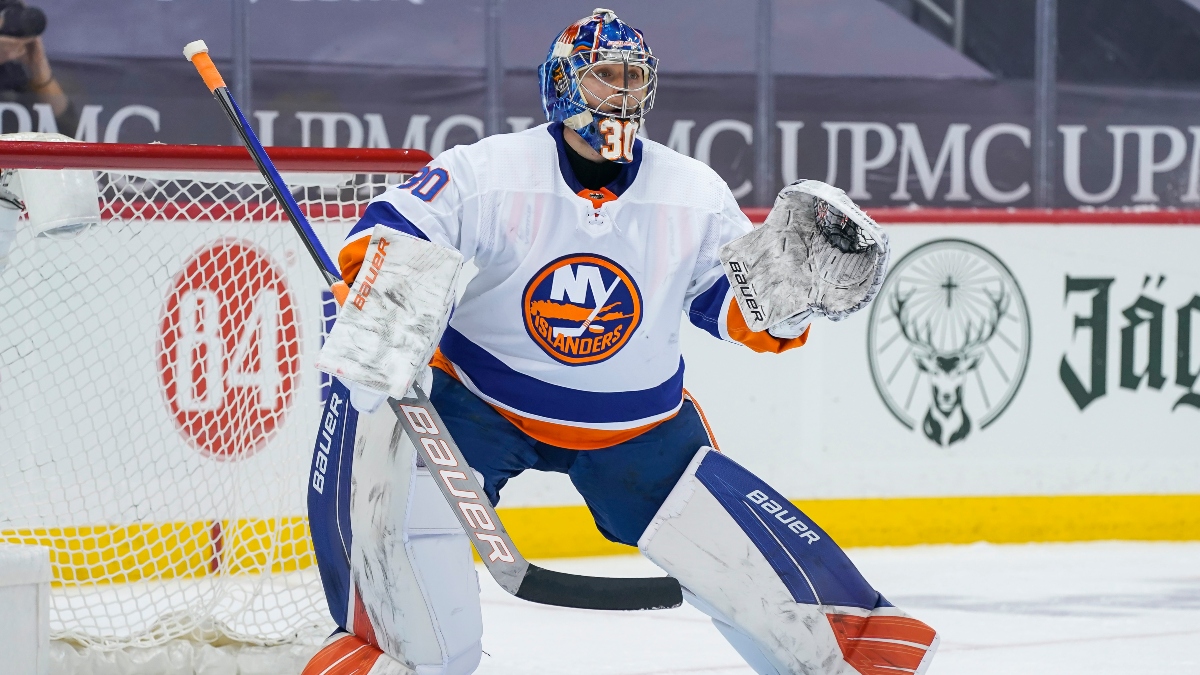 Pete Truszkowski: New York Islanders (+102) vs. New York Rangers
Puck Drop: 7 p.m. ET
It's been a rough few weeks for the New York Islanders. Two weeks ago, the team was in a heated battle for the top seed in the East Division and it was widely accepted that New York was a legitimate Stanley Cup Contender. Yet, here we are and some cynical Isles fans are discussing the very low probability of the team falling out of the playoffs.
The cause for concern is legitimate. The Isles have just one regulation win in their last 10 games and over that span the Islanders, who are usually strong at 5-on-5, have posted a 44.4% expected goals rate. The offense has gone ice cold with just 16 regulation-time goals in its last 11 games and six of those came in one game. The Islanders have been shutout four times in their last six contests.
The Rangers, on the other hand, have gone 11-3-2- in their past 16 games. It's an impressive feat that they even put themselves in a position to dream about the playoffs after their poor start.
Despite all these recent trends, I like the Isles at plus-money in this game. The Rangers have been beating up on poor teams like the Buffalo Sabres, New Jersey Devils and Philadelphia Flyers over much of their recent run. Despite this soft schedule, the Rangers have skated to a pedestrian 47.4% expected goal rate in the month of April.
I think the Rangers are being overvalued based off a nice run against inferior opponents when the pressure has mostly been off. Plus, the Rangers and Islanders have played three games over the past few weeks and the Isles have won two of them.
In backing the Isles, I'm expecting to see a team that played at a near-elite level at 5-on-5 for most of the season snap out of a funk. Trade deadline acquisitions Kyle Palmieri and Travis Zajac haven't fit into the lineup seamlessly, but I expect Barry Trotz and this veteran team to figure things out before the playoffs.
I think this is a good buy-low, sell-high spot and believe the Isles win this game over 50% of the time, so at plus-money I like the value.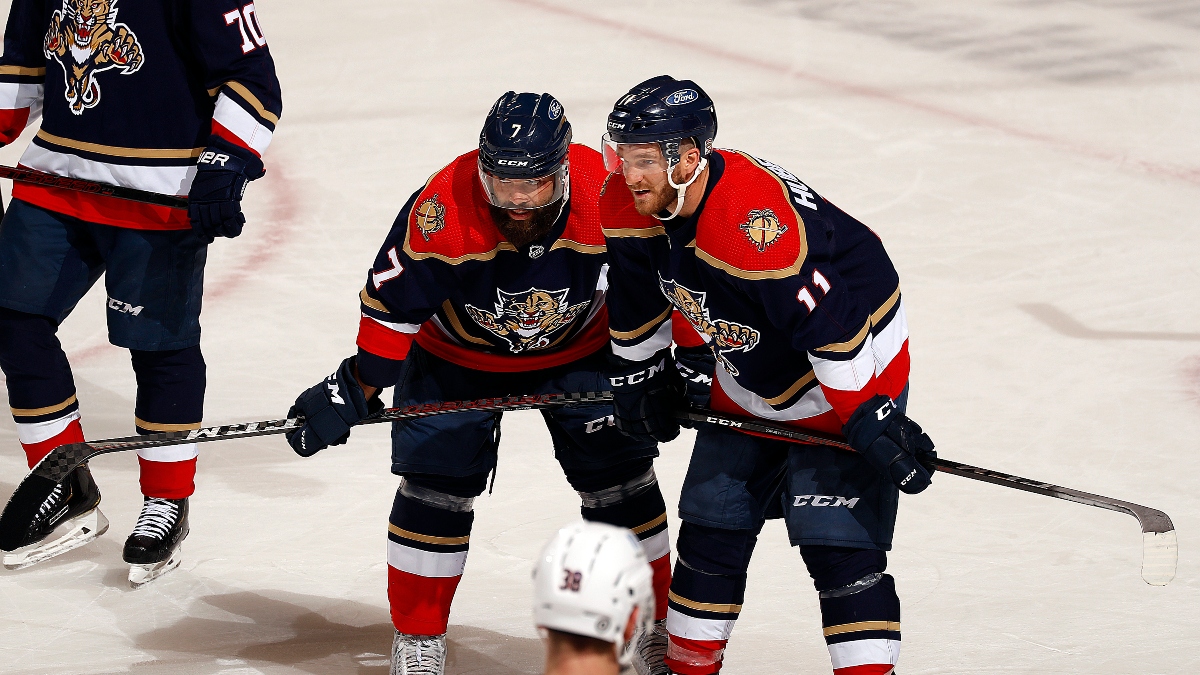 Nicholas Martin: Florida Panthers (+100) to win in regulation vs. Chicago Blackhawks
Puck Drop: 8 p.m. ET
Chicago began this season surprisingly strong, opening with a 13-8-5 record behind some excellent goaltending from rookie Kevin Lankinen, Hart nominee-level play from Patrick Kane, and a bunch of one-goal victories.
The results have regressed significantly since then, bringing Chicago closer to what most people expected from this group in 2021. The Hawks are 9-14 and allowing 3.39 goals per game in the second half of the 2021 and their expected goals rate has cratered to 43.44% over that span.
Florida also got off to a strong start, but the Cats have carried their consistent play into the second half. The Panthers are 6-2-1 with a +9 goal differential and a 58.9% expected goals rate in their last nine games and remain very live in the race for the Central Division crown.
This Panthers offense is deep, and the two big guys up top — Sascha Barkov and Jonathan Huberdeau — amongst the most talented players in the NHL. We are likely to see the Panthers generate a ton of good chances against a very soft Chicago defense, and I see a lot of reasons to back Florida to control this one and win in regulation.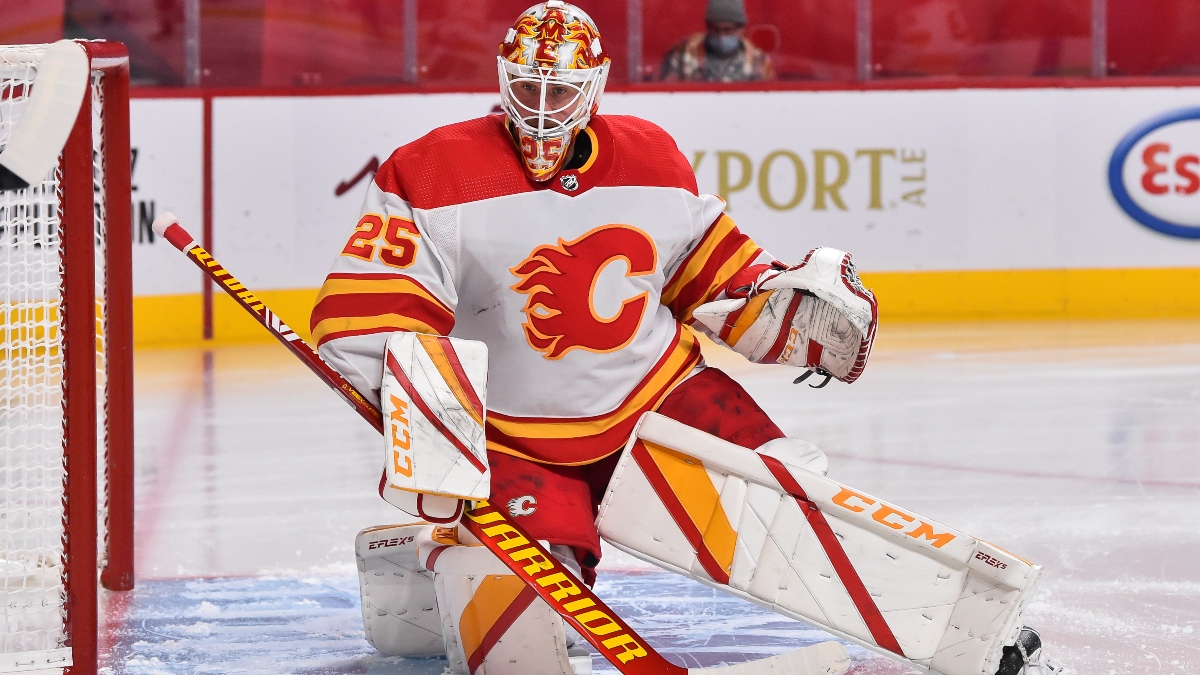 Matt Russell: Calgary Flames (+125) vs. Edmonton Oilers
Puck Drop: 9 p.m. ET
Maybe it took Darryl Sutter to find just the right whip. The Flames didn't exactly burn bright after he replaced Geoff Ward behind the bench in Calgary. After an initial 3-win bump, the Flames flopped with a 2-9 stretch that looked to seal their fate as a team that would miss the playoffs this season. However, all of a sudden they've found their spark, with a 6-3 stretch and perhaps more importantly, considerably improved play at even-strength. They've stayed alive, with the uninspiring Montreal Canadiens in sight.
Meanwhile, the Oilers have had a cushy setup. Play a few games, take a week off, play three more, take five off, scoot over Saskatchewan to play Winnipeg and then head home. It's been really easy for them, and the results in the win column have come with it. That changes on Thursday night, as the Oilers see their first back-to-back with travel in-between since late March. They lost that game 4-0 to Montreal, and gave up a whopping 15 High-Danger Chances at even-strength, mustering just 6 of their own.
This desperate version of the Flames that's pushing for a playoff spot is the kind of underdog in a rivalry game that I'm happy to find. Especially against an Oilers team that has been overrated in the marketplace all season long.
How would you rate this article?
This site contains commercial content. We may be compensated for the links provided on this page. The content on this page is for informational purposes only. Action Network makes no representation or warranty as to the accuracy of the information given or the outcome of any game or event.