Saturday NHL Odds & Picks: 4 Best Bets for Senators vs. Jets, Predators vs. Hurricanes & More
Credit:
Steven Kingsman/Icon Sportswire via Getty Images. Pictured: Ottawa Senators teammates Erik Brännström, left, and Evgenii Dadonov.
The NHL's regular season is all but over, but there's still one last busy Saturday to close it out in style.
Our staff has made their best picks from Senators vs. Jets, Predators vs. Hurricanes, Lightning vs. Panthers and Ducks vs. Wild.
See which teams their backing, below.
We have another stacked card of exciting NHL games on Saturday's schedule, with 14 games taking place around North America.
The puck drops at 3 p.m. ET, with the Buffalo Sabres taking on the Pittsburgh Penguins and the New York Rangers battling the Boston Bruins in the matinee showdowns.
That said, let's dive right into our favorite bets for the loaded slate.
Matt Russell: Ottawa Senators ML (+170) vs. Winnipeg Jets
Puck Drop: 7 p.m. ET
No one's keeping track of this, but me. However, it's time for a little revenge. My best bets in this space have been doing well lately, except for one central subset of games: Ottawa Senators bets on a Saturday card. Not that I would change a thing. 
Two weeks ago, I wrote about the Senators' value against Vancouver. In the midst of a four-game series with the Canucks, where they won literally every game, but the one that Saturday evening in Vancouver.
In that game, Ottawa had to scratch its starting goaltender minutes before the game; the replacement got hurt while taking a penalty in the second period; and, then the third goaltender gave up a goal on the ensuing power play.
Given all of this, the Senators probably should have won the game, allowing just one High-Danger Chance to the Canucks.
A week ago, I wrote about the Senators value against Montreal. We saw Ottawa's underdog price quickly dwindle throughout the day, eventually earning us at least 30 cents of closing-line value. We then watched as the Senators took a 2-0 lead late into the third period, only to see them cough up the advantage and lose in overtime.
In both cases, by measure of market or metrics, Ottawa deserved better. The franchise has also won nearly every other game the last couple of weeks. 
That said, it makes it incredibly surprising the Ottawa moneyline opened as high as +180 odds. That translates to an implied win probability of 35.7 percent for a franchise that has won eight of its last 11 games during a stretch where it has beaten the Winnipeg Jets two out of three times.
While I don't expect this price to hang around for long, I'd test fate for the third consecutive Saturday and back the Senators down to +150 odds.
Mike Ianniello: Tampa Bay Lightning ML (-108) vs. Florida Panthers
Puck Drop:  7 p.m. ET
There is a chance we could see the battle of Florida between the Tampa Bay Lightning and Florida Panthers for nine consecutive games in the foreseeable future.
The Sunshine state squads will finish the season with a pair of games Saturday and Monday, and then most likely face off in the first round of the Stanley Cup playoffs. Both are locked into the postseason, so the final two games will decide who has home-ice advantage for their first-round battle.
The Lightning have one of the best offenses in the league, sitting sixth in the NHL with 3.34 goals per game. Despite playing the entire season without Nikita Kucherov, and most of the season without captain Steven Stamkos, the Lightning still rank fifth in the league with a 53.57 xGF percentage.
---
Expected goals (also known as xG) is a predictive statistic that gives an indication of whether results are based on sustainable factors like a steady creation of scoring chances, or whether it is down to aspects such as shooting luck or outstanding goaltending.
Simply put, an expected goals rate (xGF%) above 50% is considered good because it means a team is creating the majority of the scoring chances. Anything below 50% is usually a sign that a team is struggling to control play.
xG numbers and advanced stats cited from Evolving Hockey, MoneyPuck and Natural Stat Trick.
---
Tampa Bay also benefits from having the best goaltender in the league. Andrei Vasilevskiy should be a slam dunk to take home his second Vezina Trophy. He leads the league with 31 wins (against just eight losses), sporting a .928 save percentage and 2.10 goals against average that career bests.
The Lightning will be playing the second half of a back-to-back set after a meeting with the Dallas Stars on Friday. With Curtis McElhinney starting on Friday, we should see Vasilevskiy in this contest, which gives Tampa Bay a big goaltending advantage.
The Panthers rank just behind the Lightning in scoring at seventh place, with 3.31 points per game. Florida's 54.16 xGF% is fourth in the league, and just a tick better than Tampa Bay in the category. The club also sits seventh in High Dancer Scoring Chance percentage at 53.86 this season.
Florida has gotten terrific seasons from forwards Jonathan Huberdeau and Aleksander Barkov. Barkov is eighth in the league with 26 goals, with Buberdeau holding down 10th in points with 59 this campaign.
They are the two most common answers to the question: "Who is the most underrated player in the NHL?" And that  probably makes them no longer underrated and just universally agreed to be really good hockey players.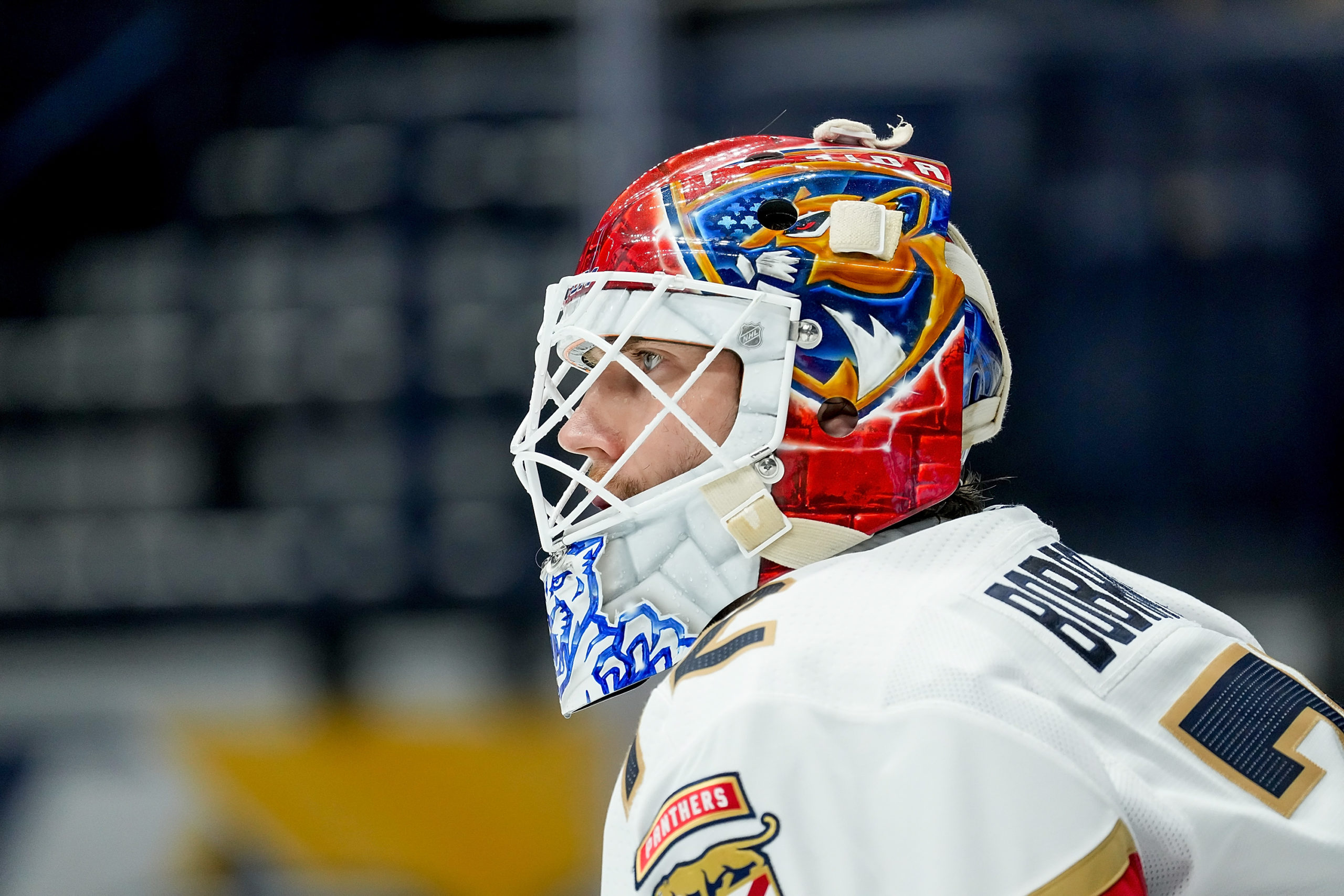 Sergei Bobrovski will start in goal for Florida. Despite a respectable 18-8-2 record, his .904 save percentage and 2.97 goals against average rank 40th and 44th among all goaltenders with at least 10 starts.
Both of these offenses have been terrific, ranking in the top 10 in goals per game and xGF percentage. The ability to put the puck in the net is probably about even and a wash between these two squads.
However, the ability to keep the puck out of the net? That is where I feel Tampa Bay has the biggest edge. Vasilevskiy leads the NHL with 22.8 GSAx and Bobrovsky ranks 53rd at -8.9 GSAx. Both goaltenders are 2-2 against each other this year, but Vasilevskiy has allowed 2.78 goals per game in this matchup while Bobrovsky has surrendered 3.79 per outing.
Florida enters this matchup a little banged up as well. Carter Verhaeghe, Sam Bennett and Patric Hornqvist all missed the Panthers' last game. They might not be rushed back with the playoffs starting next week.
I think we're getting Tampa Bay at a discounted price here, because of the back-to-back spot. Well, the Lightning have played seven back-to-backs this season and have won the second game five times. The two losses came without Vasilevskiy in net.
Tampa Bay is saving him for the second game, knowing it's more important for the positioning in the standings, so I will back the better goaltending at a solid price and would play it up -125 odds.
Pete Truszkowski: Nashville Predators ML (+125) vs. Carolina Hurricanes
Puck Drop: 8 p.m. ET
At this point in the season, identifying a team's motivation level is half of the battle. The Nashville Predators can clinch a playoff spot with a home playoff win over the Carolina Hurricanes. I'm sure they want to get the spot wrapped up and would love to do it in front of their fans. 
On the other hand, the Hurricanes have all but clinched the No. 1 seed in this division and have begun preparing for their first-round matchup against what will very likely be these same Predators. It's not football, where teams withhold parts of their playbook, but you have to wonder if Carolina will look to rest players in what will be a likely preview of an upcoming playoff series.
Both teams are playing very good hockey. Nashville has points in 21 of their last 28 games to put themselves in a position where they can clinch a playoff spot. Carolina has points in 13 consecutive games.
The standings don't lie, as the Hurricanes are among the best teams in the league in all major metrics like expected goals and shot-attempt share. Nashville finds itself more toward the league average. However, on this night, I think the home team with a chance to stamp its playoff ticket is worthy of a bet as an underdog.
Nicholas Martin: Minnesota Wild — Team Total Under 3.5 Goals (-108) vs. Anaheim Ducks
Puck Drop:  8 p.m. ET
An NHL legend and potential Hall of Fame candidate in Ryan Miller will take his net for the last time in Minnesota. Maybe its something I want to see for a very likable player, but I believe there is some sound logic in backing the Ducks to continue what has been a good defensive run of play.
Anaheim likely will come out inspired to offer up a proper send off and finish the season on a high note, as it did in Miller's final home start — a 6-2 win over Los Angeles last Saturday.
Over their last six games, the Ducks have allowed just 2.50 goals per game, with an xGA/60 of just 1.90, so they have been in very sound form defensively coming in to this contest. Minnesota has been filling the cage of late, but could be due for some offensive regression themselves, as they have owned a well-below average 2.08 xGF/60 over their last five outings.
Minnesota's team total is set at 3.5 goals, and I like the under at -108 odds, as well as a smaller play on the Ducks moneyline at +240 odds.
How would you rate this article?