NHL Daily Picks (Wednesday, May 19): Our Best Bets for Capitals vs. Bruins, Predators vs. Hurricanes, Oilers vs. Jets & Blues vs. Avalanche
Credit:
Justin Edmonds/Getty Images. Pictured: Brayden Schenn, Gabriel Landeskog
The 2021 Stanley Cup Playoffs have been going strong since Saturday but Wednesday night it becomes a party as we to welcome the North Division into the fold as the Winnipeg Jets and Edmonton Oilers open their best-of-7 series.
Here's what's on tap for Wednesday night:
Washington Capitals (+140) at Boston Bruins (-162), 6:30 p.m. ET
Nashville Predators (+163) at Carolina Hurricanes (-190), 8 p.m. ET
Winnipeg Jets (+140) at Edmonton Oilers (-165), 9 p.m. ET
St. Louis Blues (+270) at Colorado Avalanche (-335), 10:30 p.m. ET
After winning the first three games of the postseason, the underdogs have dropped the last seven contests. Will we see another chalky night in the NHL? Here are our favorite bets for Night 5 of the Stanley Cup Playoffs:
Matt Russell: Boston Bruins (-162) vs. Washington Capitals
Puck Drop: 6:30 p.m. ET
We had a crisis of confidence in Game 1. All of us. I mean "all" because the entire world appeared to have piled into the Bruins to win the series, and Game 1. The price for both drove higher and higher as money came in on Boston. Naturally, the Capitals scored an overtime win to send those of us who backed the Bruins in the series into an early, low-level panic.
Then came Game 2, which on the surface looked like more of the same. Literally. The Bruins and Capitals found themselves back in overtime, but this time the Bruins got an almost-instant goal from Brad Marchand and the series was tied. Then we dug into the metrics and found that the Bruins were good for an outrageous 3.78 Expected Goals at even-strength (they scored four, so this wasn't that shocking), to just 1.59 XG for Washington (the exact same number they earned in game one).
---
Expected goals (also known as xG) is a predictive statistic that gives an indication of whether results are based on sustainable factors like a steady creation of scoring chances, or whether it is down to aspects such as shooting luck or outstanding goaltending.
Simply put, an expected goals rate (xGF%) above 50% is considered good because it means a team is creating the majority of the scoring chances. Anything below 50% is usually a sign that a team is struggling to control play.
xG numbers and advanced stats cited from Evolving Hockey, MoneyPuck and Natural Stat Trick.
---
Now the scene shifts to Boston, a historically difficult place to play. The Caps bring with them their 40-year old goaltender who just gave up those four goals, and may have seen some of the magic dust wear off after getting the game one win. The Bruins big guns got it going on Monday night, with Marchand, Patrice Bergeron and Taylor Hall all finding the net. Meanwhile, more than half of the Capitals goals have been on the dubious side of things. Finding their way past Tuukka Rask in somewhat fluky fashion. Essentially, the Capitals found goals in unlikely places, but that's not something they can rely on.
Given that the Bruins allowed just 12 High-Danger Chances at even-strength back in Washington, I'm willing to bet they keep the Caps under wraps some more, and with a little luck for Rask, the offence may dry up with it, while the Bruins continue their assault on old-man Anderson.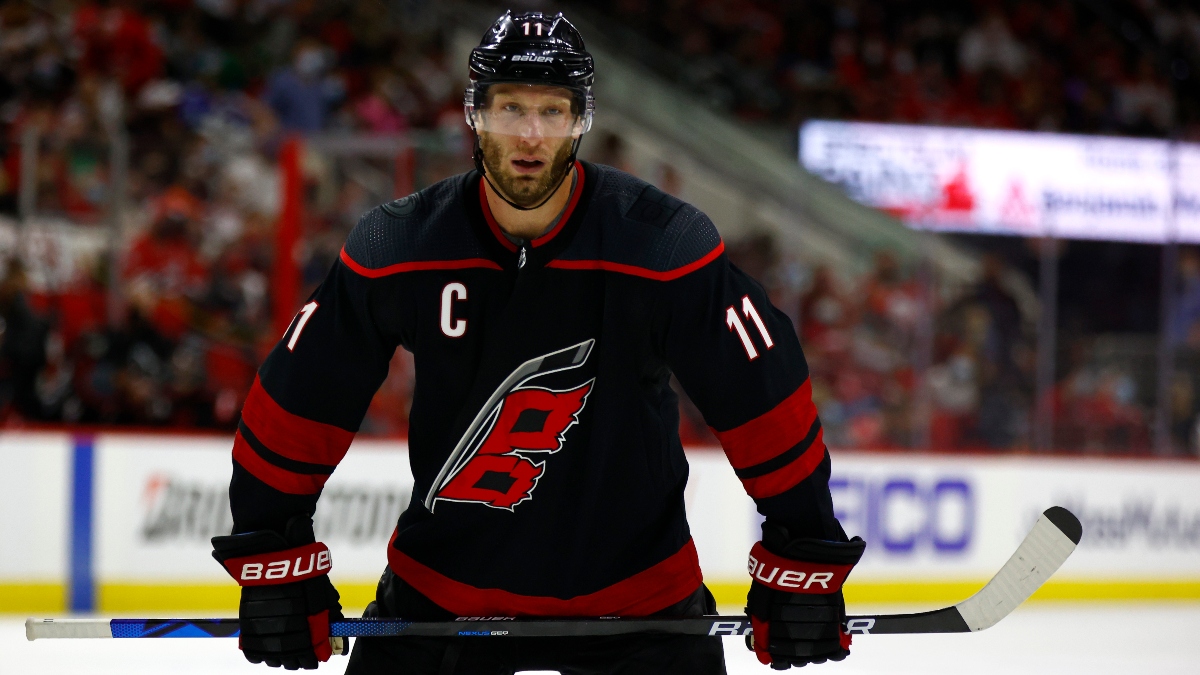 Nicholas Martin: Carolina Hurricanes to win in regulation (-105) vs. Nashville Predators
Puck Drop: 8 p.m. ET
The Hurricanes have been outright dominant so far this season, managing to win the Central Division in a very tough race between them, the Panthers and the Lightning. In doing so Carolina earned a considerably easier Round 1 matchup as an important reward.
The Canes took advantage of that softer matchup in Game 1, firmly dominating the Predators en route to a 5-2 win in front of the biggest crowd any NHL arena has hosted so far this season.
The gap between these two teams appeared to become more clear as game one wore on, with a very deep Carolina group skating to an expected goals score of 3.72 to 1.72 in all situations.
People love to hammer home the idea that goaltenders can steal a series in the NHL playoffs, and certainly that was the case with regards to this showdown with Juuse Saros stellar play being the main reason anybody was arguing for Nashville to have a hope in this best-of-7.
Carolina was in no mood to make Juuse Saros look like a superstar however, as they created a number of high-danger scoring chances, forcing Saros to move laterally often with strong passing sequences and getting a number of bodies in front of the net.
The Hurricanes dominated at 5-on-5, and even though they were able to handle most of Nashville's power play opportunities with ease, I would expect more success from their second-rated PP against the Preds' 29th-ranked penalty kill.
Overall, we saw a very sharp effort in Game 1 from a Hurricanes team that now sits as the second-favorite for the Stanley Cup. They allowed very little to the Predators offensively and were able to create a number of high-quality chances at the other end.
There aren't many reasons to believe that Nashville will turn this into a long series and I think it is likely that this contest wraps up in five games or less. Carolina sit at nearly even money to win in regulation tomorrow, and I see value with backing them to build on a strong Game 1 performance.
Michael Leboff: Nashville Predators (+165) vs. Carolina Hurricanes
Puck Drop: 8 p.m. ET
Nicholas laid out a pretty compelling case for the Hurricanes to steamroll the Preds again on Wednesday and I admit that this bet will be more pain than fun, but it would go against everything I hold dear as a bettor if I was to ignore the jump in price on Nashville from Game 1 to Game 2.
After getting their doors blown off as +148 underdogs on Monday night, Juuse Saros and the Nashville Predators find themselves as high as +165 on Wednesday night. These are the same two teams playing the same game in the same building. The only thing that has changed is that the Hurricanes looked like a juggernaut against the Preds in Game 1.
This is a bet that I loathe making because I know Nashville is unlikely to win, but I think there's value on Nashville at this number and would play it down to +155.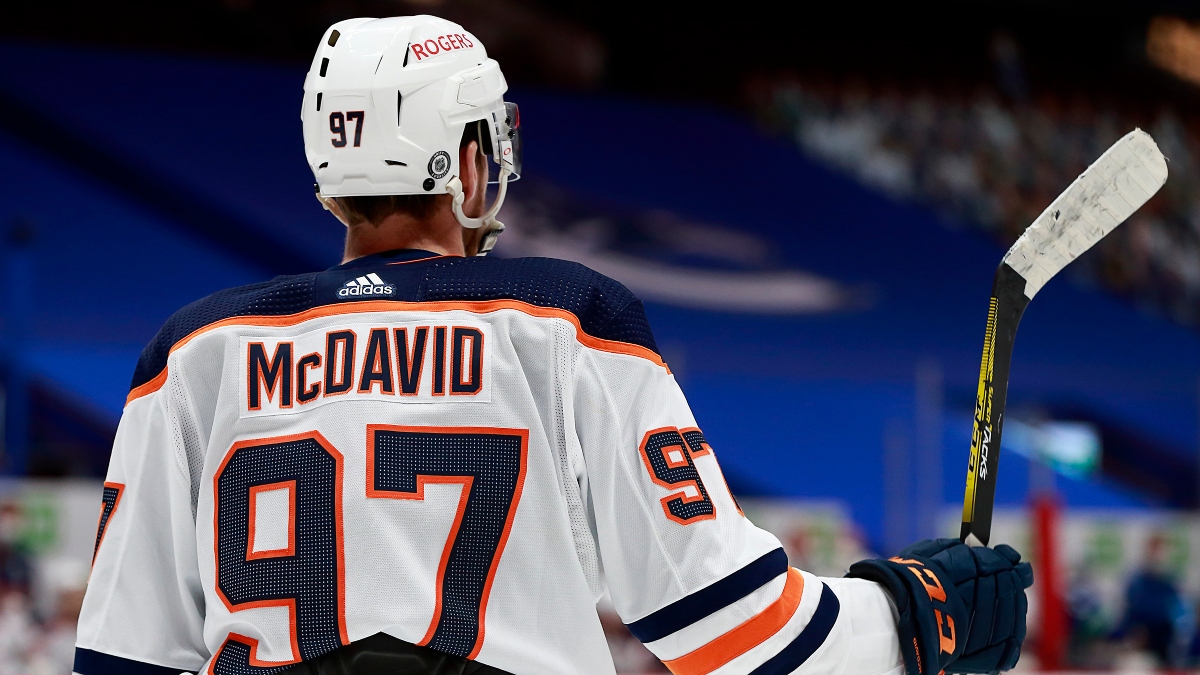 Mike Ianniello: Edmonton Oilers (-155) vs. Winnipeg Jets
Puck Drop: 9 p.m. ET
The one thing all hockey fans can agree on, is Connor McDavid needs to be in the national spotlight and playing in primetime playoff games with as many eyes on him as possible. The Edmonton Oilers will be in the Stanley Cup Playoffs for just the second time (I am not counting last year's "qualifying round") in McDavid's six-year career.
What McDavid was able to do this season is nothing short of remarkable. In a condensed and chaotic schedule, he was able to put together one of the best offense seasons in NHL history. McDavid totaled 105 points in 56 games, with 33 goals and 72 assists. His 1.88 points per game is the most in a season since Mario Lemieux in 1995-96. The Oilers captain produced a 68.6 On-Ice xG%. He will be the runaway MVP winner this season.
Last year's MVP Leon Draisaitl once again had a terrific year as McDavid's running mate. Second to McDavid's 105 points was Draisaitl's 84 points. No other player in the NHL tallied more than 70 points this season.
In addition to the two best forwards in this series, the Oilers will also have the best defensive pair in this series with Darnell Nurse and Tyson Barrie. Barrie led all NHL defenseman with 48 points and had a 63.3 On-Ice Goals%. Nurse has a strong case for most improved player in the NHL this season, setting a career high with 16 goals, second among all defenseman.
Another candidate for most improved player of the year is Edmonton goalie Mike Smith. Smith finished the season fourth in the NHL with 14.4 Goals Saved Above Expected (GSAx). He missed the start of the season on the injured list and when he made his season debut on Feb. 8, the Oilers sat with a 6-7 record. After that date, Edmonton posted a 29-11-2 record and were 21-6-2 in Smith's 30 starts. His .923 save percentage and 2.31 goals against average were both his best marks since 2011-12.
Winnipeg's top line of Connor, Scheifele and Wheeler skated to just a 47% xGoals% this season and the Jets finished 12th in the league in scoring and 23rd in expected goals at 5-on-5. Fourth-line center Mathieu Perreault is the only forward on the Jets with a xG% over 50% at 5-on-5.
The Winnipeg defense has been a big weakness for them this season. The Jets rank 27th in expected goals against and were 30th in the league in High Danger Chances Against.
Goaltender Connor Hellebuyck is the reigning Vezina Trophy winner and put together a 24-17-3 record with a .916 save percentage and 2.58 goals against average. He led the NHL with 19.3 GSAx. Hellebuyck is able to cover up a lot of the Jets issues in front of him.
Over the last 15 games of the season, the Edmonton Oilers were rolling to a 10-5 record, while the Winnipeg Jets were in free fall, fading to a 5-10 record down the stretch. Over that span, The Jets ranked 29th in the league in xGF per 60 and in High Danger Scoring Chances.
Head-to-head the Oilers dominated Winnipeg this season. Edmonton went 7-2 in nine meetings and outscored the Jets 34-22. The Oilers skated to a 62.2% Goals For percentage and a 54.9% xG percentage. They had a High Danger Scoring Chance advantage of 105-81, a 56.5% margin.
As good as Hellebuyck is — and he is capable of stealing a series — the Oilers have had his number this year. He is just 2-5 against Edmonton and his 3.96 goals against is more than a full goal higher than against his next closest opponent. He has just a .877 save percentage, his worst against any team.
While the Jets might still have the goaltending advantage, Smith is a lot closer than he is getting credit for. The veteran has been great for Edmonton this year, and is 4-0 against Winnipeg with a 2.06 GAA.
Obviously McDavid is unstoppable against any team, but he totaled an incredible 22 points in nine games against the Jets, the most against any opponent and his +14 +/- was double the next closest team.
Edmonton has won six straight games against Winnipeg and has been the better team all season. They have a better defense, better offense, better special teams and the best player on the planet. I like Edmonton to win Game 1 and to win this series.
Pete Truszkowski: Colorado Avalanche -1.5 (-115) vs. St. Louis Blues
The Colorado Avalanche finished the regular season with the best record in the NHL. In addition, they ranked first in expected goal rate, shot attempt share and 5-on-5 goal differential. It's no surprise that they are currently the favorites to hoist the Stanley Cup.
On the other hand, St. Louis' 63 points was the second-lowest total amongst all playoff teams. They ranked 27th in expected goal rate and 24th in shot attempt share. They had a -0.15 goal differential per 60 minutes at 5v5.
Things didn't change for either team once the bright lights of the playoffs turned on. MoneyPuck's Deserve To Win O'Meter had the Avalanche at 86.3% for Game 1. The expected goals (xG) in all situations were 4.56 to 1.44 in favor of Colorado. At 5-on-5, Colorado won the xG battle 2.91-1.23 (70.3%).
In an impressive feat, no player on the Colorado Avalanche posted an xG rate below 52% and no player on the Blues posted an xG rate above 47%. This highlights the fact that it wasn't just one line doing the damage for the Avalanche. This was a total domination with every line pulling its weight.
With that being said, the Avalanche top players still dominated this game. Nathan MacKinnon had two goals and an assist, Gabriel Landeskog had three points and Mikko Rantanen added two assists. The top line played to an expected goal rate of 73.5% in over 13-and-a-half minutes of ice time. The Avs top defensive pair of Cale Makar and Devon Toews continued their domination, posting an xG of 82.3% in Game 1.
If St. Louis is to have any chance in this series, they'll need a super-human performance from Jordan Binnington. His season long numbers weren't particularly impressive, but he finished the season with a .921 save percentage over his last 14 games. He continued that form in Game 1, stopping 46 of 49 Avalanche shots. Wasting a terrific goaltending performance like that probably isn't a good omen for the Blues.
After winning as -335 favorites on Monday, the Avalanche are back at that same number for Game 2. The line opened at -305 in the rematch, but it's no surprise to see people are flocking to back Colorado based on the resumes of these teams and what we saw in Game 1.
However, there's almost never any value in betting a favorite that large in hockey. Therefore, we must look for another avenue. You could bet the Blues as huge underdogs, but that sounds like the opposite of fun.
You could look towards backing the Avalanche on the puckline at -115. The Avs were the highest-scoring team in the league during the regular season, so it's not surprising to see that they covered the puckline in 23 of their 40 wins to date this season.
The Avalanche possess the puck and generate more quality chances than any team in the league. The Blues struggle in both regards. This is a true mismatch and outside of a no-show by the Avalanche or a super-human performance from Binnington, I don't see how the Blues can compete.
How would you rate this article?