The 2021 Sports Betting Year in Review
While it might feel like it's been five years since Baylor beat Gonzaga to win the NCAA Tournament or the Bucs stomped the Chiefs in the Super Bowl, it's all been in the last 365 days.
It's been an eventful year in United States sports betting.
New Jersey cracked $1 billion in handle in September, the first state to ever do that. Nevada topped $1B for the first time in October, setting its own record for sports betting profits with $72 million in November.
While a lot of favorites won championships, there were plenty of big upsets and longshot futures cashed along the way.
We won a lot of bets. We lost a lot, too — some got close, while many others were dead on arrival.
We cheered. We cried. We had a little bit of fun along the way. Just a little.
Using our database at Bet Labs and the 42 million bets tracked in The Action Network app, we've recapped the year in sports betting — from the most profitable teams and biggest upsets to the most popular teams to bet by state, plus so much more.
The Worst Beats
OK, they might not be truly the worst beats. Someone will write in and say they had an alternate third quarter WNBA total that lost in devastating fashion. It's impossible to find every single one.
But here's a bad beat from six different sports that at least two people bet.
1. CFB: FSU +9.5, Under 47.5 vs. Clemson
When the underdog you bet on starts lateraling in its own end of the field with no time on the clock, just close your eyes and pray.
2. NFL: 49ers -8.5 vs. Lions, Week 14
The 49ers led this game 38-10 in the third quarter, before the Lions started their comeback.
Detroit scored a meaningless 16 points in the final two minutes, including a pair of two-point conversions and an onside kick recovery, to lose 41-33 and cover +8.5. The second conversion attempt was originally ruled incomplete, but reviewed and overturned.
Watch it here; the NFL won't let us embed YouTube videos.
3. MLB: Score in First Inning, Pirates-Dodgers
Make sure you touch first base, folks.
4. NHL: Devils +1.5 vs. Penguins
With four seconds left on the clock, this flipped from the Devils almost tying the game to losing by two and failing to cover the puck line.
5. CBB: Troy-Jacksonville State Under 133
There were 98 points scored with six seconds left in this game from November that Scott Van Pelt highlighted on his Bad Beats segment. It needed three full overtimes and two free throws with 0.4 seconds left in the third extra period to go over.
Watch it here.
6. NBA: Kristaps Porzingis first basket, yesterday
OK, recency bias is creeping in here, but this is brutal.
A bettor missed out on a $76,000 parlay yesterday because Porzingis missed this open layup.
The Legal Landscape
Online sports betting became legal in a host of new states — Michigan, Virginia, Connecticut and Arizona were the key states to go live.
New York, Maryland and Louisiana are among the states that legalized, but expected to launch in 2022. Florida is also in legal limbo.
The Biggest Betting States
States with full online betting with multiple sportsbooks have thrived, while those with in-person betting or limited-operator models have lagged way behind.
Here is the total handle share by state:
The availability of online sports betting makes all the difference. New Hampshire, even with limited operators, had three-times the handle as New York. Rhode Island doubled N.Y. in handle.
Nuggets for Every Sport
NFL: The Chiefs have gone over their win total in eight consecutive seasons; they need to win their last two games to go over 12.5 wins.
The Jets were an underdog 26 games in a row until last week against Jacksonville, which marked the seventh-longest streak since 2000.
MLB: The Dodgers' streak of 150 consecutive games as favorites ended in June against the Padres.
The Giants were 50-1 to win the NL West before the season; Angels star Shohei Ohtani was 30-1 to win AL MVP.
NBA: The Suns were 20-1 to win the Pacific Division; the Knicks were 20-1 to make the playoffs.
NHL: The Lightning won back-to-back Stanley Cups and entered both seasons  under 10-1 to win it all. The last time we had consecutive Cup winners in single digits? That came back in 2007 and 2008, when the Red Wings and Penguins hoisted the Cup.
NCAAF: Alabama had been favored in 80 consecutive games before the SEC Championship game against Georgia, which it won 41-24. The last time the Crimson Tide was an underdog before that? A 38-10 win over Georgia in 2015.
Missouri started the season 0-8 ATS, one of just eight teams to do that in the last 15 years. Clemson started 0-7 ATS and should have joined them, if not for its miracle cover against Florida State.
NCAAB: The best against-the-spread starts to a season since 2010:
2020 Drake: 13-0
2021 Monmouth: 12-0
2016 Saint Mary's: 12-0
EPL: Crystal Palace's upset of Manchester City at 20-1 in October was the third-biggest upset in our EPL database, which dates back to 2012.
Most Bet Teams by State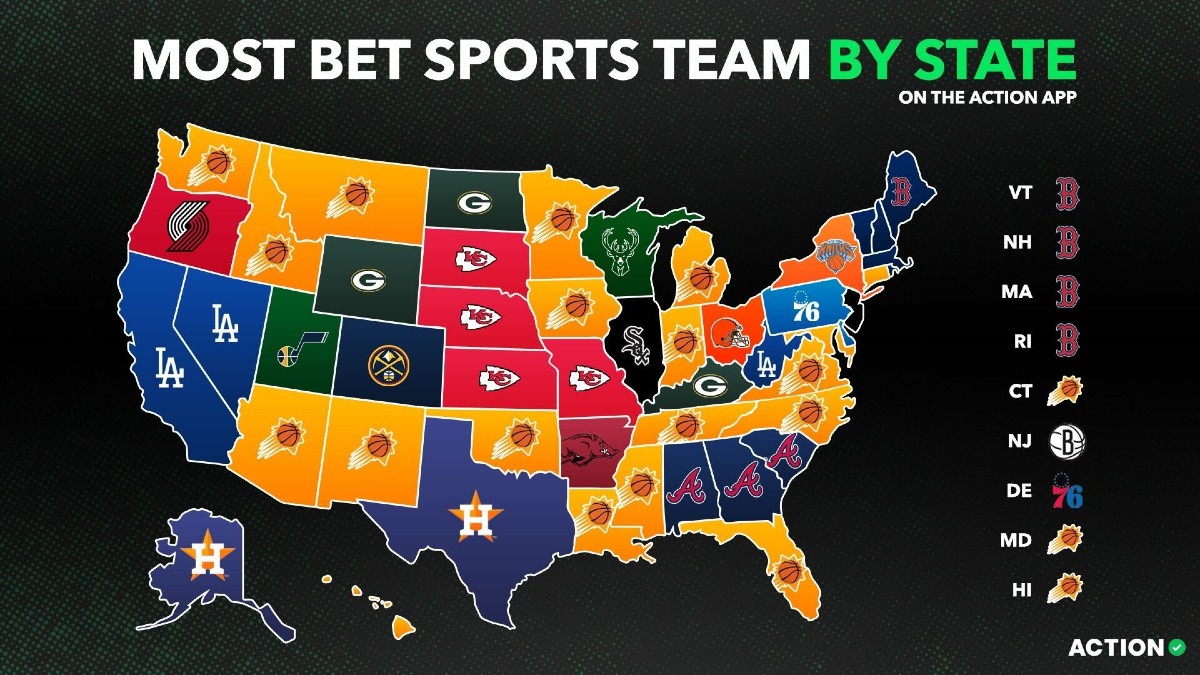 The most-bet-on teams by state is always one of my favorite data pulls of the year. It shows two things:
People love betting on their favorite teams
Yet, more often, bettors will end up wagering on big games
That's why you have the Suns dominating this map, as the plethora of NBA playoff games in the middle of the summer gave bettors many opportunities to back Phoenix during its run to the NBA Finals.
Best & Worst Teams for Action Users
The Vikings were a surprise winner for most profitable team for Action users, influenced by a few big bets. The Lakers were unsurprisingly a big loser, as they lost bettors north of 23 units over 100 games.
| Category | Price |
| --- | --- |
| Most Money Won | Vikings |
| Most Money Lost | Lakers |
| Most-Bet Team | Suns |
| Most-Bet League | NBA |
Most-Bet Teams in the Action App
The most-bet teams by sport and league follow a similar pattern — if a team went far, people bet on them more out of shear volume of games.
The most interesting is perhaps West Ham United, which finished sixth in the Premier League last season and often cashed as a big underdog.
| League | Team |
| --- | --- |
| NBA | Suns |
| NCAAB | Baylor |
| MLB | Dodgers |
| NFL | Bucs |
| NCAAF | Alabama |
| NHL | Lightning |
| EPL | West Ham |
| Euros | England |
| Serie A | AC Milan |
| Bundesliga | Dortmund |
| MLS | Seattle |
| La Liga | Sevilla |
| WNBA | Mercury |
| Ligue 1 | AS Monaco |
Most-Best Players in Props
Bettors like betting on the best players in their respective sports. Shocker.
| League | Player |
| --- | --- |
| NBA | Steph Curry |
| NCAAB | Jalen Suggs |
| MLB | Gerrit Cole |
| NFL | Patrick Mahomes |
| NCAAF | Trey Lance |
| NHL | Connor McDavid |
| EPL | Cristiano Ronaldo |
Best & Worst Player Props
Thanks to the Bucks' NBA title run, Jrue Holiday was the most profitable player in the Action App. Giannis Antetokounmpo had the most winning bets.
You might be surprised to see Ravens backup quarterback Tyler Huntley as the least-profitable player — a few five-figure prop bets via BetSync that earned him that spot.
| Category | Player |
| --- | --- |
| Most-Bet Player | Steph Curry |
| Most Profitable | Jrue Holiday |
| Least Profitable | Tyler Huntley |
| Most Winning Bets | Giannis Antetokounmpo |
Sports Betting Stocks
Sports betting stocks plummeted at the beginning of COVID-19, rebounded in a huge way based on almost no fundamentals and have since come back down to earth as we exit 2021.
The market liked MGM and Caesars this year, which both have big brick-and-mortar casino and hotel presences.
DraftKings and Penn National were among the biggest fallers.
Biggest Upset by Sport
We had some monster upsets across sports this year. The Jags scored one of the 10 biggest NFL upsets in the last 25 years.
UL Monroe nearly cracked the top 10 in college football as well.
However, the biggest upset by probability came in the English Premier League, as Crystal Palace shocked Manchester City as a 20-1 underdog on the three-way line in October.
Most & Least Profitable ATS Teams
It's been a great year for a few teams against the spread, as well as a not-so-great year for a few others.
The Cowboys had the best ATS year in the NFL; the Bears were the worst. The Grizzlies were an excellent 64-46; the Lakers were a complete disaster, losing bettors more than 23 units in exactly 100 games.
Most & Least Profitable Moneyline Teams
Covering spreads is a great thing and those teams should be very proud, but who made the most for bettors on the moneyline and who cost them the most?
Bowling Green pulled off a massive upset of Minnesota as a 35-1 underdog, but was pretty bad otherwise. Utah State was 10-3 straight up and next on the CFB list.
FIU was the least profitable CFB team, because it lost all 11 games that had odds. Easy choice there.
Most Profitable Over/Under Teams
Sometimes the market takes a long time to catch up to teams going way over or under totals. That was the case for many of these teams in 2021.
The Astros mashed their way to another divisional title. The Tennessee Volunteers switched quarterbacks and used Josh Heupel's Air Raid to best the market repeatedly.
On the flipside, Ole Miss had its total set far too high and finished 10-2 to the under. The Jaguars' offensive incompetence has been a boon for under bettors, too.
The Highest & Lowest Totals
The average total has risen in all sports over the last five years, but we still get some outliers on the top and bottom end.
The interesting thing is that the highest total games mostly went under and the lowest totals went over.
In 2021, EPL matches with totals of 2 went 9-5-5 to the over; NHL totals at 5 went 30-12-22 to the over.
Biggest Spreads & Moneylines
You could argue the gap between the best and worst teams in American sports is growing. We've had some ridiculous lines in NHL and MLB games over the last few years as teams really tank to finish seasons.
All the biggest favorites in these spots won, though not every single one covered their respective spreads.
Preseason Odds of Each Champion
It was a chalky year for champions.
Every league winner on this list was among the top five betting choices before the season and most were inside the top three, depending on the sportsbook.
| League | Price |
| --- | --- |
| NBA | Bucks +550 |
| NCAAB | Baylor +800 |
| MLB | Braves +1000 |
| NFL | Bucs +1000 |
| NCAAF | Alabama +300 |
| NHL | Lightning +900 |
| WNBA | Sky +1000 |
| EPL | Man City -125 |
The Best QBs, Starting Pitchers & Goalies
No one can do it alone, but these quarterbacks, pitchers and goalies certainly stood out.
Our staff's beloved Chris Flexen was the most profitable pitcher in baseball. Tampa's Andrei Vasilevsky, despite the Lightning being favored in so many games, was the most profitable goalie.
Our Most-Read Stories
How would you rate this article?
This site contains commercial content. We may be compensated for the links provided on this page. The content on this page is for informational purposes only. Action Network makes no representation or warranty as to the accuracy of the information given or the outcome of any game or event.