2021 BMW Championship Bets, Picks, Odds, Preview: Outrights, Sleepers, Props & Matchups for FedExCup Playoffs
Credit:
Getty Images. Pictured: Bryson DeChambeau (top left), Keegan Bradley (top right), Maverick McNealy (bottom left) and Xander Schauffele.
For the second straight week, we get one of the best fields ever assembled at the BMW Championship.
This week at Caves Valley Golf Club, 69 of the world's best golfers will assemble with hopes of heading south to East Lake for the TOUR Championship. (The field would be 70, but Patrick Reed will miss out due to a bout with pneumonia.)
Caves Valley presents a different challenge to that of Liberty National, which hosted the Northern Trust last week. At more than 7,500 yards, big hitters seem more likely to succeed in the second FedExCup Playoff event.
We got a fantastic finish with Tony Finau emerging victorious over Cameron Smith last week in Jersey City. Hopefully similar fireworks are in store this week just outside Baltimore.
Outrights
Dustin Johnson (+2200)
Jason Sobel: "It's just a big, Northeast, bentgrass golf course."
Those were the words of Denny McCarthy when I spoke with him about Caves Valley last week. A native of Maryland, I thought McCarthy might have some local knowledge, but he told me there were no State Open or State Amateur events there when he was playing in them, so his "local knowledge" is reduced to two or three rounds, none of which occurred in the past 10 years.
As mentioned above, there have been plenty of changes to Caves during that time, but "big, long, Northeast golf course" is still an apt description.
Immediately when he said those words, my mind went right to DJ, who has won a major at Oakmont, playoff events at TPC Boston, Glen Oaks and Plainfield, a WGC event at Firestone and has generally thrived on these kinds of tracks.
Now, I get that one could argue Johnson has thrived on just about every course over the past decade and a half, but he seems to have an extra gear on this exact type. I also like the number on him, coming off a second MC in his last three starts.
Johnson posted rounds of 70-72 at Liberty National and had negative strokes-gained numbers tee-to-green, but I'll give him a pass considering his driver cracked minutes before his opening round and he didn't have a backup. For a player who ranks 20th off the tee this season and relies on having an advantage with the big stick, I expect those numbers to be much improved this week.
There's another reason to like him that has everything to do with that MC: Like 13 other players who advanced despite not reaching the weekend at Northern Trust, he didn't have to deal with the extra day of delays and should come into this one a little less physically and mentally exhausted than 56 of his colleagues.
If we're looking for an edge, this one could be staring us right in the face.
Bryson DeChambeau (+2500)
Chris Murphy: If you didn't jump on the opening odds at DraftKings, you missed a great opportunity to bet Bryson at +3500. It was gobbled up by much of the community as the general consensus is that this course is tailor made for DeChambeau. I wrote him up in my early look Buys & Fades article on Monday night and even outside of course fit, I think he is on the cusp of another win.
DeChambeau has been volatile in his play over the last few weeks, showing flashes of brilliance that have been followed by some really ugly moments. I believe in the theory that volatility is often a sign of a player getting ready to put it all together at this level, and we have that with DeChambeau going into this week with the added bonus of a course that seems suited to what he does well.
I'm in on Bryson this week and while +3500 is great, +2500 is still a really solid buy at BetMGM, in my opinion.
Shane Lowry (+4500)
Josh Perry: Lowry is coming off a good week with the irons and although the tee ball was a little below field average, it's been a strength of his in the past.
Hideki Matsuyama (+4000)
Matt Vincenzi: Matsuyama is a golfer who excels at Tom Fazio designs. The 2021 Masters champion is a former winner at Firestone Country Club (2017) and also had a strong showing at this year's Tokyo Olympics, where he narrowly missed out on a bronze medal despite the exorbitant amount of pressure of playing in his home country.
Despite a subpar showing at the Northern Trust and the Wyndham Championship, Matsuyama is still in excellent form. Even though he only gained 0.2 strokes from tee to green at Liberty National and 1.9 at Sedgefield Country Club, he still is averaging +5.3 strokes in that category in his past five starts. He ranks fourth in my stat model this week and fits the mold of the type of golfer I am looking to bet at Caves Valley.
Grass type is always a factor when considering Matsuyama, and he has putted very well in his career on bentgrass. Augusta National has bentgrass greens and also shares some other similarities (blasphemy!) with Caves Valley.
Undulating fairways and strategically placed green locations that emphasize taking the correct angle on approach shots are important factors at Augusta, and that should also be the case this week. Caves Valley is a course for "shot makers," and Hideki tends to thrive at those types of layouts.
Matsuyama is a bit of a forgotten man on the oddsboard this week due to back-to-back poor finishes. I will gladly take the discount on a golfer who is having one of the best seasons of his career and fits this course beautifully.
Daniel Berger (+3500)
Landon Sillinsky: I am willing to forgive Berger for one bad week with the putter after how good he's been this season.
Berger has virtually no weaknesses in his game, ranking 19th in SG: Off-the-Tee, sixth on approach and 27th in putting, all over his past 48 rounds in this field. He's also shown he can get it done in loaded fields, having won the 2020 Charles Schwab Challenge in the first event back after the COVID-19 layoff last summer. That event featured a myriad of the world's top players.
Few have been as consistent this season as Berger, who has posted eight top-10 finishes in 20 starts. He ranks 18th on TOUR in BOB% and ninth in approaches from 150-175 yards, which will be a popular distance due to the length of Caves Valley this week.
If Berger strikes it the same way he did last week and is a little better with the flat stick, he has serious final-group potential. I think getting 35/1 here on the 19th-ranked player in the world is juicy.

Jon Rahm (+650)
Rob Bolton: He's going to win it anyway, right? So, you might as well be along for the sweat.
Seriously, Rahm delivered on the same spot with the same message at the U.S. Open at Torrey Pines. No one can be the next Tiger Woods, but when it comes to what the Spaniard continues to do time and again, that's who rushes to mind when he's the board favorite. Our job is to multiply the units to pay it off.
Rory McIlroy (+2800)
Bryan Berryman: A win is on the horizon for Rory. The numbers are just too good to suggest otherwise.
Looking at his strokes-gained data over the last few months, it's amazing he hasn't been finishing in the top five every week. Even if we include his dreadful numbers from last week at Liberty National, where he lost 3.7 strokes to the field on approach, McIlroy is still averaging over 5.0 strokes gained tee to green over his last seven tracked events.
McIlroy, who you can get the best number on at FanDuel, has gained 7.9 strokes off the tee over his last two events, and this week we get him at a 7,542-yard course that looks set up to favor bombers. Historically, Rory has crushed courses that set up in this fashion; ranking first in this field in both strokes gained off the tee and strokes gained approach on courses that measure over 7,400 yards.
McIlroy's last win came at Quail Hollow, a course that measured … 7,521 yards. I think he gets his second win of the season at Cave Valley this week.
---
» Return to the table of contents «
---
Sleepers
Keith Mitchell (+15000)
Jason Sobel: With a birdie-birdie-birdie close on Monday to shoot 69 and finish T-8, Mitchell earned enough FedEx Cup points to advance to the second playoff event — and just in case you assumed that doesn't mean too much to a professional golfer, his emotions and words prove you wrong.
"I just love competing, I love playing golf," said Mitchell, who compared the pressure to that of winning his long PGA TOUR title at the Honda Classic two years ago. "I love being out here and I reminded myself, two days playing in the last group with Justin Thomas, these are the nerves that you want. These are the kind of moments that you practice and play for.
"That's kind of the attitude I had this week, and coming down the stretch with three birdies is the same kind of thing, where you just really are just enjoying being out here and enjoying competing and trying to do your best."
Mitchell said he'd celebrate by driving his BMW to Baltimore, big smile splashed across his face. He's now playing with house money and fully confident in his game — two things we should love about him this week on a course where his prolific driving skills (11th in strokes gained off the tee this season) should be a major asset.
Keegan Bradley (+8000)
Chris Murphy: Everything you read this week will be about how length will be an advantage for players at Caves Valley this week for the BMW Championship. I agree with that sentiment and am buying in with a player that can still keep up in that realm: Keegan Bradley.
Bradley ranks fourth on TOUR this season in Total Driving, which is a combination of both length and accuracy. This combination, plus his sharp approach game that has him gaining between 2.7 and 5.5 shots on the field in each of his last four measured events makes a great formula for this course.
Bradley has always been known for his ball striking and a putter that has held him back from more wins across his career. While he still loses strokes on bent greens, they are clearly his preferred surface, and off of a sharp putting week at Liberty National, I am just hoping he can keep the flat stick hot. He has true winning upside this week at +7000 even in this elite field, but I will also be looking for him in many other markets, including top-10 and his specialty, which is First Round Leader.
Charley Hoffman (+10000)
Josh Perry: Hoffman hasn't played much recently, but he did shake off the rust last week and finished 21st at Liberty National. He's long and gains strokes off the tee almost every week. The irons looked good last week, so if the short game shows up, he could sneak into that top 10 and maybe cash a nice place bet.
Joaquin Niemann (+6000)
Matt Vincenzi: Although he is a bit of a longshot in this field in terms of odds, Joaquin Niemann is my favorite bet on the board. The last time I tipped him was at the Rocket Mortgage Classic, at which he narrowly lost in a playoff to Cameron Davis. While the field is much stronger this week, I have a similar feeling on "The Wonder Kid".
When considering whether or not to bet Niemann, there are always a few important factors that I consider. The first is putting surface. Bentgrass is far and away his preferred green type and much of his PGA TOUR success has come on similar greens.
The second is the area of the country. Niemann's first career win came at The Old White TPC (West Virginia), which is just a four hour drive to Caves Valley in Maryland.
The third and final factor is whether his incredible driving distance gives him a big advantage. After analyzing the course (albeit with limited data), I am of the opinion that driving distance will be a major factor this week.
With strategically located fairway bunkers that can be cut with big drives and potentially three driveable par 4's on the course, Caves Valley should be a perfect fit for Niemann.
I believe Niemann's ascension to super stardom on TOUR is an inevitability, and a victory at the BMW Championship in a stacked field would propel the 22-year-old Chilean to that destination.
Jason Kokrak (+8000)
Landon Sillinsky: Kokrak has two wins on the season, one of which came at the CJ Cup at Shadow Creek, which like Caves Valley is a Tom Fazio design. We are getting a really strong number here after he imploded on the back nine last week at the Northern Trust, something that caused him to miss the cut on the number.
It's not that often you can get a player of this caliber during a season during which he's already posted two victories at 80/1. We know Kokrak has the length necessary to succeed this week, but it's also noteworthy that he putts extremely well on bentgrass.
I believe all the contextual factors are in place here and I absolutely love buying the dip in this spot.
Cameron Champ (+10000)
Rob Bolton: Because of my duties at PGATOUR.com, I'm usually last to chime in on this weekly preview. My workload in advance of the Northern Trust was heavier than usual, so I didn't even contribute to this space. Just no time. For that, I apologize. However, if I ever want to get out ahead of the other fellas, anyway, I'm going to have to figure out a way to rearrange all the work.
Before surveying the other longshots, I'd have tossed out Charley Hoffman as my primary and Jhonattan Vegas as the backup. But nope, and nope. Both already are unusable if I want to be unique. Thinking of my man-crush on Keegs distorts objectivity at times, but he's also been plucked. Whew.
So, I'll go back to Champ. He was my Longshot at TPC Southwind (at +9000) and finished T31. It was his first start after winning the 3M Open, so I was riding his attitude adjustment. On the stock par 72 of beefy Caves Valley that virtually no one has seen until this week, his long drives guarantee shorter clubs on approach into relatively small greens on which his below-average putting can hide.

Jhonattan Vegas (+13000)
Bryan Berryman: I think Vegas is a perfect long shot candidate this week on a course that is setting up to favor bombers.
He ranks ninth in driving distance on tour this season, averaging 311 yards when teeing it up. Over the last six tournaments, he's also gained 19 strokes on approach that lead to four top 15 finishes.
Vegas is far from a consistent golfer, but definitely has the upside and length to win this event. He has three second-place finishes this season, so maybe he can break through for that elusive win in the condensed 69-man field this week.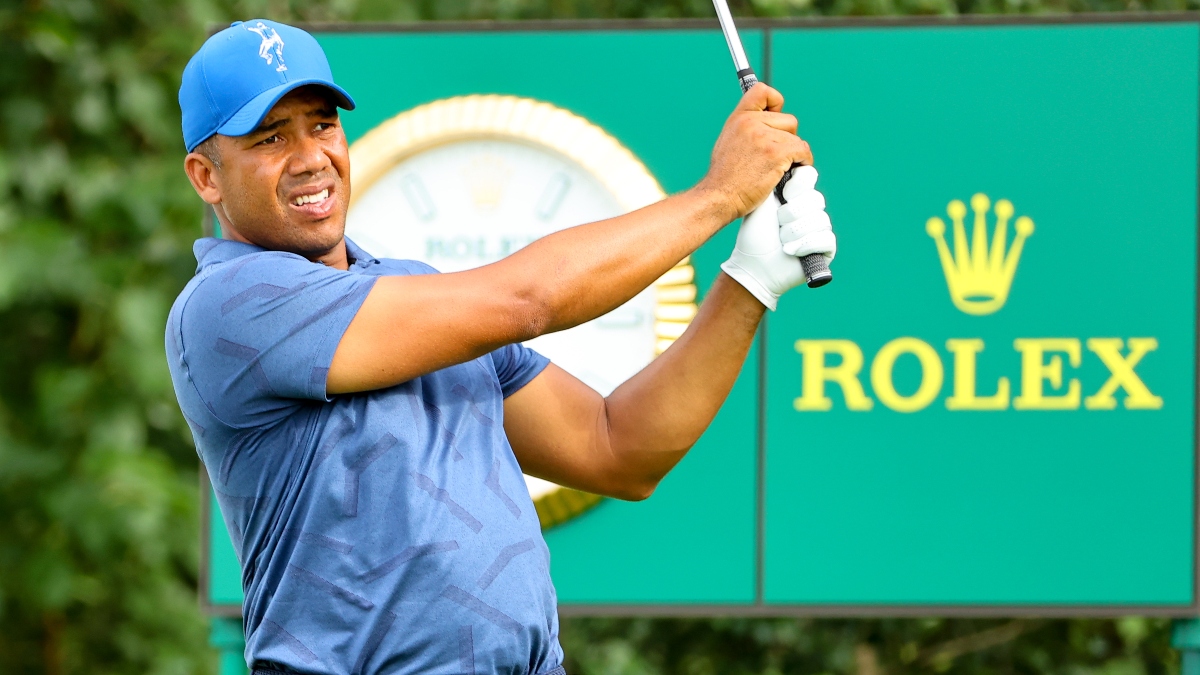 Maverick McNealy (+11000)
Justin Bailey: When looking for longshots, I typically tend to favor recent form more than I would for other golfers.
McNealy has quietly been solid over the last few months. His irons aren't typically the strong part of his game, but he has gained strokes on approach in three of his last four tournaments that have Shotlink data.
Additionally, per Data Golf's true strokes gained, McNealy is gaining strokes in all four strokes gained categories over his last 20 rounds. In this field, he ranks 22nd in total strokes gained in that time frame, which isn't bad for a field packed with talent and a guy who is 110-1.

---
» Return to the table of contents «
---
Props
Xander Schauffele Top-5 (+360)
Jason Sobel: Limited field? Check. No cut? Check.
We are officially in Xander's Wheelhouse for the next two weeks.
Three of his four previous victories have occurred at these types of events — and that doesn't even include the recent Olympics or last year's 72-hole-low score at the TOUR Championship, which garnered first-place OWGR points, but no official victory based on the staggered scoring.
Fresh off a solid ball-striking week at Liberty National, this one should be right up his alley.

Joaquin Niemann Top-5 (+900)
Chris Murphy: For many of the reasons I like DeChambeau and Bradley above, I am in on Niemann this week.
The Chilean has the skill set to win this event, and I think the course really suits his game, which will have me on him throughout the board. One place that jumps out for some value for me is in the top-five and top-10 markets where he doesn't have to completely close the deal to pay it off.
Niemann has just one win in his career, in a weak field at the Greenbrier, so it would certainly be a big step up for his next victory to come in a short field with the 70 best players on TOUR. Still, I am in on him across all markets this week and expect him to be in the mix over the weekend in Baltimore.
Rory McIlroy Top-5 (+550)
Matt Vincenzi: After a let down at The Northern Trust, I have no problem going right back to Rory this week. Caves Valley should be a dream fit for McIlroy for a multitude of reasons.
For starters, he has historically been outstanding at Tom Fazio designs. He won at Quail Hollow earlier this season despite not having his "A" game and had another strong showing at Kasumigaseki Country Club for the Olympics, which is another Fazio track. Something about these course layouts seemingly makes the Northern Irishmen feel at ease and looks very comfortable on those particular setups.
While his less-than-stellar performance last week may be a cause for concern, it should be noted that when he won at Quail Hollow back in May, he was coming off of back-to-back missed cuts.
McIlroy ranks first in my model this week and is in the top 13 of each of the five important stat categories, emphasizing how well Caves Valley may suit him.
Sebastian Munoz Top-10 (+900)
Landon Sillinsky: Munoz seems to love this time of year.
Most people forget that during the 2020 FedExCup Playoffs the Columbian went T-18, T-8 and T-7 in the three events. He's already off to a strong start this year as well, finishing T-21 at the Northern Trust.
Munoz has been one of the best ball-strikers in this field of late, sitting 28th in SG: Off-the-Tee and ninth in SG: Approach both over his past 16 rounds. He's also a much better putter on bentgrass than other surfaces, and we know he can score like it's nobody's business. He finished in a tie for fourth place at the Tokyo Olympics and posted a T-9 at the CJ Cup last October, both Fazio designs.
Munoz is a very streaky player, so let's take advantage of this number while he's on one of his heaters.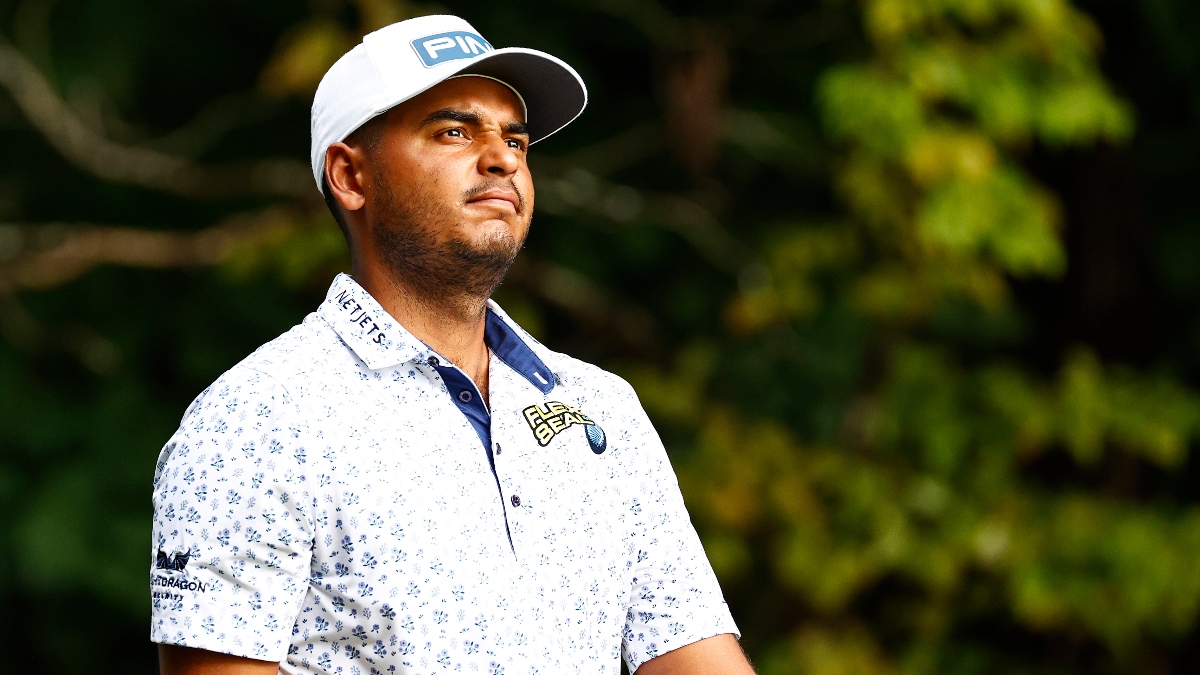 Patrick Cantlay Top 10 (+230)
Rob Bolton: Since BetMGM can't have a make-the-cut parlay and its smattering of other specials are typical offerings – although the line of +275 for Jon Rahm to be in the final group in the final round is enticing – I'm defaulting to a fit play for a guy in form.
Cantlay has five top 10s this season and he was one stroke away from others in two of his last four starts, so he's, as the golfers like to say, "close."
He's also 21st on the PGA TOUR in greens in regulation and third in Strokes Gained: Tee-to-Green, major assets on an unknown course. The theory always is to lean on ball-strikers until the learning curve takes hold on the putting surfaces.
And although he doesn't miss much on approach, he cleans up better than anyone. He's No. 1 in both scrambling and bogey avoidance.
My goal for any position bet is to do no worse than double the investment. Boom.
Maverick McNealy Top-20 (+310)
Justin Bailey: I'll back McNealy for a top-20 for all the previous reasons I listed for why I like him as a 110-1 longshot. While he can be volatile, he has been in good form of late, gaining strokes in all categories. Also, at +310, you need this bet to hit about 24.5% of the time to break even. McNealy has finished in the top 20 in nine of his 24 tournaments this year (37.5%).

---
» Return to the table of contents «
---
Matchups
Rory McIlroy (+105) over Paul Casey
Jason Sobel: Every once in a while, a number jumps up and punches you in the face. This one landed an uppercut.
Listing Rory at plus-money over Casey isn't as much of a shock as it would've been six months ago or a year ago or five years ago — or essentially at any other point during their careers. There's good reason for it, though: Over the past four months, these two players have competed in the same event on six separate occasions, with Casey owning a 3-1-2 head-to-head advantage.
Perhaps that only signifies a regression this week.
Besides the price, two facts support McIlroy in this matchup.
The first is that he seems to be very gradually trending up just a bit, while Casey is very gradually trending down. The 44-year-old has enjoyed a much better season that many realize, but he's also played a lot of golf this summer.
The second is that from everything I've heard early about Caves Valley, long and straight off the tee, while always good on any golf course, obviously, sounds like it is going to offer even more of an advantage this week.
That is Rory's game, as he ranks fifth in strokes gained off the tee this season, while still not having his best stuff.
Perhaps surprisingly, Casey is only 49th on this list.
Hideki Matsuyama (-115) over Webb Simpson
Matt Vincenzi: Caves Valley is an excellent course fit for Matsuyama.
Given the state of Simpson's game this season, it doesn't feel like a great course fit for him. He's playing to field average in Strokes Gained: Off the Tee for his past five measured events and I simply don't think that will get it done at this course.
Additionally, Bentgrass is a great surface for Hideki and hasn't been as kind to Simpson, as it has been his worst statistical category throughout his career.
Landon: Xander Schauffele +165 over Jon Rahm (DK)
It may seem insane to bet against Rahm in any capacity during this insane run that he's on, but I just could not pass up on the value here.
Schauffele is no slouch and usually finds himself at the top of leaderboards this time of year. He took a week to get himself right after winning gold at the Olympics, and he came back last week with a solid T-16. Schauffele thrives on long, tough tracks and is a strong bentgrass putter.
I will bet the no-cut king at +165 against anyone, anytime at any track. It's also possible Rahm is on the slightest of hangovers after losing the lead late on Sunday to Tony Finau at the Northern Trust. He just might be human after all.
Tony Finau (-118) over Louis Oosthuizen
All right, Louis, let's see what ya got!
Frankly, I'm surprised that Oosthuizen is offered against anyone, much less Monday's champion at Liberty National during the FedExCup Playoffs, in which momentum is everything. With an injured neck preventing starts in the last two weeks, and with the promise of the TOUR Championship on deck, this has all the makings of the house missing the headline.
Of course, it also means that the joke is on us. So be it. As much as we should beware the injured golfer and on a course that fits him like a glove, we also should bet on him. Exploit the possibility! (Meet me out back for your free bumper sticker.)

Joaquin Niemann (-125) over Kevin Na
Bryan Berryman: Averaging nearly 311 yards off the tee, and ranking seventh in strokes gained off the tee in this field over the last 24 rounds, Niemann is well equipped to tackle this golf course.
Na on the other hand, ranks 177th on tour in driving distance with an average of 287.9 yards, and he ranks 61st out of 69 players in this field in strokes gained off the tee over the last 24 rounds. Na will need to continue his unsustainable run of magic on and around the greens in order to compete this week.
My model is showing an edge of 8.6% on this line as it currently stands. Fire up Niemann with confidence in this matchup.
Xander Schauffele (-120) over Collin Morikawa
Justin Bailey: These two golfers appear to be trending in opposite directions over their last 12 rounds. Xander Schauffele's approach game has been crushing, ranking eighth in Data Golf's true strokes-gained, while Morikawa ranks 53rd in this field over that time frame, respectively.
This seems to be a spot to target Xander as he's historically thrived in no-cut events, and he's averaging over +1.15 average true strokes-gained per round on approach in four of his last six tournaments that have Shotlink data.
All right, Louis, let's see what ya got!
Frankly, I'm surprised that Oosthuizen is offered against anyone, much less Monday's champion at Liberty National during the FedExCup Playoffs in which momentum is everything. With an injured neck preventing starts in the last two weeks, and with the promise of the TOUR Championship on deck, this has all the makings of the house missing the headline.
Of course, it also means that the joke is on us. So be it. As much as we should beware the injured golfer and on a course that fits him like a glove, we also should bet on him. Exploit the possibility! (Meet me out back for your free bumper sticker.)
---
» Return to the table of contents «
---
How would you rate this article?