The Big British Open Question: To Hit Driver or Not to Hit Driver?
Credit:
Steve Flynn-USA TODAY Sports. Pictured: Rory McIlroy
The rock-hard fairways at Carnoustie are presenting an interesting predicament for players at the 2018 British Open.
Because the rough isn't super penal, big hitters like Rory McIlroy and Dustin Johnson have said they're going to be aggressive with their driver.
But many of the shorter hitters are content to hitting fairways with driving irons or 3-woods.
If William Shakespeare was covering this week's Open Championship — and really, it's right there in nearby Scotland; he has no good excuse for not showing up — the Bard might start out his analysis with this: "To hit driver, or not to hit driver: that is the question."
Considering the concrete-like fairways of Carnoustie Golf Links, competitors will be forced to decide between the slings and arrows of outrageous fortune (pounding driver as far as possible off every tee box and chasing after it) or taking arms against a sea of troubles (irons off the tee, which could bring some ferocious bunkers into play).
This isn't exactly a new trend: Players often choose to strategize their way around the golf course in a dissimilar manner. This week, though, might offer more disparate plans than we've witnessed in quite some time.
That's not even the most puzzling part of their plotting.
From everything we've heard so far, many of the shorter hitters are content to simply continue hitting fairways with anything from a 3-wood to a driving iron, keeping out of trouble and giving themselves a chance to stick the next shot close.
Meanwhile, it's the big hitters who have continually stated that they're content to play aggressively with the driver and deal with the consequences, should they come.
"There are a lot of holes here where I wouldn't necessarily have thought about hitting driver," Rory McIlroy said during a Golf Channel interview. "But with the way the conditions are, I think you're going to see a lot of drivers hit by a lot of guys."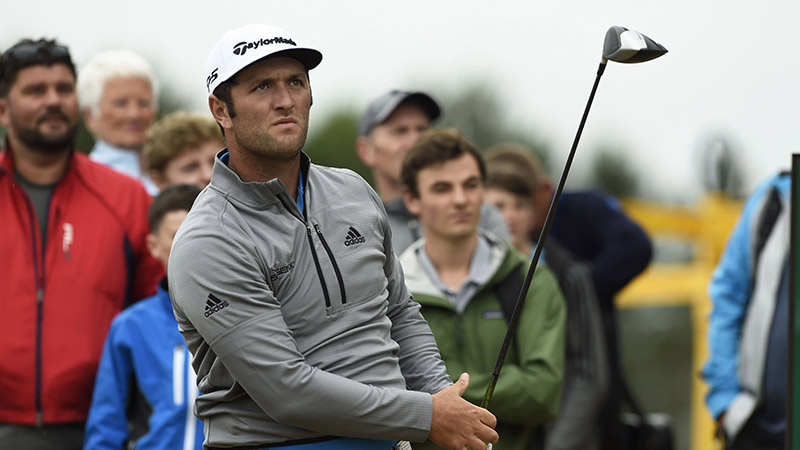 Ian Rutherford-USA TODAY Sports. Pictured: Jon Rahm
"The rough isn't as thick," concurred Dustin Johnson, "so you don't necessarily have to be in the fairway to hit a good shot into the green."
Or as Jon Rahm put it, perhaps neatly summarizing what many believe to be the scourge of today's professional game, "If you can hit driver, you don't need to hit fairways."
Of course, this might very well wind up a segregation of the haves and have-nots.
While the rough shouldn't mount much trouble for players, it's the bunkers that should provide a true challenge. Those who are able might choose to just bash drivers over these hazards and pay them little mind. Those who don't hit it as far are more likely to just run a lesser club straight down the fairways and avoid such trouble.
Download The Action Network App to track all of your golf bets.
"The guys who are able to fly it 300 yards in the air, you can take those bunkers out of play," McIlroy explained. "Even if you do hit it into the rough, you're losing control of your golf ball a little bit, but it's not so much that you can't get it onto the green or can't get it close."
It obviously won't be so segregated: Not all big hitters will opt to primarily hit their driver, and not all of the shorter hitters will keep it in the bag.
"I think you're going to see two total different strategies from player to player," Phil Mickelson said. "Mine is lying somewhere in the middle."
There's an important point at the end of that statement. This dynamic won't be so cut and dried, instead employed on varying levels between competitors, based on each hole and, more importantly, current wind patterns.
Even so, we just might witness the largest differential in strategies off the tee that we've seen in a long time.
And for those who ultimately choose the wrong path, as Shakespeare might have written, "Be all my sins remember'd!"
---
More British Open Coverage
How would you rate this article?